Flying across the pond is expensive enough -- no need to break the bank on activities while you're there, as well. There are plenty of ways to enjoy London and what it has to offer without spending a single pound on attractions, sights and other activities. While the majority of this list is geared to first-time visitors, returners might not have seen them all -- or any! Here's what to do in London to save -- so you can splurge on your hotel stay, instead.
1. Watch the Changing of the Guard at Buckingham Palace
Riding from the airport into the heart of London you pass Buckingham Palace, and it's always a head turner. While entering the palace itself isn't free, the changing of the Queen's Guard is free to view. Occurring in the Forecourt inside the gates of Buckingham Palace every morning in the summer (from April to July) and alternative days throughout the rest of the year, this is a must-see; get there early to get a good spot from the outside of the gates. The actual changing happens at 11:30 a.m. but the ceremony kicks off at around 11:15 a.m.
2. Visit Westminster Abbey
The 700-year-old church building is open Monday to Saturday for a paid admission, but it's free to enter to enjoy its worship services on Sundays and religious holidays such as Easter and Christmas.
Nearby Hotel Pick:
3. Walk along the Thames River to View the South Bank skyline
Big Ben, the London Eye, Tower Bridge, the Tower of London, and The Shard are among the many different sights that make up the London skyline, all of which can be enjoyed by walking along either side of the Thames River. While every one requires an admission fee to enter, they are all free to enjoy from a distance — so your selfie needs will surely be met. You can of course also walk on the Tower Bridge to reach each side, and in the month for February, if you have children traveling with you during your visit, The View from the Shard will be offering free admission for kids during February half term (February 15 to 19).
4. Explore Piccadilly Circus, Trafalgar Square, and Covent Garden
Near the Thames and in central London there are several different points of interest. Among them is Piccadilly Circus, which is similar to New York's Times Square. The New Year's countdown is hosted in this public space and throughout the year, people gather to meet up by the statue of Eros in the center, or take photos with it. Trafalgar Square is nearby and is home to Nelson's Column, iconic stone lions, and the famous Fourth Plinth. Often, you'll find cultural events, performances, shows, and other special activities going on in the square by the fountains, and every Christmas, the biggest Christmas tree in London can be found here (an annual gift from the city of Oslo). Over in Covent Garden, find the former fruit-and-vegetable market which has morphed into the perfect people-watching spot in London. With a central square that's filled with street performers, there are a number of shops, bars, and restaurants throughout, and you can also find The Royal Opera House here.
Nearby Hotel Pick:
5. Window Shop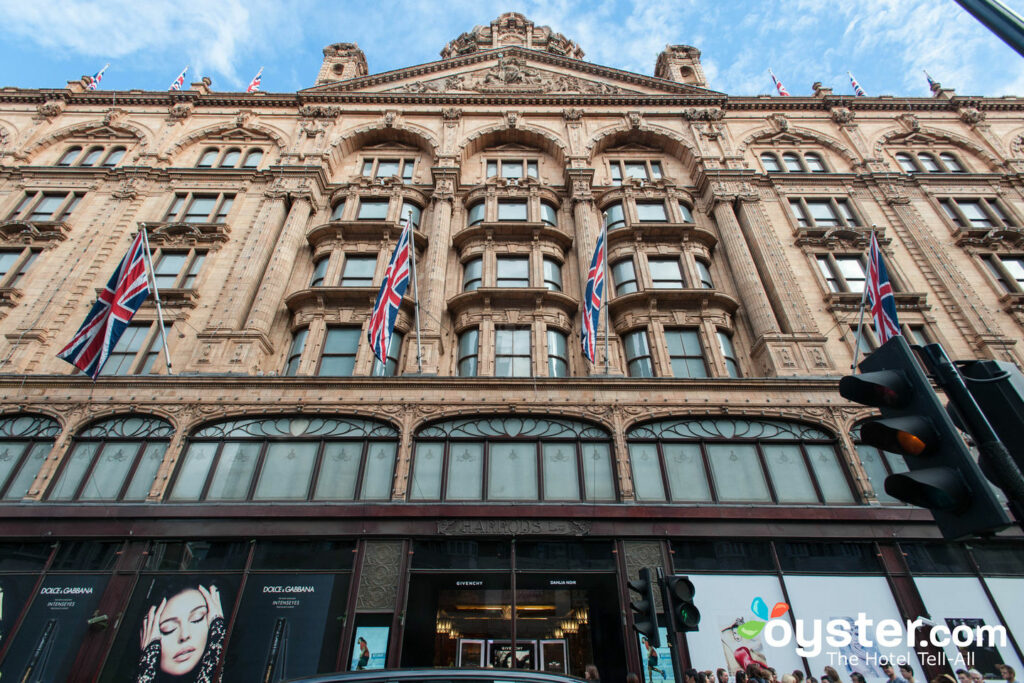 Retail therapy in London can be enjoyed without actually spending any money. London is famous for great window shopping opportunities, and visitors can explore all the luxury goods available in the city throughout its several famous and prestigious shopping districts. From the bustling Oxford Street with over 300 shops and landmark stores (such as the iconic Selfridges) to the high-end, luxury brands on Bond Street that include Burberry, Louis Vuitton and Tiffany & Co., Knightsbridge is a good place to start to visit illustrious shops and department stores. These include Harvey Nichols and Harrods (the latter of which features seven floors and 330 departments — you can literally spend the day here), and dozens of big-name fashion designers such as Bottega Veneta and Cartier, with shops throughout Sloane Street.
6. Explore the Parks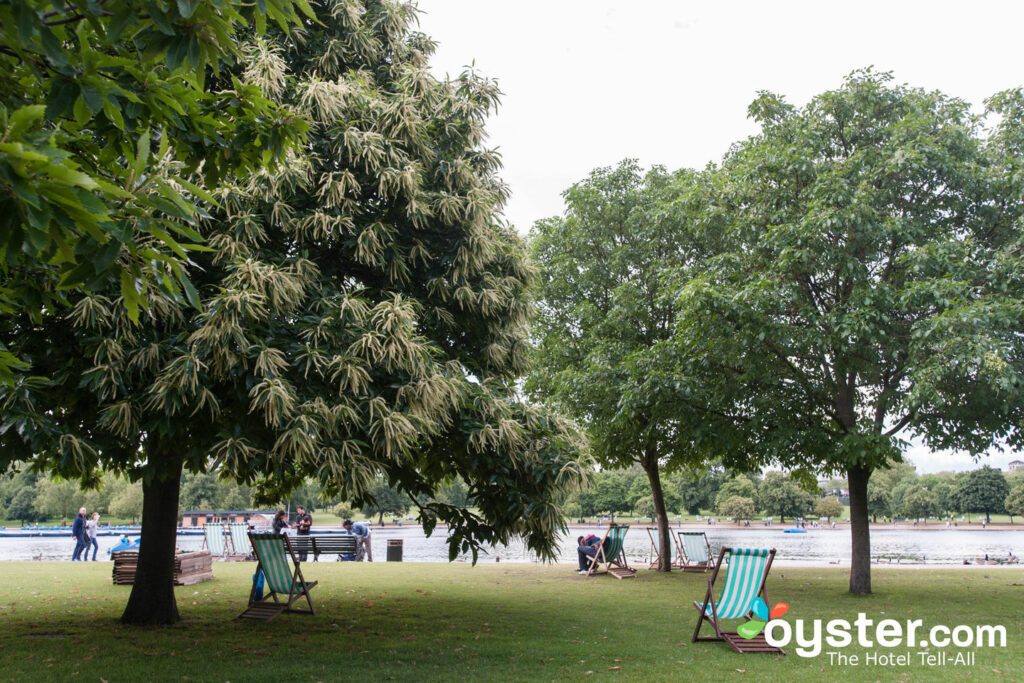 If there's one thing London has plenty of its open, leafy spaces. Feel free to spend time in any of the parks; there are eight royal parks throughout the city where you can spend the summers sunbathing or picnicking, and take refreshing strolls in winter or simply enjoy various free events held throughout the majestic grounds. Among the eight, four that are relativity close to each other include Green Park (where you can find lunching commuters and loungers in deck chairs during the warm months), St. James's Park (which provides great views of Buckingham Palace and — in the distance — Big Ben and the London Eye), Hyde Park (basically London's Central Park) and the Kensington Gardens (just west of Hyde Park, filled with alluring walkways and flowery spots to relax).
Nearby Hotel Pick:
6. Check Out a Museum — Or Five
London has over 20 museums you can visit for free. The British Museum is a true dream for any history and culture buff, with artifacts that include Egyptian mummies, the Rosetta Stone, and the Elgin Marbles. Get hands-on and check out millions of specimens at the Natural History Museum, and if you love design and discovering art, the Victoria and Albert Museum is where to be.
7. Go Gallery Hopping
There is a number of galleries to check out at no cost as well. Admire modern and contemporary masterpieces by Cézanne, Bonnard, Matisse, Picasso, Rothko, Dalí, Pollock, Warhol, and Bourgeois at Tate Modern and while at Tate Britain, see British Art from the sixteenth century to the present day. Over in Trafalgar Square, find the National Portrait Gallery (where you can find portraits of kings, queens, musicians, and film stars) and the National Gallery (where art by Botticelli, Leonardo da Vinci, Rembrandt, Gainsborough, Turner, Renoir, and Van Gogh can be viewed).
8. Peruse the Street Markets
Selling everything from food and flowers to clothes and antiques, sprawling markets across the city offer a little something for everyone. Dine at the Borough Market, which offers a range of fresh and organic produce including fruit, vegetables, meat, and cheese, as well as condiments, baked treats, and street food. Spend a day wandering through the Camden Markets. The central hub of it, Camden Lock, has an extensive range of goods from designer clothes and accessories, to one-off pieces of art, food ,and furnishings. And Portobello Road has been around for over 200 years and is famous for antiques (but it also offers fruit, bread, vintage clothing, and more).
Bonus Tip: How to Save on Paid Attractions
Though there are countless things you can do for free in London, you might be considering visiting top attractions that require a paid admission fee. While you do need to pay something for these places of interest, you can save money by picking up the London Pass, which can grant you entry to over 60 different London attractions and things to do in the city — plus a Fast Track Entry where applicable. Attractions on it that you can easily do in a day to get your money's worth include the Tower of London, a hop-on-hop-off bus tour, the Thames River Boat Cruise (a pass lasts 24 hours), Westminster Abbey (allowing you to enter during the week at no added cost), the spooky London Bridge Experience, and the Tower Bridge Exhibition. Other things include a bike tour or rental, and entrance to Shakespeare's Globe Theatre, the Kensington Palace, the London Zoo and even a movie at select Curzon theaters.
Related Links:
All products are independently selected by our writers and editors. If you buy something through our links, Oyster may earn an affiliate commission.