If you're keen on upping the cuteness quota on your next vacation, look no further than the quaint, adorable streets of Europe. Crammed with ancient boulevards, famous thoroughfares, and evocative avenues, Europe and its city streets are rife for exploring. And they're more than just a pretty face, too. These streets offer plenty of places to shop, eat, and drink. From a falafel mecca in to an 18th-century glass-covered arcade in Brussels, here are eight adorable streets in Europe that offer lots of beauty -- and then some.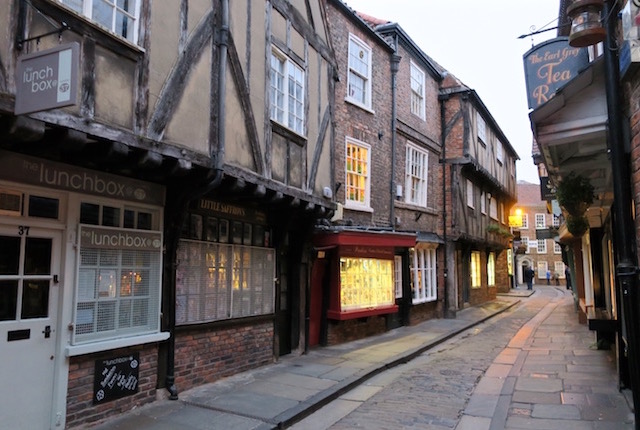 A winding, ramshackle maze of ancient, wood-framed buildings, The Shambles is an apt name for this amazing street in the town of York, England. Named Britain's most picturesque street in the inaugural Google Street View awards, the medieval road may look like it's at risk of collapsing (some of the buildings are over 600 years old), but it's still standing strong. Charming and historic, the buildings have shifted and lurched over time, bending across the street as if to greet one another.
Hotel Pick: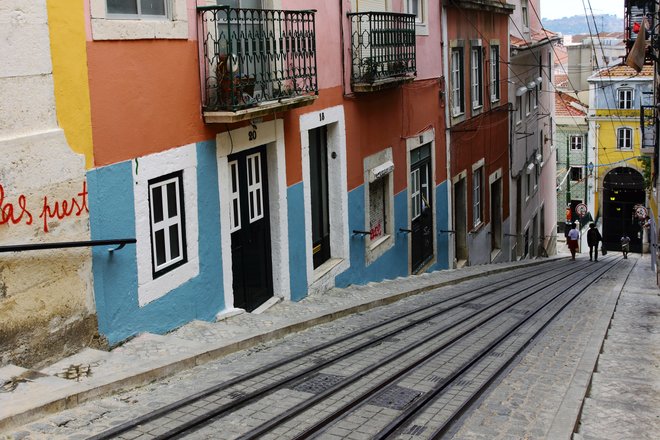 Rua da Bianca de Duarte Belo, Lisbon's most photographed street, has two things going for it. First, the steep hillside street is insanely beautiful. Second, it has its own funicular railway, so you can ride all the way up if your legs are too tired for the gradient (pretty essential in a city that inspires so much walking). Located in historic neighborhood of Bica, the narrow cobbled street is lined with small bars and open balconies filled with flowers. And yo-yoing up and down since 1892, the famous funicular is a classic Lisbon icon, so don't be surprised to find fellow tourists at the top getting their Instagram on.
Hotel Pick: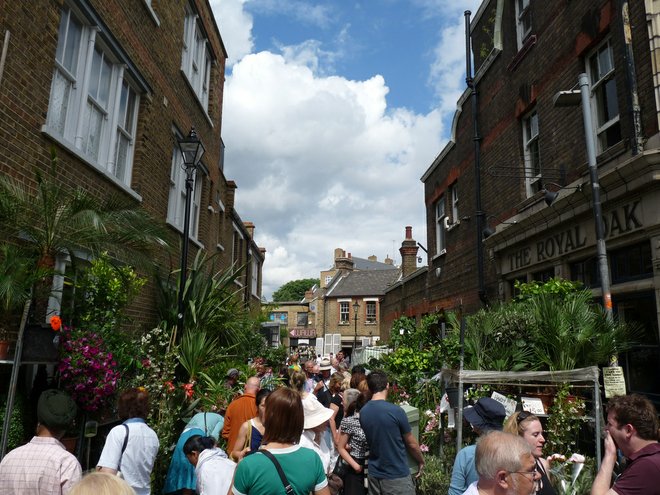 When you close your eyes and imagine the beautiful old street that defines the charm, history, and beauty of working class London, you're probably picturing Columbia Road. Paved with ankle-breaking cobblestones and enclosed by dual rows of low-terraced brick buildings, the street, which is located in East London's Hackney, is home to traditional English sweet shops, a fine old pub called The Royal Oak, and a variety of artisan craft stores and boutiques. It even has an flower market every Sunday. And if you thought the cobblestone, brickwork, and shop signage was adorable, wait till you see it filled with flowers.
Hotel Pick: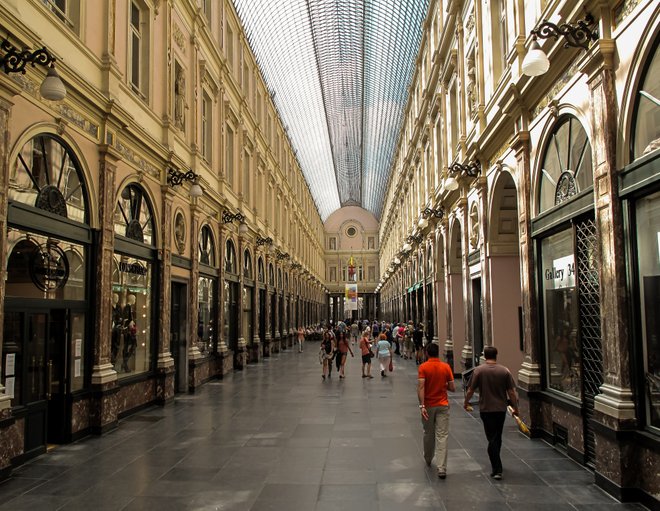 Designed by young architect Jean-Pierre Cluysenaer, the Galeries Royales Saint-Hubert in Brussels was built in 1847 (the construction process lasted 18 months). One of the first of its kind in the world, the covered arcade would later inspire similar grand indoor avenues in cities like Milan and St. Petersburg. About 656 feet long, it houses a range of high-end and artisan boutiques plus its own theater. When you're done with the street's famous chocolatiers, look up and take in the view through the amazing arched glass roof.
Hotel Pick:
Away from the wide geometric grid of Haussmann's Paris, the historic Le Marais neighborhood is can't-miss when visiting the city. Here, narrow, cobbled streets hide galleries, hip boutiques, bars, and one of the best bistros, Au Petit Fer à Cheval. While here, head to Rue de Rosiers. Situated at the center of the Jewish quarter in Le Marais, this street is arguably the most picturesque in all of Paris. Make sure to grab a falafel wrap and eat it al fresco. It's also one of the few remaining areas where you can see the city in its medieval guise. And while it may have been touched by gentrification (many of the old Jewish boulangeries and delis are gone), the street and its surrounding alleys are as beautiful as ever.
Hotel Pick: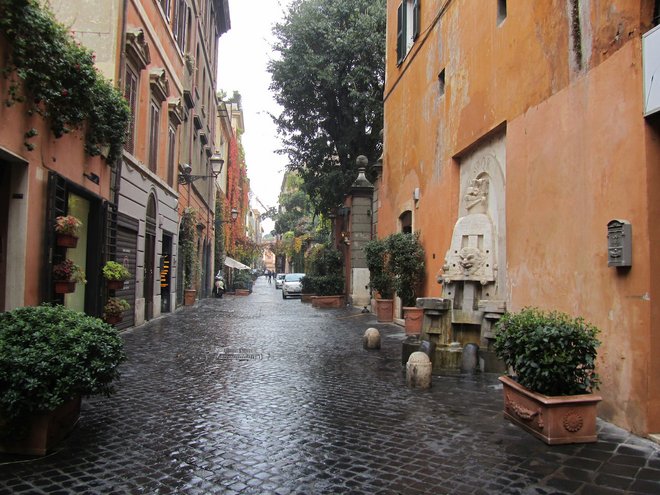 Immortalized in Audrey Hepburn's career-launching film "Roman Holiday," Via Margutta is undoubtedly one of the most beautiful streets in Rome. Make a stop at number 51, Joe Bradley's (Gregory Peck) apartment in the movie, and drink in that Roman charm. The adorable street, which is located in the ancient Campo Marzio neighborhood, was once an artists' enclave, associated with the likes of Picasso, Renato Guttuso, and Federico Fellini. Today, the exclusive cobbled street is all window boxes, creeping ivy, and galleries.
Hotel Pick: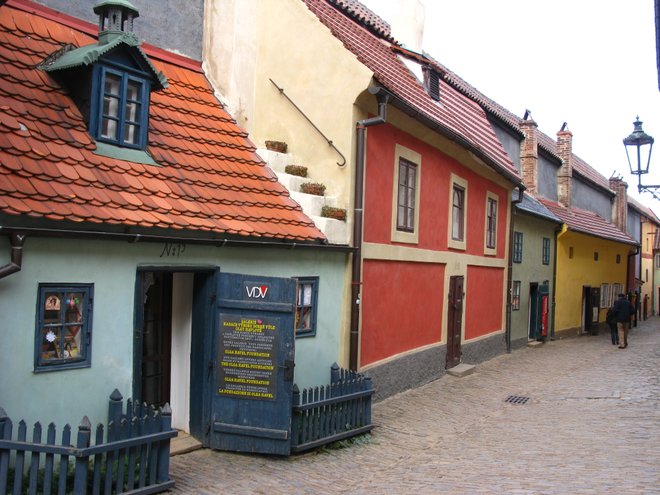 Located in the bohemian city of Prague — and at the Prague Castle, more specifically — the pretty Golden Lane is sure to fill up your camera roll. The 500-year-old houses that line this cobbled street were once literally glued to the castle walls. These days, the colorful, storybook buildings are as much of an attraction as the castle itself. Between 1916 and 1917, Franz Kafka used house number 22 to write, but today any budding novelists looking for a quiet place to work will be disturbed by the tourists who come to see the compact and charming street.
Hotel Pick:
A short distance from Venice, the small island of Burano offers a vibrant burst of color in a place where regal, rustic beauty is usually the norm. We know, we know — Burano is not one road, but the canals here are its streets, and the addition of water running through the yellow-, green-, blue-, and red-painted buildings makes for a spectacular sight. The center of the island is marked by Galuppi Square, a good place to stop for gelato before following the rainbow towards other sights like the island's famous Lace Museum and the leaning bell tower.
Related Stories:
All products are independently selected by our writers and editors. If you buy something through our links, Oyster may earn an affiliate commission.