If you've logged hundreds of hours in hotels like we have, you've likely encountered many of the same (kinda boring) amenities across multiple properties: yoga mats in the rooms; espresso machines; and iPod docks. While we're always pleased to find these comforts away from home, there are some hotels that really go above and beyond to provide truly special services and products. After visiting thousands and thousands of hotels, here are the eight most unique amenities we've come across. You'll really love #3 -- so cute!!
1. Netflix Streaming
https://instagram.com/p/3wqM0NvlLE/
Imagine you're midway through binge-watching House of Cards when you have to take a business trip. Sure, you could connect to Wi-Fi at the hotel and watch episodes on your laptop, but Marriott wants guests to enjoy streaming movies and series just like you would at home. The brand partnered with Netflix to outfit their televisions with a connection to the streaming website, so users can sign in and watch on large flat-screen TVs. The Marriott New York East Side is one of the lucky few properties to already have this modern feature, though Marriott hopes to have it available in most of its 300 properties in the U.S. by the end of 2016.
2. 24-Karat Gold iPads
Sure, we've seen resorts that offer pre-filled iPods or Beats by Dre speakers, but the famous Burj Al Arab in Dubai lets guests borrow 24-karat gold iPads during their stays. The hotel does bill itself as the "world's most luxurious hotel," so we're not entirely surprised by this posh amenity. If you choose to stay at this decadent property, opt for one of the suites; they all have iMacs and the gold iPads that serve as direct links to the service concierge, as well as bathrobes and slippers, stocked mini-fridges or bar areas, separate floors for additional guests, seating areas with plush couches, and abundant amounts of throw pillows. Other perks include views of the Persian Gulf through floor-to-ceiling windows, whirlpools, and multiple phones.
Related Link: The 10 Most Expensive Hotels on Oyster.com Right Now
3. A Baby Elephant
The Banyan Tree Phuket is a luxurious property with more than 100 exquisite guest villas. Catering to the tourists who are eager to interact with elephants in Thailand, the hotel is home to a baby elephant, available on-site for photo ops. We feel sorry for the baby elephant on the property, but it's definitely a unique feature and makes for some cute pictures. Other activities include yoga, cooking lessons, Thai language classes, and boat rides in the lagoon.
If you really want to be surrounded by elephants, check out the Elephant Safari Park & Lodge in Bali.
4. Pet Psychics
https://instagram.com/p/1B7FlXiv1W/
Pet-friendly properties are likely to have bowls and treats for furry guests, but Hotel deLuxe in Portland makes sure no bone is left unturned. The hotel has pet psychics and pet psychologists on staff, as well as special services like pet massages, dog walkers, pet acupuncture, and doggie room service. If you've ever wondered what your four-legged friend was thinking, a stay at the charming boutique is a perfect pick.
Related Link: Oyster Q&A: Secrets of a Hotel Pet Psychic
5. Hawk Walks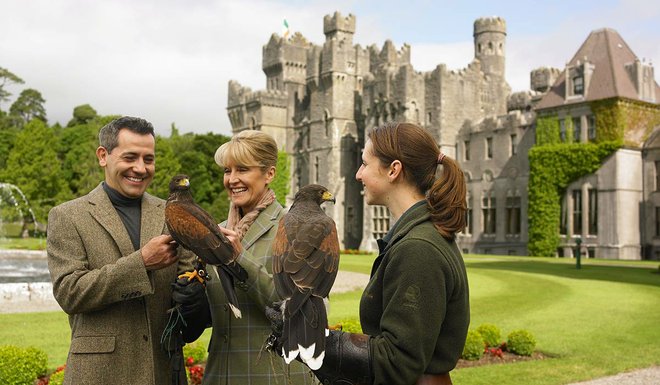 Ashford Castle embodies the fantasy of the Irish castle hotel, featuring a massive historic stone facade, complete with towers and turrets; gorgeous, manicured grounds; a stunning setting on a huge lake; and common spaces that are truly grand, with rich wood paneling, chandeliers, and antique furniture. Its grandness carries over into the amenities offered: falconry lessons, horseback riding, trout and salmon fishing, and clay shooting (for additional fees). The Hawk Walks include a private guide that instructs guest of all ages how to fly a hawk; one hour costs €80.00 per person.
Related Link: 27 Reasons You Should Never Go To Ireland
6. Tarot Card Reading
Embracing the "Keep Austin Weird" slogan, Olivia Pepper of Lunaria Tarot performs short readings at Hotel San Jose for a small donation. She's only there the third Monday of each month from 8 p.m. to midnight. When she's not around, though, guests can still hang out in the hotel courtyard, lounge by the pool, or pop by the famous Jo's coffee shop next door. The hotel's selection of snacks and cocktails, and frequent live music, bring both locals and visitors to this hip spot.
7. Nightly S'mores Bar
https://instagram.com/p/1mNH9DNDmy
The Carmel Valley Ranch is packed with family-friendly amenities, but our favorite is the nightly all-you-can-eat s'mores fire pit. The year-round activity is free for all guests, and a great way to cap off a day at the 500-acre property. A luxury pick in Carmel Valley, the hotel has rooms featuring flat-screen TVs, iPod docks, and Keurig coffeemakers. The ranch's many facilities include two outdoor pools — the River Ranch Pool, featuring a splash zone for kids, and the Lodge Pool — as well as an 18-hole golf course designed by Pete Dye. Yoga, beekeeping, and equestrian programs are also available.
Related Link: 12 Hotels to Celebrate National S'mores Day!
8. Cocoa Plantation Tours
With just 11 freestanding cottages on 130 acres, the eco-minded Fond Doux Plantation & Resort in St. Lucia is intensely lush, featuring coconut groves, fruit-bearing trees, and a working cocoa plantation. Guests can receive a free tour of the Cocoa Fermentation House, where they'll see how the chocolate is made. After that, they'll walk around the plantation, as the guide leads them under a canopy of almond, nutmeg, cocoa, and palm trees. It's a mid-range hotel, but it still features a small spa, a small three-tier pool, and two organic restaurants.
All products are independently selected by our writers and editors. If you buy something through our links, Oyster may earn an affiliate commission.