Fall is associated with lots of warm, cozy things -- hot cider, wool sweaters, crackling fires -- but the season is also known for one spooky, scary event: Halloween, the ultimate ghoulish festival. Christmas, Thanksgiving, er, Groundhog Day...sure, they're all great; but nothing beats the fun of wild costumes, jack-o'-lanterns, apple bobbing, trick-or-treating, and candy corn at Halloween.
And a lot of places seem to agree with us. In fact, some places in the U.S. take things to the next level. Whether it's throwing urban neighborhood parties or embracing centuries-old associations with ghosts, witches, and headless horsemen, here are eight places that go all out for Halloween.
As you likely know, Halloween stateside isn't simply about zombies, ghosts, and terror; there's a far more wholesome side to the fun — and Park City Utah is a town that knows it and shows it. One of the biggest family Halloween celebrations in the country takes place on Park City's Main Street every year and it's all about fun for the whole family — including canine members. After the kids' trick-or-treating comes the main event, the Howl-O-Ween Dog Parade. The town's mutts are led through the town dressed as their favorite superheroes, rock stars, and sexy nurses — and it's adorable.
Hotel Pick:
Just because it's been around a while doesn't mean New York City's Halloween celebration in Greenwich Village is getting stale. This year will be the 43rd annual Village Halloween Parade (the theme is "reverie," FYI), a Halloween party that doesn't just attract thousands of New Yorkers in costume, but also hosts bands, artists, dancers, and puppets for the city's biggest spook fest.
Hotel Pick: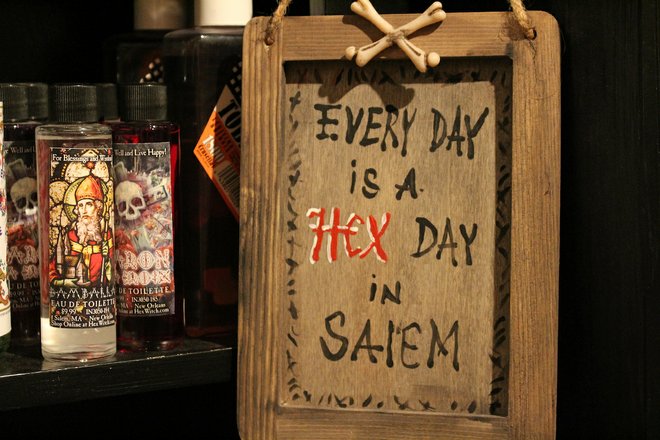 When you're a town that happens to be world famous for its witch trials…well, naturally, just one night is not going to be enough to properly celebrate Halloween. Instead, Salem commemorates the holiday throughout the entire month leading up to it. Known as Haunted Happenings, October activities include haunted houses, ghost tours, and mock witch trials. It's safe to say that Salem takes Halloween pretty seriously — in a totally fun way.
Hotel Pick:
Salem isn't the only town in America with a ghostly history, though, and it isn't the only town that goes all out with a month-long festival. Sleepy Hollow in New York's Westchester County was the real-life inspiration for Washington Irving's gothic tale, and these days the village makes the most of its past. Sleepy Halloween starts early in October and features a month of haunted hayrides, Gothic mansions, blazing pumpkins, farmers markets, street fairs, and parades. And if you do happen to come across a headless horseman galloping towards you: run.
Hotel Pick: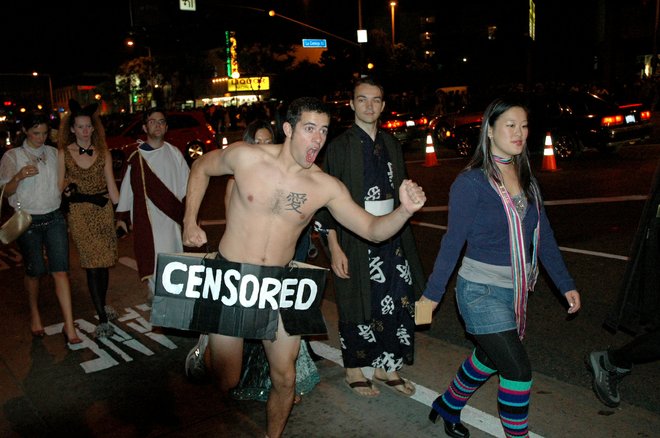 If hosting the world's biggest Halloween party doesn't qualify as going all out — then what does? Los Angeles' West Hollywood Carnaval takes over Santa Monica Boulevard every year on October 3 and sees 500,000 costumed partygoers go wild. And when we say wild, we're talking the craziest, most imaginative, most revealing costumes you've ever seen kind of wild. Beyond the West Hollywood Carnaval, the rest of the city follows suit with hotel parties (like the Ace Hotel's Blood Sucker's Bash), celebrity-studded pumpkin patches, and some of the best decorated yards you'll see.
Hotel Pick:
It may lack the zombie jello shots, trick-or-treating, and dressing up as a sexy version of the most random inanimate object you can think of, but the New Hampshire Pumpkin Festival in Laconia excels with its jack-o'-lantern game. Best in show, it has broken the world record for most lit jack-o'-lanterns in one place, nine times. This year's festival takes place on October 22 and — besides the pumpkin races, pumpkin beer, and pumpkin sweet treats — there's the haunting but beautiful spectacle of a pyramid of thousands of lit pumpkins, grinning out at the festival.
Hotel Pick:
When a city is known for both its voodoo and its unrivaled love of festivals, Halloween is set to be one of the biggest parties of the year there. Arguably second only to Mardi Gras in importance, the New Orleans Halloween celebrations are legendary. The sight of monstrous floats full of grim papier-mache models and ghoulish fiberglass props is the signal that the Krewe of Boo has arrived in the Vieux Carre, kicking off the cue for wild parties. Head to Frenchmen Street for parties galore, where you'll find an even more raucous atmosphere than usual in America's most haunted city.
Hotel Pick:
We're not sure what the relatives of Emma Crawford would make of Manitou Springs' annual Emma Crawford Coffin Race, but the town loves it and tit has a good reason.
If a one hundred-year-old legend of a coffin sliding down a hill into your town isn't a good enough reason for an annual coffin race, then what is?
Competitors come from all over the country to enter the Manitou Springs Emma Crawford Coffin Race and kick off the town's Halloween celebrations. Teams and coffins on the start line at noon on October 29 this year.
Hotel Pick:
Related Links:
All products are independently selected by our writers and editors. If you buy something through our links, Oyster may earn an affiliate commission.