When it comes to great road trips, there's nothing better than a journey up the California Coast. As you explore the sunshine state from south to north, you'll find lovely beaches, gorgeous open roads, and incredible little hideaways. Whether you take the coastal Highway 1, or the more inland 101 South, there are spots along the way you just can't miss. We picked out the eight stopovers we love most.
Deciding how to spend your
time in San Diego can be tough. If you want gorgeous beaches, head to the white
powder of Coronado Beach. If you want to do something a bit different, check out the
famous San Diego Zoo. And if you just want to relax (with a cocktail), well, head to the luxurious Palomar San Diego (pictured), where you'll also find an awesome rooftop bar.
When you're ready to move north to the Los Angeles area, head directly to Santa Monica Boulevard and its — you guessed it — legendary boulevard. Ride the iconic ferris wheel on
Santa Monica Pier, the only solar-powered ferris wheel in the world, for a killer view of the coastline from above. After that, check yourself into Shutters on the Beach (above), a known celebrity hotspot.
3. Malibu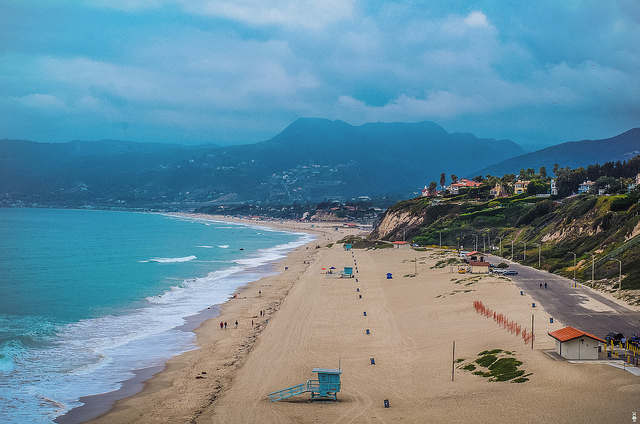 Hit the beach alongside of
Hollywood's most elite — yet decidedly laid-back — celebrities in Malibu, your next
stop on the tour. Zuma Beach is clean and mellow, or hike down to El Matador Beach to see cool cave rock formations that have been carved out of the coastline by the sea.
You Might Also Like: All the Dish on Celebrity Travel
Big Sur is the stuff of novels and
its claim to fame is Pfeiffer State Beach, a special, light-purple sand beach that
dramatically contrasts with the turquoise sea. This hideaway in between San Simeon and Carmel on Highway 1 is a must-see — but you'll be sharing the view with other travelers as this is one of California's top sights!
Stay a night in Santa Cruz to
experience the charm of old California in a city that still has a small, beach town vibe. Check out the wooden rollercoasters, the sea lions
on the beach, the live music on the shore — Santa Cruz is the California before the
glitz and glam, and its mellow atmosphere is the perfect setting for a chill night along the way. Stay close to the action at The Santa Cruz Dream Inn (pictured).
The next couple of hours of
Mendocino are gorgeous, and as you continue south on Highway 101, you'll hit
San Francisco, the city by the bay that beckons for you to explore for at least
a couple of days. Ride a cable car, eat seafood at Fisherman's Wharf, dance
like no one's watching in the Castro… There's no shortage of things to see
here and you should stay at stylish Hotel Nikko (above) to be just a couple of blocks away from Union Square.
Related Link: 13 Hotels with Incredible Views
7. The Shrine Drive-Thru Tree at Humboldt Redwoods State Park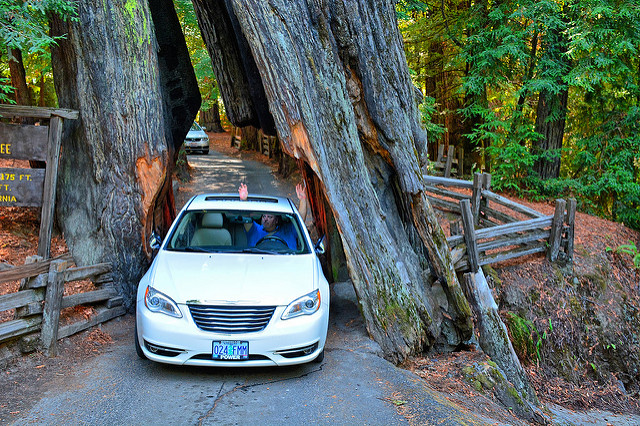 If you've ever dreamed about what
it would be like to drive through a
giant tree, channel your inner elf and head to Humboldt Redwoods State Park
off of Highway 101 South. You could choose to camp here as well, or you could
continue onto our next great stop.
8. Redwood National and State Parks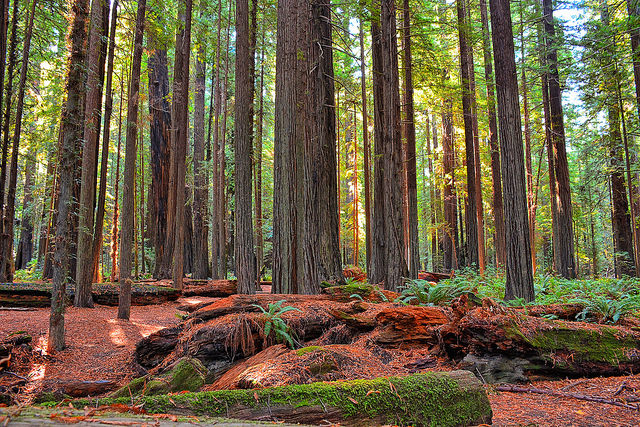 Continue north to Redwood National and State Parks, just five miles south of Crescent
City. Though the thousand-year-old trees are the draw here, there are also some
pretty tide pools and lovely beaches to explore and if you're lucky, you'll see elks grazing as well. This is the place to become one with nature and pitch a tent. Camping fees
are roughly $35 and you'll need to make reservations at least 48 hours in advance.
What are your favorite places to stop along the California coast?
All products are independently selected by our writers and editors. If you buy something through our links, Oyster may earn an affiliate commission.