An all-inclusive trip has the potential to be your best vacation ever thanks to endless food and drink, a range of activities, and (perhaps most importantly of all) the lack of budgeting involved. With almost everything bundled up with the price you pay pre-vacation, there's no room for money stresses to weigh you down, which means you're guaranteed to have an awesome vacation...right??
Well, not quite. Sometimes, the luxury of no-budgeting worries is swapped for numerous other issues, all of which have the potential to ruin your all-inclusive vacation. After all, the all-inclusive tag has the ability to create trouble if you don't respect the power that the ultimate dream vacation wields. But don't worry; we've got you covered with our guide of what not to do the next time you go all in.
1. Choose the Wrong Resort
If you want a special couples' vacation, then it's probably best to forego a deal on a family-orientated resort just because it's cheap. The whole idea of an all-inclusive is to allow you the freedom to switch off and that's just not going to happen if you're cringing as children canon-ball into the pool every five-minutes. Summed up perfectly by Jenifour Jones of Go Get It Events & Travel, "Find the right hotel match for what you are looking for, and then have realistic expectations."
A Great Adults-Only All-Inclusive Pick: The Caves
With its upscale boutique vibe, and dramatic cliffside setting, The Caves is considered one of Jamaica's most romantic escapes. The 12 unique, private cottages and suites at this upscale all-inclusive property unfold along lush garden paths and dramatic seaside cliffs carved with steep stairways down to the water and into incredible grottos. There's a clifftop bar, a grotto bar, and private candlelit cave dining on offer.
2. Arrive With Unrealistic Expectations
Speaking of expectations… Don't expect The Plaza when you've paid for the Liberty Inn. As Jones suggests, travelers need to adjust expectations to the price they pay, saying, "Don't choose the resort based on a made-up or arbitrary number. Instead of just making up a budget in your head, do some research to find out what the type of vacation you're expecting actually costs." While great value can be found in some all-inclusives, the consensus is that you get what you pay for.
3. Treat the Resort Like You're The Only One There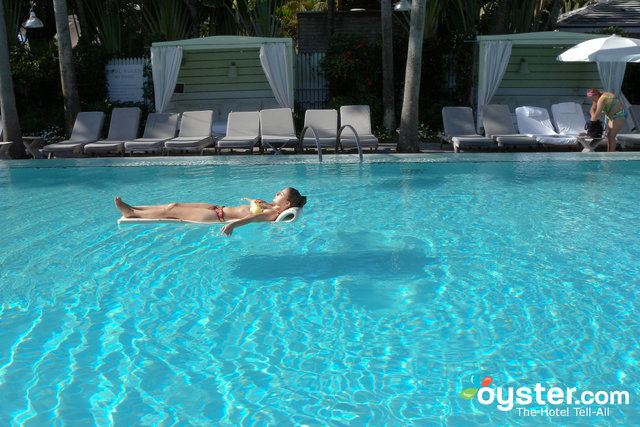 What is it about all-inclusive vacations that makes them have the ability to turn perfectly reasonable guests into divas — or worse? Treating the resort and its staff like you're the only one who matters is going to do nothing for your karma, not to mention the tranquility of your vacation.
Travel blogger Victoria of vicadvisor.com, sums up the problem saying, "Because everything served to you feels like it's free, some guests lose sight of the staff as waiters, and see them more like 'servants' instead. There's no excuse to be rude, though, wherever you are — manners are actually free!"
4. Overindulge for the Sake of Overindulging
One of the biggest misconceptions about all-inclusive vacations, is that the quality of the food and drink is lacking. Victoria sees this as a big reason why people are often wary ofr all-in deals. "People believe that all-inclusive automatically means repetitive meals, mediocre food, and cheap alcohol. From my experience, this definitely isn't always the case."
In our experience, whether the food is average or excellent, people will always tend towards overindulgence — and that includes the liquid refreshments. Being uncomfortably full and/or prohibitively hungover is not the way you want to spend your vacation. Our advice: Attack the buffet and bar in moderation.
A Top Pick for All-Inclusive Dining: Half Moon
Half Moon is a four-and-a half-pearl oceanfront property with two beautiful beaches outside of Montego Bay. Its 388 air-conditioned rooms are a mix of modern and traditionally-decorated units with living areas, extensive minibars, and flat-screen TVs. Private balconies have ocean, pool, or garden views, and multi-bedroom villas include perks like cooks and butlers.
5. Get Stressed About the Things You Think You're Not Getting
Budget woes are not supposed to be an issue when on an all-inclusive getaway. So why swap the stress of worrying about having enough money, to worrying if you're getting enough for the money you've already paid? You want to find value in your deal but don't go obsessing about the minuscule details, or worse, fixating on what other guests are getting that you think you're not. The whole idea of the all-inclusive vacation is to keep you focused on relaxing and enjoying yourself — don't create problems that aren't there.
6. Sign Up for a Time-share Presentation
Some all-inclusive resorts use your presence as an excuse to test their best marketing skills and sell you a time-share. Worse still, some resorts will even tie in activities and extras with the small caveat of having to go to one of these presentations first. This was the case for Samantha Aulick, owner of 240 Sweet, who was promised a romantic dinner on the beach if she attended a "short" time-share presentation at her resort in Cancun.
As she explains, "It was a big mistake. Over an hour in, I told the salesperson that our time was almost up. The sales lady moaned about how she had been in a horrible auto accident and didn't have any money, since she worked solely on commission and had a daughter to take care of all on our own. At two and a half hours, I stood up and walked out of the room. Then, we had to be escorted to another sales presentation to sign up for our romantic dinner. The rest of the time was wonderful…but eight months later and I'm still tensing up about [the pitch]."
7. Forget Tipping Exists
Unless you're in a luxury resort where it's forbidden, you should probably still be tipping, both for your own sake and for the sake of the staff. Food and drinks may be free but service is unquantifiable, which means tipping might mean the difference between long waits at the swim-up bar and first-served every time.
Jenifour Jones at Go Get It, advises guests to bring plenty of small bills. "While the resort may tell you gratuity is included, tips can go a long way and help with service," she says. "And beyond doing it for your benefit, it's just nice to reward good service." So, while tipping is by no means required, if you don't play the game you might just become "that" guest. And "that" guest gets served last.
8. Fail to Budget for Extra Fees
Finally, at the end of your all-inclusive vacation comes the time to pick up the bill for the extras. And if your budgeting was all about keeping things tight at the resort — but your love for top shelf whiskey, wine upgrades with dinner, and scuba diving lessons got out of hand, you might be stung with a bill that could shatter the serene calm you've built up during your stay.
Ranging from sizes 2-24 and having hundreds of colors and designs, Summersalt is a swimwear brand made for everyone.
Related Links:
All products are independently selected by our writers and editors. If you buy something through our links, Oyster may earn an affiliate commission.