Established in 1872, Yellowstone is the oldest national park in the United States, attracting millions of visitors every year. Its wide expanse of valleys, flowing rivers, observable wildlife, and plethora of geologic features like the iconic geyser Old Faithful make it a magical place to visit for people of all ages. So keep reading for eight things to know before visiting Yellowstone and start packing up your binoculars and sun hats.
1. It has more than 10,000 hydrothermal features.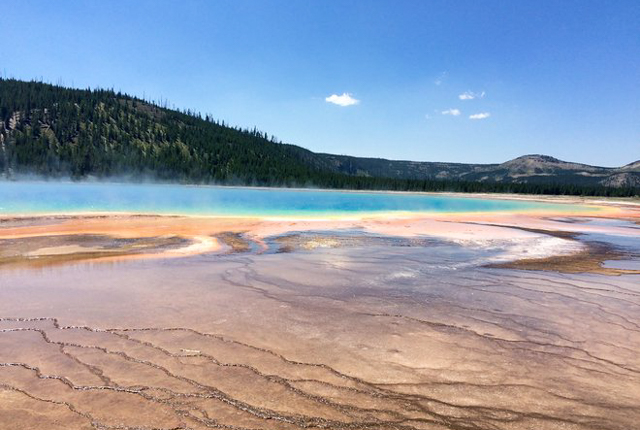 Most travelers to Yellowstone have heard of Old Faithful — the punctual geyser that typically erupts every 60 to 110 minutes — but the park is packed with over 10,000 hydrothermal features. In fact, it houses more than 500 geysers, which is the largest concentration of active geysers in the world and accounts for roughly half of the entire world's total. Its array of hot springs, mudpots, steam vents, and travertine terraces make it a geologic wonder that mesmerizes visitors of all ages. Famous attractions include the rainbow-like Grand Prismatic Spring and Fountain Paint Pots — pastel-colored mud pools that resemble an artist's palette.
2. Hot springs are the most common cause of injury.
Although the odd bear attack or bison goring makes a lot of headlines, it's the park's bounty of hot springs that causes the most injury. Hot springs are the most common hydrothermal feature at the park, and water temperatures can exceed 199 degrees Fahrenheit (94 degrees Celsius) in some. At times, the hot springs can shoot boiling water into the air, causing visitors injury if they're in the wrong place at the wrong time. Plus, ill-advised travelers have left the boardwalks and slipped, or made the mistake of putting their limbs or bodies into the water and obtaining severe burns — some causing deaths. Moral of the story: Never leave the designated boardwalks and paths, and do not touch the hot springs. Visitors can soak in the Boiling River, where cold water from the Gardner River mixes with the hot spring water (only soaking in the river is allowed).
3. It can feel like a theme park in the summer.
Unsurprisingly, summers at Yellowstone see the most amount of travelers of any season. In 2016, Yellowstone saw around 4.25 million visitors, and nearly one million were in the month of July alone. And while Yellowstone is vast, some areas can feel a bit like a day at Disney World with the amount of tourists shuffling between top sights. Parking lots near attractions are packed early, and people have to wait their turn before getting a prime viewing spot. If visiting between June and September, particularly, expect to encounter far more selfie stick-yielding travelers than bison.
4. There are ways to escape the crowds.
Fortunately, most travelers stick to a few top sights — Old Faithful, Grand Prismatic Spring, Boiling River, and Lookout Point for the Grand Canyon of Yellowstone — so it's possible to avoid the congested spots. Since most attractions can be driven up to, hiking to them can help you avoid a lot of travelers. For instance, take the Mystic Falls Hike or Uncle Tom's Trail for a scenic, generally crowd-free hike.
5. The park is beautiful year-round.
For those that want to visit the park when there are even less visitors, consider going outside of summer. Autumn is a particular favorite for the cooler weather and leaves turning a lovely range of orange and yellow. Additionally, during September and early October, elk are in rut and provide interesting wildlife watching (from a safe distance, of course.) Bears typically return to lower elevations in October, as do bison in November, allowing for more visibility from roads. Winters mean a stunning snowscape and the possibility of skiing and exploring by snowshoes and snowmobiles, but temperatures are frigid. During spring, bears start coming out of their dens, birds migrate back to the area, and colorful wildflowers start to bloom. Road and hiking trail closures make getting around outside of summer a bit more complicated, but many prefer the minimal crowds these months attract.
6. You'll undoubtedly see animals up close.
From grizzly bears and herds of bison to raptors and toads, Yellowstone is home to 67 types of mammals, 150 species of birds, and five amphibian species. Yellowstone has the largest concentration of mammals in the lower 48 states, and visitors will at least see a couple of these during their visit. Although bobcats and cougars are more elusive, bison and black bears are commonly spotted in the park. Lamar Valley and Hayden Valley are often great places to see lots of animals. Just be sure to follow the park's recommendations for how far to stand away from animals, and make noise when hiking to avoid surprising a bear.
7. Hotels and camp sites fill up quickly.
During those popular summer months, hotels and campsites that can be reserved ahead of time often fill up well in advance. If you're dead set on staying in one of the pricey hotels within the park, book as far ahead as possible. If going in the summer, camping is a popular and relatively comfortable experience (showers, flush toilets, and drinking water available) at most campgrounds. There are hundreds of spots available at reservable sites, while others are first come, first served, but have fewer available spots. Be aware that many lodges and campsites close in the winter, so know where you're going to sleep before your arrival.
8. Activities abound here.
Wildlife viewing, watching Old Faithful erupt, and hiking scenic trails are certainly the most popular activities for visitors to Yellowstone, but there are numerous ways to spend your days and nights within the park. Taking canoes and paddleboards on Yellowstone Lake, horseback riding, fishing, bicycling, and backcountry camping are all available at the park. Plus, ranger-led talks, stargazing with telescopes, and photography tours are just some of the park's offerings during select times. Don't worry about fitting everything in your trip though, as simply admiring the geologic wonders and striking landscape is enough to satisfy most tourists.
You'll Also Like:
All products are independently selected by our writers and editors. If you buy something through our links, Oyster may earn an affiliate commission.