Whether you're an avid scuba diver or amateur snorkeler, a trip to the Great Barrier Reef should make everyone's bucket list. Not only is it the world's largest coral reef system, but the UNESCO World Heritage site is also one of the seven natural wonders of the world. Situated in the Coral Sea, off the coast of Queensland, Australia, the massive turquoise-and-blue paradise stretches for more than 1,400 miles. So massive, in fact, that it can even be seen from outer space. But before you go, check out these eight handy tips, including where to fly into and the best time to visit (hint: avoid stinger season).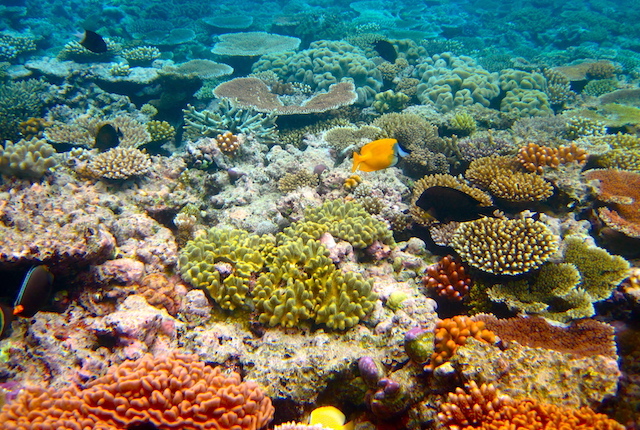 1. You Need a Visa
Unless you're a New Zealand resident, tourists entering Australia need to apply for a visa. U.S. passport holders traveling for tourism or business for less than 90 days can obtain an Electronic Travel Authority (ETA) online for 20 AUD (or roughly 15 USD). The ETA is electronically linked to your passport, which means once you arrive at the airport, you can scan your document and be good to go.
2. Choose the Best Airport
When it comes to picking an airport to fly into, there are several options. If you're traveling from the U.S. to the popular Cairns Airport, you'll likely have to transfer from Brisbane, Sydney, or Melbourne first. Townsville Airport and Port Douglas Airport are both excellent jumping off points for getting to and from the Great Barrier Reef and offer a range of nearby hotels and activities to choose from.
3. The Best Time to Go
Unlike the rest of Australia, which undergoes four seasons, the Great Barrier Reef experiences only two — wet and dry. Although Queensland is considered a year-round travel destination, the dry season runs from May to October and offers travelers moderate temperatures, low rainfall, and warmer ocean temperatures.
4. Options Are Aplenty
Home to more than 3,000 coral reefs, 600 islands, and 1,600 species of fish, the Great Barrier Reef comes with an abundance of options. Opt for a day trip with a local charter company like Quicksilver Cruises, which take travelers to Agincourt Reef on Australia's continental shelf. Or, stay on one of the reef's many islands like the family-friendly Daydream Island or romantic Lizard Island. One important thing to note is the boat ride to the outer reefs can be quite rocky. While most tour companies have seasickness pills readily available for purchase, it might be wise to invest in some acupressure sea bands or Dramamine before venturing out on the excursion.
5. Understand Coral Bleaching
While doing some trip research, you may have come across the term coral bleaching. To put it simply, unusually high water temperatures — likely due to global warming — are causing the coral in the reefs to emit algae, which in turn causes the coral to turn white and die. While there are varying reports about how widespread this issue is at the moment (many say it's the greatest ecological threat to the area), it's important to be aware of the issues facing this region.
6. Prepare to See a Variety of Underwater Life
There are more than 30 species of marine mammals found in the Great Barrier Reef, including bottlenose dolphins, humpback and dwarf minke whales, several species of turtles, sharks, sea snakes, soft and hard corals, jellyfish, and more. And while there are 133 shark species that call the Great Barrier Reef home, most are non-threatening to humans. The main creature concerns come from box jellyfish and stingrays, which are prevalent along the beaches in Queensland. Stinger season generally lasts from November to May when temperatures are at their highest. Stinger suits are highly recommended and will most likely be offered by your local tour operator.
7. The Area Has a Unique History
Aboriginal and Torres Strait Islander people have lived in Queensland's coastal areas for more than a millennium. Visitors can embark on the Ngadiku Dreamtime Walks at Mossman Gorge. Here, the indigenous people take travelers along culturally significant sites, past traditional bark shelters, and over rainforest streams. The experience begins with a traditional smoking ceremony that's meant to ward off bad spirits.
8. Be Aware of Crocodiles
There are two types of crocodiles native to Australia — saltwater and freshwater. Aside from their physical size (saltwater crocs are bigger than freshwater), there is one major distinction between the two. Freshwater crocs (or freshies as they're referred to by locals) are less likely to harm you. On the other hand, saltwater crocodiles (or salties), which take up shelter along the beach, are the dangerous ones. While you need not worry about swimming with these treacherous reptiles on the outer reefs, it's important to be aware of your surroundings and do a quick croc-check before diving into the water.
The four-pearl Palm Bay Resort Whitsundays is a serene, tropical property set on the idyllic Long Island, surrounded by the Coral Sea and reefs, and a jungle full of flora and fauna. The 25 villas range from cozy wooden spaces to big sleek houses, but all of them are private and secluded. Smaller villas don't have their own kitchens, but rather, guests have the use of a shared outdoor kitchen and big terrace with dining tables. On-site features include a lovely spa, outdoor pool with built-in hot tub, tennis court, and free non-motorized water sports.
The sun in Australia has notably some of the strongest rays in the world. While visiting the Great Barrier Reef, lather up in some reef safe sunscreen to keep both yourself and the ocean out of harm's way.
Related Stories:
All products are independently selected by our writers and editors. If you buy something through our links, Oyster may earn an affiliate commission.