When you think of cliffside villages, there's probably a good chance you picture Santorini, Cinque Terre, and the Amalfi Coast. And they're beautiful! However, there's also the opportunity to go off the beaten path and visit the more obscure towns and villages with equally picturesque cliffside locales. From UNESCO World Heritage Sites to medieval towns to the inspiration for a popular TV show, we've rounded up some of the best cliffside villages in Europe that you've (probably) never heard of.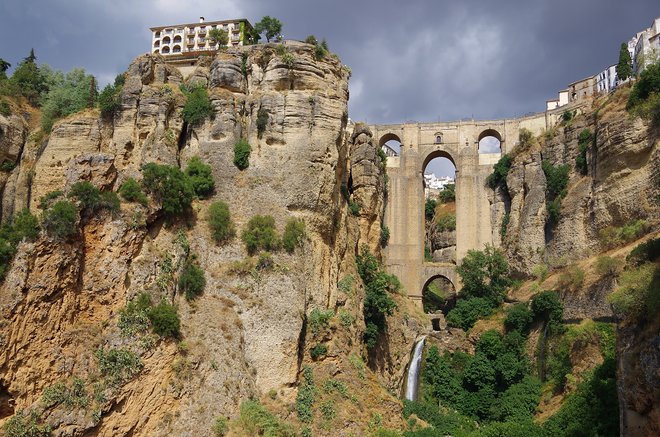 One of Spain's oldest towns, Ronda was established in the ninth century B.C. Set over 300 feet above the El Tajo gorge, the old town (La Ciudad) has a mainly Islamic heritage filled with mosques and palaces built when it was the capital of a small Islamic kingdom from 1065 to 1485. One of the must-see sites is Puente Nuevo, a bridge completed in 1793 that spans the gorge, offering stunning views and connecting the old town to the new town. Ronda also sports a bullring dating back to 1785, and is the hometown of Francisco Romero, who is credited with giving bullfighting its modern-day rules. The Arabic walls around the old city, the Moorish palace, and the Arab baths should also not be missed during your visit.
A Historic Hotel Pick:
If you have an affinity for cold, dark places, but still enjoy endless vistas (it's a weird combo but hey, you never know), check out the Italian city of Matera. This ancient town carved into the side of a cliff is thought to be one of the first settlements of humans in what is now Italy. Matera remained relatively unknown by the general public until it was declared a UNESCO World Heritage Site in 1993. Since then, visitor numbers have been growing, and many of the caves have been turned into restaurants and hotels. The best way to explore the city is on foot through the many alleyways, staircases and courtyards. If you get the chance, be sure to stay overnight in one of the cave hotels.
A Historic Hotel Pick:
Built into the side of cliffs above the Yantra River, Veliko Tarnovo is one of Bulgaria's oldest towns. Its fortified walls and cobbled streets can be traced back to its medieval history, as can Tsarevets Fortress, a citadel from the Second Bulgarian Empire. There are a plethora of old churches and monasteries to visit, not to mention many museums depicting the rich history of the town. Today, the city is home to Bulgaria's second largest university, and its location between Bucharest and Istanbul has made it a haven for backpackers. If you stay in the port of Burgas on the Black Sea, the drive to Veliko Tarnova is only two and a half hours.
A Luxury Hotel Pick in Burgas: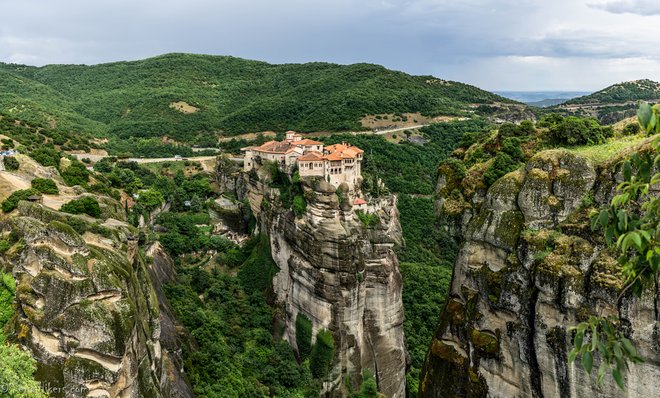 If you're one of the many "Game of Thrones" fans out there, you've probably considered visiting Dubrovnik, the setting for King's Landing, or Iceland, which is where the scenes above the Wall are shot. However, one location you might not have considered yet is Meteora, Greece, which was an inspiration for House Arryn's castle, the Eyrie. Since the 1300s, 24 monasteries have been built atop the rocky precipice, six of which still remain. This UNESCO World Heritage Site didn't have steps to the top until the 1920s — today, you can hike these steps, but there's also a road you can drive up. The more adventurous traveler with serious rock climbing skills can still climb the rock face for a real challenge.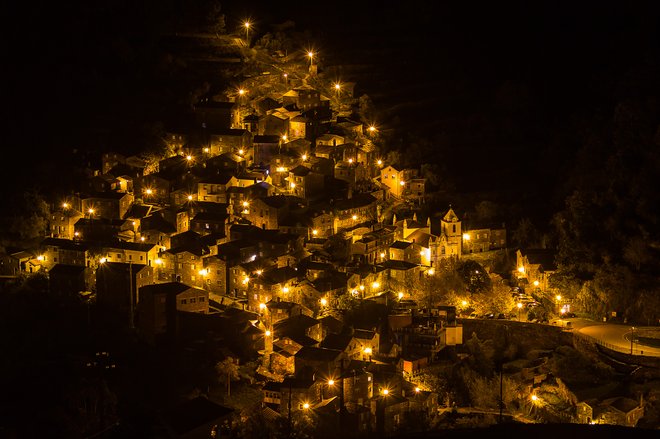 Built into the mountainside of Serra do Açor, Piódão remained isolated for centuries due to difficult access routes, allowing it to retain its medieval aura. Steep streets, irregular pavement, and uneven stairs all add to its charm, but visitors should be rather nimble if they want to tackle them to tour the city. Much of the town was built using schist, a stone found in the region, and it's sometimes colored with hints of bright blue. If you are one to believe legends, this hue was thought to be the only color of paint carried by the one shop in town. This charming spot is only an hour-and-a-half drive from Coimbra, making it an easy day trip.
A Historic Hotel Pick in Coimbra:
6. Castellfollit de la Roca, Spain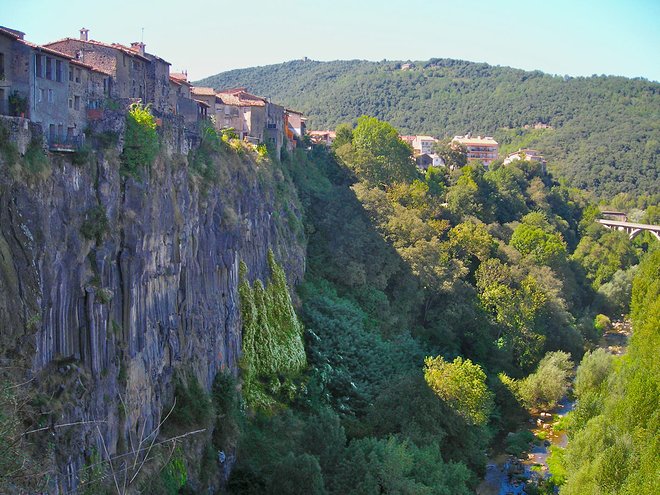 Not only is this small Spanish village on a cliff, but it actually has cliffs on both sides. Built on a basalt crag formed by lava overflow, Castellfollit de la Roca sits over 150 feet above the two rivers that straddle the precipice. Many of the homes in the older part of the village, which dates to medieval times, are made from volcanic rock. The views of the surrounding countryside and rivers are spectacular, and there are many noteworthy buildings to visit, including the 13th-century Sant Salvador Church. To add to the ambience of the town, the cliffs are illuminated from sunset to midnight for six months of the year. There are some lodging options if you want to stay in the town, but for those looking for a day trip, buses run to and from Barcelona, or you can drive the two hours yourself.
A Luxury Hotel Pick in Barcelona:
This small village in south-central France is known for its dramatic location on top of a cliff. It has long been a pilgrimage stop due to its location on top of a shrine to a Madonna, which later became known for its healing powers — it's also a UNESCO World Heritage Site. The village is built into a cliff above the Alzou River and mainly consists of one long, paved street, with many medieval houses and stone fortified gateways lining it. Off the main road, there's a series of steps called the Grand Escalier that lead to a small square surrounded by eight important religious buildings. Rocamadour is only a two-hour drive from Toulouse, the capital of France's Occitanie region.
A Boutique Hotel Pick in Toulouse: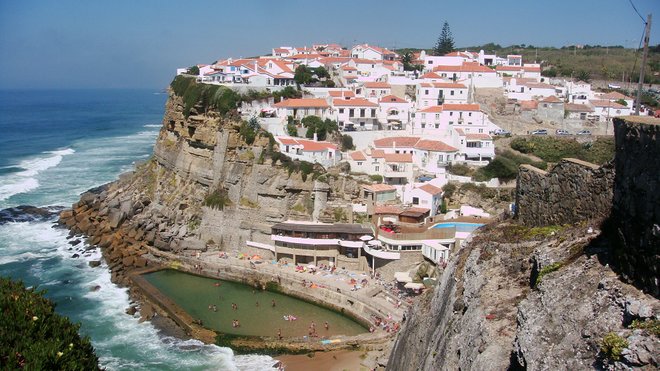 Located just under 20 miles from Lisbon, the small coastal town of Azenhas do Mar (near Sintra) is a day trip you should add to your itinerary — there are trains and buses running back and forth each day from Lisbon. It has buildings with red tin roofs that climb up from the sea along the cliff, and from these buildings, the view of the Atlantic Ocean is amazing. The town's location provides ample seafood for its restaurants, and there are many wine bars with local varietals. Many people suggest that a sunset dinner at Azenhas Do Mar (a restaurant that shares its name with the town) is the best way to end an evening here.
A Luxury Hotel Pick in Lisbon:
You'll Also Like:
All products are independently selected by our writers and editors. If you buy something through our links, Oyster may earn an affiliate commission.