When the annual question of what to do for New Year's Eve comes up this year, why not take matters into your own hands and plan a romantic break away? The stress of choosing which friends to hang out with and picking the right party coupled with the potential for anticlimax when the clock strikes midnight can all be avoided with a well-timed NYE getaway. Looking beyond the usual suspects of New York City, Paris, and London, we've selected destinations that range from gothic, alluring European cities to cozy, charming spots in America's South. So, this year, when that loaded question comes around, consider these nine awesome alternative romantic destinations -- both domestic and international -- to ring in NYE.
If you want to swap the fun of a frantic city for something a little calmer, then Charleston is a great place to see in the new year. Friendly, charming, and beautiful, the old town is one of the most romantic in the South. Home to some of the best hotels and guesthouses around, your lodgings might even outclass the town's good looks. When it comes to the big night, keep things low-key with a historical walk by the moonlight, party hard on a decommissioned aircraft carrier at the Yorktown Countdown, or go alcohol-free at the Marion Square Happy New Year, Charleston party.
Hotel Pick:
If Charleston sounds a little tame, split the difference with a trip to Reno, Nevada and combine casino parties with long, romantic mountain hikes. The city has the feel of a party town, backed up by an awesome natural backdrop that might even divert the eyes of two sweethearts looking at one another. Celebrate midnight at the downtown countdown, which features a fireworks display that's launched from the rooftops. Then, try your 2017 luck at a casino party.
Hotel Pick:
Okay, we did say no to New York City for an alternative romantic NYE, but that doesn't rule out heading upstate for a couples' break that could be so relaxed you don't even have to get out from under the duvet. For the ultimate romantic hideaway, bunker down in a Lake Placid inn and see in the New Year with noone but your significant other. Snuggle up and listen to the water lap at the dock, or if you crave more company, head to a neighborhood bar on Main Street.
Hotel Pick:
If you're determined to celebrate New Year's Eve in a big city, then we suggest booking it to Chicago. In our humble opinion, it's tough not to be seduced by this midwest jewel. Between the excellent dining scene, skyscraper-gazing, hole-in-the-wall bars (try Danny's for dive-y authenticity), and the massive NYE extravaganza at Navy Pier on the edge of Lake Michigan, a romantic break might have you looking to make plans for a more permanent move here.
Hotel Pick:
Choose between a trip to Dublin, where you're bound to discover the mythical 'craic' (that's a type of Irish feel-good fun), or take in the stunning landscape with a stay in one of the destination's many grand period hotels. If you opt for the romance of the capital city, then there's really nowhere else to enjoy the Hogmanay-on-Liffey than Dame Street — namely, at the distinctly Irish New Year Festival, which features plenty of traditional music and dancing. Alternatively, strike out for the country and head for Donegal. Here, you can celebrate 2017 with a Guinness in a cozy local pub and enjoy the beauty, tranquillity, and romance from a local inn like Harvey's Point.
Hotel Pick:
Popular for the artisan beer, chocolate, and the most famous moules-frites in Europe, Bruges is a city that's known to attract visitors with thoughts firmly on their stomachs. But beyond the gastronomy, the Belgian city is well-known for its gothic architecture and chocolate-box appeal — a kind of fairytale destination where time stands still. Cold and atmospheric, the small city can also be covered in one short NYE break. Christmas markets will still be bustling by Sint Sylvester Vooranvond (New Year's), ice sculptures remain sparkling, and quaint cobbled streets and canals are the perfect paths on which to talk resolutions.
Hotel Pick: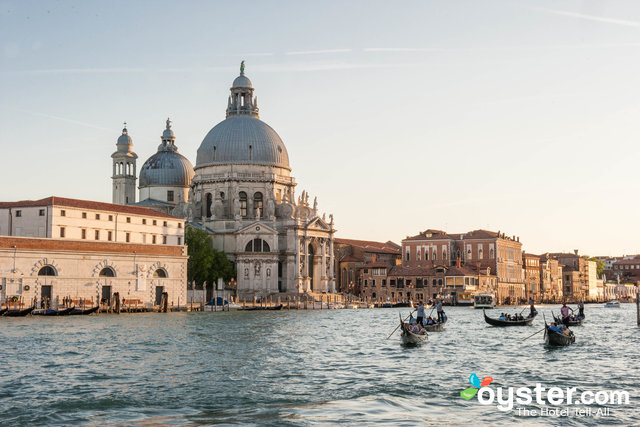 While most travelers tend to visit Venice during the summer — when the risk of flooding is at its lowest — winters here are when romance blossoms. Sure, flooding can be a problem at times, but in return for wet ankles (bring boots), you'll find a city shrouded in a mysterious, romantic atmospheric mist. New Year's Eve — or La Festa di San Silvestro — celebrations take part in St. Marks Square with firecrackers, classical music, and plenty of overt displays of public affection.
Hotel Pick:
While we've never heard of anyone booking a romantic trip specifically for a fireworks display, Hong Kong during New Year's would be the place to go if you're looking for a pyrotechnic show worthy of asking a certain question on one knee. In a city that beams a free laser light show every single day, it's not surprising that the eight-minute spectacle of exploding fire above Victoria Harbour is so awesome (although not quite as awesome as the 20-minute display for Chinese New Year!). Watch from almost anywhere surrounding the water — and yes, that includes a romantic rooftop with Champagne at say, Ozone bar — the world's highest bar.
Hotel Pick:
Related Stories:
All products are independently selected by our writers and editors. If you buy something through our links, Oyster may earn an affiliate commission.