You've booked the celebrity home tours, watched endless reruns of "Lifestyles of the Rich and Famous," and feverishly scrolled through your favorite A-listers' Instagram feeds for a glimpse of what it's like to walk in their shoes. But to truly understand how the other half lives, one must spend a night in their master bedrooms, lounge in their stunning pools, and fuel up in their state-of-the-art kitchens. Luckily, we've rounded up nine celebrity abodes-turned-hotels for all those times that walking tour just won't cut it.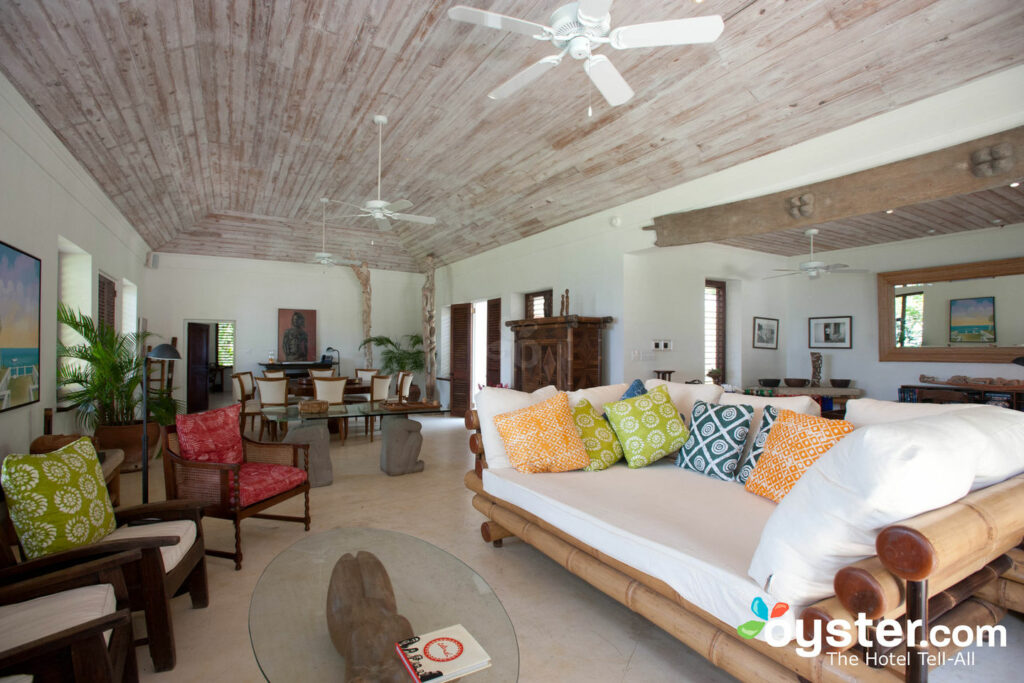 This 52-acre, 22-room Jamaican property has plenty to brag about: With private beach and lagoon access, spacious cottages, a tree house spa, oceanfront pools, and a couple of restaurants (here's looking at you, $50 million makeover), it also happens to be the birthplace of James Bond. Before transforming into a full-fledged hotel, author Ian Fleming resided at this retreat, where he allegedly penned all 007 novels. In fact, his original three-bedroom villa, which held on to the writer's desk and peaceful views overlooking the sea, is still up for grabs. Book it and get your own creative juices flowing.
Formerly the vacation home of Bob Marley and his family, this 16-room beachfront property still pays homage to the legendary reggae musician in a big way today. Aptly named after his iconic tunes, guests can book the One Love, a romantic couples suite with a whirlpool tub for two, raise a glass while taking in live music at the Stir It Up bar, unwind for some R&R at the Natural Mystic spa, or nosh on some gourmet Caribbean cuisine at the Simmer Down restaurant. Throw in stunning ocean views and two pools and you're bound to feel like the ultimate VIP.
3. Hacienda San Angel in Puerto Vallarta, Mexico
https://www.instagram.com/p/BEMLThsKgyK
Rumor has it, Richard Burton first fell for the resort town Puerto Vallarta in the mid-1960s while filming John Huston's "The Night of the Iguana." He fell so hard, in fact, that in 1977, the Oscar-nominated actor even purchased the Hacienda San Angel's main villa as a Valentine's Day present for his wife, Susan. Today, guests can relive the magic inside the picturesque 20-room property, which comes equipped with three pools, an elegant rooftop restaurant, and suites with sweeping views of the Banderas Bay and Sierra Madre mountain range.
4. The Charlie Hotel in West Hollywood, California
https://www.instagram.com/p/v934K1wWnR/
Once a home to the mustached slapstick comedian Charlie Chaplin, the West Hollywood hotel now consists of 13 cottages named after an impressive roster of A-listers (Marilyn Monroe, Marlene Dietrich, and Clark Gable, to name a few), who have also stayed or rendezvoused on the property. These days, you're likely to bump into stars like Natalie Portman, Liv Tyler, and Robert Pattinson roaming the grounds and soaking in amenities like lush garden views, private patios, and more.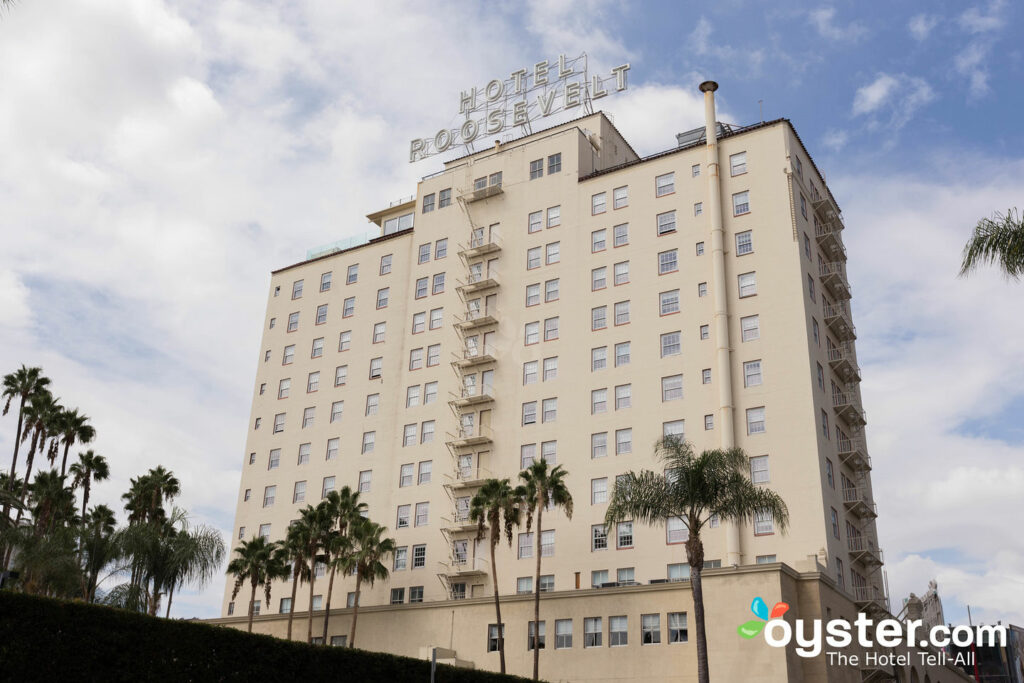 Live like Marilyn Monroe, who once holed up in suite 246 at this Hollywood Boulevard hideaway. Outfitted in white furniture, sleek hardwood floors, vintage Eames designer accents, and a roomy wrap-around balcony, this 750-foot loft-like will give you a taste of old Hollywood glamour. Just watch your back—some claim the grounds are haunted after spotting the actress' ghost in the lobby mirror that once belonged to her.
With panoramic views of the Pacific Ocean, secluded poolside suites and bi-level bungalows tucked inside manicured gardens, and front-row seats to the type of dreamy sunsets you write home about, it's no wonder so
many Hollywood heavyweights chose this Santa Monica destination as
their escape back in the day. In the 1920s, Greta Garbo became the first celeb to move into the
six-story Palisades Wing, living there for four years. Jean Harlow soon followed
suit, renting one of the Miramar bungalows in the early 1930s, and Jean Simmons, who shacked up there for seven months, trailed not far behind. Nowadays, it still attracts the bold and the beautiful—Olivia Newton-John, Robert Downey Jr., Jodie Foster, Hilary Swank—but for briefer stints.
The resident list at Andre Balaz's castle-like Los Angeles hotel reads more like an Oscar ballot than a building manifest. Since opening its doors in 1929 as luxury apartments, the Sunset Boulevard digs have housed entertainment hot-shots like "Rosemary's
Baby" director Roman Polanski, who permanently put down roots in 1968 with
this wife, Sharon Tate; John Belushi, who moved into Bungalow 3 and later OD-ed
on heroin; and Robert De Niro, who crashed here for two years straight. Years later, it still retains its luxurious charm, which comes to life in velvet armchairs, wrought-iron chandeliers,
private bungalows, serene pool surrounded by landscaped gardens.
Remember the
lyric "now you're smiling out of the window of that crummy hotel" in Joan Baez's
tune "Diamonds and Rust?" Turns out, the songstress was crooning about room 305
in the charming Greenwich Village hotel, which she and Bob Dylan called home in
the 1960s. Formerly named Hotel Earle, the more than a century-old building hosted
all kinds of artist guests (Hemingway, Albert King, Bo Diddley, to name a few) in its heyday. Although the star-studded guest-list has decreased, a recent renovation (rooms are now decked out in Art Deco-inspired accents) has bolstered its popularity among the NYU family crowd.
If you've ever wondered what it's like to live like a Vanderbilt, here's your chance. Originally built by businessman Alfred Gwynne Vanderbilt, the 33-room property that once housed the wealthy American family now serves as a holiday escape for guests. Book a room at the hotel (it also includes a spa, fitness center, indoor and outdoor pools, and two restaurants) and use it as a launchpad to explore the nearby Newport waterfront. Or, curl up by the fire inside the Christy Room and let the Beaux-Artes details transport you back to the Gilded Age.
Related Links:
All products are independently selected by our writers and editors. If you buy something through our links, Oyster may earn an affiliate commission.