Whether you're a true believer or a true skeptic, it's impossible to deny the sheer beauty of the world's religious structures. Cathedrals, churches, chapels, and monasteries around the world can be must-see tourist attractions, as architecture and art are often pushed to new heights in holy tribute. (Just consider that the attempt to spruce up the Sistine Chapel added an entire ceiling of Michelangelo frescos.) But for every Santa Maria Maggiore, there's another church or rectory that's fallen into disuse or disrepair. Luckily, some of these have been reborn as hotels, preserving several of their majestic details like vaulted ceilings and stained-glass windows. The result? Show-stopping, one-of-a-kind accommodations. After all, nothing says, "This isn't your typical Marriott" like eating your continental breakfast under a steeple. Read on for our favorite picks.
Gothic to the core, the exterior of the Kruisherenhotel Maastricht seems far more likely to draw pious church-goers than posh fashionistas. Yet it's the latter that tend to come on vacation here, drawn by the gorgeous mix of modern decor with 15th-century architecture. Nowhere is the juxtaposition more apparent than the Kruisheren Restaurant, which is placed in the former nave of the church. Here, molded plastic chairs and bright red accents balance the vaulted ceilings and frescos. But even humble hallways have arched windows broadcasting the building's rich history. A futuristic glass elevator connects the whole structure, only heightening the contrast.
Once the home of a silent order of monks, the Stanbrook Abbey Hotel has retained a deep serenity and several details that point to its 16th-century roots. Timber beams, deeply etched herringbone floors, and a few stained-glass details provide a foundation for the hotel's atmospheric look. This is embellished to the hilt with canopy chairs, squat baroque dressers, and fainting couches that match the mood (if not the exact era) of the building. Given all these romantic details, the property tends to draw plenty of destination weddings that can make use of the cloisters as a venue for both the spiritual ceremony and the boisterous celebration.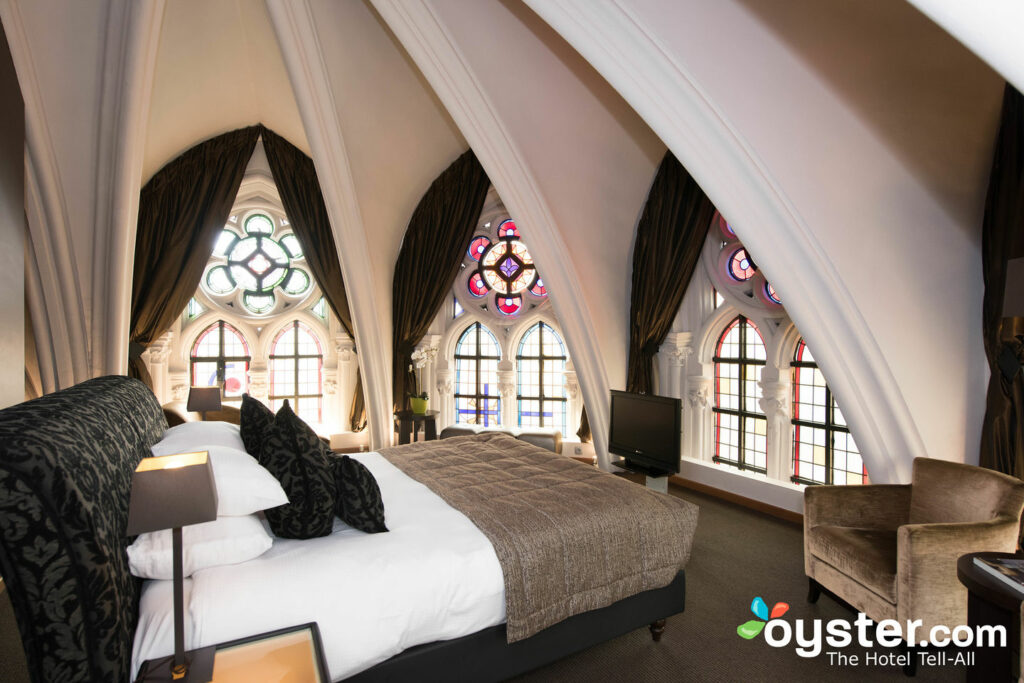 Martin's Patershof has zero interest in hiding its neo-Gothic origins. Its red-brick exterior, topped with a portrait of the Virgin Mary and a stunning rose window, looks ready to kick off Sunday service—all that's missing is the choir. But once inside, the tidy look of a contemporary hotel takes form, complete with white-tile floors and a cream-and-ebony front desk. Still, its church origins are never far from sight, as windows tapered to a tall point can be spotted throughout the interiors along with plenty of stained-glass ornamentation. These details follow into most of the rooms, including the Best of the Home Suite, which is topped with incredible rib vaulting and surrounded by a semicircle of stained glass.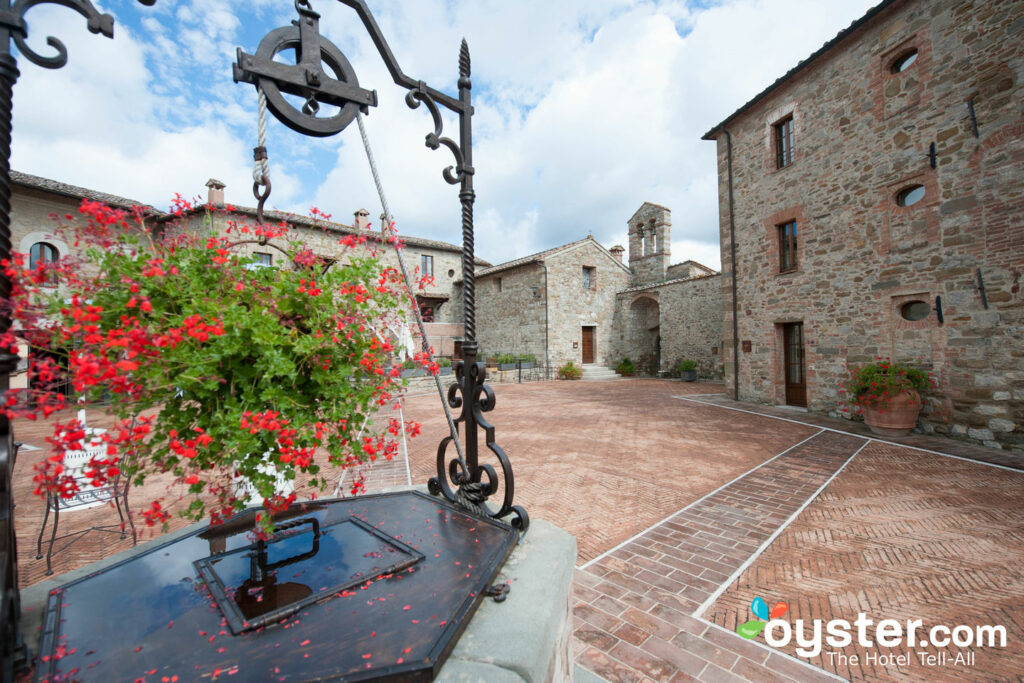 As the name implies, Castel Monastero offers a twofer: In its long history, it was both a medieval castle and a monastery. The impressive structure dates all the way back to the 11th century, and it's surrounded by a number of little ancillary buildings and even sweeping vineyards—an entirely appropriate crop given the connection between monks and winemaking. Interiors are done up in a neutral, contemporary look with loads of dark leather and beige textiles, letting the historic touches like rich wood beams and dense stone walls take the spotlight. But it's the little details, like the old well festooned with flowers, that truly make the place feel lifted out of a storybook.
It may seem like these stunning church-to-hotel conversions are strictly the stuff of European getaways. But you don't need a passport to stay at The Priory Hotel. This former Benedictine monastery is now a charming boutique hotel located in Pittsburgh (surprise!). Its red-brick facade, lined with arched windows, is still crowned with a chiseled cross, and pink and white roses thread through the wrought-iron gate around the entrance. Inside, public spaces reflect the hushed and stately look of traditional drawing rooms (though the occasional ATM and vending machine break the mood a bit). Rooms, with Oriental rugs and heavy drapes, also display a deeply Old World atmosphere. But the most scenic spot has to be the hotel's event space, the Grand Hall, which was once a Catholic church and still sports the original organ and Byzantine-style hanging lights.
Move over, Machu Picchu! The Belmond Hotel Monasterio offers another excellent reason to head to Peru. Layers of history are present here. The site itself was once an Inca palace, and the hotel's building dates back to the 16th century when it was a monastery. In traditional, Spanish style, columned archways block in scenic courtyards, complete with a fountain and 300-year-old tree. Certain public spaces have been altered to reflect a hotel's function (though reception still looks more like a backdrop for "Game of Thrones" than a check-in at a Hilton). However, the on-site chapel looks to be perfectly preserved from its early days. Heaped up with gilded religious artifacts, it's like having a museum on the grounds.
The Augustine is proof that opposites attract. It pulls off a tricky partnership, marrying an austere former monastery with chic metal-and-glass modernism. The result is a streamlined, striking blend between old and new, with a few baroque details—painted ceilings, tufted fainting couches—that add a little sparkle. Set in Prague's Mala Strana neighborhood, and surrounded by historic architecture, The Augustine still looks like a house of worship on the outside, with whitewashed exteriors topped with terra-cotta tiles. Cobblestone alleyways with wrought-iron streetlights lead the way to the entrance. Beyond that, an interior courtyard displays the union perfectly with a series of columned arches on one side and a sleek, glass-enclosed dining room on the other.
Time marches on, though it certainly doesn't seem that way at San Domenico Palace Hotel. The "modern" addition here was a wing that was added in 1896, and the original Garden Wing dates all the way back to the 15th century. This former Dominican monastery has retained so much of its historical details—a stay here feels akin to time travel. Cloistered courtyards bordered with lanterns, craggy stone walls, and arched entryways feel unchanged after centuries of use. Amazingly, the building's original chapel has also been preserved, with ceiling frescos on display. Decor, which includes antiques galore, coffered ceilings, and rich textiles, does nothing to modernize the atmosphere (though mercifully, amenities like flat-screen TVs provide modern comforts).
Situated in the Italian countryside, this luxury hotel and former monastery runs down a fantasy checklist: Tuscan location, check. Terraced gardens, check. Views of Florence, check. Renaissance facade, check. In fact, the main building, which dates back to the 15th century, even has facades attributed to Michelangelo, making sleeping here practically a night in the museum. Interiors still have beautifully preserved architectural details, such as arched entryways and frescos, which are paired with plenty of antique furnishings and chandeliers. But the grounds are equally captivating. Surrounded by lemon trees, climbing ivy, and weathered statues, the outdoor spaces beam guests back six centuries—apart from the pool, a welcome modern addition.
You'll Also Like:
All products are independently selected by our writers and editors. If you buy something through our links, Oyster may earn an affiliate commission.