Las Vegas might not be the first place that comes to mind when you think family vacation, but more and more parents and kids are flocking to Sin City in true Griswold clan fashion. Almost half of the 42 million visitors in 2015 escaped to Vegas for vacation, and eight percent of those were under 21, which is a good indication that parents are bringing their little ones to enjoy all the city has to offer. And why not? There's fun-filled activities for the family during the day and 24-hour gambling and nightlife fun the parents can take advantage of after tucking their kids into bed. So, for those considering Las Vegas for their next family jaunt, check out this guide, complete with tips on where to stay, what to see and do, and where to eat -- all from a former Vegas vacation kid!
Where to Stay
On the Strip? Off the Strip? What side of the Strip? Which hotel has the best features for both parents and kids? When traveling, the most important thing to consider is where to stay. Luckily, we've got you covered.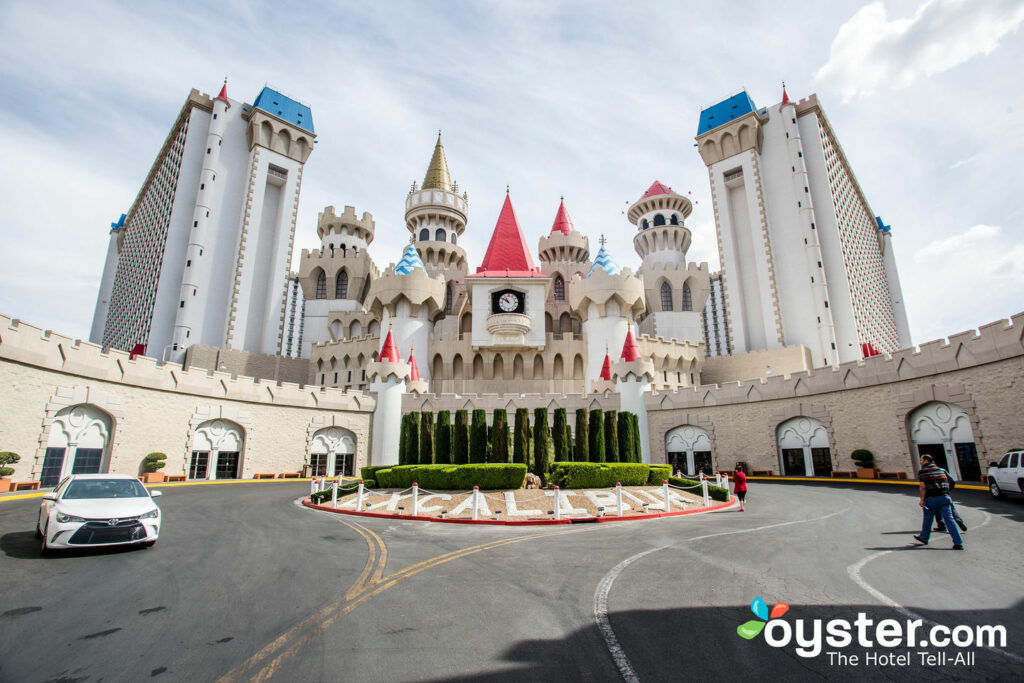 Located near popular hotels like Luxor and MGM Grand, the Excalibur Hotel tops the list for its affordable rates and food. However, it's the amazing medieval castle theme that makes it a perfect pick for families to stay. Kids are sure to be enamored by the decor and even have the opportunity to witness the tale of King Arthur in a live production called the "Tournament of Kings." The show is performed over a three-course meal that's served medieval-style — sans utensils. If shows aren't your thing, families can also have a good time at the pool and its water slide or in the Fun Dungeon, the hotel's huge arcade.
In addition to its budget-friendly prices, Circus Circus Hotel & Casino also has a casino, pool, multiple dining options, and a slew of fun, family-friendly activities. But it goes beyond the basics, too. The hotel's namesake comes from the fact that it has an on-site (and free!) circus. Then there's Adventuredome, an indoor amusement park filled with rides for kids of all ages, from a classic carousel to thrilling roller coasters. If that's not enough excitement for the kids (and let's be honest, you too), there's also Midway, a huge arcade with 200 games. Note: it's not the most luxurious option in town, has a dated exterior, and is located on the north end of the Strip, making it a decent hike from the main action.
Families interested in escaping the hustle and bustle of the Strip may want to consider Red Rock Casino, Resort and Spa. It comes with a huge pool with sprinklers that both kids and parents will like, as well as a bowling alley, arcade, and movie theater. Parents can drop their kids off at Kids Quest, an indoor playground with supervision (for a fee), before heading over to Cherry, the adult-only pool. There's also an amphitheater with live shows the whole family can enjoy. After the kids fall asleep, the grown-ups can make their way downstairs to the casino or Cherry nightclub. And with the hotel's shuttle (included in the resort fee), it's easy to get to the attractions located on the Strip. For families who want to explore the Nevada landscape, hiking is also available at Red Rock Canyon, an 11-minute drive from the property.
See our full list of the best kid-friendly hotels in Vegas >>
What to Do
With so much to see and do, family vacations in Vegas are anything but boring. Parents and kids may appreciate these Vegas attractions for different reasons, but they all have one thing in common — they're great experiences that will result in unforgettable memories.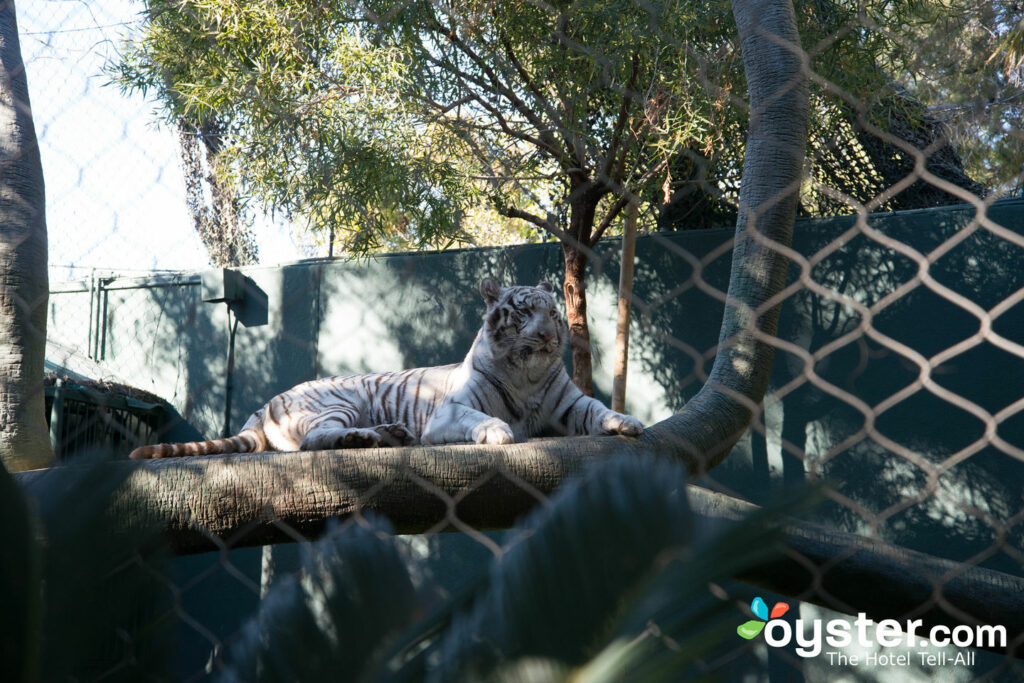 M&M's World
M&M's World is every kid's dream — and perhaps for chocolate-loving parents, too. Four floors of chocolate heaven, the space features a wall of colorful M&M's (and a chance to personalize your candy), a gift shop, and even a 3-D movie.
Wet 'n' Wild Las Vegas
Temperatures can surpass 100 degrees in the summer, so families may want to cool off at Wet 'n' Wild Las Vegas. Like any other water park, there's a wave pool and lazy river, but it covers over 20 acres and comes equipped with 25 slides. Thrill-seekers may want to check it out for the Rattler, the first slide in the U.S. to shake riders back and forth through a series of twists and turns while descending.
Siegfried & Roy's Secret Garden and Dolphin Habitat
Siegfried & Roy's Secret Garden and Dolphin Habitat at is for animal-loving families. Folks can walk through a lush garden filled with some of nature's largest cats, including white tigers, lions, and leopards. From there, they can move on to the Dolphin Habitat, a research facility with an underwater viewing area where visitors can see playful dolphins zipping to and fro. Plus, there are additional options to get up close and personal with the underwater mammals, from feeding the dolphins to even creating an art piece with one.
There are a few reasons why families should visit the Grand Canal Shoppes at the . For one, it's an oasis of upscale shops like Burberry and Barneys. While browsing, families will be met by at least 30 different entertainers, including singers, street performers, artists, and living statues. The mall also offers indoor canals and gondola rides with serenading gondoliers. After you've had your fill, head to the wax museum, Madame Tussauds, in the Venetian to see your favorite celebrities brought to life.
Parents can indulge in their guilty television pleasure and involve their family too. CSI: The Experience at the allows visitors to solve a fictional murder as crime scene investigators. This fun hands-on attraction lets families bond over CSI-like testing in state-of-the-art forensic crime labs. And who knows — perhaps your kids will even be inspired to become a detective or scientist, thanks to this cool and unique experience.
Fall of Atlantis at Caesars Palace
After some shopping in the Forum Shops at , families might want to stop and check out the free Fall of Atlantis show. During the performance, animatronic robots act out the fall of the mythical kingdom, Atlantis. And though the robotics may seem a bit old-school, kids will be thoroughly entertained, giving parents the chance to sit back and relax (and perhaps even grab a drink!).
Standing at 550 feet, the High Roller is the tallest observation wheel in the world. The ride, which takes about 30 minutes, is sure to keep the whole family entertained with great views. It doesn't hurt that folks can book pods with bars, too. The pods hold up to 40 people, so keep in mind you won't be alone. Tip: it's cheaper to go during the day than at night.
Roller Coaster at New York New York Hotel & Casino
Thrill-seeking families should check out the roller coaster at this hotel. It features a 144-foot drop, great views of the Strip, twists, turns, and hills all at 67 miles per hour. You must be at least four-and-a-half feet tall to brave this ride, so it's best for families with older kids.
With two volcano systems that shoot fire 12 feet into the air, lagoons, smoke effects, and waterfalls, families are sure to be amazed by the spectacular volcano at The Mirage.
Where to Eat
Your family has to eat, right? From breakfast and lunch to dinner and dessert, these four restaurants serve up tasty meals and a family-friendly atmosphere.
Following the Fall of Atlantis show at , parents can take their kids to Serendipity 3 for out-of-this-world ice cream sundaes with deep fried Oreos and frozen hot chocolate. It's just the sugar rush you'll need after a day filled with non-stop family activities.
Peppermill Restaurant and Fireside Lounge
There's nothing more classically Vegas than Peppermill Restaurant and Fireside Lounge. It has been around since the 1970s and hosted stars such as Dean Martin, Jerry Lewis, and Criss Angel. Plus, it features funky decor (think neon lights and a flaming reflection pool) that will impress both parents and kids. Tip: Portions are huge and can be shared among the family. For breakfast, kids will go gaga over the huge pancake-shaped bears with a bacon mouth and orange eyes. And with extravagant cocktails for the adults, it's a win-win for all.
Capo's Restaurant & Speakeasy
Head to Capo's for a flashback to Las Vegas' mob days. Grab one of the red leather booths and order a delicious plate of pasta that's supposedly topped with Al Capone's family's secret sauce. There's even live entertainment each night and a cool front door with a trick entrance. Don't forget to try the gigantic meatballs.
If you can't afford to take the family to Paris, but love French food, Le Village Buffet at the hotel is the place for you. Not only does it serve buffet-style food from five different French provinces, it also provides a quaint French village feel thanks to brick paths and antique lighting. Lines can be long, so be sure to make a reservation beforehand. And if you're still itching for more, take the family to the observation deck of the Eiffel Tower Experience for lovely views, great photo ops, and the feeling of being on vacation even farther from home.
Related Stories:
All products are independently selected by our writers and editors. If you buy something through our links, Oyster may earn an affiliate commission.