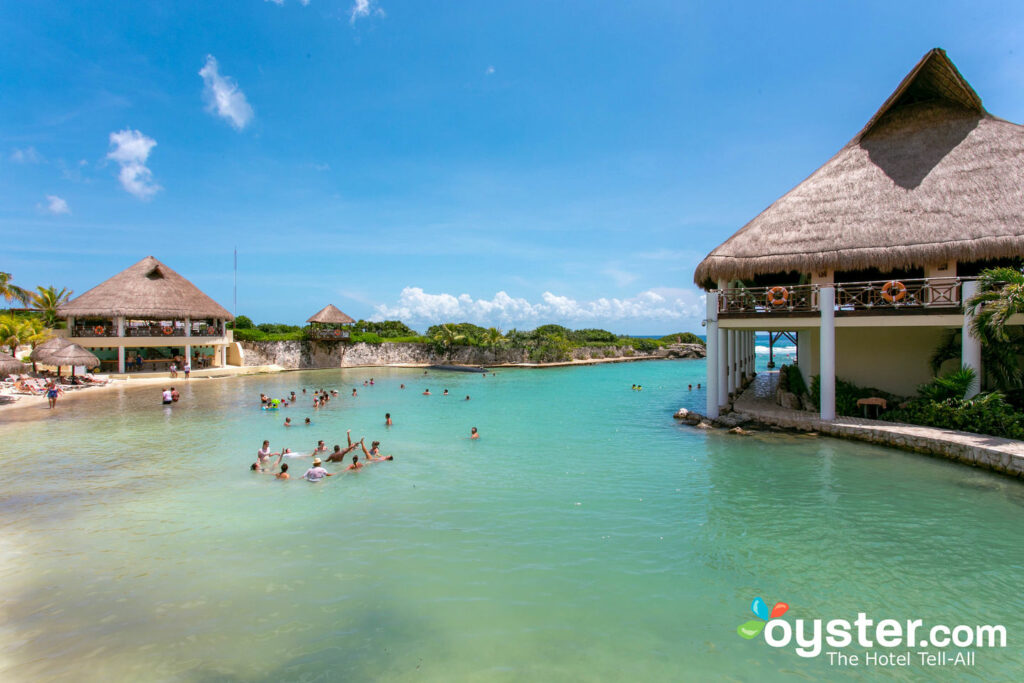 Mexico -- and particularly Riviera Maya -- has plenty to love: great weather, beautiful scenery, and historic sites. Relaxing on a sandy beach, sipping a cocktail or two, and intermittently getting up to cool off in the crystalline sea are popular pastimes here, but for those interested in adding something a bit more active to the mix, there are plenty of water-centric activities on offer. Whether you're an experienced scuba diver, an ardent snorkeler, a beginner snuba diver, or an eager helmet diver (more on that later), you'll find plenty of amazing aquatic adventures within the region. Here's the lowdown on the best things to do underwater -- and where to do it -- in Riviera Maya.
Explore the Cenotes in Riviera Maya
Exploring a cenote, a subterranean swimming hole often filled with refreshing turquoise water, is a must for anyone visiting this area. According to the Mayans, these natural wonders are the gateway to the underworld, with the ability to cleanse one's soul. Spiritual powers aside, they're perfect for swimming, snorkeling, and diving. Many even have small shops to rent gear, or visitors can bring their own. Only advanced divers should dive in cenotes, though, as they are tight spaces and challenging to navigate. Entry fees are approximately $5 to $10 USD per person, with additional costs for any guided tours, packages, and equipment rental. Some of the best cenotes in Riviera Maya include Gran Cenote (especially popular for diving experiences), Calavera, Aktun Ha, and Dos Palmas.
Make a Splash at Xplor, Xel-Ha, and Xcaret Parks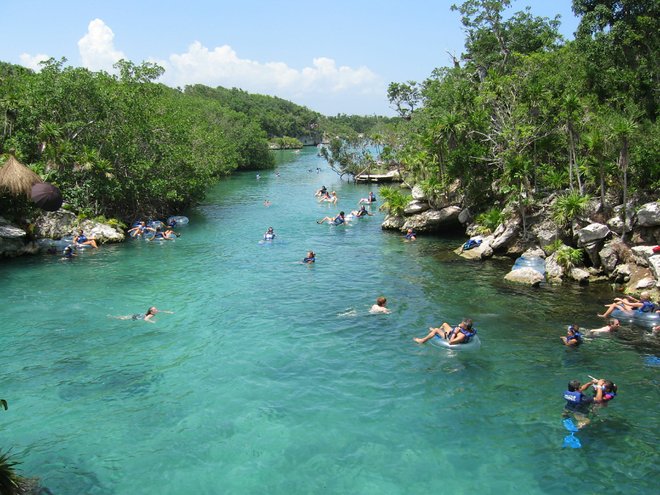 The eco-adventure parks in Rivera Maya — Xplor, Xel-Ha, and Xcaret — use their surroundings to create fun nature- and water-centric activities. Home to Sea Trek, Xcaret Park is a top spot for helmet diving. For those who aren't scuba trained, but still want to marvel at the marine life below the surface, helmet diving is a great option. In fact, you don't even have to be a particularly great swimmer to take in the underwater creatures. Donning an astronaut-style helmet that allows for normal breathing, visitors will descend roughly 15 to 30 feet and walk on the sandy bottom. Aside from Sea Trek, Xcaret is teeming with wildlife and offers cultural activities, including special interactive performances that allow the whole family to learn about the Mexican culture. The park also has an on-site cenote that guests can swim in and explore. There's also a special Xenotes tour that will have you rappelling, zip-lining, kayaking, and cliff jumping in four different types of cenotes. It includes a picnic lunch.
Meanwhile, Xel-Ha is known as Mexico's largest natural aquarium, with an incredible array of flora and fauna. The park, which is also a well-preserved ecosystem, was awarded the EarthCheck Gold Award. The protected lagoon here is perfect for snorkeling and scuba diving. You can also sign up for snuba, which has the air tank on a raft at the surface while you breathe through a long tube. Snuba fans like that it allows you to dive deeper than snorkeling, without having to wear a tank on your back, as is the case with scuba diving.
Lastly, water lovers come to Xplor for its popular underground float and rafting tours in cenotes. Other wet activities include amphibious vehicle rides and zip-lining into the water.
Swim Through Rio Secreto
You'll feel like you're in another world at Rio Secreto, or the "Secret River." Here, you can swim and hike through a spectacular 600-meter, protected underground river system with thousands of magnificent stalactites and dripping stalagmites. Many tours are available, but if you're heading out on a self-guided trip, keep in mind that it's only open from 8 a.m. to 3 p.m.
Visit Sian Ka'an Biosphere Reserve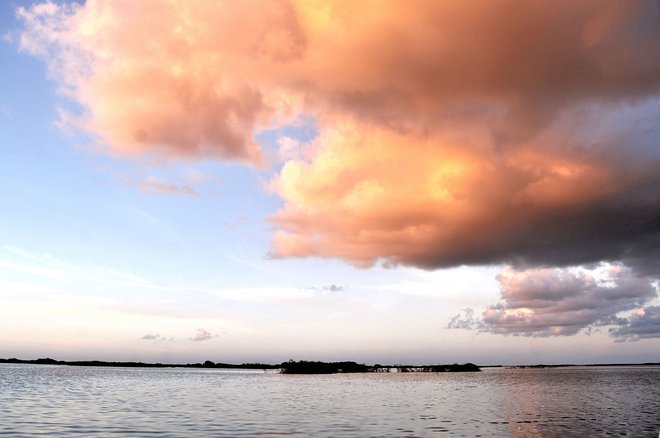 A 1.3 million-acre UNESCO World Heritage site, Sian Ka'an features lush jungles, beaches, and a chance to explore the ecological wonders of Riviera Maya in ways that won't damage the environment. You can snorkel in the stunning Mesoamerican coral reef, home to dolphins, marine turtles, and hundreds of colorful fish species. You can also float in the Mayan canal here. Additionally, several operators offer boat and kayak tours with ample opportunities for swimming and wildlife viewing.
Dive Into the Mesoamerican Barrier Reef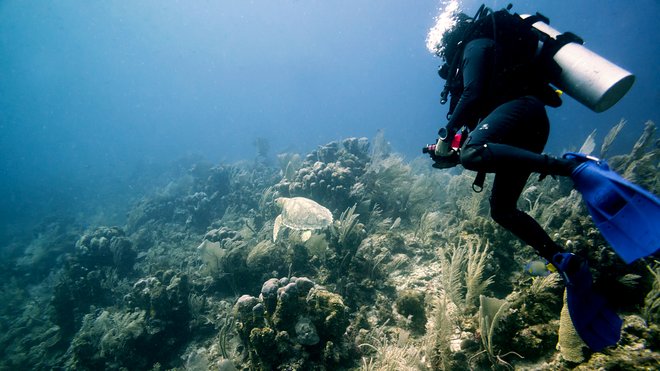 The Riviera Maya is home to a portion of the Mesoamerican Barrier Reef, the world's second-longest barrier reef, which runs from the top of the Yucatan Peninsula down to Honduras. Whether you're new to diving or a seasoned professional, come for swimming in the warm waters, and stay for the amazing species, including turtles, whale sharks, and colorful fish.
Swim With Turtles in Akumal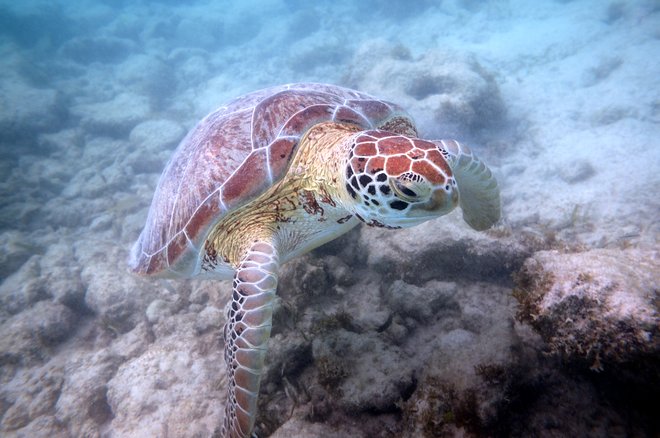 Formerly a sleepy beach town, Akumal today is a hot spot for travelers — especially those who are interesting in spotting (and even swimming with) sea turtles in the warm water. If you plan on swimming with the animals, please be kind. That includes not touching the turtles, wearing biodegradable sunscreen, and avoiding picking up any eggs found on the beach.
Stay at the Right Hotel in Riviera Maya
Some properties in Riviera Maya are perfectly suited for aquatic activities. For example, the all-inclusive offers a private entrance to the eco-archaeological park, Xcaret. Guests can also opt for the Ultimate Xcaret Package, which includes unlimited access to the park as well as special amenities and discounts. Meanwhile, the adults-only saltwater swimming pool at the very tip of resort presents beautiful, expansive views of the Caribbean. Those visiting in May can take in the annual Sacred Mayan Journey reenactment from Xcaret to Cozumel. Not only is this a unique cultural experience, but it takes place during the off-peak season, so you'll find thinner crowds and better rates.
is another property worth checking out, if you're interested in indulging in water-centric activities. It has on-site cenotes, and its name invokes the three rivers that are on the property. Another option is Sandos Caracol Eco Resort & Spa, which features an on-site cenote for snorkeling and swimming. Plus, a natural river cruise can be arranged. For those who are ready to relax, the has a spa built around a cenote.
You'll Also Like:
All products are independently selected by our writers and editors. If you buy something through our links, Oyster may earn an affiliate commission.