A dream Italy vacation probably includes seeing the Uffizi in Florence, eating pizza in Naples, and driving through Tuscany's cypress-lined countryside. Yes, the cultural and natural treasures of mainland Italy could easily fill up a three-week travel itinerary, but there are some compelling reasons for venturing offshore to one (or several) of Italy's many islands, too. Top draws include swimming and snorkeling in Caribbean-blue beaches, scuba diving to ancient Roman shipwrecks, and captaining your own motorboat to wild, uninhabited isles. (We could go on.) And don't worry about missing out on the Italian mainland's artistic and cultural achievements. These islands are Italy through and through, so those crystal-clear coves exist alongside charming old towns, archeological landmarks, and fabulous food and wine.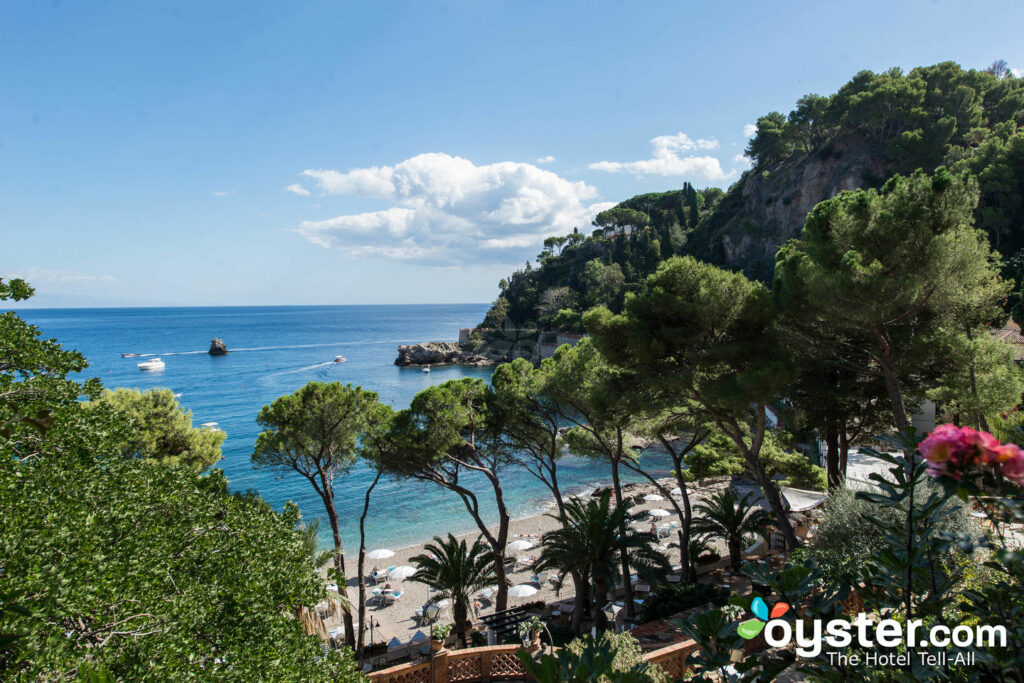 Sicily is no secret. The largest Italian island has been a major crossroads of the Mediterranean since time immemorial, and in more recent years, has become a magnet for jet-setters drawn to its rich cultural heritage, ancient art and architecture, and picturesque seaside towns. Sicily is also one of the world's top food and wine destinations, thanks to its fertile farmland, surrounding seafood-rich waters, and millennia of multicultural influences. Though summer is the most popular (i.e. tourist-jammed) season, the island is a year-round destination.
Sicily's magnificent architecture spans thousands of years and all corners of the island. The hilltop town of Taormina is home to the ancient Greek theater (built in the third century B.C.) and the medieval Corvaja Palace. Taormina's artistic legacy is nearly as impressive — Truman Capote and Tennessee Williams once resided (decades apart) at Fontana Vecchia, a simple villa on the edge of town. Agrigento, in the southwest, is home to the Valley of the Temples, a UNESCO World Heritage site of seven Doric-style temples, including the monumental Temple of Olympian Zeus and the beautifully preserved Temple of Concordia. In the capital of Palermo, on the north coast, you can visit the 12th-century cathedral, see a concert at the neoclassical Teatro Massimo (the largest opera hall in Italy), and try traditional foods, like chickpea fritters, at open-air street markets that go back centuries.
Hotel Pick:
Smack dab in the middle of the Mediterranean, Sardinia is Italy's second-largest island, after Sicily. Similar to its sister island to the southeast, Sardinia has long been a major travel destination, but its beaches are superior to those found in Sicily. (Sardinia's cultural scene isn't quite on Sicily's level, but the island does have an artistic side.) With fine white sand and vivid green water, the jewel-like beaches of Costa Smeralda (Emerald Coast) in the north are especially gorgeous. Costa Smeralda was once a super-exclusive enclave for the very wealthy, and now sees a broader range of tourists, especially during its peak season in August and September. It is one of the most iconic attractions in all of Italy.
Sardinia is a haven for beach lovers and active types — visitors can sail, surf, water ski, snorkel, and scuba dive in the water and hike, mountain bike, and ride horses on land. In addition to dreamy beaches and pristine nature reserves, there are historic and archeological sites all over the island. Olbia, in the northeast, was a vital seaport during the Middle Ages, and today, you can see the 11th-century Basilica of San Simplicio, as well as Phoenician and Carthaginian ruins. Alghero, in the northwest, is the site of Nuraghe Palmavera, an archeological landmark dating to the Bronze and Iron Ages.
Hotel Pick: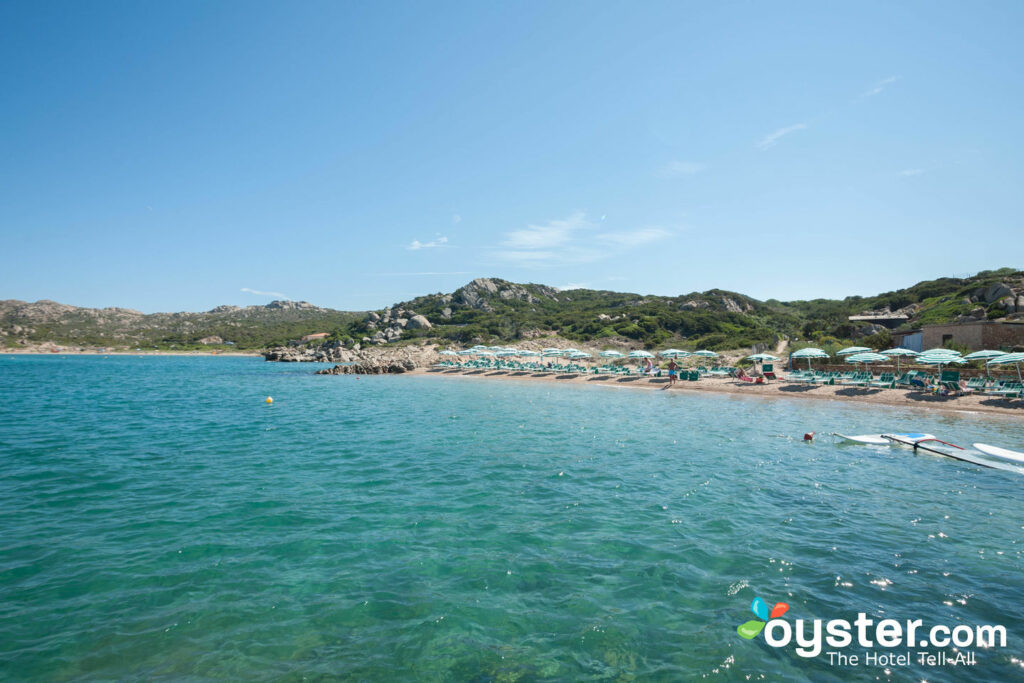 If Costa Smeralda has the most beautiful beaches in Sardinia, then the islands of the La Maddalena archipelago — about a 20-minute ferry ride from Palau, a port in the north of Sardinia — possess the holy grail of paradisal beaches. Best of all, these beaches are practically empty, as tourism hasn't totally swept the archipelago just yet.
La Maddalena is the name of the main island, as well as its biggest town and port. Due east is Caprera, the chain's second-biggest island and where the Italian general Giuseppe Garibaldi lived for nearly 30 years until his death. Caprera looks like a computer screensaver come to life (picture thick macchia (Mediterranean scrub), wind-and-water-sculpted granite, and perfectly translucent bays). Caprera's Cala Coticcio is thought to be one of the most beautiful coves in the Mediterranean.
Hotel Pick:
The lure of tiny, sun-soaked Capri goes back to the Roman era, when it was the emperors' getaway destination of choice. The island remains one of the most glam vacation spots in the world, with a reputation dominated by its social scene (centered around La Piazzetta square in the center of town), designer shopping, and luxe hotels. But, of course, what put Capri on the map is its natural beauty — the Blue Grotto, the Faraglioni rock formation jutting out of the sea, and dozens of pretty coves.
Capri's busting port (Marina Grande, where ferries from Sorrento and Naples dock) and narrow roads are often flooded with day-trippers (and paparazzi), so if you need some quiet, visit the Certosa di San Giacomo, a 14th-century monastery, or walk along the historic Via Krupp footpath (as long as it's not closed due to falling rocks). The Gardens of Augustus offers panoramic views of the three Faraglioni rocks in the bay at Marina Piccola. Note that the island's verticality isn't ideal for travelers with mobility issues, and some hotels are only accessibly by foot.
Hotel Pick:
Ischia, the largest island in the Bay of Naples, is often overshadowed by Capri, its stylish neighbor to the south. (Ischia isn't without its glam quotient, though — it was the film location for "The Talented Mr. Ripley"). The mountainous island is a fantastic destination for its beaches (especially the quiet and car-free harbor of Sant'Angelo), thermal spas, restaurants, bars, and shops (especially concentrated around the bustling port and Corso Vittoria Colonna, the main shopping street).
Hotel Pick:
Tuscany is a travel destination legendary for its Renaissance cities, wine, and patchwork farmland dotted with ancient stone villas. Some travelers don't even realize that the region has a coastline, much less islands — the most famous of which is Elba. Off of Tuscany's Grosseto coast in the Tyrrhenian Sea, Elba is distinguished for being the site of Napoleon's exile (from 1814 to 1815). Those who incorporate a few nights here will be rewarded with lively marinas, golden-sand beaches, wonderfully preserved Etruscan towns, and remote coves.
Hotel Pick:
Capraia
Italian mainlanders describe Capraia as a little jewel. Capraia, the Tuscan archipelago's northernmost landmass, is a tiny island of beautiful pebble beaches, coves, creeks, and crystal-clear waters that are ideal for exploring via scuba diving, snorkeling, canoeing, and stand-up paddle boarding. (Cala dello Zurletto and Cala San Francesco, both on the east coast, are especially popular spots.) Hiking enthusiasts will find plenty of gentle footpaths and steep climbs alike.
This UNESCO-protected volcanic island chain is located off the northeast coast of Sicily. The mountainous Aeolians have distinct identities: Lipari is the biggest and splashiest, with a population that nearly doubles in the summer months. Lipari Town is the main transit hub of the archipelago, and beyond its busy port, Lipari gives way to pebble beaches and windblown cliffs plunging into the sea. Salina (the setting for "Il Postino") is more verdant, and has good tourist infrastructure, with two harbors and a bus system. Panarea is the chicest of the islands, with million-dollar mega-yachts in the harbor and Milan-based fashion moguls booking or buying its luxury villas. Vulcano, the southernmost of the Aeolian Islands, offers excellent views of Sicily's coastline and Mount Etna, one of the most active volcanoes in the world. Vulcano is home to the Fanghi mud baths, the lava-created Valley of Monsters, and the fuming Gran Cratere volcano. Stromboli is one big steaming volcano, and like Vulcano, it is famous for its black-sand beaches. Filicudi and Alicudi are the most isolated and least-developed of the islands, with few facilities like hotels and restaurants. Naturally, both are treasured for their solitude and end-of-the-world appeal.
Hotel Pick:
Favignana is the largest of the Aegadian Islands, off the northwest coast of Sicily. It is especially loved for its white-sand beaches (including the breathtaking Cala Rossa) with stone outcrops and crystalline blue waters. Undersea caves, like Lovers' Grotto, Grotto of Sighs, and the Blue Grotto, are alluring scuba diving sites. Land excursions include seeing Paleolithic and Neolithic cave art and touring Tonnare di Favignana, a former tuna canning factory that has been turned into a museum showcasing traditional tuna-fishing methods and island history.
Hotel Pick:
San Domino is one of the five small and car-free Tremiti Islands, an archipelago in the Adriatic Sea to the east of Italy's Puglia region. Part of the Gargano nature reserve, the islands are famous for their rugged scenery, secluded coves, and sea caves and coral reefs that make for spectacular scuba diving. (You can even dive a Roman shipwreck off of San Domino's Cala Zio Cesare). San Domino is one of the two inhabited Tremiti islands (the other being San Nicola), but all are accessible via water taxis, boat tours, and motorboat rentals. Note that some of San Domino's hotels, restaurants, and water-sports outfitters are only open seasonally.
Hotel Pick:
Pantelleria
With lakes, lagoons, hot springs, and wineries, Pantelleria is an under-the-radar gem. Located about half-way between Sicily and Tunisia, the patch of craggy black-rock land draws peace-and-quiet-seekers and the occasional celebrity (Giorgio Armani has a villa here). Thermal features include a sauna-like grotto on the side of Montagna Grande and a hot springs-fed lake in the volcanic crater with shores of mineral-rich mud and a center of vivid teal water.
Monte Argentario isn't technically an island — it's surrounded by the Tyrrhenian Sea, but attached to the Tuscan mainland by narrow sandbars. But like many Italian islands, Monte Argentario is defined by rocky cliffs, dense green shrub land, and sparkling teal bays. Porto Ercole, in the southeast, began as a port town in the 16th century and is now a prominent tourist hub, with upscale restaurants, bars, and hotels.
Ferries go from Monte Argentario's Porto Santo Stefano to Giglio Porto on the eastern side of Giglio, a sleepy island much loved for its local wine, languorous pace, and activities like hiking, boating, fishing, snorkeling, and scuba diving (the surrounding waters are rich with marine life and ruins from Roman shipwrecks). Note that tourist cars are restricted on the island, especially during the summer, but local public buses provide easy connection to Giglio's western side. Avid trekkers can cross the island by way of one of the many hiking trails from the Roman era.
Hotel Pick:
Ponza, located in the Tyrrhenian Sea off the coast of Rome, has long been the preferred summer getaway spot for modern-day Romans as well as pop superstars, business magnates, models, movie-studio execs, and fashion gurus (the Fendis own several properties on the island). Despite drawing mega-watt visitors, Ponza is an emphatically laid-back place, with boats bobbing in its port and a handful of stores, restaurants, beach clubs, and bars on land. Most of the activity here revolves around walking along the sun-bleached cliffs of Chiaia di Luna, renting a small motorboat and setting out to find a silent cove of your own, and enjoying aperitifs at sunset. Visitors feeling especially peppy could go scuba diving or visit the neighboring island of Palmarola, a mostly deserted nature reserve that was named "the most beautiful island in the Mediterranean Sea" by underwater explorer and filmmaker Jacques Cousteau.
Hotel Pick:
You'll Also Like: