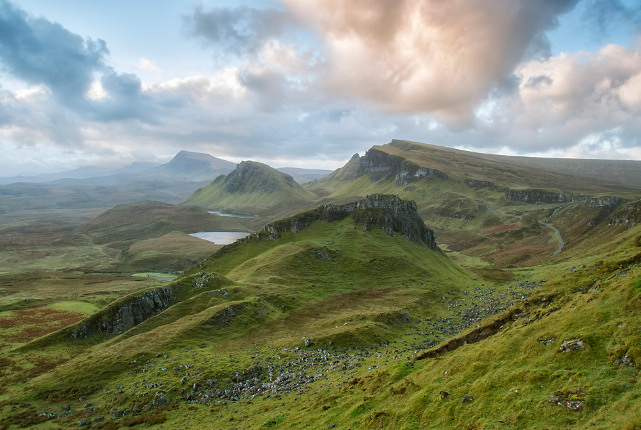 Scotland is known for many things: romantic castles, the formidable Highlands, kilts, and the Loch Ness Monster, among many others. Whether for the natural landscapes, rich cultural sites, or something kitschier, Scotland ranks high on many travelers' itineraries. Many visitors base their trip around Edinburgh with perhaps a day-trip or two to the countryside, but this is only a small part of Scotland's charm. Scotland's isles and islands are where Scottish Gaelic culture is at its richest, not to mention there's plenty of sheer beauty and remoteness to these regions. Scotland incorporates 790 islands, so we've broken down the main archipelagos and isles down by region.
Isle of Lewis, Outer Hebrides
This kite-shaped island lies off Scotland's northwestern coast in the Atlantic. The only sizable settlement on the island, Stornoway, is the main point of entry — either by three-hour ferry or regional flight. However, the wide-open landscape and historical sites are the main draw to Lewis. The northern portion of Lewis is characterized by a vast peat bog, leaving the best landscapes to the west coast, shaped by the blustering salt and surf of the Atlantic. Here you'll find a surprisingly good selection of sand beaches, particularly Dalmor for surfing, Valtos for camping, and Bostadh for a tranquil setting.
Lewis is home to some impressive historical sites as well. Large stone formations known as the Callanish Stones date back to the Neolithic Era and put any visit to touristy Stonehenge to shame. There are a total of three stone circles, named Callanish I, II, and III. Arguably the more impressive of the three, Callanish II stands on a ridge beside Loch Roag, making for an absolutely stunning setting on a sunny day. Another unique attraction on Lewis is Scotland's most westerly distillery, Abhainn Dearg Distillery, which is open for tours and tastings.
There isn't a whole lot to do on Lewis, but it offers visitors the opportunity to see some of Scotland's finer landscapes, explore lesser known lochs, camp in solitude, and meet some fuzzy highland cows if you're lucky.
Isle of Harris, Outer Hebrides
Isle of Harris is actually located on the same island as Lewis, occupying the southern third of the island. The split naming might have something to do with the regions belonging to different counties until 1975. One would think that the smaller portion of this island would be much like its larger northern neighbor, but Harris's hilly landscape of over thirty peaks stands in stark contrast to the flat expanse of Lewis.
Similarly, to Lewis though, Harris's finest sand beaches, Luskentyre and Scarista, are located on the west coast. To the north, craggy mountains and lochs dominate the landscape. Harris is a hiker's delight, with trails and opportunities to free-walk across the island. Numerous official and unofficial campsites are scattered across the island, but there are several pubs and bed and breakfasts to escape the unpredictable Scottish weather.
Although not part of Harris or Lewis, the St. Kilda Archipelago, a remote island to the west can be visited on a day trip. This UNESCO World Heritage site has a mere population of approximately 50 people, constituting an army camp. The reason for UNESCO status and visiting St. Kilda is its superb wildlife, notably puffins, guillemots, and other seabirds.
Orkney Islands
Located only ten miles off Scotland's northern coast, Orkney feels very distinct from the mainland. These roughly 70 islands are largely uninhabited, with the majority of the population living on Mainland Island — the town of Kirkwall is the commercial and tourist hub of the archipelago. Mainland is also home to the Heart of Neolithic Orkney, a UNESCO site comprised of a group standing stones and a well-preserved Neolithic village.
If history isn't your thing, Orkney boasts impressive nature and wildlife. Seals, in particular, are widespread across Orkney in high numbers, especially on the islands of South Ronaldsay, Rousay, and the outer isles. Both the grey and common seal come to Orkney for breeding, which typically lasts from October to December, making fall the best time to see these playful pups in action. There is also a sizable population of puffins and other seabirds that migrate to Orkney for its protected breeding grounds and sea cliffs. It's not uncommon to spot dolphins and whales offshore, too. Visitors can head to the water to explore the shoreline by kayak or dive down to the wreck at Scapa Flow.
Orkney's islands offer a slower pace of life, so get some wheels — preferably a bicycle, and meander the mesmerizing landscapes. There are plenty of places to grab a pint in Kirkwall afterwards.
Shetland
Shetland is the most northerly island in the British Isles. The isolation combined with Nordic influences gives Shetland a unique character, rich in folklore. Only fifteen islands in the archipelago of roughly one-hundred islands are inhabited — and visitors will be pleased to know that the adorable Shetland Pony can be found on most inhabited islands as well.
Like many of the other isles, Shetland is a superb location for outdoor activities, including hiking, kayaking, sailing, surfing, and cycling. Shetland's reserves and protected areas are worth seeking out for the adventurous, notably Sumburgh Head for its seabird colony, Noss Nature Reserve for admiring its remarkable cliffs, and Hermaness Nature Reserve to spot seabirds nesting in the open moors. The Shetland Isles are also known for their collection of castles and well-preserved Iron Age structures, known as brochs.
Situated just off Scotland's western coast, Skye embodies many of the features that make Scotland so enchanting — jagged mountains, a rugged coastline, lochs, castles, and of course, Scotch. Skye's name originates from old Norse, and translates as 'cloud island', which is a fitting name considering that Skye's peaks are often obscured by mist and fog.
Much of Skye's landscapes can be admired from a leisurely drive, but it's worth lacing up those boots to explore the ruggedly beautiful scenery. On the Trotternish Peninsula, two particularly stunning rocky outcrops, the Quirang and Old Man of Storr, are worth the effort. They can both be reached by trail in approximately three hours respectively. More great hiking and mountain views can be had in the Cullins, some of Skye's most formidable mountains. More laidback nature activities abound too, notably visiting Loch Coruisk or the Fair Pools, both of which are enchantingly picturesque. Other highlights on Skye include Dunvegan Castle for its extensive gardens and Scottish history, and An Corran, a site with a bit of an older history – fossilized dinosaur footprints. Weather changes quickly on Skye, so come prepared and allocate plenty of time to capture the island's beauty on a clear day or break in the clouds.
Skye is now connected by bridge to the mainland, but the scenic journey from Glasgow to Mallaig by train, followed by a short ferry crossing is the most scenic route.
A Boutique Hotel Pick:
Isle of Islay, Inner Hebrides
Islay may lack the dramatic scenery of neighboring Skye, but it makes up for it with some of Scotland's finest whiskies and a laidback pace. For starters, it's pronounced "eye-la", so say it right and get off on the right foot with the locals.
Islay receives a steady stream of visitors drawn by the island's eight distilleries. Islay's fertile land is ideal for growing barley, which, combined with clean water sources and a bountiful peat supply, made Islay a hub for distilleries. The flavor of Islay malt whiskies is said to be the strongest of all malt whiskies, which usually means one loves it or hates it. The southern distilleries are known for having the strongest peat flavor of the peaty malts, since they use peaty water throughout production, while the northern distilleries offer a much milder taste. All distilleries on the islands offer tours explaining the distilling process and giving tastings. The prominence of the whiskey business does raise prices on Islay, so budget accordingly.
Isle of Mull, Inner Hebrides
Lined with numerous small, coastal villages, Mull is a popular destination, especially in the summer months. Mull's natural wonders don't disappoint, especially the basalt cliffs at Burg, the peaks of Ben More, and the white-sand beaches and numerous lochs across the island. Whale watching tours depart from Mull's western shores for spotting mink whales, harbor porpoises, and other marine life, which is made all the better with beautiful Mull as the background.
Tobermory is the main town on the island, known for its painted homes and buildings along the waterfront, sporting a range of pubs, cafes, and even a distillery. A pair of castles are on the island: Duart, dating back to the middle ages, and Torosay, which is actually a noble home designed in castle fashion with a complementary garden of equal grandeur. Mull also offers close access to the sacred Isle of Iona, which is co-managed by the Cathedral and National Trust of Scotland. The main attractions on Iona are the Iona Abbey and hiking one of Scotland's finest landscapes.
Isle of Arran, Firth of Clyde
Arran offers plenty for both the leisure and active traveler, with a reputable culinary scene and some of Scotland's most brilliant scenery. This southerly island is easily accessible from Glasgow and western Scotland. Arran's coast is dotted with picturesque villages, markedly Corrie, Pirnmill, Kilmory, and Lochranza. The Lighthouse Tearoom and The Distillery at Lochranza are choice spots to dine with locals and sample the island's whiskey, respectively. An event not to miss is the Arran Folk Festival, scheduled in early June each year, which puts on concerts and workshops about Gaelic music.
Getting a bit more active, Brodick Castle and Lochranza Castle offer tours of their charming grounds. For those feeling fit, Goat Fell, Arran's highest mountain, can be climbed via multiple paths. The route heading up from Corrie passes several waterfalls, while the path from Brodick leads past Arran Brewery. It's probably best to grab a pint on the return trip. A less strenuous way to see the island is to cycle the coastal road that circumnavigates the island.
You'll Also Like:
All products are independently selected by our writers and editors. If you buy something through our links, Oyster may earn an affiliate commission.