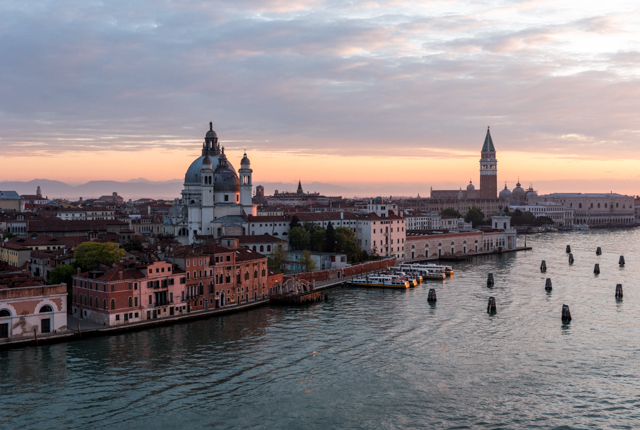 Magnificent Venice one of the most unique cities in the world because it's built on a series of more than 100 small islands sandwiched in between the Venetian Lagoon and the Adriatic Sea. It's also a city chock-a-block with stunning examples of Byzantine, Gothic and Renaissance architecture, including churches and basilicas, monasteries, palazzos and bridges, and is a city whose eternal beauty has inspired artists and writers over the centuries.
The majority of first-time visitors head to the main island where the city's historical center is located and some of its best-known landmarks, like St. Mark's Square and its Basilica, Doge's Palace, the Bridge of Sighs, and the Rialto Bridge. But Venice's many islands hide even more treasures for those willing to hop on a vaporetto and seek them out. Here's a handy guide to some of Venice's most visit-worthy islands.
Need a place to stay? Check out our reviews and photos of 265 hotels in Venice.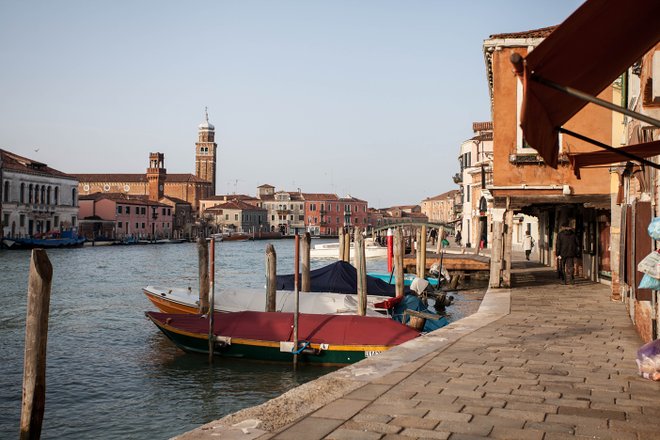 Murano is the best-known of Venice's islands because of its history with glass. It is actually a collection of seven islands linked to each other by footbridges, making it easy to explore on foot.
Citing the risk of fire to the main island's wooden buildings, all of Venice's glass makers were ordered to move to Murano in 1291. Very quickly, its glasswork attracted attention across the globe, and at one point Murano became the biggest glass producer in Europe. Today, the island's glass-making artisans produce elaborate vases, sculptures, jewelry, tableware, chandeliers, and objets d'art made of the trademark colorful glass.
Some of the artists' glass works are open to visitors, who can observe the glass-making process. There are also plenty of shops showcasing the glass work created here — but beware of those peddling cheap copies and make sure to look for the label marked "Vetro Murano Artistico," which ensures an authentic product made in Murano.
Other attractions are the fascinating Glass Museum located in Palazzo Giustinian where visitors can trace the history of Murano glass, the church of Santa Maria e San Donato and its floors covered in impressive 12th-century Byzantine mosaics, the handsome Palazzo da Mula, and the 14th-century church which shelters artworks by Tintoretto, Bellini, and Veronese.
How to get there: Vaporetto line 12 links Murano with Fondamente Nove on Venice's main island.
Torcello
The island of Torcello was first settled in the year 452 and actually predates Venice: This was the first island settlement and the oldest part of Venice that has been continuously populated. Today it's one of the most sparsely inhabited of Venice's islands with less than 100 residents.
Ernest Hemingway spent some time on the island in 1948, staying at the now legendary canalside Locanda Cipriani, where he wrote part of the novel Across the River and Through the Trees. This traditional inn's restaurant is especially popular with lunchtime diners.
After a lazy lunch, sights to take in include the island's main attraction, the seventh-century Cathedral of Santa Maria Dell'Assunta and its impressive Byzantine mosaics dating back to the 11th century. It's also worth braving the narrow steps of the cathedral's bell tower to take in the fabulous views of nearby Burano. Another local landmark is the Ponte del Diavolo, or "Devils' Bridge," a small historic bridge made of stone dating back to the 15th century.
How to get there: Vaporetto line 12 from Fondamente Nove stops at Torcello, passing Murano on the way.
Burano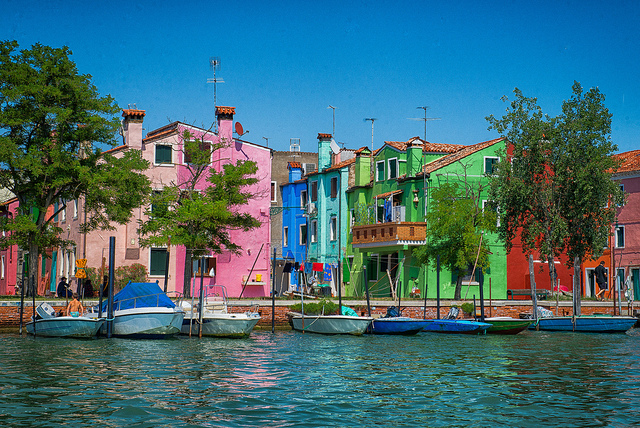 After Murano, Burano is one of the most popular Venetian islands to visit because of its tiny, but photogenic houses painted in bright colors and decorated with cheerful flower boxes. Burano is made up of four islands interlinked by footbridges, with Via Galuppi running through its center. This canalside lane is lined with souvenir shops, bakeries, restaurants, and bars.
Visitors also come to Burano for the lace work its famous for. The Burano Lace Museum set in a historic palazzo that used to house the Burano Lace School from 1872 to 1970 has a permanent exhibition covering the history of lace making on the island. Another popular attraction worth exploring is the 15th-century Church of San Martino and its infamous leaning bell tower.
How to get there: The same vaporetto line 12 from Fondamente Nove stops at Burano, passing Murano and Torcello on the way.
San Michele
San Michele used to be the site of Venice's prison, but today it's the island's cemetery. Needless to say, this is Venice's quietest island and is well away from the tourist bustle. Resting in peace here are quite a few famous personalities like American poet Ezra Pound, Russian composer Igor Stravinsky, Russian-American poet Joseph Brodsky, French designer Jean Schlumberger, and Russian ballet personality Sergei Diaghilev.
The cemetery is divided up into Orthodox, Protestant, and Catholic sections and also includes an area reserved for soldiers, as well as another for nuns and priests. Look out for the graves of gondoliers and gondola makers: These are marked with carvings of gondolas.
How to get there: It's only a six-minute ride on the No. 4.1 or 4.2 motoscafo or "water bus" from Fondamenta Nove.
Located just across the water from the main island, the Lido is Venice's beach resort. This long, thin island is where Venetians descend upon during the summer months to spend a day at the beach. Sandy beaches and hotels line the coastline here, with the private beach at Hotel Excelsior tipped to be one of the best, while the public beaches are located at the island's northern and southern tips.
Lined with shops and restaurants, Gran Viale Santa Maria Elisabetta is the Lido's main drag leading from the lagoon side of the island where the vaporetto drops off passengers to the other side of the island overlooking the Adriatic Sea.
The Lido's most famous landmark is the Art Nouveau-style Grand Hotel Des Bains, which has unfortunately been closed for redevelopment as luxury apartments. The Lido is where Thomas Mann was inspired to write "Death in Venice" — and where the film adaptation by Luchino Visconti was shot in 1971. This popular filming location was also used as the backdrop for scenes from "Casino Royale" which was shot here in 2006, as well as "The English Patient" in 1996. The island has been associated with film and film stars since 1932, when it first hosted the annual Venice Film Festival.
How to get there: Vaporetto lines 1, 5.1, and 5.2 link the main island to the Lido, as well as line 6 which is a seasonal service only. There's also an airport water bus service with a direct link to the island.
Giudecca
Parallel to Venice's main island is the largely residential island of Giudecca. Once an industrial areas of factories and shipyards, many of this island's neighborhoods here have gone through a process of gentrification and regeneration. An example of this is the massive Molino Stucky flour mill — a local landmark since the 19th century that has been recently transformed into a luxury hotel and apartment complex. The hotel's rooftop bar is one of the best vantage points to take in the spectacular views of Venice's historical center just across the canal. Giudecca also has a thriving contemporary art scene thanks to the many artists who have set up their homes and workshops here.
How to get there: Line 2 of the vaporetto takes passengers to Giudecca from San Zaccaria on the main island.
San Lazzaro degli Armeni
Once a leper colony, this tiny rectangular island is entirely taken over by the monastery of St. Lazarus of the Armenians and its vast gardens, covering a total area of 7.4 acres. The monastery was founded in 1717 by Mekhitar, an Armenian monk, and still has resident monks staying here. One of its most famous residents was Lord Byron, who spent six months here working on an English-Armenian dictionary in 1816.
The monastery's on-site library holds over 150,000 volumes and more than 4,000 Armenian manuscripts, many over a century old. Also exhibited here are a surprising number of artifacts and treasures, like a 15th-century Egyptian mummy in its sarcophagus, an Indian papyrus from the 13th century, and a collection of thrones, tapestries, paintings, statues, and jewelery.
The island monastery can only be visited during a guided tour held every day at the scheduled time of 3:25 p.m. A unique souvenir available in the gift shop is the monks' homemade jam, made from the petals of the roses growing in the monastery's gardens.
How to get there: Vaporetto line 20 leaves from San Zaccaria at 3:10pm and arrives just in time for the tour.
San Giorgio Maggiore
Visible just across the canal from St. Mark's Square, the tiny island of San Giorgio Maggiore is one of Venice's best-known landmarks. The towering bell tower and imposing white marble facade of its 16th-century church have been immortalized in famous paintings by Monet, Turner, and Canaletto, among others. This is one of the few Venetian churches without an entry fee, and inside are masterpieces by Tintoretto, including his "The Last Supper."
Also dominating the island is the San Giorgio Monastery, established in 982 by a Benedictine monk. Today this is the home of the Cini Foundation and its arts center, which includes a magnificent library, open-air theater, and free regular exhibitions. A guided tour takes visitors through the monastery's three interior gardens, one of which is designed as a green labyrinth and is a homage to Argentinian writer Jorge Luis Borges, inspired by his story "The Garden of Forking Paths".
How to get there: It's a quick hop over on vaporetto line 2 from St. Mark's Square.
You'll Also Like:
All products are independently selected by our writers and editors. If you buy something through our links, Oyster may earn an affiliate commission.