When considering accommodations in Austria, the definition of what's "adorable" will certainly differ among travelers. As such, we've rounded up a range of boutique hotels countrywide, from ultra-chic stays in Vienna to cozy inns in the Alps. We also picked properties a variety of price points to suit different budgets. Read on for our top picks.
Located in a residential neighborhood near Salzburg's Old Town, Hotel Auersperg combines turn-of-the-century furnishings and vibrant, modern accents for a look that's posh and appealingly eclectic. The lobby has a stunning secretariat and sofa covered in hot-pink damask, paired with contemporary leather armchairs and lighting fixtures, and a colorfully tiled reception desk. The back garden is as adorable as could be — there's a small, elegant fountain on a stone patio and lounge chairs set on a lawn, all surrounded by lush, beautifully landscaped grounds. Guest rooms are equally upscale as common spaces, but they're done in midcentury-modern decor and come with flat-screen TVs and free Wi-Fi. Amenities such as iPod docking stations and Nespresso machines are added to the higher-end rooms. The hotel also features an attractive spa with a sauna and yoga classes, free breakfast made with organic ingredients, and loaner bikes for tooling around town.
With subtle details that reference the city's musical history, Salzburg's Der Salzburger Hof adds a strong sense of place to contemporary decor. The hotel's 2016 renovations included the lobby, which was given a streamlined look with an eye-catching mix of finished wood throughout. There's an inviting nook with a mustard-yellow tufted accent wall and a low coffee table with piano legs, as well as set of quirky, vintage-y theater chairs across from the reception desk. Two porch benches hung with thick, nautical rope face each other in the swish and colorful lobby bar, where freshly baked Viennese treats are available in addition to coffee and cocktails. Guest rooms aren't as stylish as public spaces, but they're neat and elegant, with bright pops of fuchsia used as accents for bedding and seating.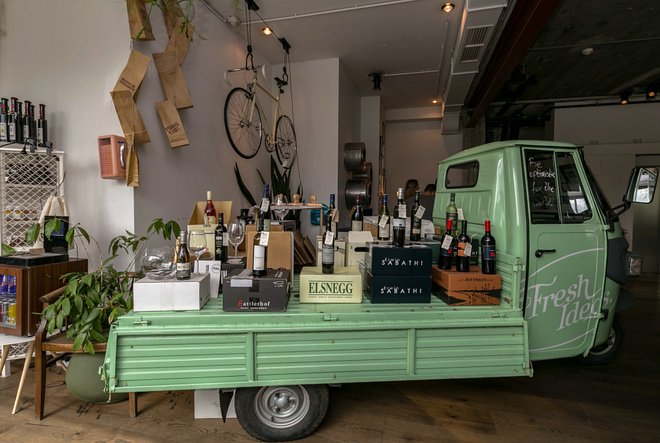 This four-pearl hotel is a magnet for guests who are willing to swap a super-central location for upscale amenities and hip decor. The modernist high-rise could easily be mistaken for an office building, but a glance upward reveals a life-size boat precariously set on the edge of the roof. It's the work of Austrian artist Erwin Wurm (who co-represented Austria at the 2017 Venice Biennale), and also outside are a handful of white Vespas and a silver Airstream that houses one of the guest rooms. The hotel pays rigorous attention to design-savvy details throughout. Distressed leather butterfly chairs are arranged around stacked wooden pallets in the lobby, which has an exposed concrete ceiling, a midcentury-modern reception desk, and a vintage pea-green truck topped with bottles of wine for sale. The look carries over to guest rooms, all streamline with a touch of Scandi style, plus amenities like flat-screen TVs and bathrooms with rainfall showers.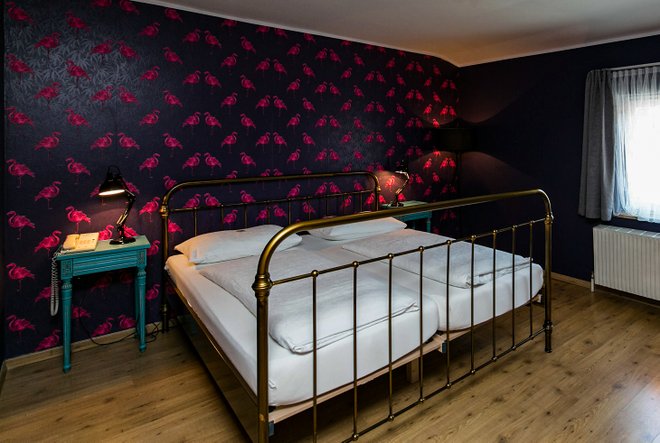 Guest rooms ooze tons of appeal and take the prize for the most adorable highlight at Altstadthotel Kasererbraeu. The 45 individually decorated spaces have antique furniture, such as four-poster beds and beautifully painted wardrobes, and they're accented with details like gilded-framed Klimt prints and trendy wallpaper. Balconies with views of Salzburg Castle is a bonus in some. The three-and-a-half-pearl hotel is housed in a 600-year-old building and offers a prime Old Town location, and although some of the common areas look a little worn, the family-run hotel still has a romantic vibe.
The Hotel Goldgasse is a smart pick for travelers seeking retro design mixed with the rustic look of a ski chalet. This three-pearl property has an intimate atmosphere with only 16 guest rooms, and it occupies a former coppersmith's workshop that dates to the 1500s. Its prime location in the center of Old Town Salzburg makes it just a short walk to sights and restaurants. There's a cozy breakfast room covered in knotted pine, a mod lobby with lemon-yellow midcentury-modern chairs, and a lovely outdoor wooden deck that has manicured shrubs in planters and table seating. Guest rooms have smart details like SMEG mini-fridges and chic, minimalist decor.
You'll Also Like:
All products are independently selected by our writers and editors. If you buy something through our links, Oyster may earn an affiliate commission.