It's no secret that space in New York City is limited, which makes it all the more precious and expensive. Unfortunately, for budget travelers in particular, this means not much lodging -- that you'd actually want to stay in -- is available outside of hostels. Fortunately, in the last few years the Big Apple has seen its own take on Japanese-inspired capsule hotels pop up, and these spots are dedicated to making the best use of tight spaces (and budgets!) without sacrificing style. Trust us, we've stayed in some small spaces during our travels -- but no place does small quite so chicly as these three NYC "pod" hotels. These are the perfect budget hotels for a stay in Manhattan as they are modern, stylish, compact, unique, and efficient -- just like NYC. (Besides, how much time do you really spend in your hotel room?)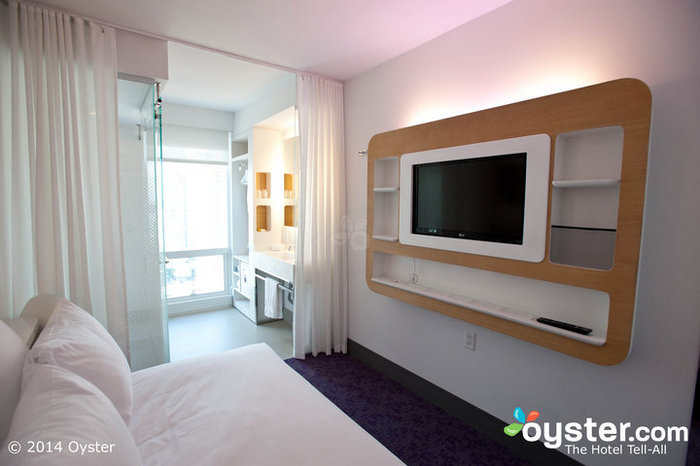 Born out of a desire to create luxurious accommodations in compact spaces, Yotel began as a by-the-hour hotel system in various London airports. In 2011, NYC became home to the first standalone, brick-and-mortar incarnation of the brand. Located two blocks from Time Square, Yotel's intuitively efficient rooms are well-steeped in style, and display a futuristic design with high-tech convenience built right in. Well-thought-out floor plans mean rooms never feel cramped (well, I guess we can only speak for ourselves…), while monsoon showerheads and heated towel racks prove you don't have to skimp on comforts. Rooms here may be small, but the hotel isn't shy when it comes to common spaces. With 18,000 square feet of lounging and dining space, including a 7,000-square-foot trendy rooftop terrace, Yotel gives you plenty of über-hip bang for your buck.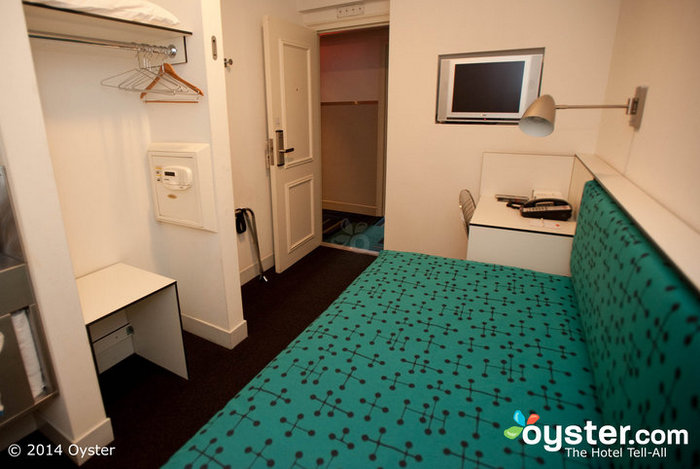 Replacing the outdated Pickwick Arms Hotel in 2009, the Pod Hotel chain's Pod 51 was the first of its kind. Hip budget travelers in numbers of one or two can find cheap, compact, and clean rooms here with colorful, modern decor. Bunk-bed and single rooms use shared bathrooms, while all rooms have contemporary polished silver sinks (that kind of give off a cruise cabin vibe, if we're honest) and are outfitted with iPod docks and snazzy in-wall flat-screen TVs. This Midtown East hotel features public spaces with a retro-pop art style, including a colorful lobby, seasonal cafe, and an all-weather, 14th floor rooftop deck.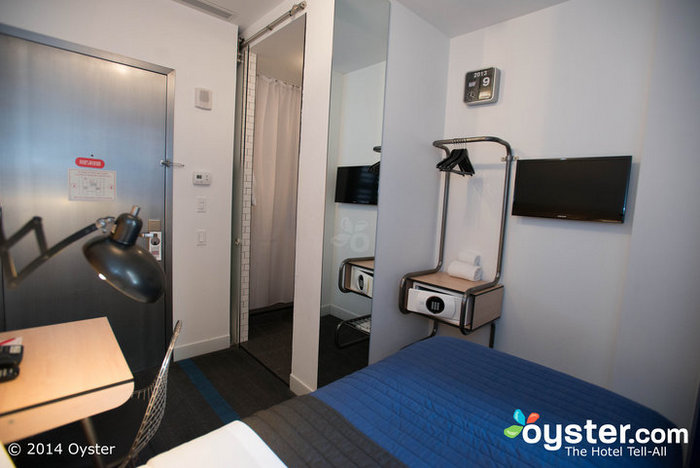 In 2012, following the success of its sister property, Pod 39 opened just a block from the iconic Grand Central Station. The smallest of the hotel's 366 contemporary-styled rooms contains a single bed, desk, open hanging closet, under-bed storage, shower and personal sink – and measures in at a mere 55 square feet! Designed for a bit more social interaction than Pod 51, this Pod Hotel has a colorful hangout space with a bar and ping-pong tables, a popular restaurant (by chef April Bloomfield and restaurateur Ken Friedman) serving upscale-casual Mexican fare, and an open-air, red-bricked rooftop bar – all for a budget-friendly price.
And, it looks like this seriously stylish and space-saving idea is spreading! As we type, development is underway in none-other-than Williamsburg, Brooklyn's hippest hideout. This time, the Pod Hotel is going all out with a sleek, five-story, 71,000-square-foot hotel — complete with 254 snug and stylish sleeping quarters, a storefront space, and ultra-hip amenities. After all, New York City is an experience — and your hotel should be too.
Check out Oyster's Google+ page
To learn more about Katherine Alex Beaven, vist her on Google+
RELATED LINKS:
All products are independently selected by our writers and editors. If you buy something through our links, Oyster may earn an affiliate commission.