With roller coasters, dizzying tea cup rides, and an excuse to eat plenty of funnel cake, amusement parks have it all. And given that peak park season is in full swing, there's no better time to sneak away for a weekend and get in line for a few thrills. To help travelers make the most of their vacation, we looked at the six most popular amusement parks in the U.S. (based on attendance last year) and compiled a guide filled with insider tips and tricks on how to tackle each. Spoiler alert: They're all in California and Florida.
Universal Studios Orlando
Universal Studios Orlando saw the biggest increase in visitors from 2014 to 2015 than any theme park on the top 20 list in North America. This can probably be attributed to the opening of Diagon Alley, which is part of one of the park's biggest draws: The Wizarding World of Harry Potter.
Know Before You Go: Use Universal Studios' app to check out ride wait times, show times, maps, and more. Just be sure to bring a charger to keep your phone juiced up.
Insider Tip No. 1: Harry Potter fans are probably going to want to splurge on a park-to-park ticket and hop on the Hogwarts Express. Why? Well, Hogsmeade sits in Universal Studios' Islands of Adventure park while Diagon Alley lies in Universal Studios. Purchase the tickets in advance to save money and time. Oh, and don't forget to buy a Harry Potter wand to perform some seriously cool spells around the park.
Insider Tip No. 2: Whether you're traveling alone or splitting up with friends for a bit, some rides offer solo options that will cut down on your wait time. Just ask the attendant on the standby line.
Where to Stay at Universal Studios
After a jam-packed day of non-stop rides, unwind at Loews Portofino Bay Hotel at Universal Orlando, which is modeled after Italy's real Portofino Bay. Here, two of the property's three pools cater to adults (particularly couples), a piazza provides nightly entertainment, and the Mandara Spa helps folks bliss out. Indulge in delicious fare at the on-site Italian restaurants, then work it all off at the state-of-the-art fitness center. To top things off, hotel guests can enjoy a free water taxi to the parks, where they'll receive VIP treatment.
Disney's Hollywood Studios
https://www.instagram.com/p/BFjeEUOuBAA
Hollywood Studios, the third of four theme parks built at the Walt Disney World Resort, is often overlooked. The good news: it's rumored to receive a multi-billion dollar reboot that will bid adieu to some favorites and welcome new additions.
Know Before You Go: The park is undergoing renovations, so check what's in the works before booking your trip.
Insider Tip No. 1: Arrive at the park a half-hour before the rides open. If it's a struggle to get out of the hotel, opt for having breakfast at the park. Hollywood & Vine is a solid choice and sets visitors up well to dash over to the Tower of Terror.
Insider Tip No. 2: Check out the Fantasmic nighttime show, which features the works — water effects, pyrotechnics, laser lights, music, and much more. Plus, if you schedule your outing for late afternoon or early evening, lines tend to be shorter.
Disney's Animal Kingdom
https://www.instagram.com/p/BI_KkhEgfOE
Both a theme park and a zoo, Animal Kingdom attracted about 30,000 visitors per day (11 million total) last year, making it the fourth most visited park on the list.
Know Before You Go: Animal Kingdom recently opened its doors at night, allowing visitors to revel in its attractions and adventures after dark. Plus, expect different rides and late-night live music and dance parties.
Insider Tip No. 1: When you head out on the safari adventure, opt to sit at the back of the vehicle. This presents another opportunity to catch any animals you might have missed.
Insider Tip No. 2: Don't miss the Wildlife Express Train, which offers a behind-the-scenes journey through the park. Get off at Rafiki's Planet Watch when the kids get antsy — they'll love the petting zoo here.
Insider Tip No. 3: The big focus at Animal Kingdom is, well, the animals. But they don't care about your schedule. In other words, prepare to tailor your hours to theirs, if you want to see as much as you can. Spend the night at the Animal Kingdom Lodge for a chance to see the creatures roaming about in the open.
Epcot at Walt Disney World
Magic Kingdom might be the most popular of the Orlando properties, but Epcot is the biggest. Although Walt Disney never lived to see the park completed (it opened in 1982), he envisioned it as a place to celebrate ideas about what the future could be. Go for the endless selfie opportunities at Spaceship Earth (a.k.a. the giant golf ball structure); stay for the World Showcase and tour 11 different countries at once.
Know Before You Go: There are a bevy of international cuisines to choose from, but don't make too many restaurant reservations in advance of your trip. What's more fun is trying a little something from everywhere and splitting it between the group or family.
Insider Tip No. 1: Want to sip on something besides H2O? Grab a fizzy drink for free — all Coke products at Club Cool are complimentary.
Insider Tip No. 2: With all the walking you'll be doing, you're going to want to put up your feet at some point during the day. Chill out on a long ride that'll keep the kids entertained and simultaneously give you a break. We recommend Ellen's Energy Adventure or the Living With the Land boat ride.
Insider Tip No. 3: A table outside the Rose & Crown pub and dining room is the best place to catch the park's magical IllumiNations fireworks display at night. The catch: reservations for outdoor tables aren't available, so you might have to take your chances.
Magic Kingdom at Walt Disney World
Attracting about 20 million visitors, Magic Kingdom was America's most popular theme park last year. From the Cinderella Castle and Space Mountain to the Haunted Mansion and nighttime fireworks show, it's no wonder they call it the happiest place on earth.
Know Before You Go: Get a FastPass, which allows visitors to reserve access to certain attractions up to 60 days before their arrival.
Insider Tip No. 1: Want to dine at the immensely popular Cinderella's Royal Table or Be Our Guest restaurants? Because reservations require a credit card and 24-hour cancellation policy, keep an eye on the Disney dining site for next-day openings.
Insider Tip No. 2: If fireworks aren't your cup of tea, we suggest catching the park's most popular rides during the shows and parades for shorter queues.
Where to Stay at the Disney Parks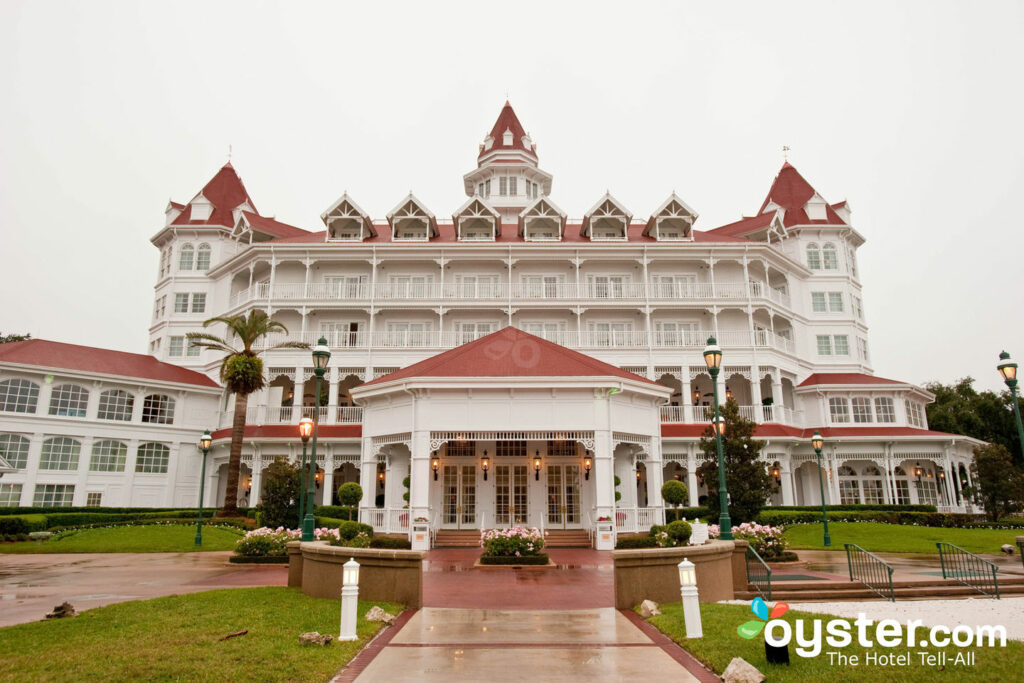 One of the major advantages of staying on a Disney property is the transit perks, including transportation to the parks as well as to and from the airport. Guests can also enjoy Extra Magic Hours, which offers access to the park before and after the general public. So whether you're hitting up Disney's Hollywood Studios, Animal Kingdom, Epcot, or Magic Kingdom, spend the night at Disney's Grand Floridian Resort & Spa. The decor, which harkens back to Florida's Victorian-style seaside resorts, makes for a magical experience. The rooms sleep up to five, which means it's perfect for families. Magic Kingdom is just 10 minutes away by monorail, but if you're all parked-out, spend the day relaxing at the hotel's two pools or rent a boat for some more water fun. Plus, with five on-site restaurants, there's something for everyone.
Disneyland
https://www.instagram.com/p/-r2Py_C5i6
Disneyland in Anaheim, California welcomed about 18 million visitors during its 60th anniversary last year — a nine percent increase from 2014's visitor count (it swapped places with Disneyland in Tokyo). Among its many draws, it was also the only park that was under Walt Disney's direct supervision.
Know Before You Go: For those on a shoestring budget, the park allows visitors to bring their own food onto the premises. Swing by the grocery store for sandwich-making supplies as well as some fruit for a more wallet-friendly option.
Insider Tip No. 1: If you want to give your kids an special (but free) experience, ask the Disneyland Railroad conductor if they can ride in the tender seat, which is located up front with said conductor.
Insider Tip No. 2: New Orleans Square is one of the coolest points in the park — and makes for great Instagram material. To reach it, use the Frontierland (not Adventureland) entrance. This shortcut will put you in front of the park's crowds.
Where to Stay at Disneyland
For those who are looking for a nearby property that doesn't put a dent in the bank account, look no further than The Comfort Inn & Suites Anaheim, Disneyland Resort. The park rides and attractions are only a 10-minute car ride from the affordable family-friendly property. After a long day, the kids might be too tired to do anything but get into bed. In case they're not, there's a large outdoor pool at the hotel. Plus, there's a free hot breakfast to fill bellies before a big day at the park.
Related Stories:
All products are independently selected by our writers and editors. If you buy something through our links, Oyster may earn an affiliate commission.