This story by Avital Andrews originally appeared on SmarterTravel under the title "What It's Like to Fly on EVA's Hello Kitty Airplane."
EVA Air's Hello Kitty plane, a Boeing 777-300ER, is the brainchild of K.W. Chang, the airline's chairman. Chang, who started his career as an airport check-in agent, captained the jet during its inaugural flight into Houston on June 19, 2015. He's a happy-go-lucky guy who insists that flying should be fun, so he partnered with Japan's Sanrio company to outfit a few of EVA's planes with the cheery Hello Kitty characters from cockpit to tail.
EVA's first Hello Kitty jet launched in 2005, shuttling between Taipei and Tokyo. Six more followed, departing from Asian cities as well as Paris and Los Angeles (the Los Angeles route is no longer offered). This newest plane, called the "Shining Star," makes nonstop jaunts from Houston to Taipei, and then continues to Singapore.
Here's an exclusive look inside the plane, which I had the opportunity to tour first-hand when it arrived in Houston on its inaugural flight.
The Experience
Buy a ticket for an EVA Hello Kitty flight and you'll see the theme extend from check-in to baggage claim. Nearly every in-flight service item has at least one Sanrio character on it, starting with your boarding pass and baggage tag. Hello Kitty is on the safety cards, the barf bags, and the toilet paper in the lavatory.
There are Hello Kitty headrest covers, pillows, tissues, cups, and soap. And, yes, there's Hello Kitty food. Flight attendants wear Hello Kitty aprons, and Hello Kitty art hangs on the cabin walls. At Taiwan's Taoyuan International Airport, there's an explosively pink Hello Kitty check-in zone.
You Might Also Like: Hello Kitty Hotel Rooms That Will Blow Your Mind
The Service
The "Shining Star" makes its Houston-Taipei flights three times a week; an economy-class round-trip ticket hovers around $2,000. The outbound flight (Houston-Taipei) is the airline's longest, at nearly 16 hours, though the 333-seat aircraft provides passengers with Wi-Fi and full entertainment systems.
EVA, a privately owned airline that's a member of the Star Alliance (read: your miles will transfer), claims that it connects to more Asian cities than any other airline. So even if Taiwan isn't your final destination, you can still take this Hello Kitty flight to get wherever you're going.
The airline, which wins awards for its safety record, runs both passenger and freight flights, and is owned by the same company that runs the shipping giant Evergreen.
More on Airline News: Unexpected Airline Offerings That Are Free
The Food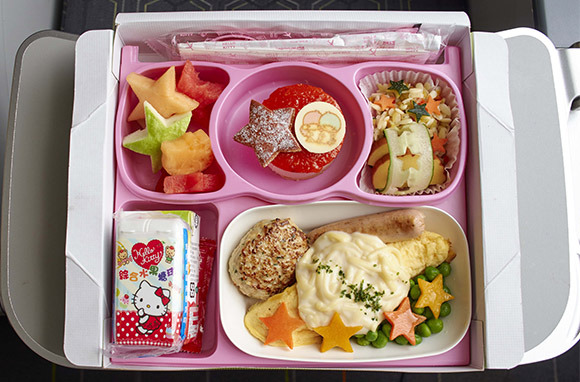 This is no ordinary airplane food. Each ingredient gets the Sanrio treatment with cut-out stars, Hello Kitty-shaped butter pats, and edible imprints of Little Twin Stars. Not much ends up on your tray that doesn't have a cutesy character on it, from the utensils to the placemat to the napkins to the garnishes. The bento-style presentation rivals anything you'd find on the most whimsical of the "cute food" Pinterest boards.
Related Link: The Signature Dishes at These Hotels Will Make You Drool
The Merchandise
SkyMall catalogs are known for their quirkiness, but you haven't seen quirky until you've browsed the selection of merchandise manufactured solely for EVA's Hello Kitty passengers. Your boarding pass gives you access not only to the plane, but also to buy Hello Kitty playing cards, Hello Kitty three-dimensional airplane puzzles, Hello Kitty neck pillows, and a baffling array of other travel-themed Sanrio collectors' items.
At the launch event for the Houston flight, a Sanrio spokesperson said, "Hello Kitty, as we all know, is everyone's friend around the world." She sure is: Sanrio does $6.5 billion in retail sales per year, thanks, in part, to savvy customer targeting efforts like this one.
Tip: To save 20 percent on EVA's Hello Kitty merchandise, order online before booking and then collect your loot on the plane.
The Upper Classes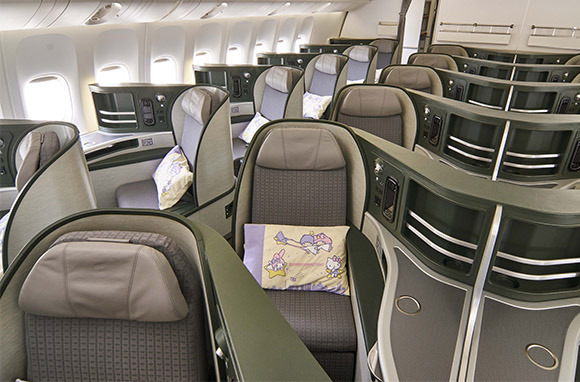 Of the 333 seats on EVA's "Shining Star" jet, 39 are in what's called Royal Laurel Class, and 56 are in "Elite Class," a service that has earned international recognition for its level of hospitality. Royal Laurel Class is a step up even from that and is only available on EVA's 20 Boeing 777s, which means that it's available on the Hello Kitty plane. The configuration there is generous, with 26-inch-wide seats that recline flat and 16-inch touch screens. Tickets are pricey –they approach $5,500 — but include Rimowa amenity kits, Dom Perignon, and restaurant-worthy main courses (steak and lobster are regular options).
Related Link: Hotel Rooms Worth the Upgrade
For Kids
Obviously, EVA's Hello Kitty flight is a product that'll appeal most to children (probably girls more than boys) and the young at heart. Travelers who are all business, or who lack the requisite joie de vivre to be able to appreciate this somewhat bizarre in-the-sky experience should stay away.
But if you wouldn't mind a 16-hour dose of cloying cuteness, or if you know your kids would enjoy it, then go ahead and book. The kiddie meals are even more fun than the adult ones, and EVA's poised flight attendants are accustomed to dealing with sugared-up children on long-haul flights.
You Might Also Like: 10 Travel Tips Every Parent Should Know (Trust Us)
More Cool Travel News: 27 Amazing Natural Wonders in Asia
A Sweet Read: 9 Foreign Treats We Need in America
All products are independently selected by our writers and editors. If you buy something through our links, Oyster may earn an affiliate commission.