We love our Anthony Bourdain over here at Oyster.com — not only does he entertain us with his hilarious quotables, but he's also able to check out some of our fave hotels, too, on his new program, The Layover (check the Travel Channel — our BFFs! — for show information).
For this week's stop in San Francisco, Bourdain frequented one of our favorite Bay Area hotels, The Fairmont San Francisco. We love the Fairmont for its iconic history (it was built back in 1907), modern room amenities — think oversize flat-screen TVs — and of course, location: The hotel is perched atop Nob Hill, an upscale area of the city that also affords most guest rooms with killer views. If it's your first visit to the city, you needn't go far to start touring — there's a cable car stop right outside of the hotel. While the vibe of the Fairmont can feel stuffy to some at times, the hotel does offer a relaxed atmosphere at its Polynesian-themed tiki bar, the Tonga Room.
Although the hotel offers a decent main restaurant and coffee shop, no one discusses the Fairmont without talking Tonga Room. Dating from an early 1960s obsession with Hawaiian culture, the Tonga Room features faux straw huts, a floating band, and what it claims is the best mai tai in the city (served in a fake coconut, natch). On this week's episode of The Layover, Bourdain and a few of his pals set up camp at said tiki bar, where after a few cocktails, he declared, "If you have no love in your heart for this place, you are a sick, twisted lonely f*ck with too many cats." Drastic, perhaps, but we agree: A visit the Tonga Room is well worth the trip.

CHECK OUT PHOTOS OF THE TONGA ROOM AFTER THE JUMP >>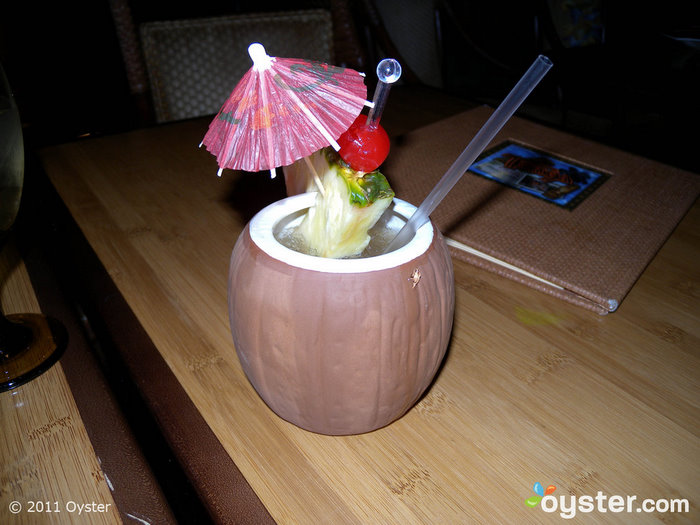 RELATED LINKS:
All products are independently selected by our writers and editors. If you buy something through our links, Oyster may earn an affiliate commission.