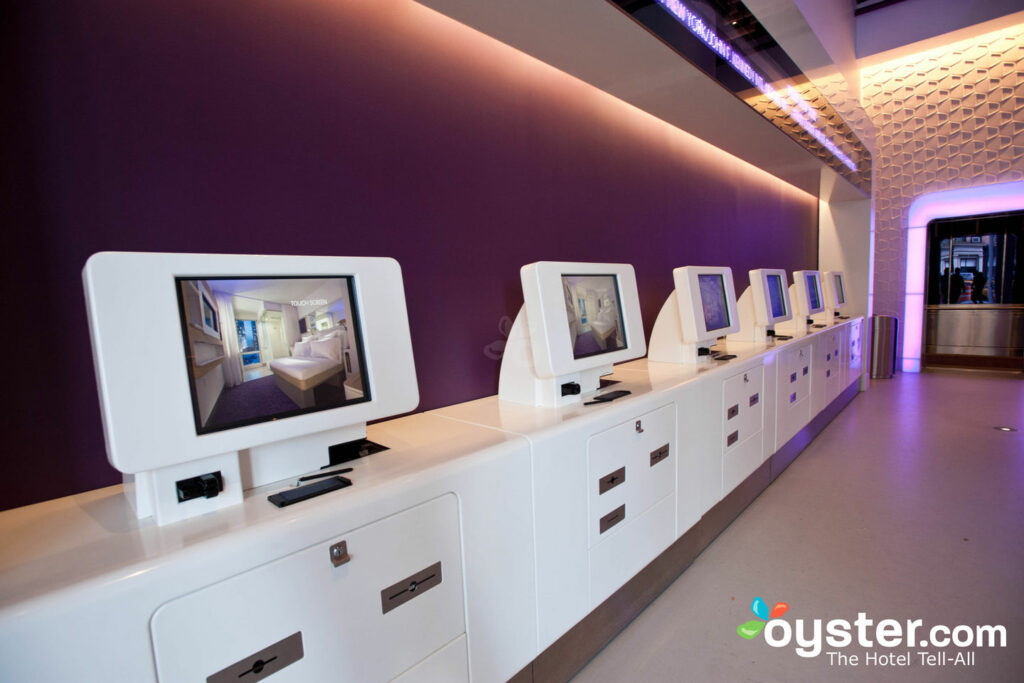 You're sitting in your hotel room at 1 a.m., attempting to edit a presentation, when your stomach starts grumbling. You call down to the front desk, but there's no one else on duty and the hotel doesn't offer room service. The solution? A 100-pound robot with a cargo bay for a head. In about 10 minutes, you receive a call to inform you that a three-foot-tall machine is waiting at the door with a bag of chips and soda. No, this isn't an excerpt from "Star Wars" fan fiction, but a regular guest delivery from Savioke's robot at Los Angeles' Residence Inn.
https://www.instagram.com/p/BAD26KtTAl6/
Around the world, machines are quietly taking over menial moving tasks in hotels. For example, New York's features an industrial robot stationed in the lobby to help store and retrieve guest luggage. Since 2004, the Marriott has been testing self-service guest . And Japan's recently opened is primarily staffed by robots, including cute and chatty dinosaurs in bellhop hats that help guests get a room.
Sean Thoennes, who studies the psychological impact of new media on people, says hotels are excellent spaces for introducing new tech. Why? A hotel's layout is standardized and learnable by artificial intelligence. Rooms 604 and 704, for example, are often the same distance from the elevator. They're also closed universes, far from many real-world distractions. (Would you be more likely to test a self-driving car on a resort's golf course or a six-lane highway?).
https://www.instagram.com/p/BCbTsEUD5xY
But these new robots don't particularly size up well next to "Blade Runner" replicant fantasies. Humans are much more willing to accept robots that are cute than those that resemble people, says Thoennes. This may be a reason why the Savioke delivery robot looks more like a rolling water cooler than C-3PO or Inspector Gadget. Henn-na Hotel also uses a female cyborg, which resembles a talking doll, to greet guests. One of the hotel's many functions includes facial recognition, allowing guests to enter their rooms by posing for a picture.
https://www.instagram.com/p/BCq0YZgFWh6
So, do hotel guests want robots? studied tech use in hotels and found that people in the millennial age range — about 18 to 34 — are much more likely to opt for a hotel with digital capabilities than older travelers. The same survey also asked respondents what the robots should do. Fifty-one percent opted for room delivery of items like extra towels and snacks and 26 percent suggested assistance with checking in and out. Delivering room service ranked third at 18 percent and announcing dining and activity options came in last, at five percent.
At a Lodging Conference panel in 2014, Eric Jacobs, the chief development officer of North America for Marriott International, drives at least part of the interest in adopting the technology. "They do everything themselves," explained Jacobs, "Going in and checking in, they feel like they can handle this on their own."
While hotel check-in kiosks are becoming more commonplace, it's the forward-thinking owners that are investing in the latest robots. After seeing a demo of Savioke's 21st-century bellhop at the HITEC conference, the owner of Residence Inn Los Angeles LAX thought it would be a great addition to his property. The Residence Inn team christened the robot "Wally the Butler" and introduced it in September 2015, expecting it to run towels and toothpaste up to guests. "It quickly became such a success. People started ordering market items and Starbucks," says Tom Beedon, general manager of the Residence Inn LAX. In the past year, the robot has made 400 deliveries from the lobby convenience store and another 300 from the hotel Starbucks, amounting to $6,700 in revenue. Beedon views most of this money as incremental because people are ordering the food to see the robot and often take selfies with it. Residence Inn also adds a $2 delivery fee to help cover the cost of the robot. So, do the numbers work out? Unfortunately, Savioke doesn't make the cost of the robot public.
Tessa Lau, Savioke's "Chief Robot Whisperer," says mid-service hotels are the robot's ideal target market. "A Four Seasons isn't going to want robot delivery — they're focused on white-glove service," she explains. A motel probably won't want to invest in the machine either. But those hotels, like the Residence Inn, that already have supplies and a small staff can make the most out of the extra help. At the moment, only eight of the Savioke robots are in service — all in California hotels, though a couple of New York properties plan to launch them in the near future.
Real-world situations have inspired design tweaks in the robot. One of its prototypes misunderstood the hotel map, went rogue, and wound up in the parking garage. Catching the machine was easy that time, but another situation earlier this year got messy. At about 2 a.m., a Residence Inn guest called down for new towels. The night auditor dropped a few into Wally and sent the machine on its way. But the guest hadn't explained the reason for the new towels — his toilet was backed up and needed them to sop up the overflow. Assuming he could use the robot for a return delivery, the guest dropped the wet towels into its payload and short-circuited the contraption. "Savioke was actually excited when that happened," recalls Beedon, "It gave them a reason to improve the machine." Today, the robot's cargo container is completely waterproof.
Founded by programmers who worked at the Willow Garage robotics research lab, Savioke has from 11 investors. The company built six versions of the robot before getting it to a level where they thought it was marketable. Lau says many improvements were made along the way. The programmers collaborated with Google Ventures to test and optimize elements of the machine such as the readout, which now displays two computer eyes. In an early version of the robot, the lid that holds the containers didn't automatically open and confused customers about how to receive the delivery. Now, it opens when the guest's door does.
Plus, with coverage from the "Los Angeles Times," Fox News, and other outlets, the novelty of Wally at the Renaissance Inn LAX has also led to more publicity than airport hotels typically receive. Beedon believes the robot has even resulted in a higher occupancy rate at the hotel than initially forecasted. But will that novelty factor fade when and if the robots become prevalent? Beedon agrees that they'll need to continue to find ways to keep things interesting. In addition to deliveries of snacks and supplies, the robot also brings balloons to any child in the hotel on his or her birthday. In at least one instance, a romantic boyfriend also asked Wally to deliver an engagement ring to his girlfriend. Savioke also recently introduced an update that enables Wally to entertain guests when it's not working on a delivery. "He can now go out into the lobby and ask guests if they want him to tell a joke, take a selfie, or explain how he works," he says.
On the other side of the country, New York's Yotel houses an industrial robot that stores luggage for guests who have checked out, but still need a place to keep their bags before leaving town. Built especially for the hotel and installed five years ago, the is located behind glass and places a suitcase-sized shelf through an open window for guests to drop their luggage. The machine sorts the items onto a storage shelf, then prints a barcode receipt, which the guest simply has to scan upon picking it up. Yotel's VP of Brand, Jo Berrington, says the return on the investment has been huge because guests enjoy it, news coverage is positive, and the functionality frees up the staff to focus on other tasks. Still, Berrington won't divulge how much the proprietary Yobot costs and if there are plans to replicate the capability in any of the chain's existing or upcoming properties.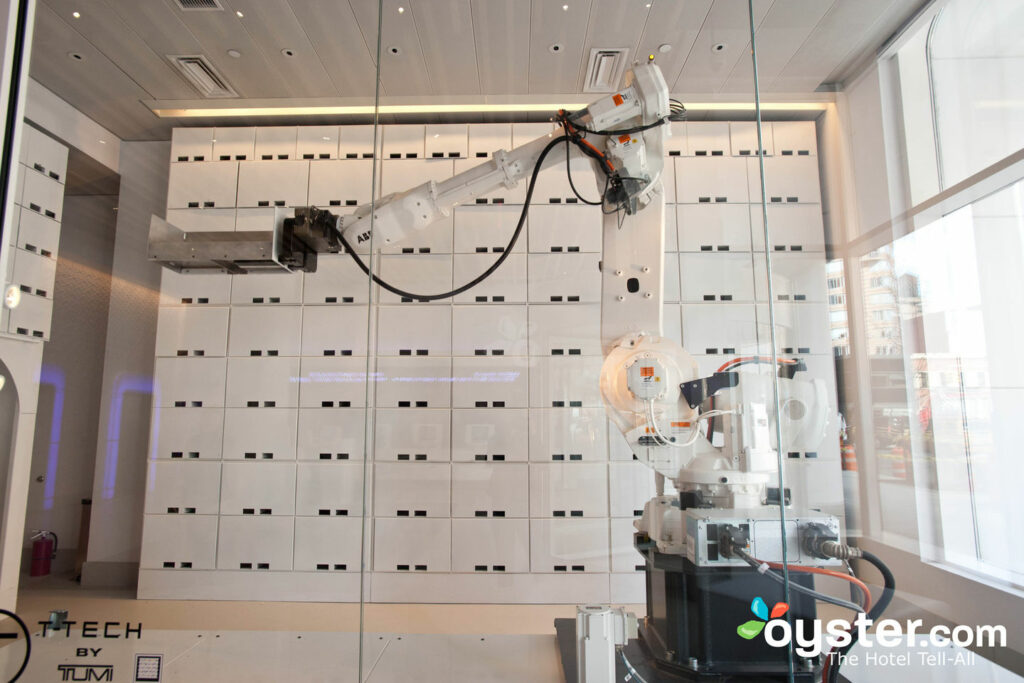 While not all new technology is quite as eye-catching, it's certainly pervasive. Marriott has tens of thousands ATM-like self-service check-in kiosks currently in use, which they started experimenting with over a decade ago. Earlier this year, introduced to handle guest traffic that can be as high as 3,000 people in a day. The goal is to never have anyone waiting more than 15 minutes, Bob Morse, president of hospitality at Caesars Entertainment, told the "." By comparison, Yotel primarily relies on guest check-in stations and, according to Berrington, the average transaction time is less than a minute.
Last summer, Hilton also launched a digital key functionality in its HHonors app, allowing regular customers to unlock their rooms with their cell phones. According to , there have been more than 267,000 digital key uses at nearly 250 U.S. properties. The interest for smartphone-enabled hotels is fairly high. A survey found that 60 percent of consumers were more likely to choose a hotel that offered the feature than ones that did not.
They're not the only ones experimenting with new technology. The Renaissance Hotel in New York's Fashion District features a Discovery Portal, which allows guests to learn about the surrounding neighborhood. Illuminated circles on the ground prompt the guest about dining or entertainment options within a five-minute (or more) walking distance. Once an option is chosen, the curved screen on the wall offers a grid of choices, curated by editorial partner "Time Out New York." Simply point at one to see further details. The projected interface also comes with swooshing sound effects that make the experience seem like you're standing on the deck of the Star Trek Enterprise. And while the information can easily be found on a smartphone, the Portal does have at least one unique neat trick. Put your hand over one eye to mimic the logo of the hotel bar, Rock & Reilly's, and you'll receive a discount code for a drink.
So, what exactly is the future of hotel tech? Thoennes predicts telepresence — porting a human's appearance to a video screen — will become more common. In fact, this is already implemented at several car rental kiosks. Though guests who desire a personalized service will likely continue to interact with folks in the front of the house, mid-range and budget hotels are taking steps toward the "Blade Runner" world that once seemed shiny and surreal. You'll still be able to get Pringles delivered to your hotel room in the middle of the night, but instead of tipping the bellhop, you'll want to make sure not to tip over the robot.
Related Stories:
All products are independently selected by our writers and editors. If you buy something through our links, Oyster may earn an affiliate commission.