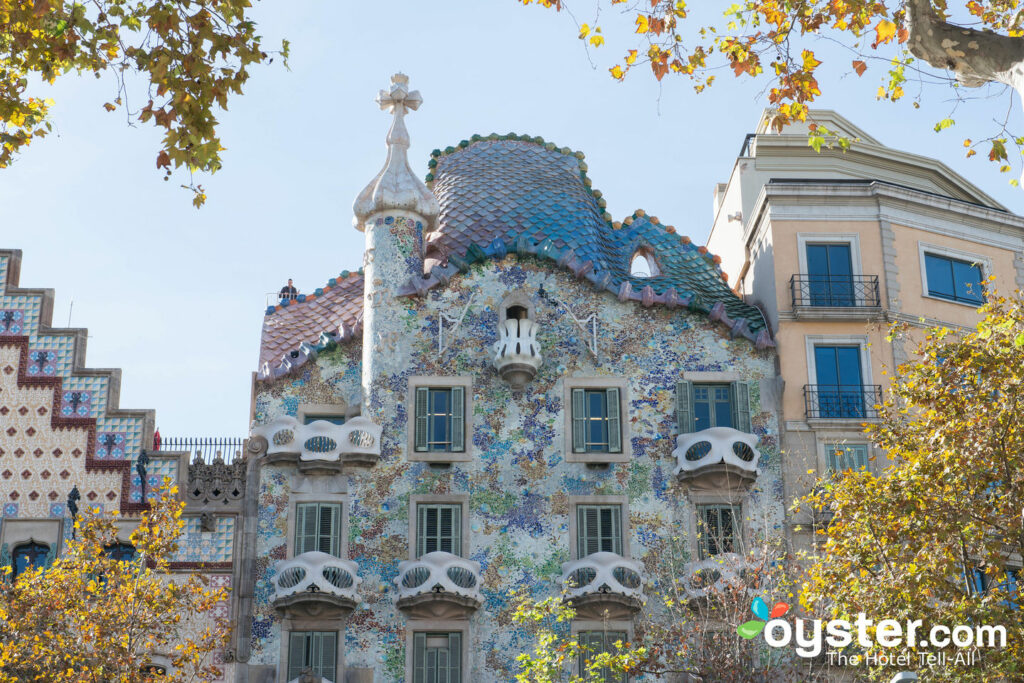 With a buzzing culinary scene, loads of culture, a warm climate, and sandy -- albeit man-made -- beaches, it's no surprise that Barcelona attracts such a huge number of tourists from around the world. But as with any major urban destination, the city comes with a range of issues that first-time visitors should know before arriving. To help you make the most of your visit and avoid the classic pitfalls, here are eight rookie mistakes to avoid on your Barcelona vacation.
1. Spending All Your Time Around Las Ramblas
Not only is Las Ramblas the worst place to eat in Barcelona, with overpriced, average food that often includes a cheap pastiche of classic Catalonian and Spanish cuisine, the city's most famous boulevard is also a haven for pickpockets. Sure, the series of five adjoining streets is impressive, and the surrounding Gothic Quarter has some of the city's most spectacular architectural sights (think Catedral de Santa Eulalia and Basilica de Santa Maria del Pi), but spending too much time here can mean ignoring other parts of the city that offer a different picture of Barcelona. Try traveling across town to Gracia, the cool, former village that's been rolled into the city, or El Born, the trendy, lively neighborhood filled with bars, boutiques, and galleries adjacent to the Gothic Quarter.
2. Failing to Adapt to the Late-Night Lifestyle
Wondering why your restaurant is deserted or the Instagram-famous club is totally empty at 11 p.m.? While you may be used to eating dinner at 7 p.m., in Barcelona (and Spain as a whole), it's quite normal to dine at 10 p.m. And in terms of going out to a club, locals would think nothing of turning up at midnight, and even that could be considered early. Of course, you can stick to your own routine, but we recommend joining Barcelona time and tiding yourself over with stop-offs in the city's cafes and gentle siestas, especially if you're struggling with the late-night drinking and dining.
3. Treating the City Like One Big Beach Vacation
Yes, Barcelona has a beach, and tourists and locals have the freedom to wear as little (within reason) as they want while soaking up the sun. However, keep in mind that Barcelona is a busy, buzzing city where business doesn't pause just because tourists descend on it throughout the year. Wear your bikini or swimming shorts with a towel wrapped around you, or walk through the city shirtless, and you'll face withering looks from Barcelona's residents. Chances are, you won't even get through the doorway of most bars, restaurants, or shops — not to mention museums and galleries.
4. Arriving With No Knowledge of the Recent Catalan Struggles for Independence
Since the contentious referendum of 2017, independence for Catalonia has never been so high-profile. That means arriving with a level of awareness of the tensions can be even more valuable. For visitors, the language is most important. Catalan is not a dialect of Castilian Spanish, but its own language, so arming yourself with a few phrases will go far in ingratiating yourself with the locals. Don't expect to speak Spanish; although everyone speaks it, Catalan is the widely spoken language in Barcelona. And never describe a Catalan as a Spaniard. No one will be looking to take offense, but arriving with some awareness of the nuances that impact the region will be appreciated.
5. Arriving Unprepared for Pickpockets
Pickpockets are a serious blight on Barcelona's reputation — and the levels of petty crime here are no joke. While crime figures in Spain fell in 2018, they rose in Catalonia, with Barcelona being the main cause of the spike. The city's Ciutat Vella district, home to Las Ramblas, is the worst affected, with 36 percent of residents saying they'd been a victim of crime there. Awareness is key to protecting yourself from pickpockets, especially around Las Ramblas, La Sagrada Familia, Sants Station, and on the metro. Follow the typical safety tips, like not carrying your wallet in your back pocket, not putting your phone or camera on the table in cafes, and not leaving bags by your feet unguarded. Oh, and if you're approached by a stranger in the street inquiring about football, where you're from, or how you like Barcelona so far, they're likely after your belongings.
6. Not Buying Tickets for Gaudi's Attractions in Advance
A monument so epic that it has been under construction since 1882, Antoni Gaudi's Sagrada Familia should be on every visitor's Barcelona itinerary. However, everyone has the same idea, meaning wait times can be long. To avoid queueing up and wasting precious vacation time, book your tickets in advance online. Casa Milà, known as La Pedrera, is another popular Gaudi masterpiece that can get crowded. As such, we recommend getting tickets ahead of time. Tip: The roof here at night is spectacular. Alternatively, head to Park Guell and enjoy the amazing views over the city. Tickets are sold online and offer skip-the-line access as well as guaranteed admission (entry to the park is restricted to 400 tourists every half hour).
7. Expecting Authentic Spanish Traditions Flourishing in Catalonia's Capital
As previously stated, Catalonia should be viewed as a separate entity from the rest of Spain in many respects. This means you shouldn't turn up expecting to find the full gamut of Spanish traditions in the city. A few examples: Flamenco is traditionally from Andalucia, the concept of free tapas is also traditionally Andalusian, bullfighting is banned in Catalonia, and sangria is a drink best enjoyed in the south of Spain. While you can find all of the above in some form in Barcelona (aside from bullfighting) you'll generally encounter a poor imitation that's not worth your time. Instead, head to the famous Boqueria Market and sample some fine Catalonian produce.
8. Paying for a Taxi to the City Center
Wondering about Barcelona airport transport? Avoid taxis, as there are both affordable and efficient airport buses to Plaça de Catalunya and Plaça d'Espanya, as well as a metro connection to city center destinations. In other words, you can save that cash for more tapas or sightseeing.
Our Barcelona Hotel Picks
Once you've read up on what not to do in the city, you'll need to think about where to stay. Luckily, Barcelona offers a plethora of accommodations, from budget to luxury options. For a swanky base in the heart of the city, look no further than the Mandarin Oriental, Barcelona, a hotel with a location as iconic as its brand name. For something less expensive, but still on the luxe end of the scale, Alma Barcelona is a stylish boutique with amazing views of La Sagrada Familia from the rooftop terrace. Within walking distance of the old town, Catalonia Square is an upscale hotel with an outdoor pool. For one of the best budget options in the city, and a property that goes big on its decor and design, Generator Hostel Barcelona is an ideal choice in the heart of Barri de Gracia.
You'll Also Like:
All products are independently selected by our writers and editors. If you buy something through our links, Oyster may earn an affiliate commission.