Whether you're traveling on business or avoiding rain-filled cloud, sometimes you're stuck indoors while on vacation with little to do; but the best hotels have features that are ideal for those not-so-great sightseeing days. An indoor spa, welcoming bar, and game room are a few of our preferred indoor spaces, but our favorite may be a cozy library -- especially once the cold weather hits (and it has). Bookshelves lined with classic authors and city history books, burning fireplaces, and plush seating make a snug, snuggle-ready setting for reading. We've seen many hotels that offer a small shelf of loaner books, but these 10 hotels went above and beyond in creating a literary oasis for their guests. So even if you forgot to pack a book, you'll be covered -- and may just be hooked from cover to cover.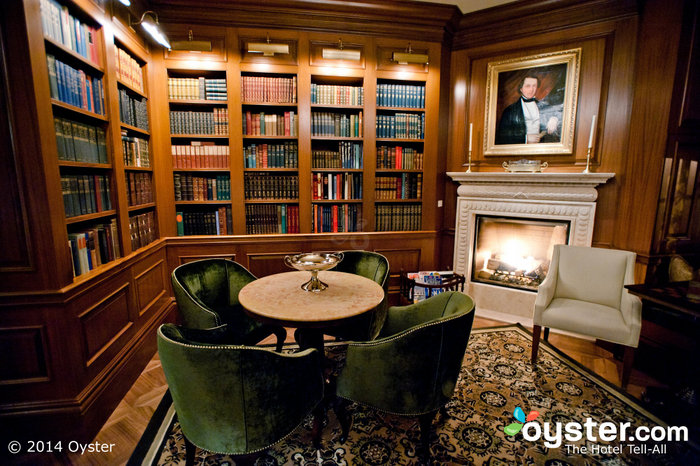 After a massive renovation in 2009, this boutique reopened, and regained its place among DC's elite hotels. It's not as famous as the Hay-Adams, but its subtle blend of technology (TVs embedded in bathroom mirrors; electronic housekeeping buttons) and colonial charms, like a working dumbwaiter, are second to none. All that's missing is T.J. himself. (Oh wait, no. Here he is. … ) The intimate, lovely library has an impressive collection of vintage hardcovers (Writings of Thomas Paine, The Age of Voltaire, Encyclopedia Americana), a cozy fireplace, and even a magnifying glass — you know, if you've been reading for so long your eyes begin to strain.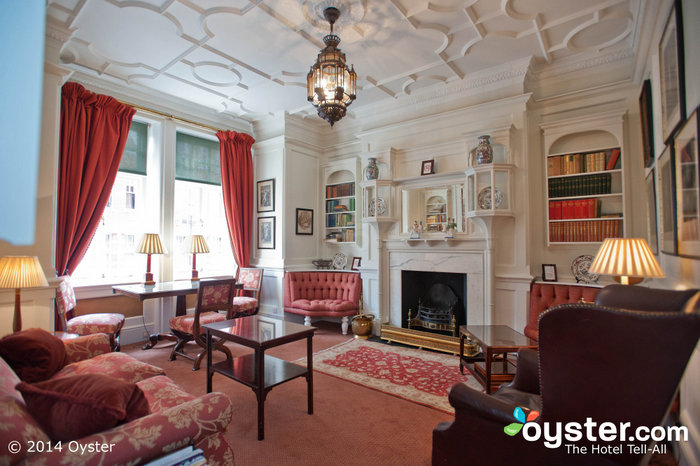 This 35-room combo of Edwardian townhouses is warm and intimate with a country home feel, and it's situated in a great location for exclusive West End shopping. With wonderful boutique perks such as the free English afternoon tea (guests at other hotels will have to pay at least a £15 premium to enjoy such a tradition), free pre-dinner champagne, and free hot chocolate before bed, it's hard to find much at the Draycott to complain about. If you're stuck indoors on one of those drab London days, the library is a snug spot to spend some time; it's styled like a traditional living room, boasting an Edwardian fireplace complete with intricate period woodwork.
Carlisle Bay offers understated luxury on Antigua's southern coast. The resort has dedicated sections for both families and couples, and successfully appeals to both with its lovely white-sand beach, calm ocean, free non-motorized water sports, and impressive kids' club. The 82 rooms are modern and sophisticate,d if not very distinctly Caribbean. If it's too chilly or wet for a beach day, the chic, modern library has comfy white couches and fibre optic lighting that changes throughout the evening. Its several stocked bookshelves are curated by Philip Blackwell of Blackwell's, a British academic bookshop chain.
Donald Trump's first hotel in downtown New York has the attention to detail and hands-on service you'd expect from a Trump property, but the slightly hipper vibe and great SoHo location cater to a younger set. The luxurious spa and seasonally open pool are the hotel's main features. Koi serves Japanese food in a sleek space, and is known for its celebrity sightings. For a more homey spot within the glass tower, head to the second floor library; designed as an extension of the lobby, it's complete with a fireplace, couches and armchairs, and colorful Taschen coffee table books.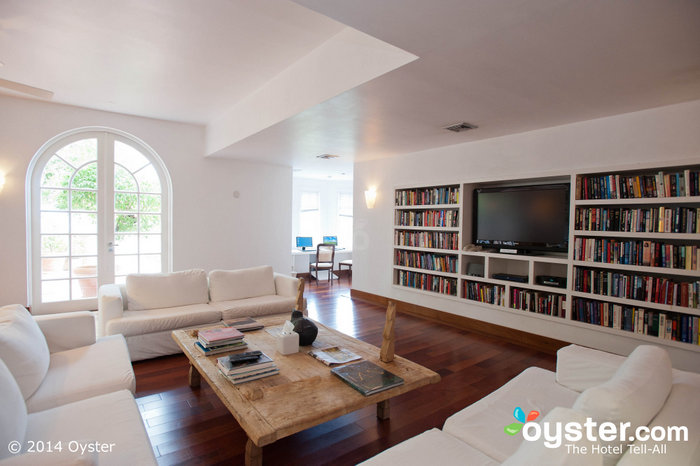 Accessed via a 30-minute boat ride from Providenciales, this 1,000-acre all-inclusive resort on a private island is the definition of tranquility. With an incredible infinity-edge pool, world-renowned COMO Shambhala Spa, waterfront Balinese-style villas, doting service, and more than three miles of pristine beaches, it's easily one of the most luxurious and romantic options in the Caribbean. It also features a spacious, bright library with hundred of books, an entertainment center, four computer stations (Macs and PCs), and a billiards table.
Ambassade Hotel's lovely brick front is as inviting as its location in the picturesque (and convenient) Canal Ring neighborhood, across from a boat-lined canal. The refined lobby features a shoeshine machine and extensive umbrella collection for inclement weather (which, let's be honest, is frequent in Amsterdam). Rooms offer lovely views of the canal and cobblestone street alongside, and are adorned with rich furnishings, intricate mirrors, and carved furniture. The 58-room hotel features several amenities, including a Koan Float (which involves floating in saltwater in a stimuli-free capsule) and massage facilities. More interestingly to book lovers, the library includes hundreds of books signed by authors who have stayed at the hotel — Salman Rushdie, Toni Morrison and Umberto Eco, to name a few. Guests can request to look at the books and read the inscriptions that often praise the hotel.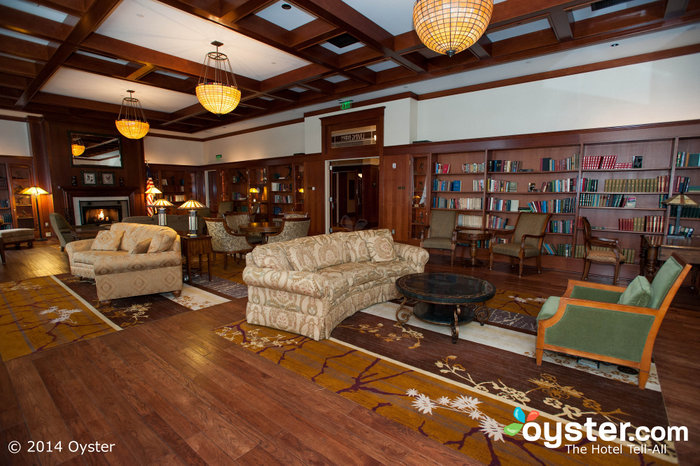 The 243-room Inn at Penn may be a Hilton, but it feels far more like a boutique hotel than a chain. Rich wood paneling in the lobby adds a traditional, Ivy League feel to the inn, and the hotel does in fact have strong ties to the university: It's not only located on Penn's campus, but the on-site University Club is exclusive to members after the breakfast for hotel guests concludes. The rooms feature a sophisticated blend of classic and contemporary styles, and all have iPads, Cuisinart coffeemakers, and work desks with ample electrical outlets. The library, dubbed the "Living Room," is stunning and traditional, with two fireplaces, wall-to-wall bookshelves, and drink service.
A homey, 60-room, literary-themed boutique, this hotel is located down the block from New York's famous Public Library, and among Midtown East's corporate skyscrapers. It's one of New York's best values, mostly because of the perks: an upscale bistro on the ground floor, a lively bar on the penthouse floor, free Wi-Fi, free gym passes, and free daily pastries, wine, and cheese. There are six rooms per floor and each is devoted to a theme within one of the larger classifications — say, love, romance languages, or psychology. The hotel features a unique reading room on the 2nd floor lined with floor-to-ceiling bookshelves and fresh orchids on each table. Guests can come at any hour to pore over the paper with a cup of coffee or an espresso from their in-room La Cimbali machine.
This 96-room, 30-acre resort trumps almost every other resort in Bermuda as far as style and sophistication are concerned. Of course, you'll pay some of the island's highest rates to enjoy it. But with its two stunning pools, expansive spa, four private beaches, three restaurants, and some of the most beautifully landscaped grounds around, you might just consider it a worthwhile investment. Another nice perk is the English library filled with massive, gilt-edged books and antique globes; it has an Internet station and extensive volumes on Bermuda's history.
Hotel Milano Scala is a chic and eco-friendly four-pearl boutique hotel located in one of Milan's best (and most expensive) neighborhoods. Couples and business travelers stay here for the luxe rooms decorated with an opera theme and stocked with espresso machines, spa bathtubs, and minibars. Primadonna restaurant gets rave reviews for gourmet cuisine made with organic ingredients from the rooftop garden, where guests can relax and admire views of the nearby Duomo Cathedral. The library-themed lobby lounge is a nice spot to sip an apertif and peruse one of the many art or opera books.
RELATED LINKS:
All products are independently selected by our writers and editors. If you buy something through our links, Oyster may earn an affiliate commission.