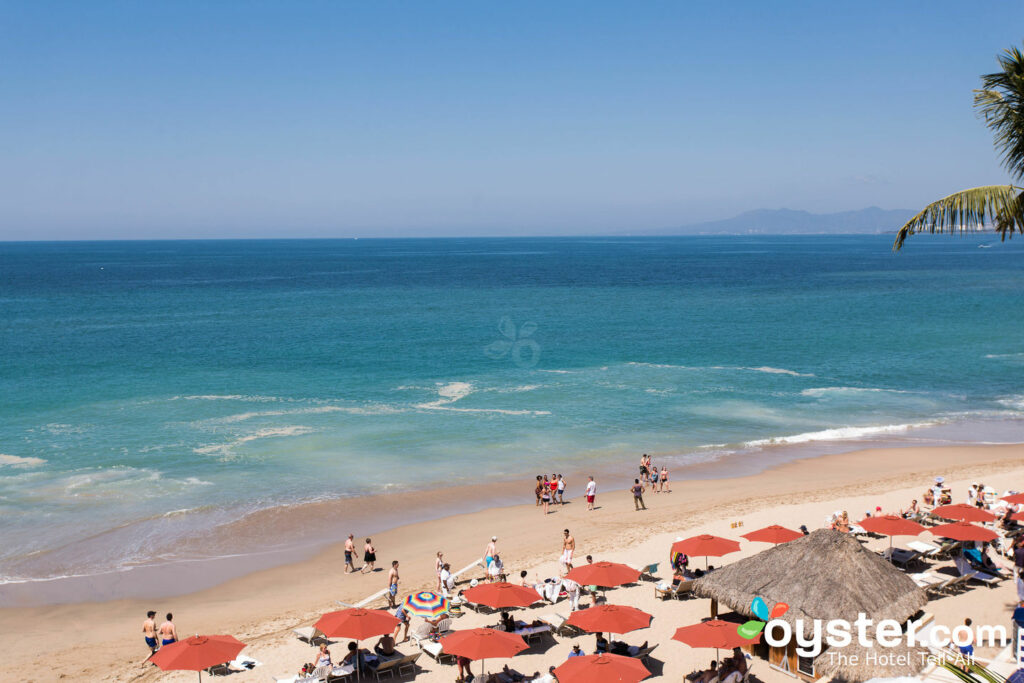 No matter where you fall on the love-'em-or-hate-'em spectrum, we can all agree that all-inclusive resorts make sticking to a travel budget a breeze. With that in mind, we found the all-inclusive hotels in Mexico -- from Cabo to Cancun -- that offer the most value for the cost. Keep in mind that prices are based on average rates for a standard room, as of November 2017.
Looking for the most affordable beachfront resort near Land's End? This is it. Solmar Resort is the oldest and most budget-friendly hotel in the Solmar Hotels & Resorts group, and it has a decent list of amenities: two pools, an alfresco restaurant with ocean views and a sushi bar (all-inclusive guests have access to several additional restaurants at nearby sister properties), beachfront spa cabanas, and free valet parking in a secure garage. And despite Solmar's all-inclusive status, it tends to be quieter than the all-inclusive properties right in the heart of Cabo San Lucas. The 100 rooms are dated, but spacious and clean, and all have kitchenettes, flat-screen satellite TVs, and private ocean-facing balconies. Unfortunately, Wi-Fi in the common areas is only available via paid daily plans and the ocean here is rough and unswimmable, though the latter is a common Cabo problem. From $114/night.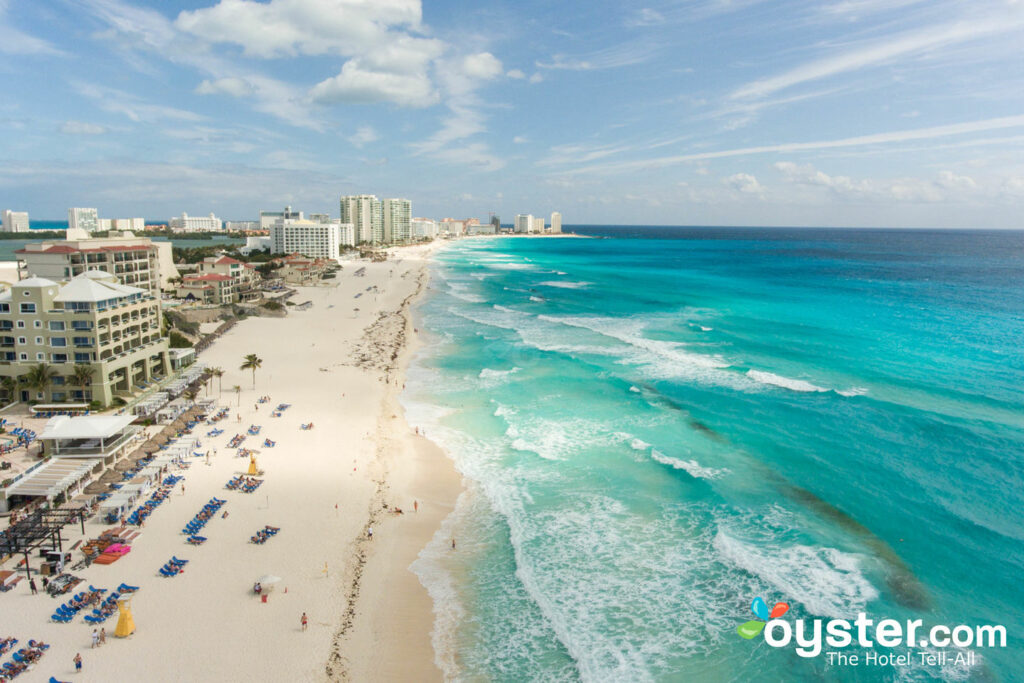 The 470-room Gran Caribe is one of the best all-inclusive values in the Cancun Hotel Zone, and its attractive prices draw a fair number of partiers, especially during spring break and other peak times. But families like the Gran Caribe for its competitive rates as well — not to mention its kids' club, teens' club, and water park. The result is a slightly strange scene that's part boozing twenty-somethings playing tequila volleyball and part little kids splashing in the main pool and watching magic shows. The hotel certainly has its downsides: The draw here isn't the food, though the variety at the five restaurants (plus free room service) is pretty decent. Expect some wear throughout. Wi-Fi isn't included in some of the room rates, and non-motorized water sports are only available off-site at Aqua World (a five-minute bus ride). But given the fair rates, these won't be deal breakers for many. From $197/night.
A 251-room all-inclusive resort popular with families, El Cozumeleno is a beachfront property 10 minutes from the downtown area of Cozumel, Mexico's largest inhabited island and a snorkeling lovers' paradise. Guests come here for the value and for the numerous features offered in the all-inclusive package. Everything here is mid-range, from the sparse and somewhat dated decor in the rooms, to the food, to the services — but that's not necessarily a bad thing, as long as guests know what to expect. The pools are the highlight here (one has a popular swim-up bar), but golf is also draw due to the resort's location across the street from the island's only golf course (guests get discounted rates). El Cozumelano freebies include aquarobics classes, Wi-Fi, parking, and non-motorized water sports. From $127/night.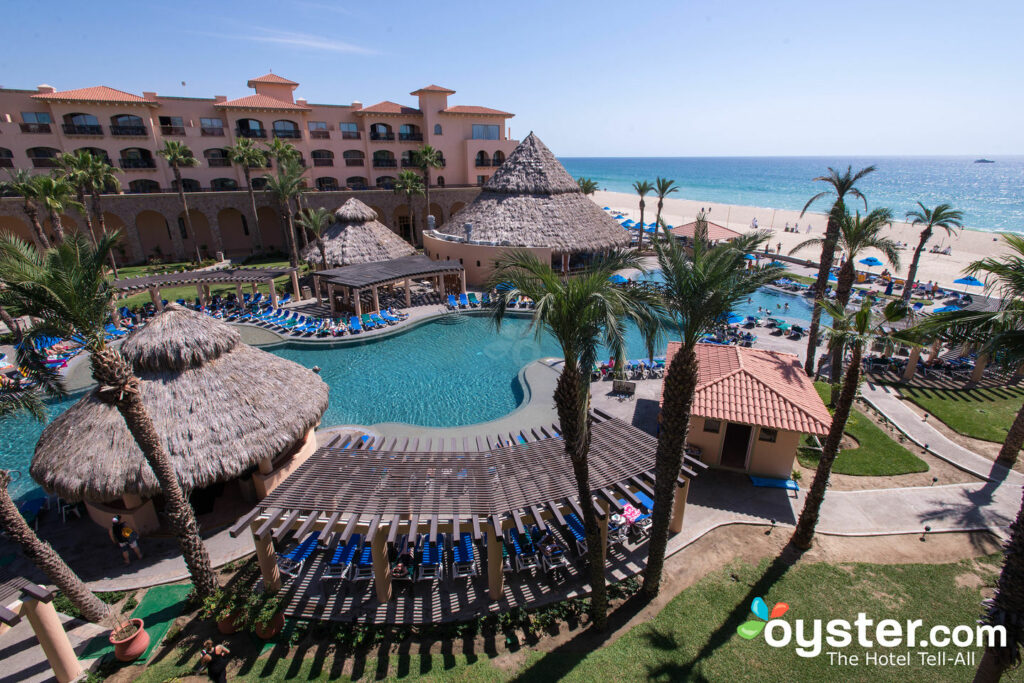 Royal Solaris Los Cabos is a friendly and affordable all-inclusive resort for families, with three outdoor pools (one adult-only), daily activities, and evening entertainment. All guests at Royal Solaris are on an all-inclusive package that gives them access to food and drink outlets (four of each) around the resort. A large breakfast buffet is served in a covered open-air space by the beach. The 400 rooms have traditional furnishings, mini-fridges stocked with free beer and water, and balconies — though some are tiny. A great kids' club for ages four and up is available for free, and it includes a pool with a series of waterslides, giant animals, and fountains. The hotel is steps from a great beach with rows of loungers and palapas, though shady spots often get snagged early and riptides often make the water too dangerous for swimming. From $153/night.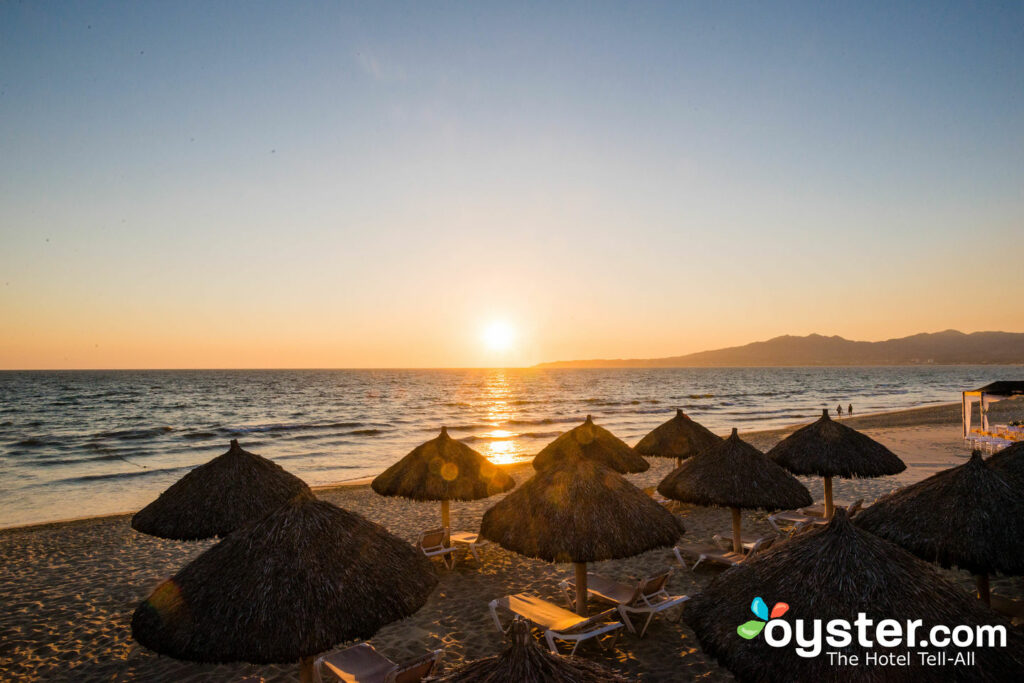 When the 183-room, family-oriented Samba Vallarta was constructed, the north end of Nuevo Vallarta was still fairly remote. Since then, a number of large-scale resorts have sprung up nearby, making Samba Vallarta feel refreshingly small-scale compared to its mega-resort neighbors. The grounds and gardens are well-kept, and the pool, with its linked sections for adults, kids, and toddlers, is perfectly scaled for the number of guests. The kids' playground by the beach is simple and functional, and the beach itself (usually uncrowded) has palapas for shade and free non-motorized water sports, including kayaks, boogie boards, sailboards, and Hobie cats. Wi-Fi is also free throughout. From $139/night.
Riu offers three all-inclusive classes in Nuevo Vallarta, and the 700-room Jalisco is the economy option (Vallarta is the mid-range one and Palace Pacifico the upscale) — but you wouldn't guess that upon entry. The entry and lobby are grand, and the grounds are immaculate, with two huge pools, beautiful gardens, and an expansive beachfront with bar. The rooms, however, are small, lackluster, and short on amenities — not even Wi-Fi. All-inclusive guests have full access to plenty of restaurants (five), plus 24-hour room service and three fun bars (including a swim-up pool bar) and even a nightclub. The property is far removed from the hustle and bustle of downtown Puerto Vallarta, but it remains an excellent option for a beautiful all-inclusive beach getaway. From $160/night.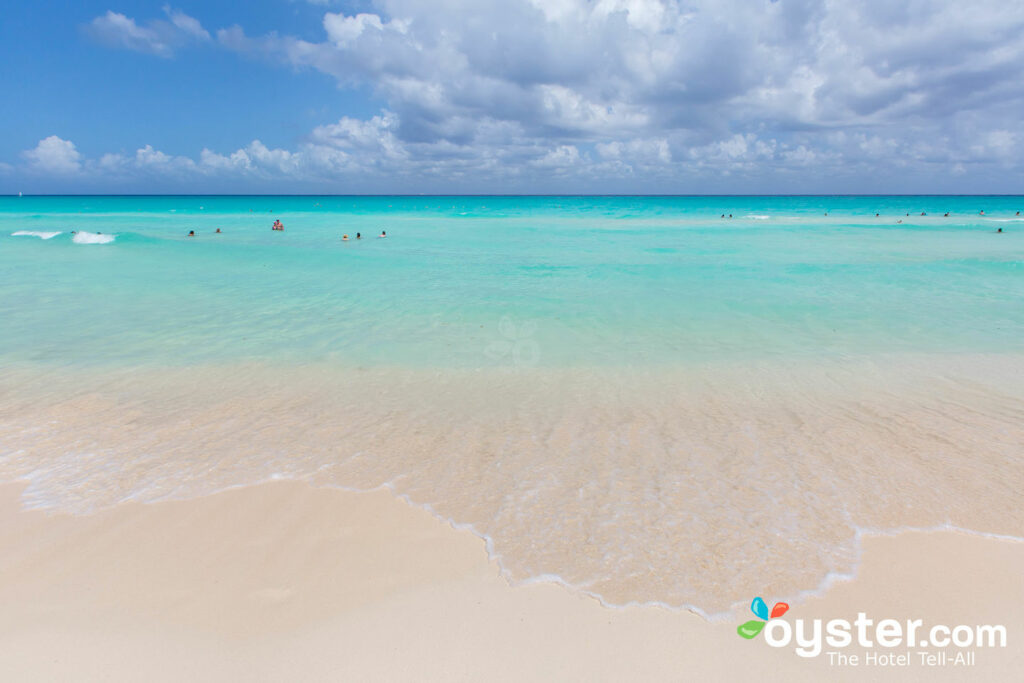 Set in the gated Playacar community, this all-inclusive has glitz and glamour of a Las Vegas casino hotel combined with hacienda-style architecture and massive gardens. Among its best assets are its nearly private beach, enormous pool with swim-up bar, and impressive all-inclusive plan covering six restaurants and 24-hour room service. There haven't been any major renovations in recent years, but almost everything was impeccable during our visit. Floors gleamed, exteriors and interiors were well-maintained, the rooms didn't have the musty smell that can often accompany places in tropical destinations with high humidity levels, and the staff were bustling about and helping everyone in sight. The 400 rooms aren't perfect and lack full ocean views, but all have free Wi-Fi. There's a dizzying array of activities throughout the day and night, like water sports (including free scuba diving lessons in the pool, and free catamarans) and evening entertainment (usually a live band and then a show with dancing). From $266/night.
The 879-room mid-range Oasis Cancun is party central, with something happening all the time and everywhere for guests who are young, sociable, and loud. (The crowd generally does not respect personal space or quiet hours, and prospective visitors should be aware that the noise is truly round the clock.) There are 10 on-site restaurants and snack bars and 11 bars, including three swim-up venues, illustrating this resort's focus: the booze is more important than fine food. The resort designates "Official Party Staff" members to keep the shindig going, and vodka is dispensed via soda guns. Hotel staff has a difficult time keeping up with the trail of discarded plastic Solo cups. Hammocks are strung around the grounds — which include an expansive white-sand beach with free kayaks, boogie boards, and sailboats — where guests can pass out in the sun if a quiet moment can be snatched. Amenities in the rooms are limited compared to other area hotels, with old-school tube TVs, no mini-fridges, and free bottled water strictly limited to two bottles per day, even if there are four guests in the room. From $190/night.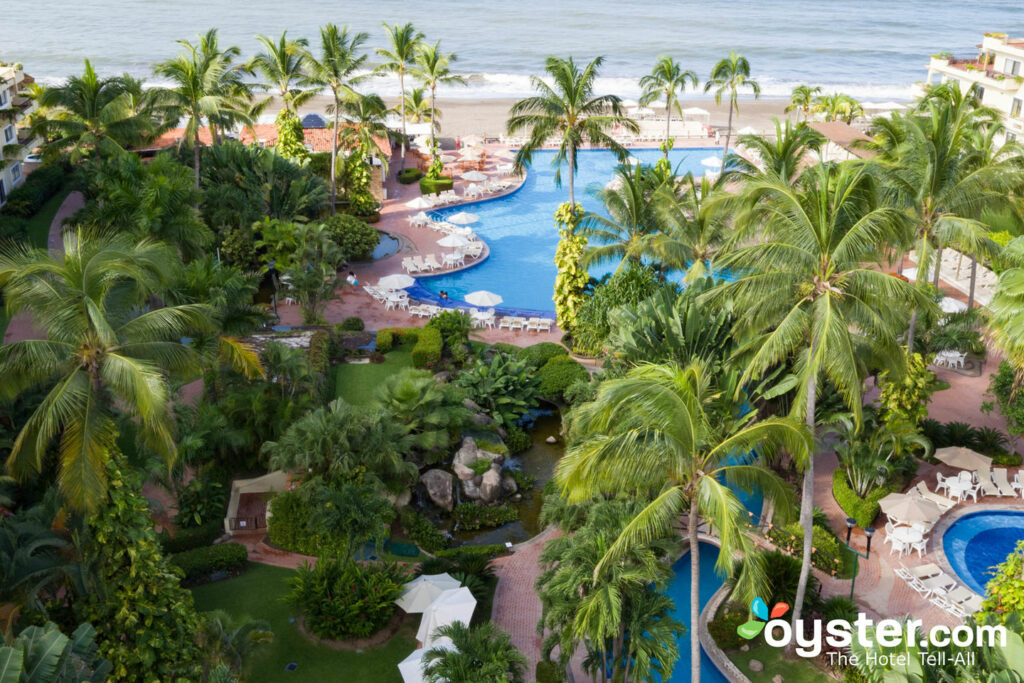 The upscale, 345-room Velas Vallarta is one of the most popular all-inclusive resorts in the region, thanks in part to its big (though slightly worn) rooms with kitchenettes — many with great views — and three pools, including an oceanfront pool with a swim-up bar, and a lazy river. The gardens and grounds are charming (there's even a roaming family of peacocks), the recreational options are excellent, and the restaurants have good quality food, especially for an all-inclusive. Wi-Fi is free, though some report that the signal can be weak from the rooms. From $283/night.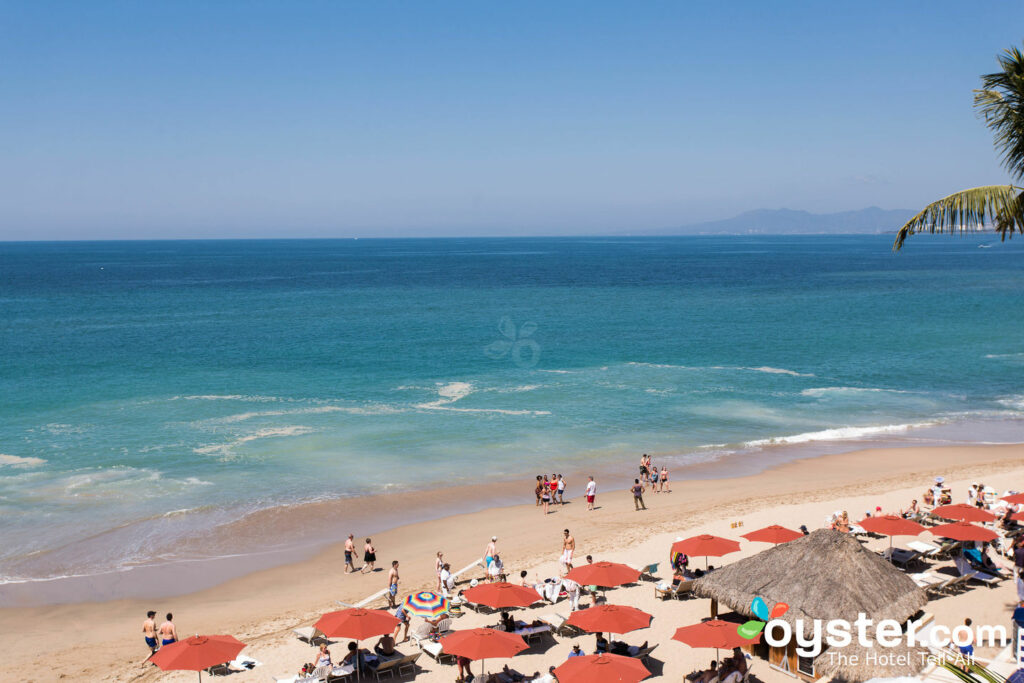 With a prime location on the beach with views over Banderas Bay, the 234-room Buenaventura has some features that set it apart, though it's largely a predictable all-inclusive with a hectic, lively vibe. It's jam-packed with daily activities and features for the whole family, including the beach and pools, a kids' club and teen club, and a spa and gym. Of course, this is to say nothing of the endless supply of food and booze available in the hotel's four restaurants, three bars, and round-the-clock room service. From$154/night.
Krystal Grand Los Cabos is a contemporary and family-friendly resort located directly on The Corridor, the popular tourist road that runs between Cabo San Lucas and San Jose del Cabo. Though the ocean is too rough for swimming, Krystal's beachfront setup includes lounge chairs and Balinese beds. The hotel has a massive pool terrace and kids' club, and, after renovations throughout 2017, a fitness center and spa. Renovated rooms are contemporary with purposeful minimalism throughout: open spaces, clean lines, and neutral colors. All-inclusive rates include dining at all on-premise restaurants, two bars, and minibars in the rooms. From $155/night.
The mid-range, 151-room Ocean Spa Hotel is a good choice for undemanding travelers in want of a good value. The well maintained grounds are dotted with palm trees and feature a nice pool, kids' pool, and a small stretch of beach with free water sports including windsurfing, kite surfing, and kayaking. The property's need for an update is apparent inside, with generic, common areas and lackluster rooms. All rooms have private balconies and a smattering of standard amenities (including free Wi-Fi), but they lack mini-fridges, their bathrooms are small, and past guests have complained of maintenance issues with the air-conditioning and plumbing. Food here gets mixed reviews, but guests can choose between a buffet restaurant and three a la carte eateries, plus there are several bars. There's no fitness center, but there are free fitness classes like yoga and Pilates, plus tennis courts on-site. From $146/night.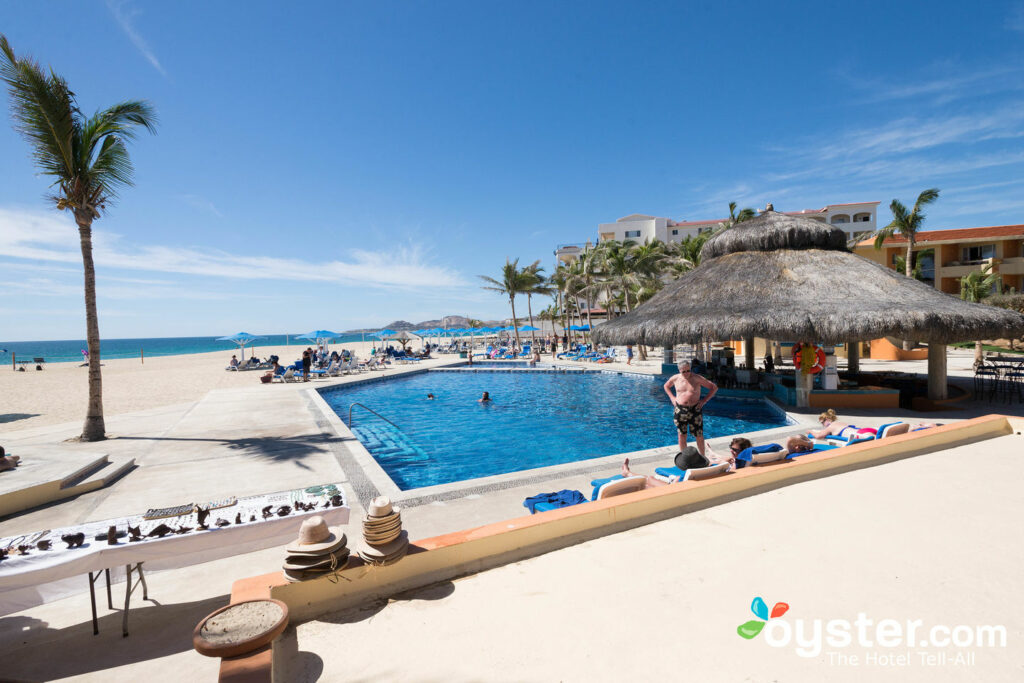 Locals and North American travelers of all ages can be found at this authentic — albeit aging — beachfront resort. The 152-room Posada Real is one of the lowest-priced options in San Jose del Cabo, with an all-inclusive package that offers decent food, basic liquors, nightly live music, and a few free activities, like aqua aerobics and mini-golf. Simple rooms have balconies (all with partial ocean views), mini-fridges, beach towels, and free Wi-Fi, but bathrooms could stand some updates. Breakfast, lunch, and dinner are served in the Cactus Restaurant, while beachside Wahoo Taco Bar provides snacks during the day. Free parking and Wi-Fi are provided. From $86/night.
You'll Also Like: