A dopp kit, which keeps toiletries, shower essentials, and makeup separate from clothing, is a necessity for any well-packed traveler. However, choosing one can be confusing, as there are so many variations on the market. To save you time, we sorted through hundreds of options to find the very best dopp kits and toiletry bags in every price range and for all types of travelers. We focused on four factors: quality materials, functionality, organization capabilities, and price. All you have to do is read on, click buy, and pack. 
Editor's Note: Prices are accurate at the time of publishing and may have changed.
For moms, dads, and caregivers who are in charge of packing the entire family's toiletries in one bag, it doesn't get much better or more practical than L.L. Bean's family-size personal organizer. At 10 inches by 12 inches by eight inches, it has enough space for full-size bottles in the main compartment, while clever side-zip storage pockets are ideal for stashing items you might need quickly (like baby wipes). The hinged design allows the bag to be hung up, and water-resistant nylon fabric is essential for family travel. Plus, you can have the bag monogrammed with your family name.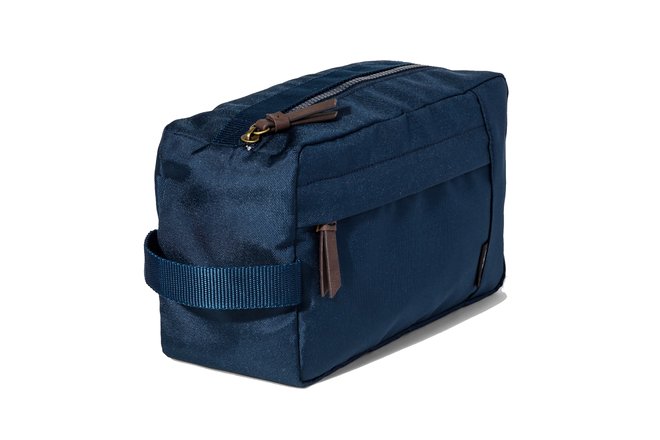 If you're in the market for a lightweight and well-made toiletry kit that won't break the bank, look no further than Goodfellow & Co's version. It features a navy or olive green polyester exterior and faux leather zipper pulls. Inside, a mesh pocket keeps everything organized, and handles on the top and sides make it easy to grab and throw into a backpack.
For the traveler who simply must have every product in their beauty arsenal on the road with them, the SlayCase™ vanity travel case is ideal. It takes up a good amount of space and likely will have to be carried separately, but it offers three foldable trays and a large main compartment, plus a fold-out mirror that serves double duty as a lid. Plus, the stylish metallic exterior makes for a fashionable luggage accessory.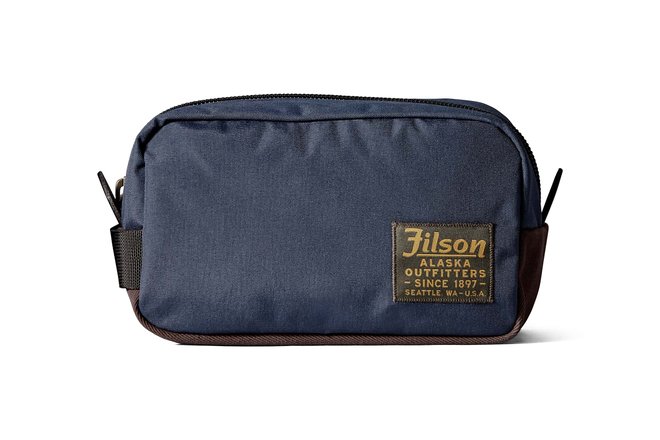 If you need a toiletry kit that can take a beating and still look good, check out the Filson travel kit. The Filson brand has been around for more than 100 years for a reason: It creates dependable and durable accessories with an eye towards craftsmanship and design. This bag is water repellent and made from tear-resistant ballistic nylon. A rugged twill bottom means it won't slip easily, and bridle leather trim ages beautifully — it's the kind of item you can pass down to your kids.
For teens on the go, it doesn't get much cuter or more practical than the Skinny Dip Extra cosmetics case. The fun design is eye-catching, and it's semi-transparent so even distracted teens can keep track of their belongings with ease. It's large enough to hold a toothbrush, deodorant, a few cosmetics, and perfume, plus it fits easily into a backpack or large purse.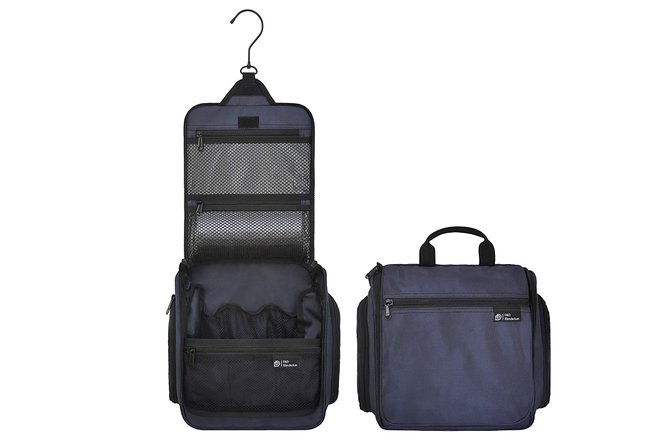 Don't even think about boarding a cruise ship without a hanging toiletry kit. The small bathrooms, lack of counter space, and occasional rough seas mean that organizing all of your toiletries in a zippable pouch that can hang behind the door (or even in the closet) is crucial. The D&D hanging toiletry bag for men and women comes in blue or red, and has six zippered pockets and a 360-degree swivel hook. The bag is large enough to fit full-size products and comes with a life-time guarantee — that's a lot of cruises.
Millennial and minimalist travelers already know that Away is at the top of their game when it comes to cutting-edge suitcases, but don't sleep on the brand's stylish and simple dopp kits. We tested the dopp kit on a weekend trip to the Hamptons and were surprised how many cosmetics and toiletries fit inside the streamlined case. The high-quality leather looks timeless and a few stray splatters easily wiped clean from the surface. Special edition fabrics and patterns are sure to become collector pieces. This dopp kit has definitely earned a place in our suitcase for years to come.
For travelers who are bringing their entire makeup collection on vacation, this Sephora Collection organizer is a godsend. The professional black case uses every interior inch for smart cosmetics packing. There are loops for holding makeup brushes, two removable storage cubes, and a large removable flat pouch that keeps powders, palettes, tubes, and bottles neatly aligned. Many users reported enough remaining space for shower products, too.
You'll Also Like:
is a participant in the Amazon Services LLC Associates Program, an affiliate advertising program designed to provide a means for sites to earn advertising fees by advertising and linking to . Oyster also participates in the SkimLinks and SkimWords affiliate programs.
All products are independently selected by our writers and editors. If you buy something through our links, Oyster may earn an affiliate commission.