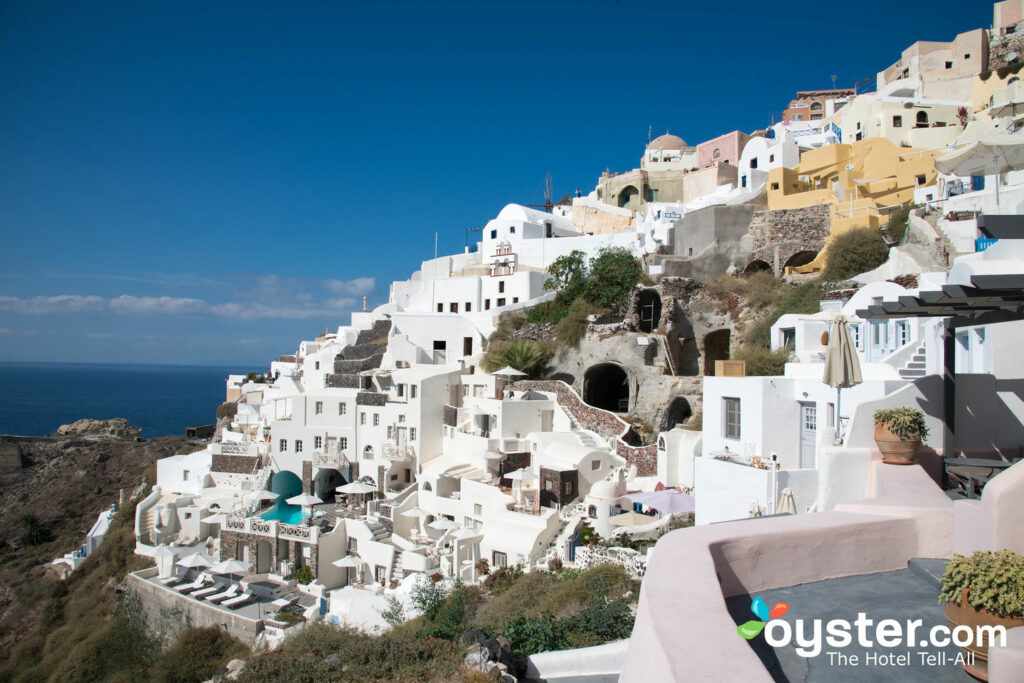 This might not be breaking news, but it is important: Santorini has an incredible food scene. At first glance, a volcanic rock in the Aegean might not seem like the best place for gourmet goods, but Santorini's unique volcanic soil and long days of sunshine are ideal for growing fava (yellow split peas), domatínia (cherry tomatoes), white eggplants, and wine grapes. Fresh seafood is plentiful and Greeks have basically cornered the market at preparing succulent pork and lamb served on a skewer or in a pita. Surprisingly for a tourist-friendly and cosmopolitan island, there are very few American chain restaurants (there's one McDonalds in Fira) and the vast majority of restaurants have traditional Greek menus. You won't find many variations on the Greek food theme. Portions usually run towards hearty, and there's very little pretense around service or presentation. Read on for our tips on exactly what to eat and where to eat it. If you're in Santorini, expect to eat well and often.
Katerina's Traditional Restaurant in Fira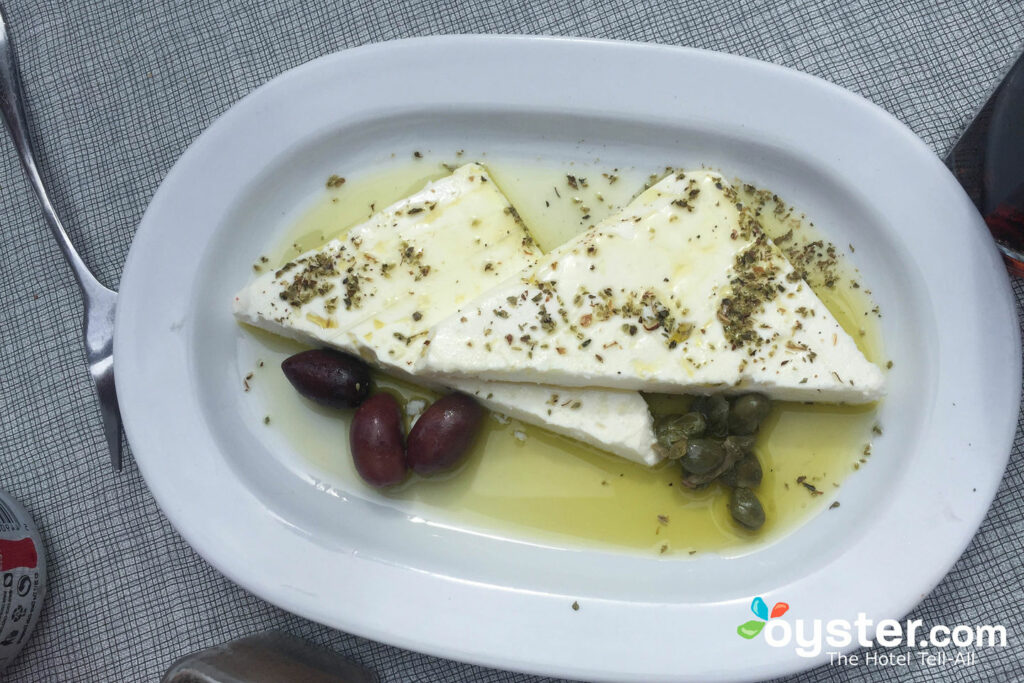 Okay, so Katerina's Traditional Restaurant doesn't have caldera views, but that's how you know the food is good. This seafood-heavy taverna in Fira Town caters to locals and tourists sent by smart hotel concierge. Katerina herself does all — and we mean all — of the cooking while her son and daughter wait tables. There are daily seafood and meat specials, and a huge selection of pastas, kebabs, risotto, and dessert. Don't miss the tomato fritters (fresh tomatoes flavored with onion and garlic, then deep fried) and the moussaka (an eggplant and potato based lasagna-like dish with ground beef and melted cheese.) Local wine is served by the carafe at some of the most reasonable rates on the island. Katerina usually sends out a plate of sliced watermelon for dessert.
Melitini in Oia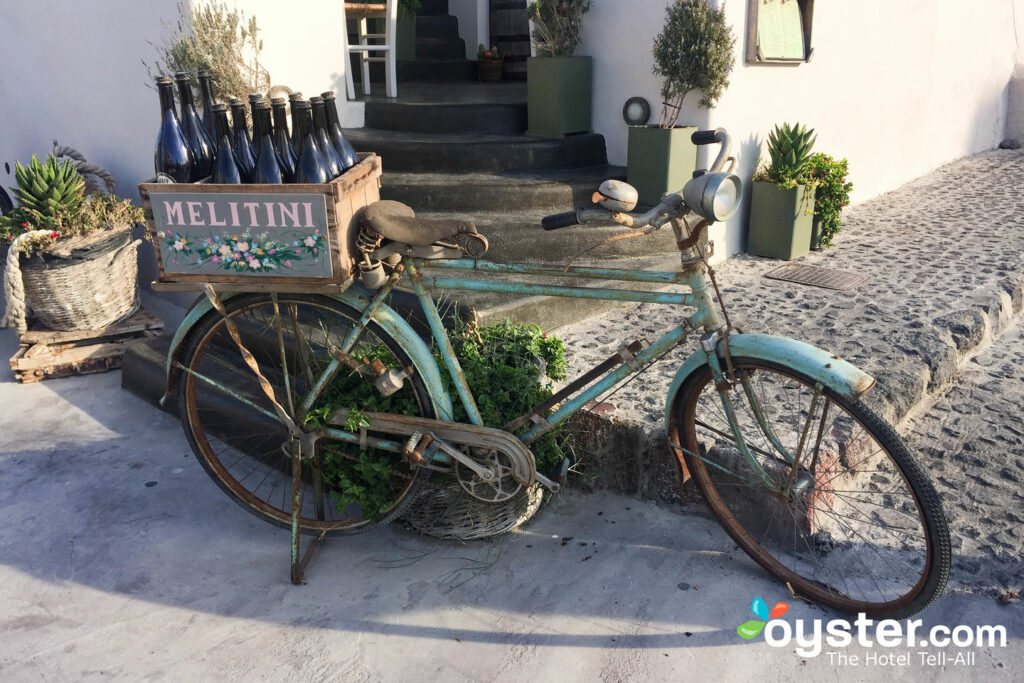 For Santorini restaurants in general, we'd say that the better the caldera views, the worse (and more expensive) the food, but one exception to the rule is Melitini. This sweetheart of a tapas restaurant is so popular that reservations are almost mandatory (we got a last-minute table when we promised to finish eating within an hour). Small cafe tables are set up on a rooftop terrace that has distant caldera and nice Oia views. But you'll likely be more distracted by your plate: Housemade lamb sausages, meatballs, papas bravas, octopus, and charceturie are just a few of the samplings. There's a large tapas menu and a shorter list of full entrees. For those that can't score a table, there's a small takeaway counter on the first floor.
Lucky's Souvlaki in Fira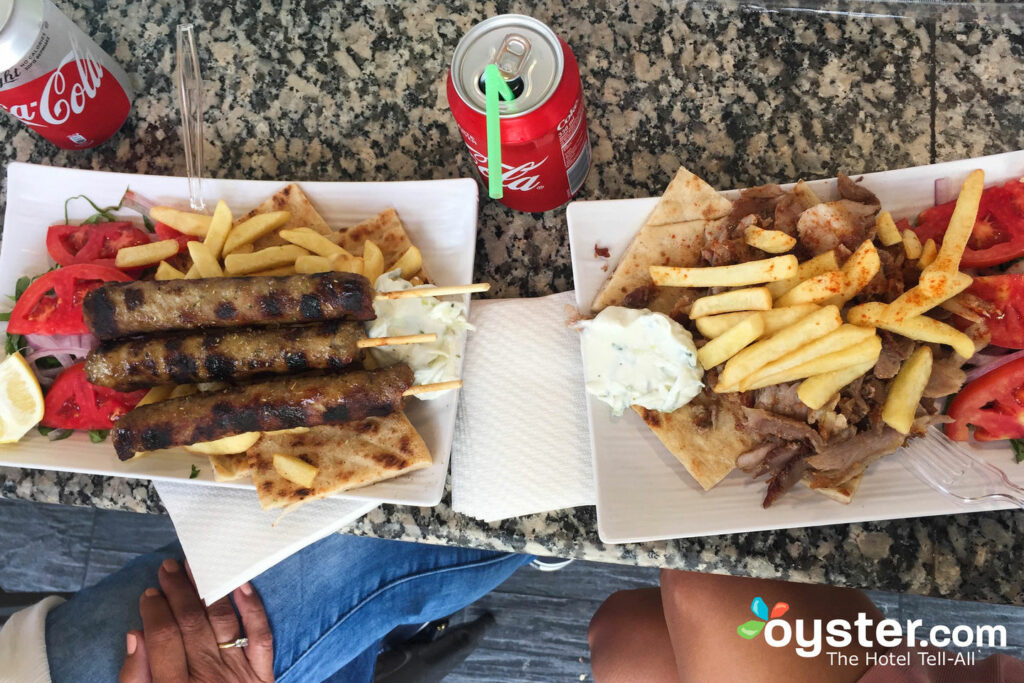 If you skipped every other restaurant on this list, we'd understand…but you must have at least one lunch at Lucky's. The exterior counter joint is sandwiched between souvenir shops in the maze of Fira's alleys, and at first glance Lucky's might look way too hole-in-the-wall for vacation. But look closely at the spinning spools of succulent pork and beef behind the counter, and at all the smiling customers sitting on counter stools, and you'll realize this is where you need to be. Gyros and traditional souvlaki (grilled meat on a skewer) are served with fluffy pita, ripe tomato slices, sweet purple onions, crisp lettuce leaves, and a huge dollop of garlic tzatziki. French fries are scattered on top of the dish in true Greek style. Pair it with a cold can of Mythos beer or lemon Fanta (only available in Europe). This will be one of the cheapest and best meals you'll have in Santorini.
Sea Side Beach Hotel in Kamari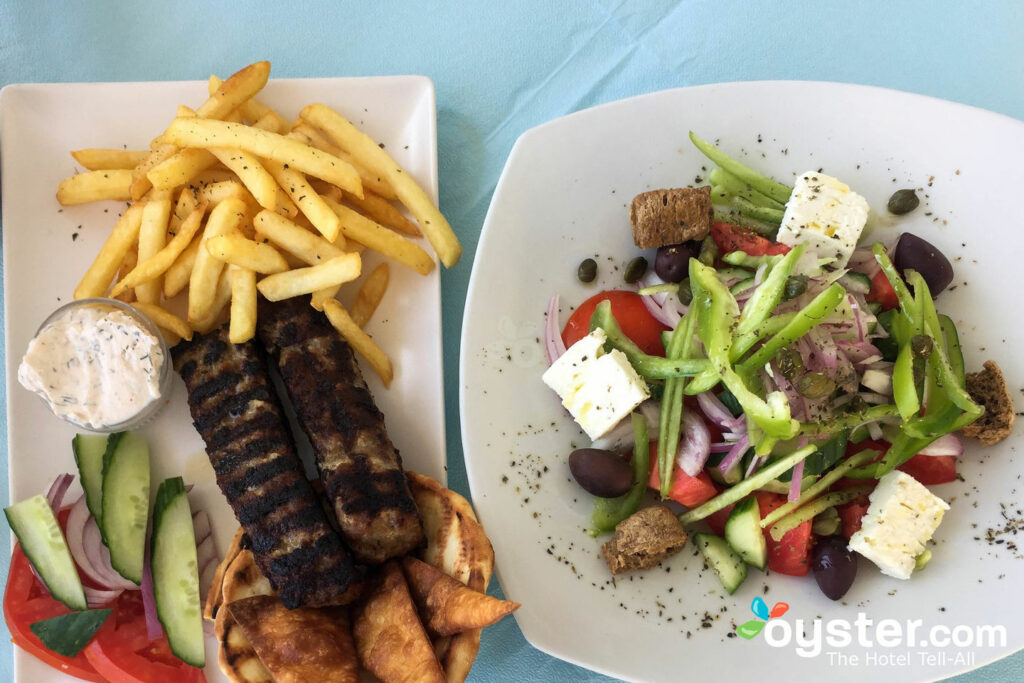 The pedestrian promenade that runs parallel to picturesque Kamari Beach is jammed with seafood restaurants. You could choose one at random and hope for the best, or you could keep walking to almost the end of the boardwalk until you hit Sea Side Beach Hotel. This is where you need to eat. The hotel has a small sea-facing covered patio in the sand; everything tastes better at the beach. The menu offers an extensive list of fresh seafood, Greek classics, and a few American favorites, plus the owner makes his own wine. The Greek salad with homemade croutons was so fresh that we ordered it twice.
Breakfast at Your Hotel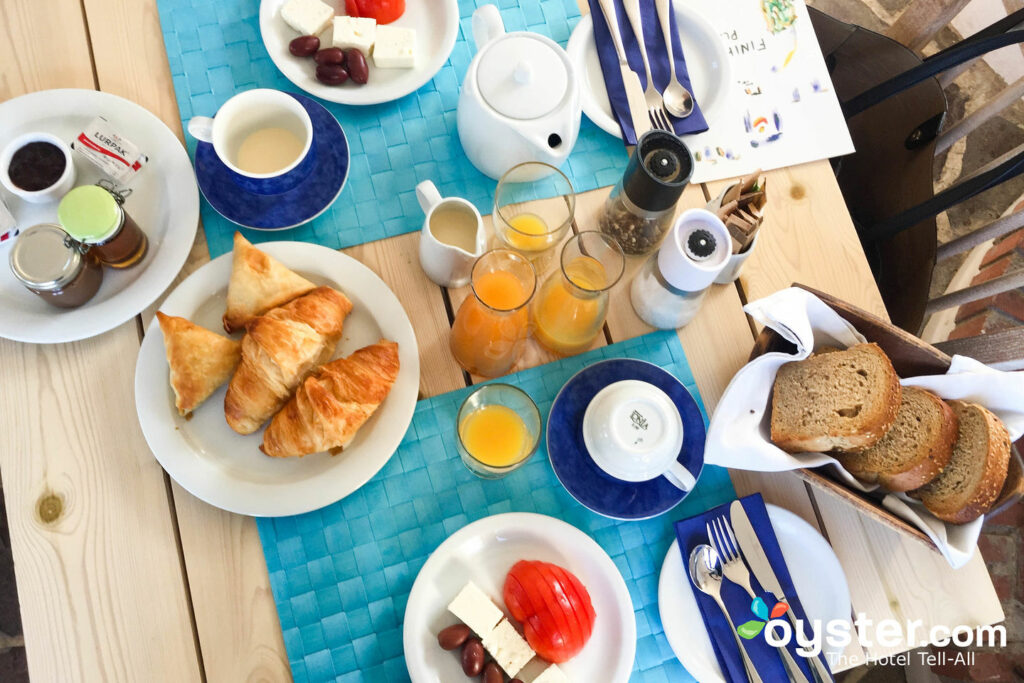 The vast majority of hotels in Santorini include breakfast with the room rate, or at least offer it for a low price. We were absolutely wowed by the quality and quantity of food served for the morning meal across the island. For instance, at Finikia Memories outside of Oia, we started the day with fresh croissants, spinach pies, fresh orange juice, coffee, marmalades, feta, olives, ripe tomato, and homemade toast. Down the coast at Apanemo Hotel in Akrotiri, guests are served housemade donuts, pancakes, fresh fruit, Greek yogurt portioned into glass jars, and eggs that have been boiled for either four or seven minutes, depending on how you like your yolk consistency. On the odd chance that your hotel doesn't serve breakfast, skip the English-style overpriced cafes in Fira and head to any bakery for savory spinach pies, flaky baklava, and spiced honey cookies.
Santo Wines Winery in Fira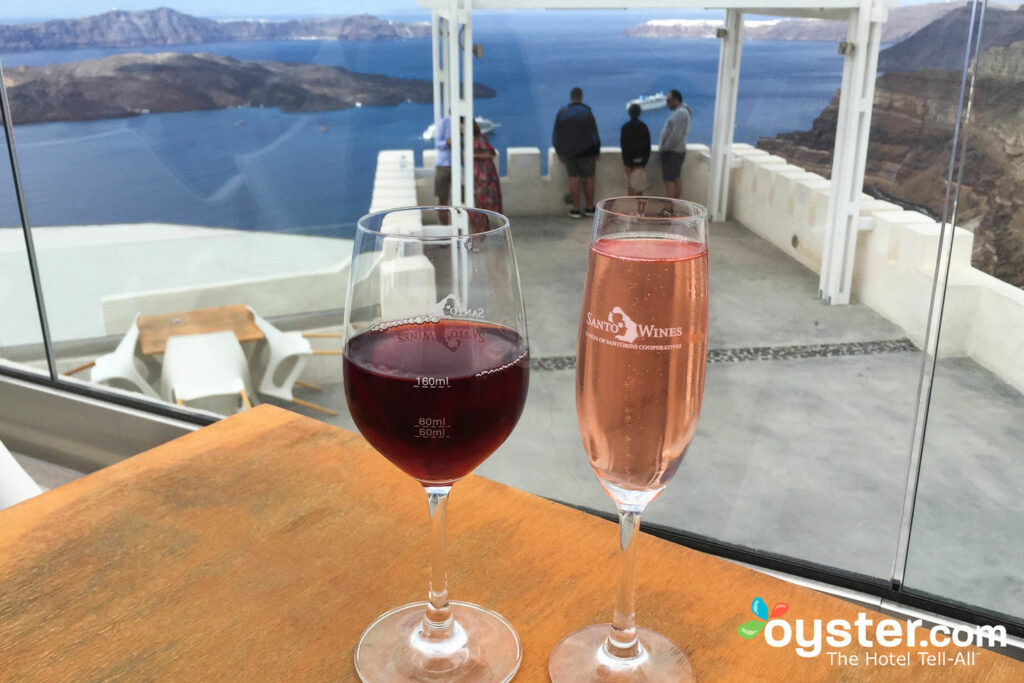 We're pretty sure that every sit-down restaurant in Santorini serves a selection of locally made wines, so it's easy to sip your way across the island. But it's even better to get straight to the source with a scenic wine tasting at Santo Wines. An intimate experience this is not: tour busses fill the parking lot and there are crowds for the best selfie angle in front of the breathtaking caldera. The menu is divided into several well-explained sections that include everything from white to sparkling rose. Ordering flights is the best deal and an ideal way to sample several vintages. For those drinking more than one glass (why not?) it's smart to order a cheese plate or olives. A more intimate option can be had right down the road at Venetsanos Winery, but the wine selection is smaller.
You'll Also Like:
All products are independently selected by our writers and editors. If you buy something through our links, Oyster may earn an affiliate commission.