In an age of social distancing, many people have found companionship and comfort in their pets. The next time you're on the road, why not choose a hotel that has a pet in residence? Release stress as you find soothing solace from a rescue dog begging for a belly rub or befriend a finicky feline as she stretches between cat naps. Some hotels are going beyond cats and dogs with chickens, ducks, goats, and ponies for guests to interact with. We've rounded-up 14 hotels that are home to a Noah's Ark of animals right on property.
A Foster Dog at Inn by the Sea, Cape Elizabeth, Maine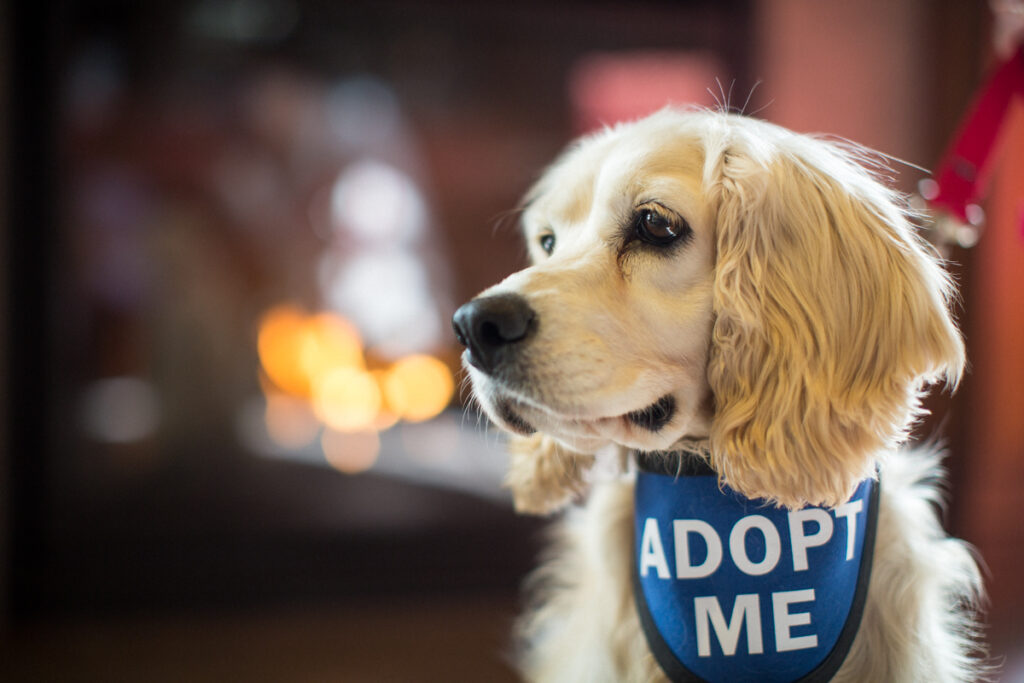 Inn by the Sea is located in Cape Elizabeth, a coastal Maine town only minutes from Portland. Lobster boats float by and a working lighthouse paints a pretty picture. The inn is homey, with touches of warm wood and appropriate splashes of nautical bric-a-brac. Exquisite gardens and a boardwalk that meanders through a wildlife sanctuary to Crescent Beach bring nature to the doorstep.
In partnership with the Animal Refuge League of Greater Portland, a foster dog lives at the inn. Guests may walk and play with the dog, and if they fall in love, take the next step and adopt. The inn's successful program has placed over 150 dogs, including blind and senior dogs, into loving homes over the past several years.
A Calico Cat at the Common Man Inn & Spa, Plymouth, New Hampshire
Common Man Inn is a New England classic located in a renovated mill. Rooms and cabins have a cozy ambiance with beautiful crafted birch and cedar furniture. High-speed Internet, plush bathrobes, and feather bed toppers are welcome extras.
C.C., a calico cat, adds to the inn's snug feel. She was found in a dumpster with a litter of kittens she had just given birth to. A Common Man Inn employee happened to be at the vet's office shortly after C.C. and her litter were brought in. The kittens were all spoken for, but C.C. needed a home. Sociable C.C. is often found sitting on the front desk, purring at guests as they check in. Between cat naps, she patrols the lobby to make sure all is well, before tucking in at night in her own bed in the Innkeeper's office.
A Parade of Ducks at the Peabody Hotel, Memphis, Tennessee
Originally built in 1869, the Peabody Hotel is synonymous with old-world hospitality. Listed on the National Register of Historic Places, it has preserved its Grande Dame style while adding modern amenities. It's located in the heart of Memphis, a few blocks from Beale Street's legendary music venues.
Gracious service and elegant accommodations distinguish the hotel, as do the Peabody Marching Ducks, who reside in the "Royal Duck Palace" on the hotel's roof. Every day at 11 a.m., they are led by the Duckmaster down the elevator to the fountain in the Grand Lobby. A red carpet is unfurled and the ducks proceed to march to John Philip Sousa's King Cotton March. The ducks remain in the lobby until 5 p.m., when the ceremony is reversed and the ducks retire to their rooftop penthouse for the evening.
Two Shih Tzu at Emerson Resort & Spa, Mount Tremper, Catskills, New York
The Emerson Resort & Spa in New York's Catskills exploits the area's natural beauty with stunning mountain views from the oversized windows. Spacious guest rooms, a fabulous spa, and locally-inspired cuisine are perks. The property is surrounded by pristine nature with skiing, hiking, and fishing opportunities nearby.
The Emerson's CEO brings her two adorable Shih Tzu, Bear and Max, to the property every weekday from 9:00 am to 5:00 pm. Outgoing and affectionate, they are fond of meeting and greeting guests. Bear and Max know the property inside and out, so don't be surprised to see them walking the Emerson's nature trail and romping near the property's pond.
Wild Ponies at the Refuge Inn, Chincoteague, Virginia
Chincoteague is known for the wild ponies that reside on the island. These horses have gained notoriety thanks to the children's book Misty of Chincoteague. In July, the annual pony swim draws tens of thousands of spectators.
The family-owned Refuge Inn offers clean, comfortable rooms in a convenient location. The owners have a herd of authentic Chincoteague ponies and keep several of them at the hotel for guests to enjoy. Currently, Honeymoon, Pocahontas, and My Corona are living on the property. Feed boxes, filled with appropriate treats like apples and corn, are next to their pen. The attention-loving wild ponies will eat right out of your hands.
A Newfoundland at Park Hyatt Beaver Creek Resort and Spa, Beaver Creek, Colorado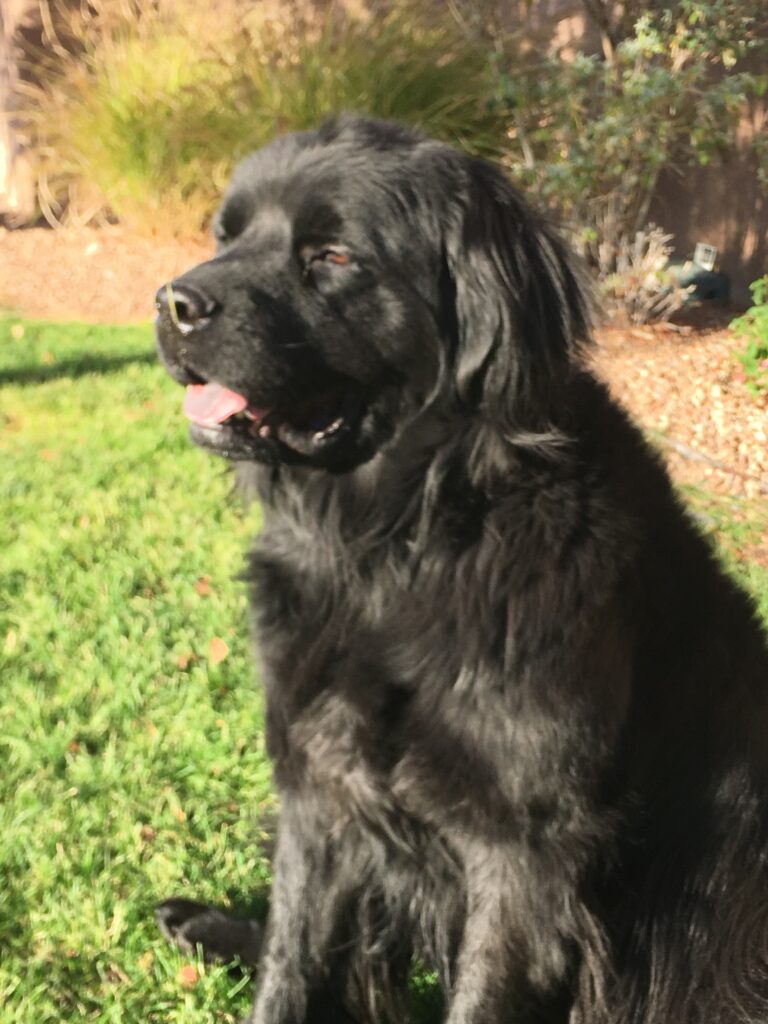 Located at the base of one of Colorado's most celebrated mountain resorts, Park Hyatt Beaver Creek Resort and Spa provides easy access to some of the best skiing in the Rockies. Rooms and suites balance contemporary luxuries with the warmth of a traditional mountain lodge. Guests can look forward to ultra-soft linens, down duvets, plush bathrobes, granite and marble bathrooms, and complimentary internet access.
When Herb Rackliff started as the GM of Park Hyatt Beaver Creek in 2019, he brought Oreo, a seven-year-old purebred Newfoundland, with him. Oreo hangs out on property, greeting guests at the entrance and socializing with them in the lobby. This gentle giant is as sweet as they come, so make sure to get acquainted.
A Herd of Goats at Carmel Valley Ranch, Carmel, California
Carmel Valley Ranch is a high-end resort surrounded by vineyards in Monterey County. It's just a short drive from glorious Pacific beaches, inspiring art galleries, and top-notch tasting rooms. Rooms are all suites, with amenities such as outdoor soaking tubs, fireplaces, and decks.
A herd of spunky Swiss nanny goats live on the property, supplying the milk that the in-house cheesemaker, Charlie Cascio, uses to make his creamy cheeses. Charlie encourages everyone to greet his beloved goats and is happy to chat about the artisanal cheesemaking process. For additional animal interactions, drop by the chicken coop that provides the kitchen with just-laid eggs before heading over to the buzzing apiary, home to over 250,000 Italian honey bees.
A Chief Canine Officer at Hotel Nikko, San Francisco, California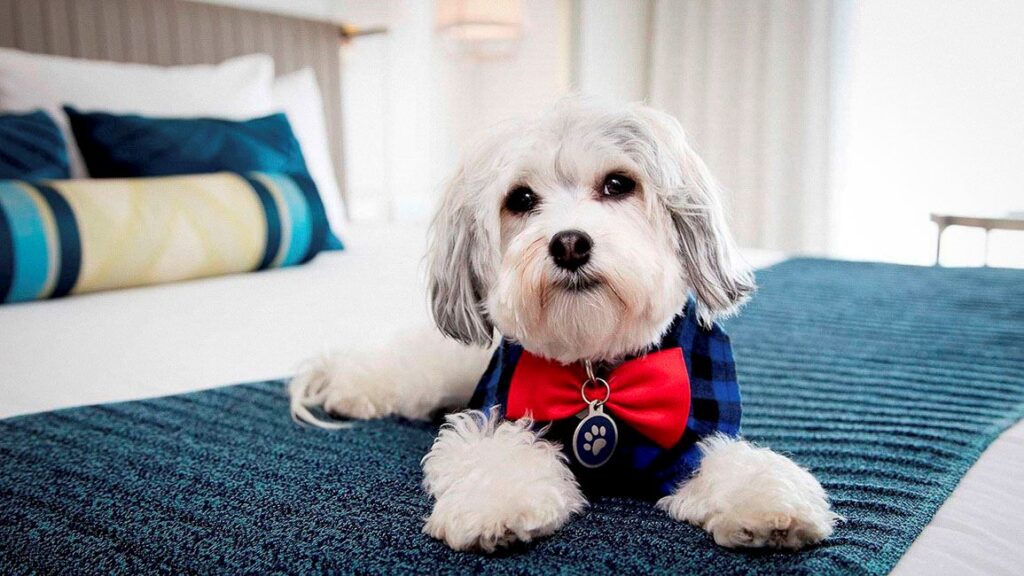 The Hotel Nikko is located in the heart of San Francisco, near Union Square and the San Francisco Museum of Modern Art. Guests enjoy modern accommodations with Japanese-inspired décor and amenities such as pillow-top beds and rain showers.
A sweet dog named Buster has been living on the premises since 2015. With the official title Chief Canine Officer, this Maltese has his own Facebook, Instagram, and Twitter accounts. Guests may schedule an appointment to play with Buster, or head to the lobby and catch him when he has a spare moment. The cable car stops a few steps from the hotel, so after some canine playtime, soak in the city's scenery from an iconic moving perch.
A Pod of Dolphins at Hawks Cay Resort, Duck Key, Florida
Located midway down the chain of the Florida Keys, Hawks Cay is an eco-paradise with white herons, pelicans, sea gulls, ospreys, and sea turtles. The resort has a casual feel, well-suited to the coastal environment. Visitors stay in guest rooms or spacious villas with modern furnishings and bright splashes of tropical color.
A pod of eight adorable, well-trained Atlantic Bottlenose Dolphins call Hawks Cay home. Guests may stand on the dock and watch these intelligent mammals splash and frolic throughout the day. For an up-close treat book an in-water experience led by the dolphin trainers.
Alpacas, Peacocks, Sheep, and More at Los Poblanos, Los Ranchos de Albuquerque, New Mexico
Los Poblanos is a Southwestern retreat nestled along acres of lavender fields. The historic inn features expansive outdoor space, with formal gardens and fragrant paths shaded by towering cottonwood trees. The property prides itself on low-key comfort in a secluded setting facing the Sandia Mountains. Guest rooms exude a sense of place with Kiva fireplaces, hand-carved beams, and New Mexican artwork. Additional amenities include a saltwater swimming pool and an award-winning restaurant featuring ingredients sourced onsite.
A significant portion of the property is dedicated to the working farm. Numerous chickens, three churro sheep, a trio of alpacas, two peacocks, and a farm cat named Mouse co-exist with organic produce including native Zuni blue corn and Navajo pumpkins. Farm manager Wes Brittenham encourages guests to mingle with the farm animals as much as they'd like.
Cauley the Rescue Pup at Montage Palmetto Bluff, Bluffton, South Carolina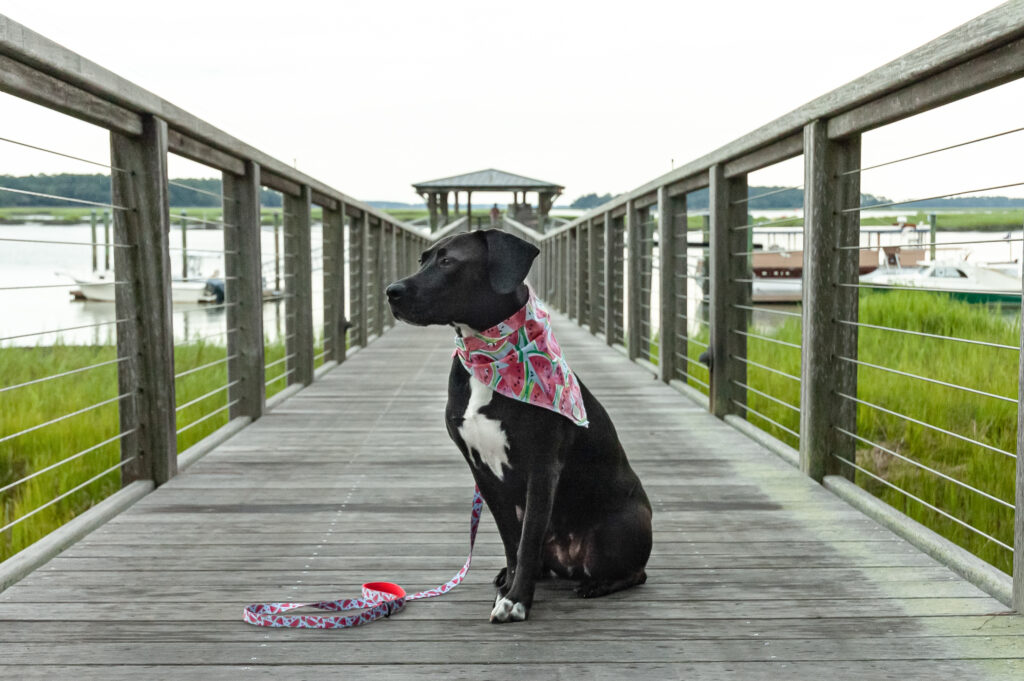 Montage Palmetto Bluff is situated along the May River in the Lowcountry of South Carolina. The resort encompasses an extensive nature preserve, walking trails, a marina, restaurants, and a Jack Nicklaus Signature Golf Course. Accommodations include cottages, guest rooms, suites, and spacious village homes.
Cauley is the resort's resident canine, a rescue pup from the Hilton Head Humane Society. This cuddly pooch will give you a big Southern welcome as he poses for pictures and plays catch. Cauley shows up twice a day at 10 am and 2 pm to officially greet guests, though he's happy to say hello anytime.
Barnyard Animals Galore at the Alisal Guest Ranch and Resort, Solvang, California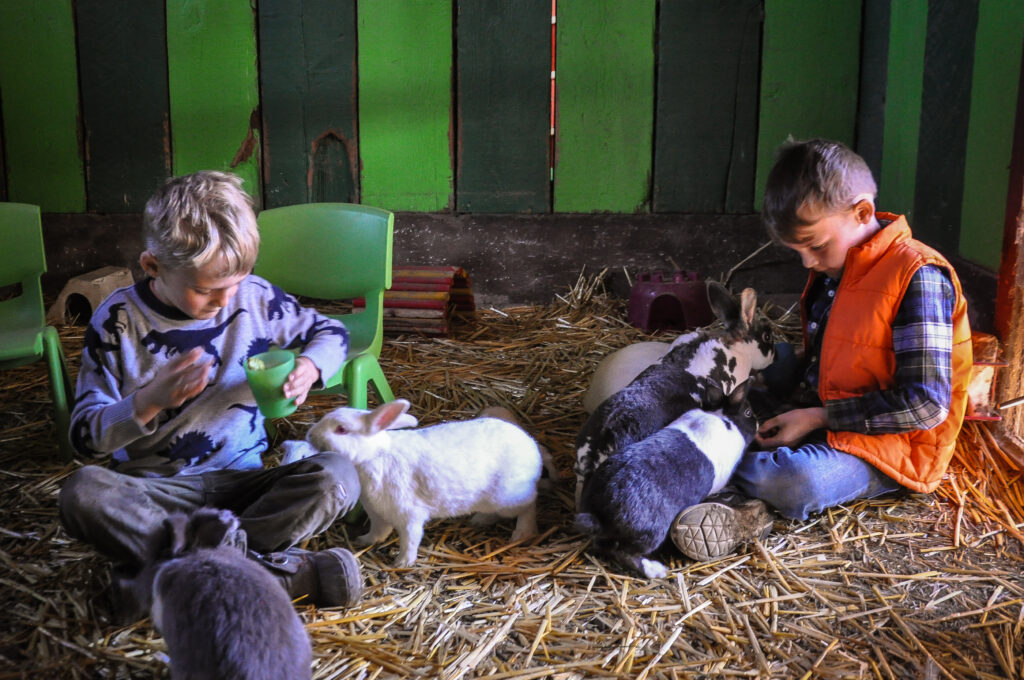 The Alisal Guest Ranch and Resort is situated on 10,000 rugged acres in California's Santa Ynez Valley. Upscale yet unpretentious, rooms and suites feature tasteful accents including wood-burning fireplaces, reclaimed barn wood paneling, and feather-soft beds.
The ranch is known for its equestrian programs, led by experienced wranglers who guide riders through miles of scenic trails. Besides riding horses, guests may gather eggs from the ranch's flock of laying hens. The chickens live in the barnyard along with goats, a miniature Zebu cow, a giant tortoise, alpacas, pigs, and adorable bunnies. The barnyard is open throughout the day for folks to wander about and spend time with the animals.
Ponies at the Madonna Inn, San Luis Obispo, California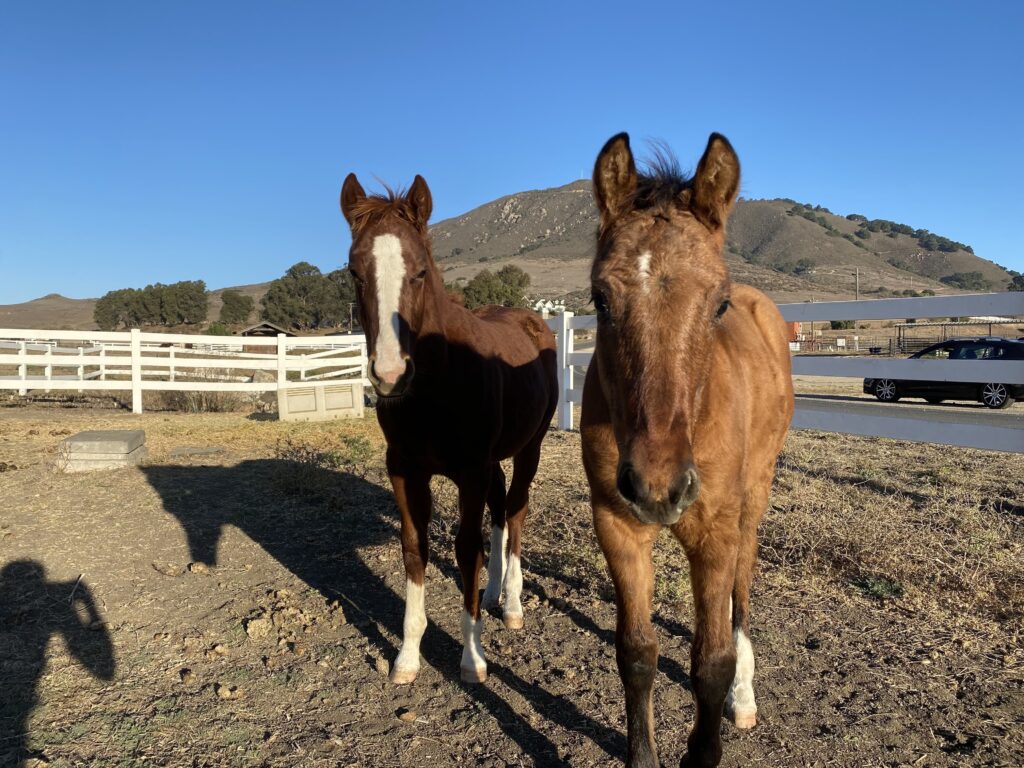 Located in Central California, the Madonna Inn redefines unique with each of the 110 guest rooms individually decorated. Whimsy and enchanting are the unifying décor factors, with massive stone fireplaces in one room and bold and playful pink rose carpeting in another. The resort offers award-winning dining and boutique shopping.
Baby horses Louie and Peanut live the sweet life in the pasture below the inn. Born in April 2020, they love to eat, nuzzle, and pose for pictures with their adoring public.
A Canine Ambassador at Fairmont Copley Plaza, Boston, Massachusetts
The dignified Fairmont Copley Plaza has been a symbol of style since it opened its door in 1912. The property overlooks Copley Square and is very near Beacon Hill, the Freedom Trail, and the boutiques and cafes lining Newbury Street. Rooms and suites pay great attention to detail with fine linens, plush robes, and on-demand movies.
Guests who like dogs will love the Canine Ambassador program. Resident dog Cori's presence gives this grand property a homespun feel. She is a loveable black Labrador who was adopted from the Guide Dog Foundation. She spends most of her time in the lobby greeting guests, nibbling, and napping. If you'd like to take Cori for a stroll, the concierge maintains an appointment book. Before departing, you'll receive a booklet highlighting her favorite walks, the commands that she knows, and a dog biscuit to reward her for good behavior.
You Might Also Like Links
One Hotel Takes Pet-Friendly to the Next Level by Checking In a Horse
Do Pet-Friendly Cruises Exist?
The Best Pet-Friendly Destinations in the U.S.
All products are independently selected by our writers and editors. If you buy something through our links, Oyster may earn an affiliate commission.