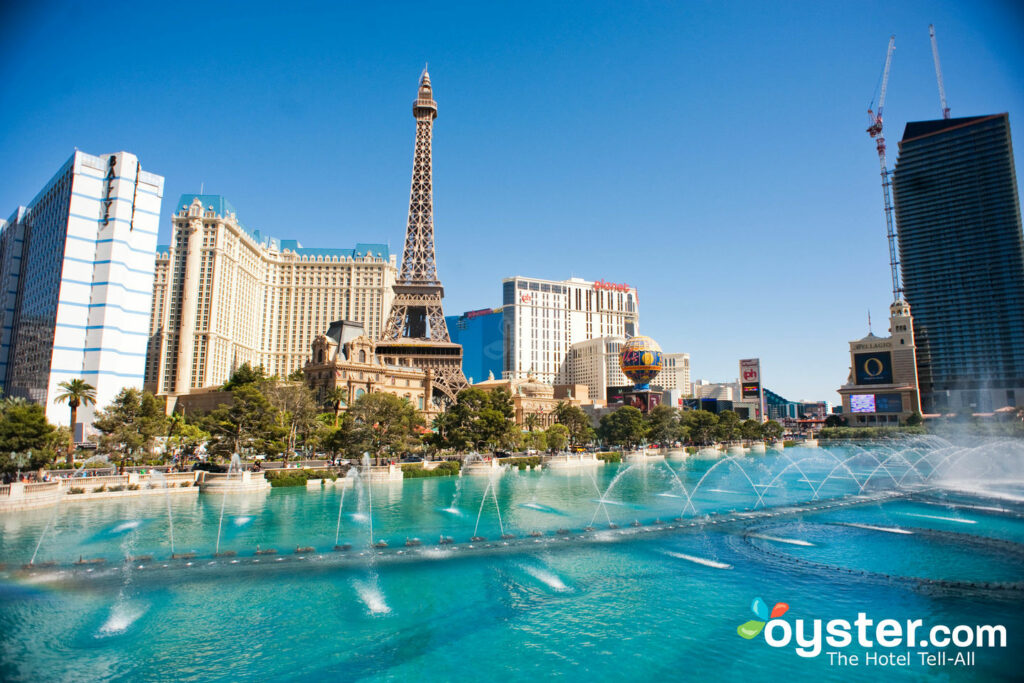 Does your idea of a heavenly night include a few hours of blackjack, followed by a little roulette, all while being surrounded by glitz and plied with complimentary cocktails? Then there are few -- if any -- better vacation destinations for you than Las Vegas. But what about the rest of us? Plenty of travelers prefer Vegas for its shows, dining options, celebrity nightlife scene, and overall spectacle. Even those who enjoy some casino time might want a nightly respite from the crowds, smoke, and jangling of slot machines. For all of those folks, we compiled a list of eight awesome casino-free hotels.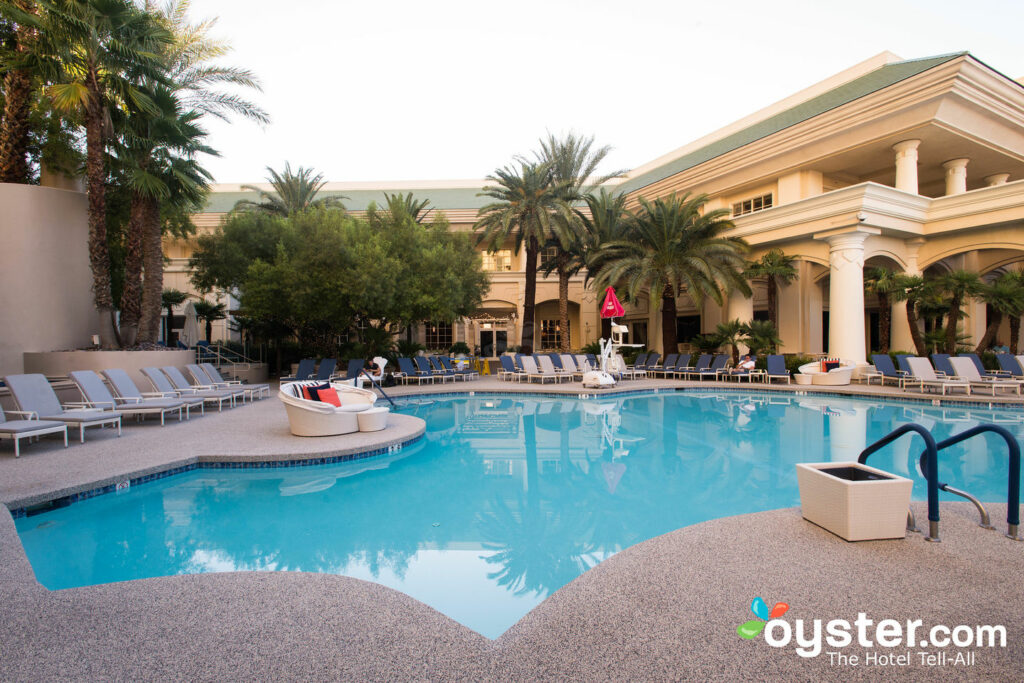 Occupying the top four floors of the Mandalay Bay Resort, the Four Seasons Hotel Las Vegas gives guests the feeling of being far from everyday life — as well as from any casino craziness. Those looking to escape the typical Vegas scene will appreciate the fact that the Four Seasons has a completely separate entrance and lobby from the Mandalay Bay, though if you change your mind and wish to take part in the Vegas brouhaha, you're only a private elevator ride away from the casino and nightclub. Guests at the Four Seasons will likely be taken with the decadent spa and Art Deco-inspired rooms with huge marble bathrooms, but the real highlight is the brand's signature "anticipatory service." It means what it sounds like: You'll leave feeling like the staff knew exactly what you wanted before you even wanted it. Plus, the on-site restaurant, Charlie Palmer Steak, rarely disappoints, and Veranda's breakfast buffet consistently gets high marks from diners. The only downside is the hotel's location on the Strip's southern end, about a mile from major Strip attractions.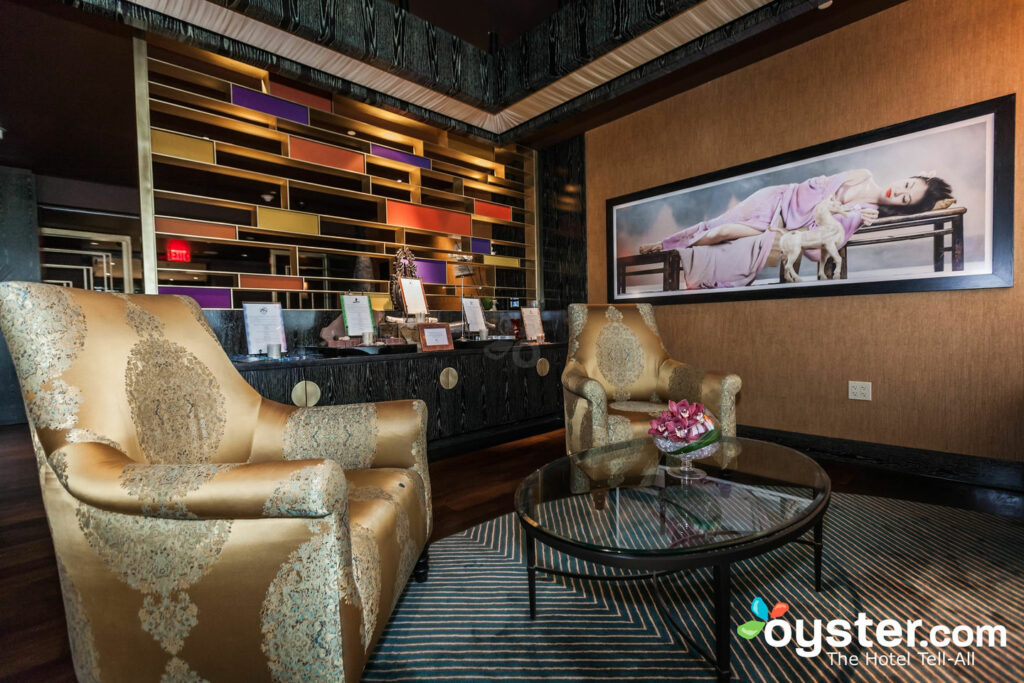 City Center, a complex of swish hotels, elite residential buildings, and retail establishments to rival those in Beverly Hills, cost $11 billion to build in 2009. In this enclave sits the 392-room Mandarin Oriental, Las Vegas, where guests swap a casino and its accoutrements for a serene spa with steam rooms, fine-dining restaurants, and a peaceful pool. Other highlights include the Mandarin Bar, which displays beautiful views of the city through floor-to-ceiling glass windows. A popular aperitif is the Golden Leaf (a.k.a. The Mandarin Martini), concocted with Hendrick's, Aperol, and muddled mandarin oranges. The Tea Lounge, outfitted in plush blue chairs and gold velvet couches, is also a swanky spot. Here, visitors can nibble on chicken curry sandwiches and scones served with clotted cream, and handmade marmalade. The elegant property features a modern aesthetic throughout, starting with Pepper, the humanoid robot that stands ready to check guests in.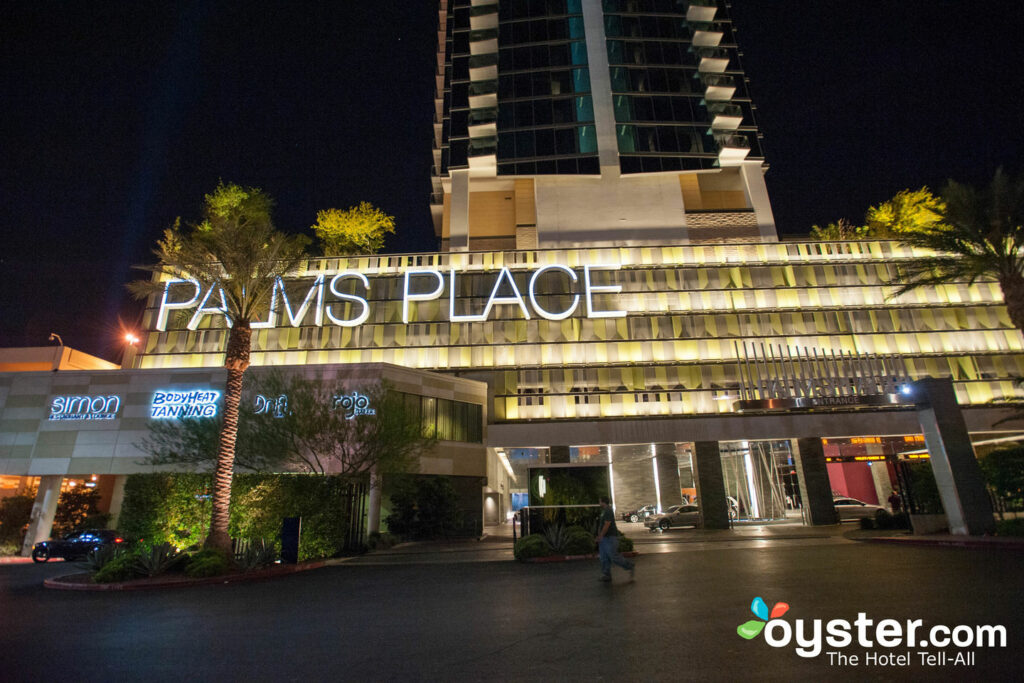 One of three towers in the huge Palms Casino Resort complex, the 47-story, 599-room Palms Place Hotel Spa offers one of the best values for a luxury hotel in Vegas. That's partly due to its off-the-Strip location, but there's a free shuttle to the Strip (ending in the evening, between 8 and 9 p.m.) Guests have two options for drinking and dining: Simon restaurant and Rojo Lounge. Simon features a green metallic bar, oversize globe light fixtures, and decorative rope used as wall separators, while Rojo Lounge is done up in red. Plus, there's a sixth-floor pool with cushioned loungers and hot tub, a full-service spa with a hammam, and fitness center. However, if you do get an urge to play some craps, you can reach the Palm's Casino Resort in five minutes through their SkyTube, an enclosed passageway with two walkways moving in opposite directions.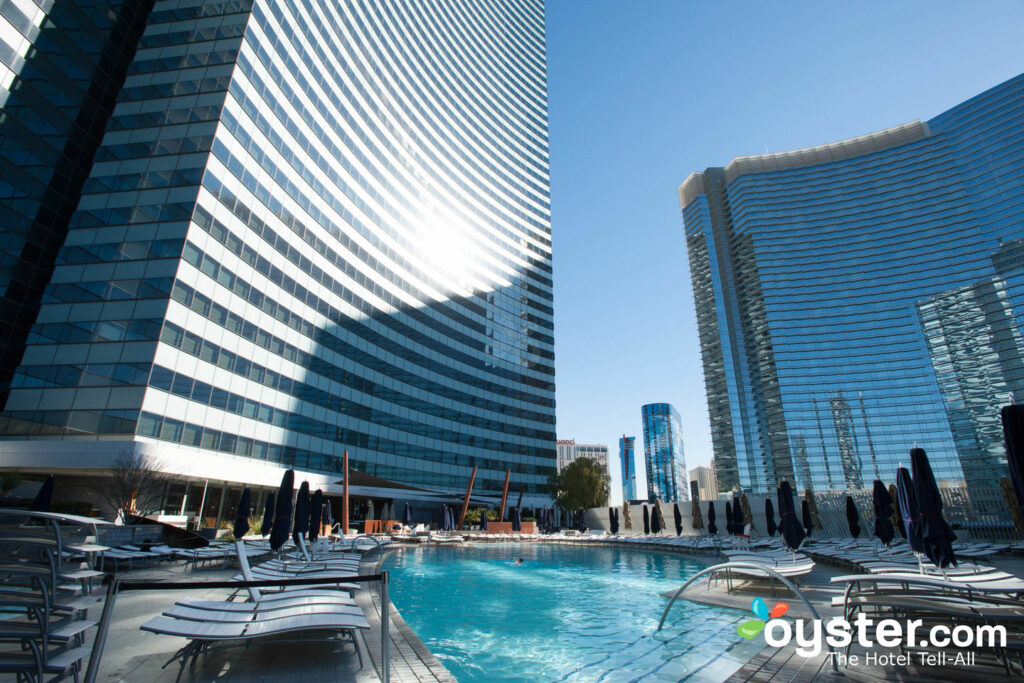 If you like the idea of staying in the City Center complex sans casino, the Vdara Hotel & Spa is another impressive option. It's a modern, minimalistic retreat, perfect for those who want an escape from the frenetic casino floors. And when and if you do want to try your hand at blackjack, take in a headliner, or dine at a celebrity chef-helmed establishment, all of that lies a five-minute stroll away on the Strip. There's also a tram that makes stops at Crystals, City Center's shopping mall, the Bellagio, and Monte Carlo Resort & Casino. Accommodations are all suites, and the smallest among them measures 582 square feet. All have kitchenettes, but if you don't feel like cooking, your on-site options are limited. Market Cafe Vdara is a small grab-and-go option for breakfast, lunch, and dinner. The bar serves food, and you can get room service. However, most wouldn't consider this a deal-breaker given the bounty of dining options just outside this hotel's doors.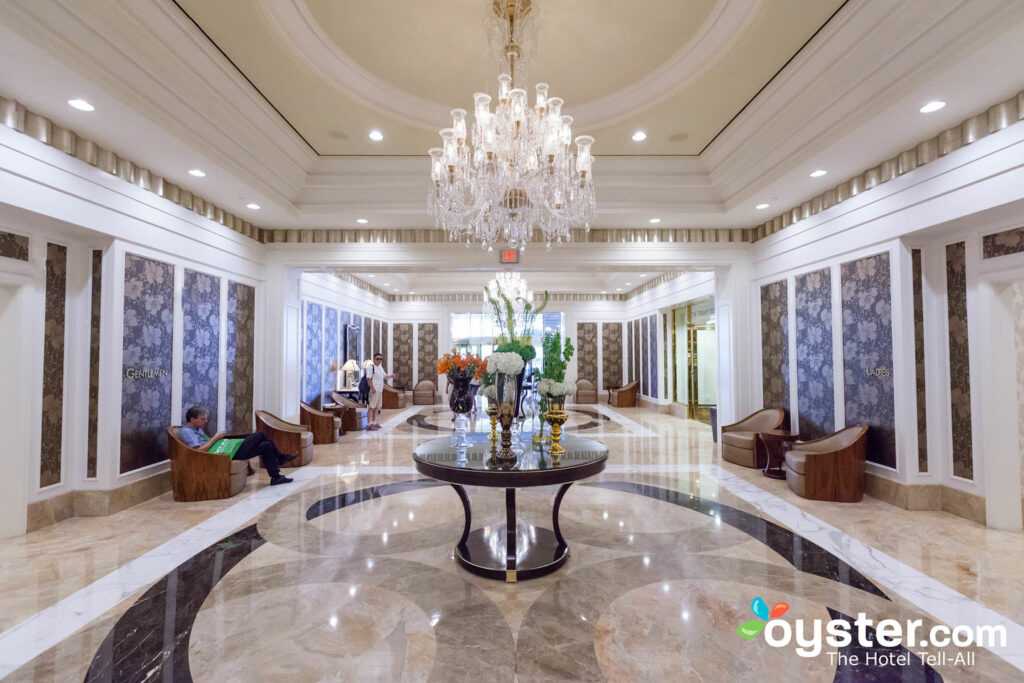 Trump International Hotel & Tower Las Vegas, a swanky, golden glass tower, is entirely smoke-free — in rooms and common areas. It's located right across from the Fashion Show Mall, home to a vast array of shops ranging from Zara to Coach to Dick's Sporting Goods. It's technically a six-minute walk to the Strip, though considerably farther from the hub of the action, so the free shuttle to the Wynn Las Vegas and comes in handy. The busy train tracks are across the street, so light sleepers, take heed. Amenities, such as the 24-hour gym, attractive spa, and a 110-foot-long freshwater pool, are top-notch. Plus, valet parking is free — a rarity in these parts — as are shoe-shine services.
Considering its serene ambience, this property is surprisingly family-friendly. An unusual number of free baby products are available: cribs, bottle warmers and sterilizers, blankets, bibs, diapers, and baby toiletries, among others. Older siblings aren't forgotten either. They can snag terry cloth slippers, a selection of board games, books, toys, and a map of Las Vegas marked with kid-friendly highlights.
Largely renovated in 2016, The Platinum Hotel and Spa is a fresh, bright place to drop your bags. Although it's located off the Strip, a 15-minute walk brings you to the Bellagio and its famed fountains. The 255 suites are full-on apartments, with a separate bedroom, kitchen, several flat-screen TVs, a washer/dryer, and an electric fireplace in the living room (It can get chilly in the desert at night.) There are even small balconies with chairs. Views are of the neighborhood, though, so there's not much to see. Free afternoon wine, plus happy hour drink and food specials at the off-lobby lounge, Stir, win many guests over. Aside from basic features such as an indoor/outdoor pool, spa, and workout room, this hotel is pet-friendly, with a dedicated dog run for furry guests. Guests looking for a quiet place to unwind, away from the 24/7 gambling and all that comes with it, can find good value here.
By Vegas standards, the Hilton Garden Inn is small, with 155 clean and comfortable rooms. While this property's address is Las Vegas Boulevard, it sits south of all the action on the Strip. That said, it does provide a free shuttle to Mandalay Bay Resort and the airport, plus key amenities, such as a fitness center and an outdoor pool with a hot tub. There's also an on-site restaurant, as well as a 24-hour pantry selling snacks and beverages. Fruit-infused water and coffee is provided for guests in the lobby. If you want more variety without a trip to (or the cost of) the Strip, there's an outlet mall less than half-a-mile down the road. Here, folks will find several casual restaurants, including Buffalo Wild Wings, Five Guys Burger & Fries, and Chili's. The pool area offers a taste of Las Vegas kitsch, which is usually absent in casino-less hotels. Touted as the Hawaiian Gardens, it features tall palms, a lagoon-like pool with a waterfall, and a thatched-roof pavilion set off with tiki torches. Overall, couples, families, and business travelers who don't mind a less-than-glam location — as in a parking lot shared with a Burger King — can likely achieve their trip goals here at a budget-friendly cost.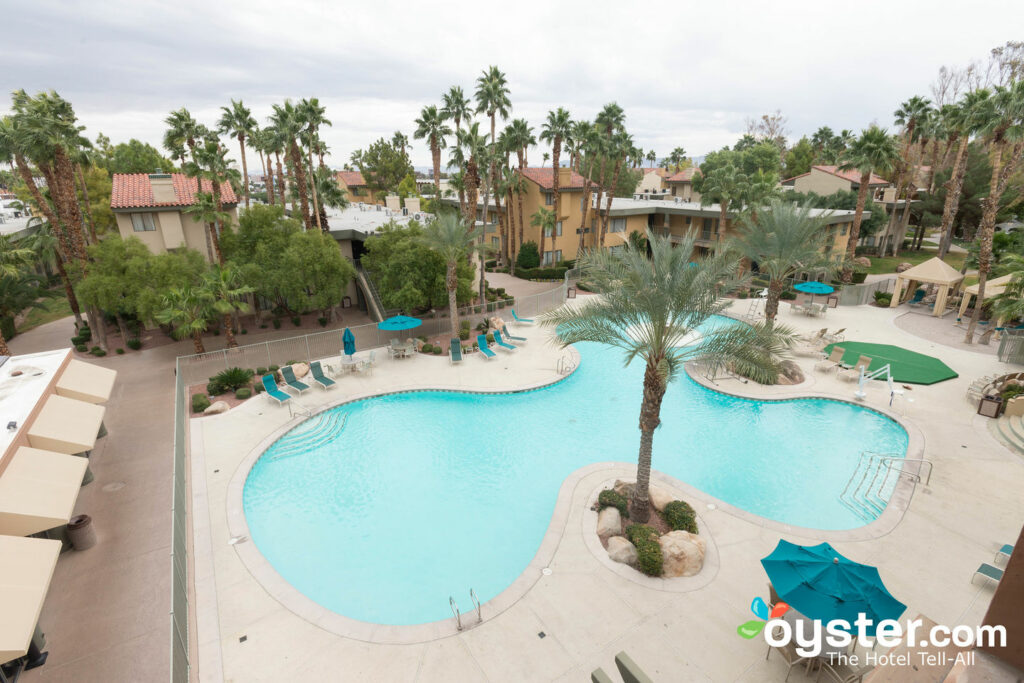 Like most mid-priced properties in Sin City, the 495-suite Alexis Park All Suite Resort has its pros and cons. For starters, consider the location. It's about a mile off the Strip, but on the upside, it's close to the Hard Rock Hotel & Casino. McCarran International Airport is only about a mile away, which makes for easy inbound and outbound transfers (the hotel offers a free shuttle to the airport and Planet Hollywood). The flip side is that guests have complained about airport noise. The decor in rooms is unimaginative, but spaces are clean and well-equipped with bar areas, microwaves, mini-fridges, and sinks. Two-bedroom lofts are available for families.
However, despite a less-than-ideal location and dated look, this Vegas hotel can be a solid choice for travelers who don't prioritize gambling. It features a well-equipped fitness center, two outdoor swimming pools with cabanas, a restaurant with a pool view, a bar, and lounge. Guests can also use the computer at the front desk, and free Wi-Fi is available in the lobby, restaurant, and bar.
Men heading to Las Vegas will quickly discover how strict some of the dress codes can be. Be sure to bring along a nice pair of dress shoes for your trip.
You'll Also Like:
All products are independently selected by our writers and editors. If you buy something through our links, Oyster may earn an affiliate commission.