Vietnam is a long, narrow country that snakes its way down the eastern shores of the Asian continent. Within the last few decades, it has emerged from its complicated and violent past as a top destination in Southeast Asia among many types of travelers. Vietnam is well worth crossing the Pacific for, offering diversely beautiful landscapes, exquisite cuisine, and competitive prices. But it would be a disservice to ignore the war, which is remembered through numerous monuments, museums, and, in some cases, ruins. Herewith are nine of the top destinations in Vietnam. (Since Vietnam is such a long country, we've oriented the list of top destinations per region to make it easier to tackle.)
The North
Vietnam's bustling capital lies in the very northern reaches of the country. For those who haven't been to one of Asia's mega cities, this metropolis of 7.5 million people is a rush for the senses. The narrow, crisscrossing streets lined with fading colonial buildings are packed with motorbikes, street vendors, and curbside diners.
Many people make the Hoàn Kiếm district, which lies at the center of the city around Hoan Kiem Lake, their hub, as many hotels are located here. This district is home to the charming streets of the Old Quarter as well as superb examples of French architecture to the south. The neighborhood is lined with numerous cafes and attractions, such as St. Joseph's Cathedral, Ngoc Son temple, and plenty of museums. The Vietnamese Women's Museum offers a unique perspective of Vietnamese history through the country's female heroines. Costumes from various ethnic groups are on display as well. Other worthwhile cultural attractions include the water puppet theater and a stroll through the Temple of Literature — Vietnam's first university, founded in 1070.
Hanoi is teeming with culinary delights, which can become overwhelming for beginner street food diners. There are plenty of authentic off-the-street options such as Café Giang for a famous egg coffee or Bun Bo Nam Bo at 67 Hang Dieu to dine on beef noodles like the locals.
A Boutique Hotel Pick:
2. Ha Long Bay
This UNESCO World Heritage Site is a truly remarkable natural wonder. Located within the Gulf of Tonkin, the bay is scattered with some nearly 2,000 gum-drop-shaped limestone islands and islets. Over millions of years, tectonic forces drove these magnificent limestone formations to the surface with stunning results. The erosive power of the wind and sea has created caverns and dramatic cliffs. Due to their geography and remoteness, most of the islands are uninhabited and untouched by humans. The raw natural beauty has attracted the attention of all types of travelers, resulting in regulated visitation, for better and worse.
The majority of travelers join group tours to explore Ha Long Bay. Hundreds of agencies will hawk their excursions in Hanoi, which is a three- to four-hour drive from Halong City, the main launching point for boat cruises. Tours can also be arranged in Halong City itself, which has recently revamped its infrastructure. Do your research to find the right tour for you, whether it's a cheap no-frills party boat or something the whole family would enjoy. Reputable hotels in the region will be able to recommend trustworthy (and upscale) operations. Consider extending the cruise with a stay on Cat Ba island, which offers great hiking, rock climbing, and a beautiful view of the bay — it's perhaps best experienced while enjoying fresh seafood.
3. Sapa
This former French hilltop retreat is nestled in the Hoang Lien Son mountains of northwestern Vietnam. It can be reached either by an eight-hour train ride or six-hour bus ride from Hanoi. At nearly 5,000 feet high, the area — along with its misty weather and lush scenery — offer a respite from the noisy, humid streets of Vietnam's capital.
Most visitors make their way to Sapa to explore the rugged landscapes and cultural diversity. The region is home to eight distinctive ethnic minority groups — the largest of which is the Hmong (Mong). Many members of these minority groups rely on tourism for their livelihoods, whether it's through selling trinkets and clothing or offering homestays. Keep in mind that most outfitters and businesses in Sapa are owned by ethnic Vietnamese, and not the local ethnic groups. If you wish to contribute to the local economy, consider hiring a local guide for a day hike, staying with a local family, or contributing supplies to a village school. Treks ranging from one-night homestays to multi-day journeys can easily be organized in Hanoi or in Sapa.
If you want to ascend Fansipan, Vietnam's highest peak, a guide and license must be attained beforehand. Don't forget to pack a sweater for the nighttime and early morning chill, even in the summer months. The best time for clear weather to enjoy the panoramic views of rice terraces and mountains is August through December. The winter months are foggier up in this altitude, but the vegetation is lusher and the crowds smaller.
The Central Coast & Highlands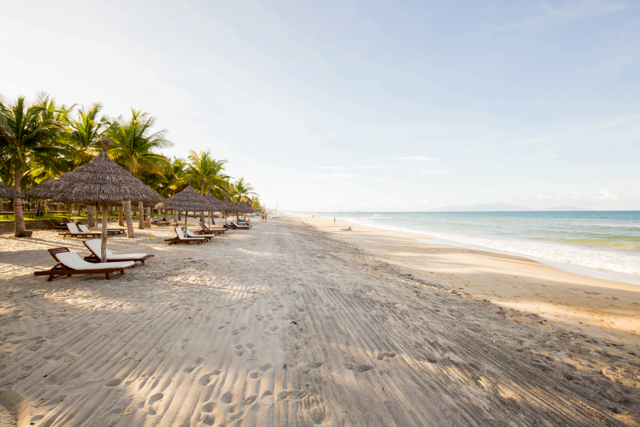 This charming city was declared a UNESCO World Heritage Site back in 1999. The once busy commercial port is largely oriented towards tourism today. During the 17th century, Chinese, Japanese, and Dutch traders settled in Hoi An, creating a confluence of Eastern and Western cultures. Hoi An remains a window into the 17th and 18th centuries, preserving a mix of Chinese, Japanese, European, and, of course, Vietnamese architecture.
Hoi An's big draw is simply strolling the streets and admiring the faded canary yellow homes and colorful silk lanterns — and sampling extraordinary street food. Visiting the tailors here is also an experience in itself, and it gives you a chance to practice your haggling skills. Save some room in your luggage to take home a flashy floral suit or a fitted silk dress. Many of the shops are actually just storefronts for factory operations, so do your research if you're intent on an authentic souvenir. It may be best to get fitted for your new getup after gorging on white rose dumplings, cao lau (noodles with pork and local greens), and banh mi. Local hole-in-the-wall, Banh Mi Queen, is no longer a well-kept secret, but worth searching out.
A Beachfront Hotel Pick:
Heading just under three hours north of Hoi An, you'll find the imperial city of Hue. The royals of the Nguyen dynasty resided here during the 18th and 19th centuries, and it remained Vietnam's capital until 1945. Hue suffered from its proximity to the Demilitarized Zone, particularly during the Tet Offensive of 1968. Fortunately, not everything was destroyed, and the city has been granted UNESCO World Heritage status to preserve cultural treasures such as tombs, pagodas, and palaces.
Hue is strewn with royal tombs: Although most were built in the past 200 years, many are crumbling on the scenic grounds. The largest tomb complexes are Tu Duc and Minh Mang. Most visitors are satisfied with touring just one of the two. If you're getting burnt out from a history overload of tombs and pagodas, head out of town to Elephant Springs, a natural spring, for a refreshing dip in a tranquil setting.
A Luxury Hotel Pick:
6. Da Lat
Situated in the south-central highlands, Da Lat formerly served as a mountain refuge for the French, who sought to escape steamy Saigon (now Ho Chi Minh City). Today it attracts urban Vietnamese tourists with the same desire to enjoy crisp mountain air. Da Lat's urban center is quite modest compared to Hanoi and Ho Chi Minh City. The real draw is the surrounding mountain scenery, which is unlike the rest of Vietnam. Although the elevation is similar to that of Sapa in the north, Da Lat's landscape is characterized by pine forests, lakes, and hillsides rising into peaks. This landscape lends itself to superb hiking, mountain biking, and outdoor activities. To get the adrenaline pumping, check out Phat Tire Ventures, an outfitter offering guided tours in mountain biking, white water rafting, camping, rock climbing, and more. An inexpensive option is to rent a scooter and take a day-trip to the scenic Elephant waterfalls, Pongour waterfalls, and the eccentric architectural marvel that is simply called "Crazy House." A more leisurely day can be spent sipping local coffee, exploring tea plantations, and warming up with a sizzling hotpot feast.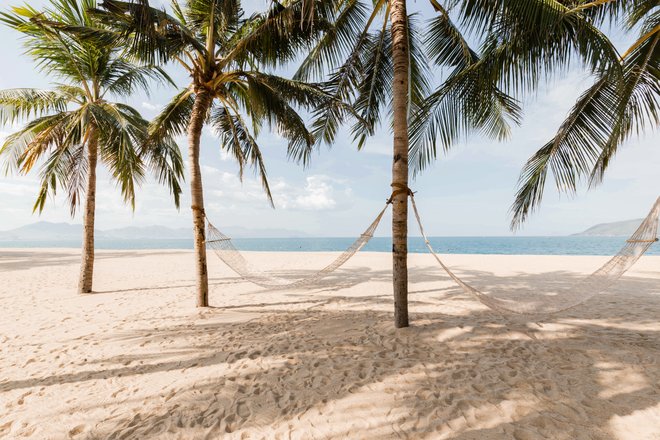 Perched on a sandy stretch of coastline, Nha Trang serves as Vietnam's premier beach destination. Backed by mountains and facing into a sheltered bay, it's no wonder that the French converted Nha Trang from a cluster of small fishing villages to a bustling resort town. The bunch of islands across the bay offer snorkeling and diving sites, most notably the protected area surrounding Hon Mun. It's a very affordable place for novice divers to get PADI open water certification. For an aerial view of the sea and bay below, take the gondola lift out to Hon Tre Island. Plenty of boating activities can be arranged too, as well as surfing down on Bai Dai beach. If you can peel yourself away from the warm sand and gorgeous bay views, an inland adventure to Ba Ho and Fairy Spring waterfalls merits the effort.
A Boutique Hotel Pick:
The South
This city of 8.4 million people has come a long way since its days as a Khmer fishing village. Known as Saigon until 1975, Ho Chi Minh City (HCMC) is where Vietnam's emerging prosperity is most visibly on display. The city stands in stark contrast to the nation's northern capital, with wide avenues compared to the snaking alleyways of Hanoi, and the modern glitzy buildings to Hanoi's deteriorating facades. The cultures are substantially different as well. Once industry was allowed to be privatized in the late eighties, HCMC grew rapidly.
However, despite the growing cosmopolitan atmosphere, the city still maintains plenty of historic cultural sites. After visiting the pagodas in the downtown Cholon district, a side trip to Giac Lam or Vinh Nghiem will spice things up. The former is HCMC's oldest pagoda, while the latter hosts lively events on Buddhist and lunar holidays. Art buffs will be glad to know that the gallery scene is on the rise, notably the local works on Dong Khoi street (near Notre Dame Cathedral). The Fine Arts Museum provides a wider collection under one roof, housed in a flashy yellow colonial palace. HCMC has enough to keep visitors busy for weeks, if they're able to withstand intense heat and humidity in the hot season. So enjoy the cultural offerings, browse the street food, and explore the war history before heading off to another destination on this list.
A Luxury Hotel Pick:
The mighty Mekong originates on the Tibetan Plateau before meandering its way through China, Myanmar, Laos, Thailand, Cambodia, and finally into Vietnam. Once in Vietnam, it disperses out into tributaries. The Vietnamese harness the waters for rice cultivation, diverting the waters into paddies via canals and channels. During the wet season (June to November), the delta is a sea with only small scattered villages amid lush green rice fields rising above water. Most choose to arrange a tour out of Ho Chi Minh City, but independent travel is possible to explore at your own pace. Just offshore lies Phu Quoc Island, which is just beginning to see significant tourism development. The island's beautiful stretches of sand are not yet overcrowded, so make your way there before word gets out.
A Beachfront Hotel Pick:
Check out our reviews and photos of 318 hotels in Vietnam.
You'll Also Like:
All products are independently selected by our writers and editors. If you buy something through our links, Oyster may earn an affiliate commission.