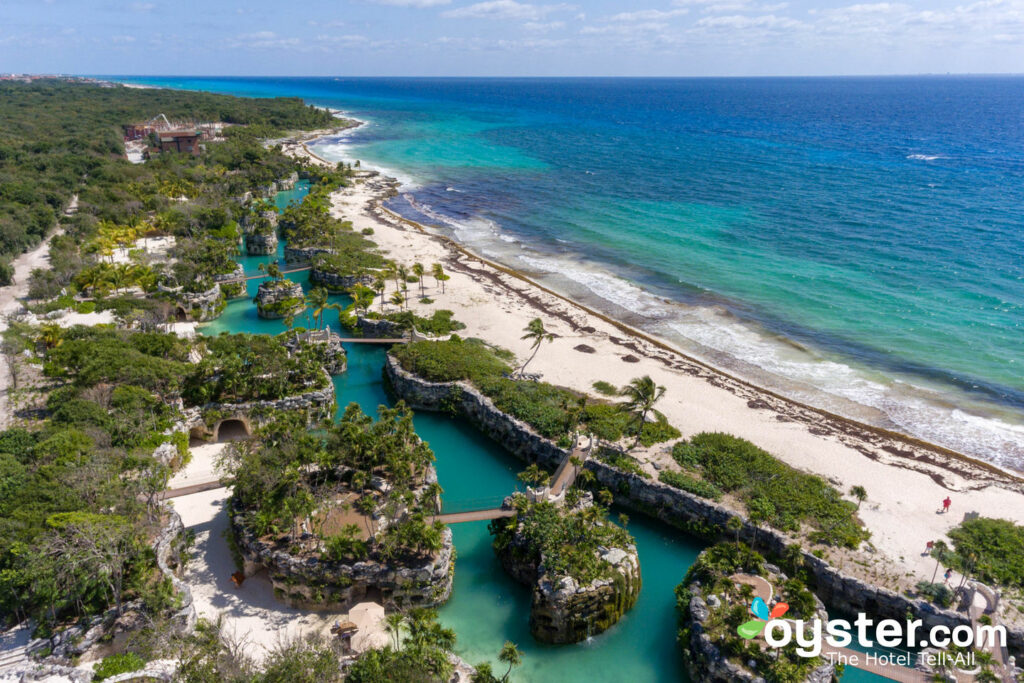 The Riviera Maya, a 75-mile stretch of coastline, officially starts in Puerto Morelos, just 45 minutes south of Cancun, and ends with Punta Allen, two hours south of Tulum. The region's popularity makes it an easy choice for travelers looking for a well-trodden, tourist-friendly locale that packs in soft-sand beaches, adventurous activities like snorkeling and scuba diving, great nightlife, and tasty food. Riviera Maya has got it all, which unfortunately also includes recurring seaweed on the shore. Seaweed woes aside, this is one of our favorite destinations in Mexico. So without further ado, here is our perfect six-day itinerary for the Riviera Maya.
After flying into Cancun, make your way south to Playa del Carmen, where you'll find a cluster of restaurants, great shopping, and chic beach clubs. This is Riviera Maya's most bustling (and touristy) town, so you can expect large crowds, lots of English spoken, and several recognizable storefront brands.
Day: Explore the famous pedestrian-only stretch of Quinta Avenida (a.k.a. Fifth Avenue or simply "La Quinta"). Soak in the energy, scope out potential spots for dinner, and stop by a bar for a spicy michelada or round of margaritas. Depending what time you arrive, you can also head to one of the local beach clubs for an immediate injection of sand and sun.
Night: For an interactive dining experience, check out the Frida Kahlo Restaurant. Arrive early to spend some time in the small, but thorough, museum on the ground floor. Here, you can scope out the legendary artist's work. Then, buckle in for a gastronomic tale of Kahlo's life as told through several creative courses and psychedelic image projections that play to the senses. If you're up for more, head to Mandala nightclub for some dancing or take in a frenzied live show at Coco Bongo, a tourist favorite.
Hotel Pick:
Playa del Carmen acts as a gateway to one of Riviera Maya's most-loved islands, Cozumel. Much like Playa del Carmen, this is a hot spot, but tourists flock here for a reason. A quick, 45-minute ferry ride gives you just enough time to soak in the gorgeous turquoise waters and relaxed sea vibes before disembarking onto Cozumel.
Day: Get the lay of the land by joining an "Amazing Race"-style competition that will have you hunting down clues everywhere from the docks to the market stalls, and finishing up with a frozen drink or cold beer and plate of nachos. However, Cozumel's appeal lies below the surface, too. The world's second-largest coral reef system, the Mesoamerican Barrier Reef, lies just offshore and gives Cozumel's underwater guests a privileged pass to stunning marine life as well as the popular Underwater Museum of Art (MUSA), a collection of man-made sculptures designed to promote reef restoration. These are all best discovered through dives, so if you've ever wanted to bump up your certification or try an intro class, now is the time. Not a diver? No problem — there are snorkeling trips and glass-bottom boat tours to ensure no one misses out.
Night: After you've spent the day exploring Cozumel's land and sea (we recommend staying for sunset), head back to Playa del Carmen for dinner and drinks.
Once a small local beach area, Akumal is now bustling with foreigners, though long-standing businesses still remain. The area has become famous for its high concentration of sea turtles, but increased tourism has resulted in a decreased number of turtles over the years. If you're arriving between May and September, tread lightly and keep your eyes peeled for nest sites.
Day: Start your day with a plate of huevos rancheros, then set out on Highway 307 toward Akumal, where you'll spend the morning lazily lounging on the beach and snorkeling in search of sea turtles. The beach here is public, but there are no facilities, so plan accordingly. There's also not much in town, though you can peruse a few overpriced souvenir shops or possibly catch an artisan market, depending what day and time you visit. A small shop sells snorkel gear, so it's possible to head out on a self-guided turtle trek, or you can hop on one of the many tour boats that go farther out into the water with experienced guides. Have lunch at Turtle Bay Cafe, which serves up tasty fish tacos and smoothies, or try a spot closer to the beach that doles out whole fried fish and more traditional dishes. Spend the day dipping in and out of the water, or head over to the beach club at La Buena Vida for food, hammocks, a lively swing-seat bar, and other facilities. If you're up for an adventure, rent a bike and pedal 10 minutes to the crystal clear waters of the Yal-Ku lagoon and cenote.
Night: Be sure to hit the road early enough so that you can make the 30-minute drive down to your hotel in Tulum before sunset. Once here, enjoy a cocktail and get ready for a delicious meal at Rosa Negra (a pricey restaurant that serves stellar Latin American cuisine), Hartwood, or Kitchen Table.
Hotel Pick:
Grab your sunscreen, camera, bathing suit, and plenty of water because you're going to need all of them for today's adventure.
Day: Fuel up with a healthy breakfast at The Real Coconut, a casual beachfront spot located at Sanara hotel. Here, Mexican staples get a California makeover, resulting in nut milk yogurts, berries, bone broths, tonics, and other clean, bright fare. Then, hop on a bike and make your way to the famed Tulum ruins. Spend an hour or so walking around this ancient area, and, if the staircase is open, head down to swim in the waters just below the main temple. Follow the main road (Highway 307) back to town, stopping for a well-deserved ice cream at Panna e Cioccolato or fresh-squeezed juice at Liquido y Solido. Chances are, it's hot and humid out, so opt for a refreshing seafood cocktail or ceviche in town. Next, jump in a cab to visit the ultimate cool-down spot — a cenote. Tulum has one of the highest concentrations of cenotes in the area — Gran Cenote and Dos Ojos are among the most popular. Head back to the hotel to shower, grab a happy hour margarita from Mezzanine, or rest up before dinner.
Night: It has been a long and active day, so no one will fault you if you crash after eating. However, if you can muster any energy for a trip back into town, Batey Mojito & Guarapo Bar is worth a visit. Pick any one of the freshly made mojitos (you can even watch them break and juice the sugarcane by hand) and settle in at this local favorite for live music and a social atmosphere.
Day 5: Xcaret
Today, you'll head to Xcaret, Riviera Maya's eco-park full of jungle landscapes, wildlife, and several bird species. Located just south of Playa del Carmen, it's an oasis that feels miles away from the sandy shores you've already spent time on.
Day: Start with a hearty breakfast and morning kayak tour of Sian Ka'an, the magnificent biosphere reserve and UNESCO World Heritage site. Relax on the beach with any time you have left before checking out of the hotel. Then, hop in the car and head north on Highway 307. Make sure to pack an appetite because this will be your last local meal. Chamico's was a local's-only secret that blew up, but thanks to its out-of-the-way location about 25 minutes north of Tulum, it's not easily accessible. Dig into some fresh lobster ceviche and fried fish, and wash it all down with a cold drink. This is also a great place to relax in a hammock or walk along the small beach.
Since Xcaret is an eco-park, there are only two hotels that are actually inside the park, and we suggest staying at the all-inclusive, design-forward Hotel Xcaret Mexico. Not only is it gorgeous with a labyrinth of grottos and rivers, limestone rock, and jungle grounds, it also offers guests free entrance and transportation to all of the Xcaret parks, including Xplor (and Xplor Fuego), Xel-Ha, and Xenses. We recommend hitting up Xcaret since it's the closest — just a 10-minute boat ride that departs near the hotel's spa and winds down a river toward the park entrance.
Night: If you still have some energy, plan on blazing through zip-lines, cave crawls, and other fire-lit adventures at Xplor Fuego tonight. Either way, dinner at the hotel is included and there are several tasty options, including an open-air theater restaurant.
Hotel Pick:
Day 6: Xcaret
It's your last day in Mexico, so relax and enjoy it.
Day: Soak up the sun. Read by a waterfall. Race down the slides. Sip on some cocktails at the hotel's swim-up pool bar. Make several rounds at the buffet or splurge on the gourmet Mexican restaurant for dinner. Better yet, book a grotto spa treatment. If the idea of slowing down turns you off, you can also take advantage of having free admission at another park.
Night: If you haven't done so already, book a table at one of the hotel's a la carte restaurants for dinner. Take it easy and read on your balcony, watch a show at the resort, or make one last trip to Xplor Fuego. Whatever you choose, spend your last day doing exactly what you want because you'll be heading home tomorrow.
You'll Also Like:
All products are independently selected by our writers and editors. If you buy something through our links, Oyster may earn an affiliate commission.