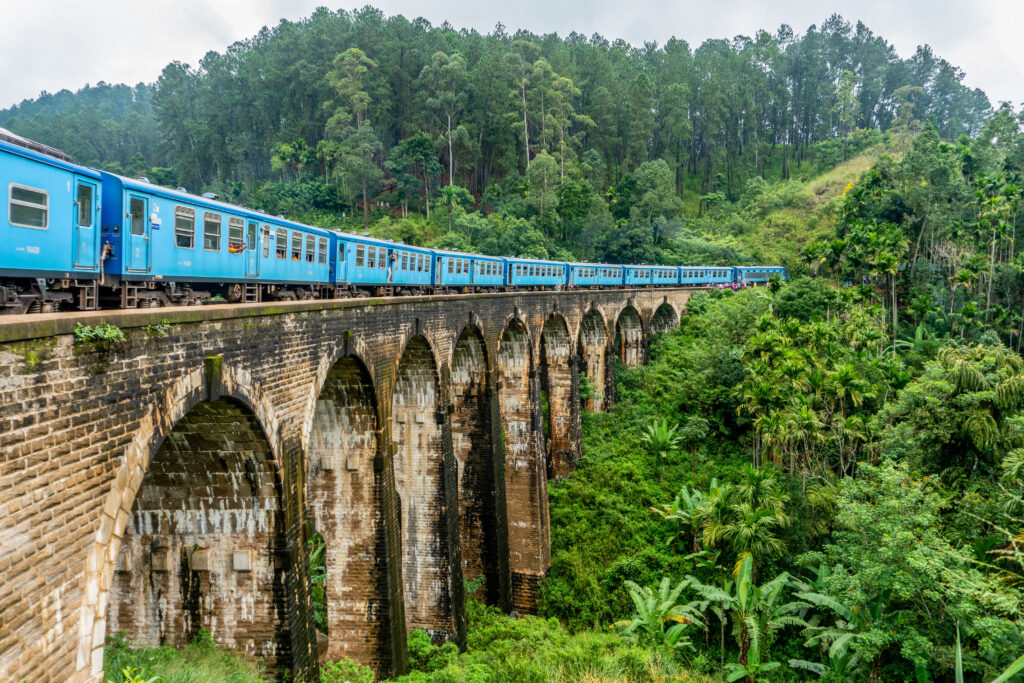 Sri Lanka Train/Liz Allocca
Once a well-kept secret, Sri Lanka has gained popularity for its beautiful beaches, incredible hillsides with tea plantations, and elaborate Buddhist temples. Although the country is small, it packs a punch with lots to see and do -- so much in fact that we recommend at least two weeks to experience the culture, cuisine, landscape, and history on offer. Whether you're looking for ancient ruins, wildlife-packed safaris, or oceanfront pools for lounging, we've got you covered with this amazing itinerary for Sri Lanka.
Travelers will arrive at the main international airport near Colombo, the capital of Sri Lanka. The bustling city is packed with tuk-tuks, street vendors selling traditional food such as fried crab and egg hoppers, and historic sights. Colombo can feel a bit chaotic, but it's worth spending a couple of days here to get a feel for the culture. Top attractions include Independence Memorial Hall, a monument that was built to commemorate Sri Lanka's independence from British rule on February 4, 1948. About a five-minute drive away is Viharamahadevi Park, a green space with a large gold Buddha statue, jogging trails, and a kids' play area. Across the street is the striking white National Museum, where numerous royal objects and artifacts relating to Sri Lanka's history are displayed.
Another lovely park is Galle Face Green, which overlooks the beach and sea, and often has a mix of people flying kites and food carts. While there are tons of temples throughout Sri Lanka, one of the most impressive — Kelaniya Raja Maha Vihara — can be found about a 25-minute tuk-tuk ride from Colombo. This Buddhist temple is said to have been hallowed during Lord Buddha's final visit to Sri Lanka, eight years after he gained enlightenment (500 B.C.). The spiritual space offers intricate carvings, meditation spots, and a Bodhi tree.
The upscale Cinnamon Grand Colombo is a popular hotel for its array of features — two outdoor pools, over a dozen restaurants, a stunning atrium, and a spa — as well as the well-equipped guest rooms.
From Colombo, head two hours south to Galle, a city best known for its 16th-century fortified old city, which was founded by the Portuguese. Set by the sea, the fort contains a lighthouse, charming Dutch-style buildings, and tons of cafes and boutique hotels. There are no real beaches here, but several can be found a short drive away, including Unawatuna Beach and Dalawella Beach — both about 15 minutes by car.
Tamarind Hill by Asia Leisure is an upscale boutique property housed in an 18th-century mansion that borders a tranquil river a 10-minute drive from Galle Fort. There are just 12 rooms here, in addition to an outdoor infinity pool, fine-dining eatery, and Ayurvedic spa.
A one-hour drive along the coast from Galle will bring you to the laid-back beach town of Mirissa. Aside from its lovely stretch of sand lined with restaurants, hotels, and loungers, a top attraction here is the excellent whale watching. The best time to spot blue whales in Mirissa is from November through the end of April, and several tour companies can be found along the beach. Surfing and scuba diving are also popular pastimes here, while Coconut Tree Hill is an Instragram-worthy spot with palm trees overlooking the beautiful blue water.
The mid-range Paradise Beach Club is an oceanfront property with a great outdoor pool overlooking the beach, comfortable rooms, and a restaurant serving local cuisine.
Another hour-long drive will take you to Tangalle, which has a lovely and generally quiet beach off the tourist path. Numerous restaurants, hotels, and spas make it a suitable spot for a day of rest and relaxation. If travelers are lucky, they may even spot turtles laying eggs or hatching on the beach. The Turtle Conservation Project Turtle Watch has guided tours for those wanting to learn more about the turtles' habits. A 25-minute drive north of here is Mulgirigala Raja Maha Vihara, an ancient Buddhist temple with murals, carvings, and huge reclining Buddhas built on high rock.
Our Top Pick for a Tangalle Hotel: Buckingham Place
Buckingham Place is a gorgeous hotel within a wildlife sanctuary. Huge, contemporary rooms with lagoon-facing outdoor spaces, swimming pools, a quality restaurant, free canoes, and Rekawa Beach access make it a good value.
Sri Lanka is well-known for its impressive wildlife and one of the destinations that displays this best is Yala National Park. Located a 90-minute drive from Tangalle, Yala is the most-visited national park in Sri Lanka, thanks to its vast area housing 215 bird species and 44 types of mammals, including elephants, sloth bears, peacocks, and crocodiles. It also has the world's highest concentration of leopards.
Our Top Pick for a Yala National Park Hotel: Cinnamon Wild Yala
While there are a couple of bungalow options within the park, travelers can opt to stay at the nearby Cinnamon Wild Yala, which is just a five-minute drive from the entrance. Elephants, wild boar, and monkeys can be seen on-site at times, and the hotel can organize safari trips.
Days 7 and 8: Ella and Adam's Peak
As tourists veer into the Central Highlands of Sri Lanka, away from the coastline, they'll be met with tons of greenery, rich biodiversity, and rolling hills. One of the best spots to experience the beautiful landscape is Ella, which is roughly a two-and-a-half-hour drive from Yala National Park. Nature takes center stage here, thanks to Ella Rock — a popular hike with a waterfall and stellar sunrise views — and the 80-foot Nine Arches Bridge, which is surrounded by greenery and still acts as a train railway.
Just a 20-minute drive from Ella is Little Adam's Peak, a fairly easy hike with a well-marked trail that provides a great panoramic view at the top. For those who have more time and energy, the bigger Adam's Peak mountain is one of the top sights in all of Sri Lanka, but it's about a four-hour drive west of Ella. It's known for its Sri Pada (sacred footprint) rock formation, which allegedly belongs to Buddha in the Buddhist tradition and Adam in Christianity. The pilgrimage season begins in December and ends in May. The path is lit at this time for the majority of hikers who depart around 2 a.m. to arrive at the summit at sunrise for a breathtaking view.
A three-and-a-half-hour drive northwest of Ella is Kandy, the second-largest city in Sri Lanka. It occupies a plateau surrounded by mountains filled with Sri Lanka's famous tea plantations (picking your own tea and sipping on the region's famous Ceylon tea is a must here). Kandy is famous for its Temple of the Sacred Tooth Relic, which holds the relic of Buddha's tooth, making it one of the holiest sights for Buddhists. Another worthwhile stop is Udawattekele Sanctuary, a 257-acre forest reserve with striking tall trees, wildlife such as monkeys, and Buddhist meditation hermitages. While visiting, don't miss Kandy Lake Club Cultural Dance Show, which showcases all Sri Lankan dance types and uses drums, elaborate costumes, and fire.
The hillside Madulkelle Tea and Eco Lodge is an upscale property with a breathtaking setting overlooking the Knuckle Mountains outside of Kandy. Its 19 tented rooms have furnished terraces, and guests can pick tea on-site or use the open-air spa, infinity pool, and restaurant.
Days 11 and 12: Dambulla, Sigiriya, and Polonnaruwa
Traveling north from Kandy, there are several incredible historic sights worth exploring. Travelers will first pass the Golden Temple of Dambulla (a two-hour drive), a UNESCO World Heritage site dating back to the first century BCE. The sacred complex consists of five separate caves, with a total of about 150 magnificent Buddha statues and paintings.
About a 30-minute drive from Dambulla is Sigiriya (Lion's Rock), an ancient city and UNESCO World Heritage site that was built under the order of King Kasyapa (477 to 495 CE) to serve as his new capital. It was a complex fortress of palaces, gardens, and canals. In addition to numerous frescoes, lion's paws can be seen at the base, and there was once a lion's head at the top. The massive rock stands 656 feet (200 meters) taller than the surrounding landscape, rewarding those who make the 1,250 steps to the top with gorgeous jungle views.
About a one-hour drive from here is the well-preserved medieval city of Polonnaruwa, which once acted as Sri Lanka's capital. Travelers can tour the ruins of former palaces, a swimming pool, an audience hall, and several Buddha statues. Bicycles are recommended for getting around the large site.
From Polonnaruwa, it'll take about four hours by car to reach the beach town of Negombo. Negombo is a small coastal town north of Colombo and a convenient 20-minute drive from Bandaranaike International Airport. There are several stellar beach resorts along the main coastal road, and ample restaurants with various cuisines and price ranges are within easy walking distance. The ocean is often rough here, but travelers can decompress from a packed two-week trip on the beach or alongside one of the many oceanfront resort pools. Tip: Don't skip the crab curry from Lords Restaurant Complex or the garlic prawns from Queen's Restaurant.
Our Top Pick for a Negombo Hotel: Jetwing Sea
The oceanfront Jetwing Sea is an upper-middle-range property with two beachside pools, a rooftop spa, and two restaurants that include a main buffet and a romantic seafood option on the beach. Most rooms have jetted tubs.
You'll Also Like:

All products are independently selected by our writers and editors. If you buy something through our links, Oyster may earn an affiliate commission.