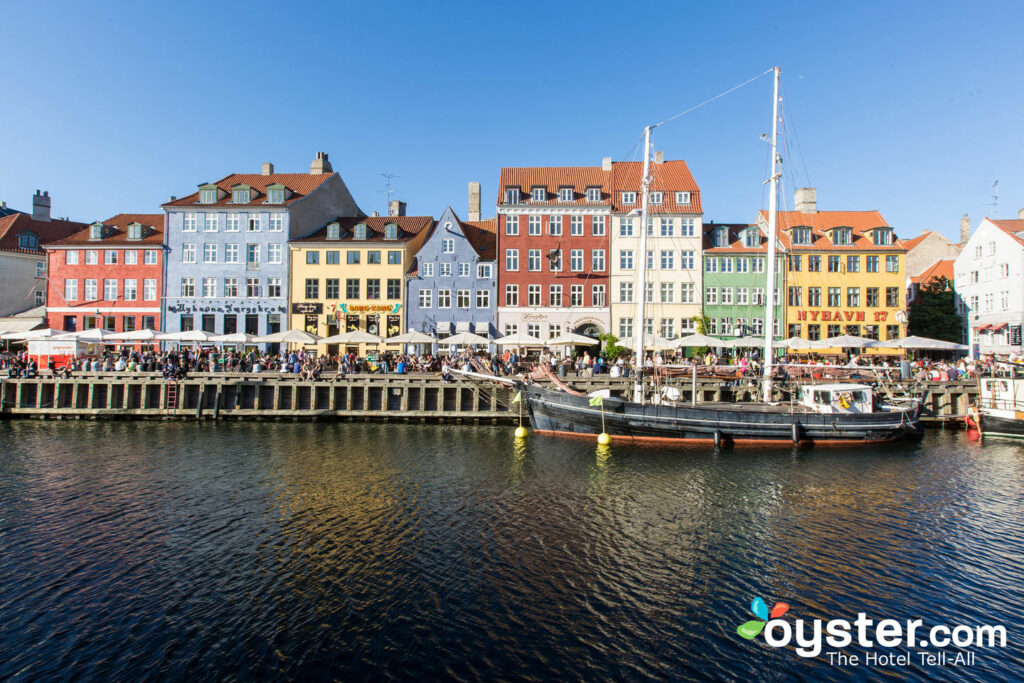 Denmark's capital, Copenhagen, is one of the fastest-growing tourist destinations in Europe. And we completely understand why tourists are flocking to a city that's regularly lauded as one of the happiest on earth. An obsession with hygge (coziness) culture, a devotion to design, and 16 Michelin-star restaurants combine with Copenhagen's picturesque canals, sprawling palace gardens, and friendly citizens. In fact, it's the kind of vacation destination that might have you considering a permanent move. Below, we've gathered a list of seven experiences that no visitor should miss in Copenhagen.
1. Explore on two wheels.
If you want to get an authentic Copenhagen experience, do what the locals do and get around the city on a bike. It's not unusual to see Danes wearing full business attire or carting around toddlers on their bikes. The city has over 217 miles (or 350 kilometers) of dedicated bike lanes, and the city center has more bikes than cars. Even beginner bikers should feel comfortable on two wheels in Copenhagen. Just remember to bike in a single file and use hand signals for turning. The city's bike share program is convenient, but slightly expensive. There are also cheaper bike rental places everywhere.
2. Sample local brews at Mikkeller breweries.
Mikkeller breweries are ubiquitous in Copenhagen — you'll even find one at the airport. But just because it's obtainable, doesn't mean it isn't special. Mikkel Borg Bjergsø is a former math and physics teacher that turned his hobby of crafting home brews into a booming microbrewery that ships to over 40 countries. The breweries themselves are stylishly simple affairs, with an ever-changing menu of seasonal brews made with local and exotic artisanal ingredients. Not sure if you like fruity, dark, hoppy, or gluten-free varieties? The staff will pour you a sample.
3. Play in Tivoli Gardens.
When you hear the words amusement park, you might immediately imagine long lines, plastic kitsch, and fast food. But for the last 175 years, Tivoli Gardens has offered the exact opposite of that. It's a very grown-up amusement park with a playful vibe and decor that varies by holiday and season. Parts of the park are completely dedicated to luxe gardens with wandering peacocks, lush flower beds, and lawns set with plush chairs for lounging. There's a gourmet indoor food court, several relaxed bars, and of course, games, thrill rides, and cotton candy.
4. Stuff yourself with pastries.
It's no secret that Copenhagen has an incredible food scene. The city is home to a whopping 16 Michelin-star restaurants (in 2018) and has moved well beyond its reputation for supplying the world only with pickled herring, open-faced smørrebrød sandwiches, and meatballs, though each of these delicious dishes should also be sampled. What you might not expect is pastries that arguably rival anything found in Paris. Many Danes start the day with a strong cup of coffee and a giant pastry. Cinnamon rolls (or kanelsnegle)are more like a flaky bun than a sticky roll. Wienerbrød (Viennese bread) is a pastry made of yeast-leavened dough, which is folded 27 times and filled with cream or jam. Danish sponge cake, or dream cake, is known for its extremely delicious caramelized coconut top.
5. Take a canal tour.
You're not likely to see many Danes on a tourist-friendly canal tour, but a guided boat ride is one of the most picturesque and memorable ways to see the city and learn about its history. Several tour companies depart rain or shine (with a free rain poncho, if required) at regular intervals from the Nyhavn Harbor. Tour highlights include the bronze Little Mermaid statue, the Copenhagen Opera House, Christiansborg Palace, and Amalienborg Palace — all on view from the boat. You'll also see Danes puttering around the canals on their private boats; it's polite to wave.
6. Shop for housewares and Legos.
Danes are known for making every object useful and beautiful, whether it's a $50 Ikea coffee table or a $5,000 Eames chair. You're going to want to bring some of the country's iconic clean design aesthetic back home with you, and that's easily done (when considering price and transportation) in the housewares section, everywhere from malls to tiny boutiques. Look for ceramics, dishware, and sculptures made by local artists. Søstrene Grene is a Nordic design store with a rotating selection of goods, while Flying Tiger focuses on more playful treasures. Of course, if you have kids, the Lego store is a must-visit.
7. Check out the art in Christiania.
Freetown, on the island of Christiania, is an autonomous neighborhood established by artists in the 1970s. It began as a social experiment in alternative lifestyles for residents who wanted to break away from Danish politics and police. Today, it's known both for its liberal attitude toward drugs and as a safe space to view all sorts of art. It's now technically illegal to buy marijuana, but that doesn't mean it doesn't happen. Visitors can't bring their bikes or their cameras into Freetown, but do bring cash. There are beer gardens, fresh juice shops, and lots of art to buy.
You'll Also Like:
All products are independently selected by our writers and editors. If you buy something through our links, Oyster may earn an affiliate commission.