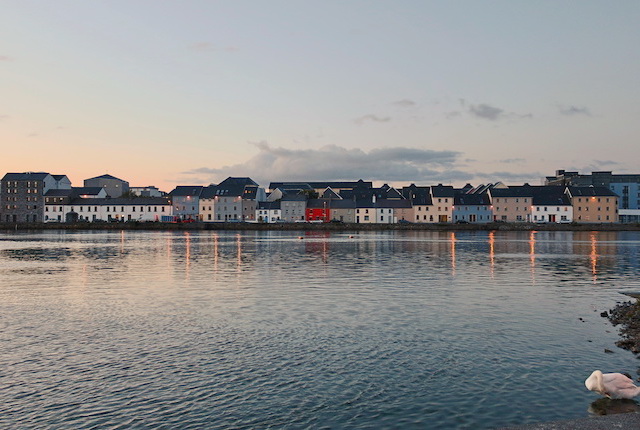 Ireland has been winning traveler's hearts for decades. The lush landscape, friendly locals, strong traditions, and pub culture make it hard to leave -- and nowhere is this felt more than Galway. In fact, it's often referred to as the "most Irish" city in the country. It's small, but mighty. With rows of colorful homes and a bustling wharf, the city is incredibly picturesque, too. If you can plan it right, you'll even get to experience one of Galway's claims to fame -- festivals. Known as the "city of festivals," Galway hosts a literature festival in the April, a film fleadh and art fair in July, and horse races all summer. Of course, the Galway International Oyster & SeafoodFestival  takes place in September. But no matter when you visit this coastal hot spot, you'll find plenty of reasons to celebrate. Here are 10 of the best things to do during your trip.
1. See the sights.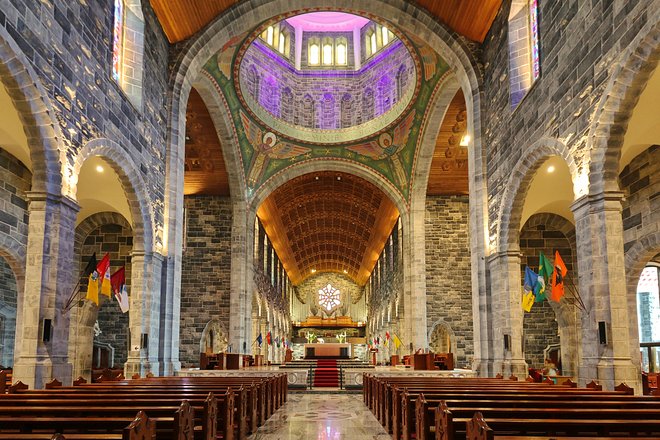 The best way to enjoy Galway's highlights is a walking tour along its winding cobblestone streets. Whether you spring for a guide or tackle the town yourself, you'll be in for a treat. The most iconic attractions are all located near one another. Start at one of the largest buildings in the city: the green-domed Galway Cathedral. Though relatively modern, the Renaissance-style stone architecture is both imposing and impressive. The cathedral is open until 6:30 p.m. on most days and free to enter if you want to sneak a peek inside. Across the River Corrib and toward the sea sits 14th-century St. Nicholas' Church, which is Ireland's largest medieval church still used as a place of worship.
Continue on to the Hall of the Red Earl archaeological site, which reveals more clues about the city's medieval past. Now you're just a stone's throw from Galway's most iconic spot: the Spanish Arch. Built in 1584, these arches are all that remain of the Front Wall, which was the access point between the quays and the walled city. The grassy knoll beside the arch is a popular gathering spot and a good place to soak up the harbor atmosphere. Once the sightseeing tour is complete, let yourself get lost. End up in Eyre Square public park for some people-watching. Your feet will appreciate the break.
2. Catch up on some reading.
Celtic culture and literature have a long history in Galway. In addition to independent retailers, there are a host of quirky and charming local bookshops. Of course, you can head to the Eason chain outpost, but most visitors prefer something more unique. One of the most famous stores in all of Ireland, Charlie Byrne's Bookshop stocks over 100,000 new and secondhand books. Avid readers could easily browse its aisles for hours. It's an especially great source for learning local history. Kenny's Bookshop, just outside of town, is another great spot, complete with its own seating area and modern art gallery. For those who like their books dog-eared and scribbled in, check out the Book Exchange's collection of mostly secondhand volumes. Literary aficionados will also want to visit the Oscar Wilde and Eduard Vilde statues near the intersection of Eglinton and William Streets.
3. Dive into the city's history.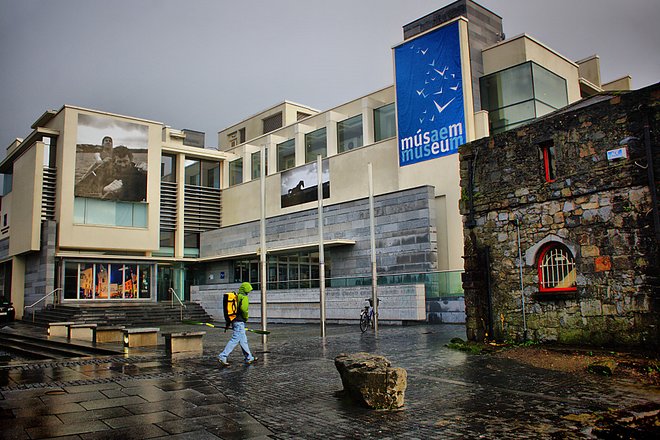 With its glass front and modern look, the Galway City Museum may not look like it houses a millennia of history. But we assure you that it's the perfect place to learn about the city's heritage. It re-opened in its current spot in 2007, and each of its three levels highlights a different time in Galway, from prehistoric through medieval times and the Great War to modern day. Through documents, photographs, artifacts, and memorabilia, you'll get a feel for how the city looked and operated throughout time. There are also rotating exhibits and temporary art collections on view. The most memorable highlights include the full-size Galway Hooker boat hanging from the ceiling, the 3-D medieval map, and the Galway civic sword and mace.The building itself offers magnificent views of the Spanish Arch, River Corrib, and Galway Bay. It's open Tuesday through Saturday from 10 a.m. until 5 p.m., and on Sundays from noon until 5 p.m. Admission is always free. The museum also regularly hosts crafting, community engagement, and educational activities. See if your visit lines up with one of the programs at Galway City Museum.
4. Take in a tune.
The Irish are known for their musical talent and Galway is no exception. Head to Quay Street, where the bars are filled with traditional and contemporary musicians every day of the week. The Quays, Tigh Neachtain, and The Spanish Arch Hotel bar are all worth a visit. There are usually flyers posted around town advertising the bigger-name players. You may not recognize all of the instruments at your first session, but after a few nights, you'll know a bodhránfrom a tambourine, a tin whistle from a flute, a bouzouki from a mandolin, and a concertina from an accordion. Enjoy the sounds and join in whenever you know the words. Music is a very collaborative experience in Irish culture. If you get inspired, make like Michael Flatley and do a jig. Of course, you don't need to visit a pub or club for high-quality entertainment in Ireland. Some of the best musicians are busking in the street. They play everything from bagpipes and fiddles to modern rock covers, with jazz and Spanish guitar thrown in. More performers than artists, they know how to attract a crowd.
5. Hunt for castles.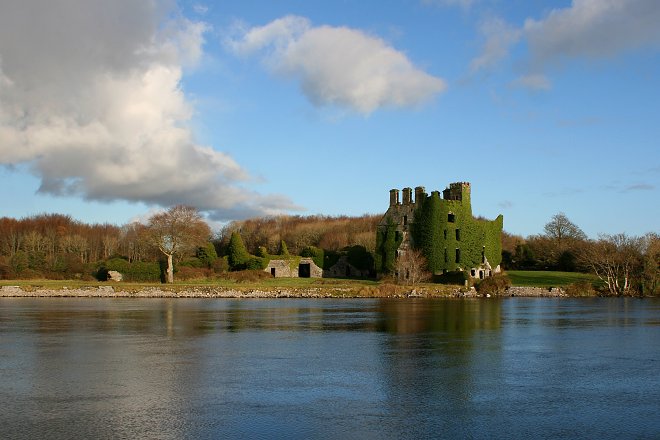 Ireland has a reputation for its castles, and it's worth journeying outside the city center to see some ancient seats of power. First and foremost, get a look at the ivy-covered Menlo Castle, which was built in 1569 for the Blake family. In 1910, it was ravaged by a fire and the inside was destroyed. The walls are all that's left, but the castle's scenic position along the River Corrib and serene atmosphere attract many a photographer. Next, head to another 16th-century treat, Dunguaire Castle. This majestic tower sits on the shores of Galway Bay near Kinvara. The exhibits inside offer historical insight, bridging 13 centuries from battles to banquets, lords and ladies to literary greats. Other County Galway highlights include the sparse remains of Terryland Castle and the 12th-century Merlin Park Castle (the latter is prime for haunting nighttime pictures). For even more royal treatment, head to Oranmore, Claregalway, and Athenry Castles. If you can't stand the idea of leaving the action of Galway, be sure to check out Lynch's Castle. This limestone wonder was erected in an Irish Gothic style with decorative windows and gargoyles. It's the only completely secular medieval building left in the city. The Lynch family's coat of arms can still be found at the front of the building, but the space has been turned into a bank. Visit the ground floor, where panels explain the history of the famous Lynch family and the architecture of the incredible castle.
6. Ride the high seas.
So long as the weather is cooperating, you should take advantage of Galway's water access. A ride on the Corrib Princess, Galway Bay Boat Tours, and Atlantic Way Sailing will give you a new perspective of the city. You'll pass the bay, castle ruins, and nearby farmers at work. If you're feeling like a true explorer, why not take a ferry to the Aran Islands? These rocky isles — Inis Mór Island (Big Island), Inis Meáin Island (Middle Island), and Inis Oírr Island (East island) — protect Galway. They're best known for dramatic natural beauty, ancient monuments, and linguistic and cultural heritage. As you explore the Dún Aonghasa fort, Worm Hole pool, Clochán na Carraige stone house, and Seven Churches ruins, listen for Gaelic. All of the islanders are fluent in both English and the Irish language. Be sure to take the popular mode of transport: bikes. And don't leave without your very own Aran sweater. They were originally made for fishermen, but any visitor would be wise to invest in a national staple that can keep you warm.
7. Run with a view.
Galway's gastronomic scene has had a renaissance in recent years (we see you, JP McMahon) and the pubs have always been packed, so travelers will be well-fed during their visit. Luckily, there are plenty of places to exercise — and work it all off — beyond the hotel gym. We suggest a jog along the two-mile Salthill Promenade, or "the prom" as the locals call it. You'll get spectacular seaside views while working up a sweat. It's also a popular spot for strolling and cycling. Salthill, the resort town at the end of your journey, may not be as lively as it once was, but there are a few exciting bars, if you'd like a drink before heading back to town. If the sea air is too much, head to the Barna Woods for your run. Located just beyond Salthill at Rusheen Bay, the forest park is a great place to immerse yourself in that famous Irish greenery. You'll have to share the space with local football players and dog walkers, but that just adds to the fun.
8. Go out after dark.
The Irish are famed tea drinkers, but let's face it: they love their tipples, too. In addition to its incredible ancient architecture and legendary landscapes, Galway also has a vibrant nightlife scene. We recommend heading straight to the city's Latin Quarter, where brightly painted pubs, renowned restaurants, and party-ready crowds await. The largely pedestrian area is full of action any night of the week. Whether you opt for pints of the local brew or something a little stronger, you're guaranteed to have plenty of craic (fun). Murphy's Bar, Freeney's, and Taaffes are especially noteworthy. If the revelry gets to be a bit much, you can head "down the west" over the River Corrib for a less rowdy scene.
9. Put a ring on it.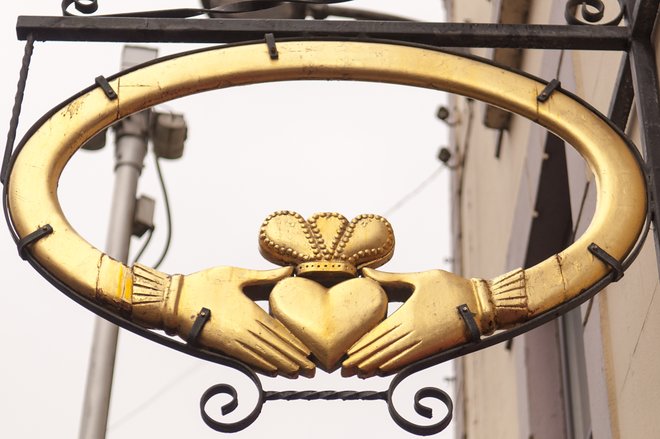 When it comes to souvenirs, Galway is the perfect place to shop for some traditional Celtic jewelry. Undoubtedly the most famous is the classic Claddagh ring. The design is comprised of three symbols: the heart stands for love, the crown for loyalty, and the hands for friendship. It was first worn just outside the old city walls, in the fishing village of Claddagh. It may be offered as a promise, engagement, or wedding ring, but even single ladies (and gents) can get in on the trend. Many wear the piece as a reminder of their Irish ancestry (or their amazing trip).
There are plenty of stores that offer their own version, but Thomas Dillon's Claddagh Gold on Quay Street is the real source. Open since 1750, they've been crafting Claddagh rings for over 250 years and claim the title of oldest jeweler in all of Ireland. You can learn more about the ring's origins while watching the craftsmen at work. Once purchased, you'll want to keep in mind the myths around wearing it. To show that your heart is taken, position the ring so that the heart is pointing inward, toward your body. If you're looking for love, flip the ring around so the heart is facing outward for potential suitors to take note.
10. Get artsy.
Make a trip to 47 Dominick Street, where incredible art fills the Galway Arts Centre walls. The space hosts revolving exhibitions, from paintings and sculptures to theater and live entertainment. It skews contemporary, but changes all the time, so you'll want to see what's showing even if you've been to Galway before. There are also classes if you're inspired to create something yourself. To focus on a singular Galway resident, head to the Vanda Luddy gallery. She captures the city, its inhabitants (animals as well as people), and the surroundings in rich colors and visible texture. If you want to see more, make a trip to Black Cat, Island, and 126 Artist-Run galleries. If you prefer your art in action, head to the Town Hall Theatre, which was formerly a courthouse, municipal building, and cinema. It hosts events year-round, but gets especially busy during the Galway International Arts Festival and the Film Fleadh. Head here for comedy, live theater, film, or music. If theater is your thing, make sure to catch a play from the internationally acclaimed Druid Theatre Company while you're here. They can be seen at the Town Hall Theatre or at their own Druid Lane Theatre.
You'll Also Like:
All products are independently selected by our writers and editors. If you buy something through our links, Oyster may earn an affiliate commission.