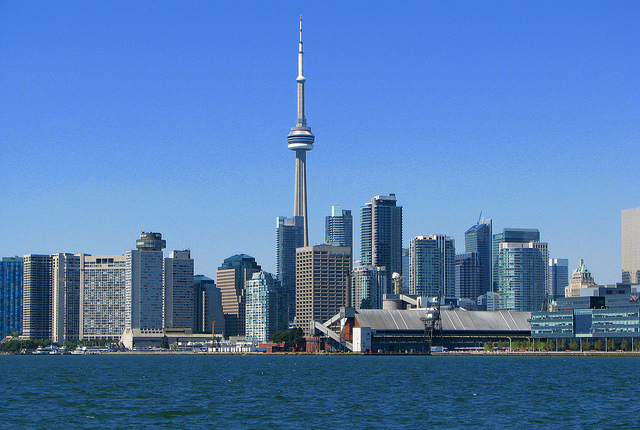 Toronto is a big city, but instead of gobbling you up, it invites you in. The vibe is casual, relaxed -- maybe a part of that is because people are glad to be there. A lot of the residents left elsewhere to call Toronto home. In fact, 51 percent of Torontonians were born outside of Canada, and more than 140 languages and dialects are spoken in the city. That kind of variety sets the stage for a vibrant metropolis. You'll see it in the food, fashion, arts, culture -- everywhere. Here's how to get a glimpse of it through the best things to do in Toronto.
1. Visit St. Lawrence Market.
Of course, the folks in Toronto think the 200-plus year-old St. Lawrence Market is one of the best food markets anywhere on the planet, but there are plenty of others who agree with them. This historic spot in Old Town Toronto has more than 120 specialty vendors in the South Market. On Saturday iit hosts the Farmer's Market, while on Sunday it's all about the antiques. Variety is surely the spice of life here. Some of our favorite vendors include Aren't We Sweet, a French food shop with premium chocolates from France, Belgium, Switzerland Canada; Acropolis Organics, which offers hand-picked, cold-pressed, unfiltered olive oil harvested by the owners' family on the island of Crete; and Honey World, which specializes in New Zealand honey.
2. Explore a museum.
In addition to numerous galleries, Toronto has quite a few museums. The Royal Ontario Museum has more than six million objects in 40 gallery and exhibition spaces. Another heavy hitter is the Art Gallery of Toronto, home to nearly 95,000 pieces of contemporary art, photographs, and more. But do also pop in other spots like the Bata Shoe Museum for its collection of more than 13,000 shoes and related artifacts and the Gardiner Museum for its treasure trove of ceramics.
3. Indulge in some hockey history.
Whether you're a die-hard fan or a casual viewer of the sport, the Hockey Hall of Fame is worth a visit. After all, where else can you take a selfie with the Stanley Cup or play a game with simulated life-size versions of superstars like Sidney Crosby and Carey Price?
4. Ascend the CN Tower.
There's one thing you can't miss — literally. The CN Tower is 1,815 feet tall and is the tallest free-standing structure in the Western Hemisphere. It's not just a landmark, but it's also a key structure to the communications of some 16 radio and television stations in the area. Take the elevators up the tower — it takes less than a minute — for an amazing view of Toronto and beyond. For a fun freak out, look through the glass floor: You can see all the way down to the street. If you dare, put on a harness and step outside the main observation pod for the EdgeWalk. Top off your experience here with a cocktail or wine from the celebrated cellar of 360, the revolving restaurant in the tower.
5. Explore Kensington Market.
Talk about a place to people watch. You don't know who or what you might see in the Kensington Market neighborhood. It's a hodgepodge of people, restaurants, coffee shops, cafés, vintage shops, and more, with each more fascinating than the next. The air is full of scents and sounds, so all your senses will be on high alert.
6. Ride a bike.
Bikers rule in Toronto. There are bike lanes everywhere, so hopping on a bike is a great way to see the city, weather permitting. If you don't want to DIY, get a guide. Toronto Bicycle Tours leads groups: The popular Island Tour sends you on a ferry ride across the harbor before you work your way through the neighborhoods on the eastern islands, taking in cool landmarks like the Gibraltar Point Lighthouse and the Royal Canadian Yacht Club. You'll also get a healthy dose of history and stories about the islands along the way.
7. Enjoy the performing arts.
Toronto is known for its many festivals (ranging from film to jazz to Caribbean culture), but they're just one small piece of the puzzle. There's so much more that you might have a tough time deciding. Do you go to the theater, the ballet, or the opera? Or should you head to the Roy Thompson Hall for the symphony, listen to jazz at the Rex Hotel, or dance salsa at Lula Lounge? Quite frankly, this a good problem to have.
8. Eat, drink, repeat.
Given Toronto's diversity, you can tease your palate with cuisine from all over the globe at one of its hundreds of restaurants. Plus, the food truck craze is alive and well, so there's no need to splurge on a fine dining establishment. Does all that food make you thirsty? Check out one of the city's many microbreweries, like Steam Whistle Brewing, Mill Street Brewery, and Amsterdam Brewery.
9. Shop 'til you drop.
Toronto has plenty to fuel your shopping addiction. There's the CF Eaton Centre downtown with 250 stores and restaurants. Travel underground through the PATH system and you'll find 1,200 shops and services. There's also Toronto's Mink Mile, home to high-end retail if that's your cup of tea.
10. Fuel your adrenaline.
You can get your adventure on in Toronto, too. iFLY Toronto offers a free-fall simulation where you can "skydive" indoors. If you head about 30 minutes to Stouffville, you'll find Treetrop Trekking, which offers zip lines and an aerial game park.
You'll Also Like:
All products are independently selected by our writers and editors. If you buy something through our links, Oyster may earn an affiliate commission.