The U.S. is known for being ahead of the curve in a lot of things (we're still feeling a bit patriotic after all of Wednesday's activities), and that includes making music. Paving the way for the rest of the world -- from bluegrass to hip-hop, country to surf rock -- cities around the country are famous for putting new music on the map. If you're music junkies like we are, visit our five favorite U.S. spots to hear live music in a variety of venues -- and of course, we've included our picks for hotels to stay in once the music's over.
The City: Los Angeles
L.A. has long been a hub for musicians and mainstay venues on the musical scene are still hot destinations for touring bands, especially those looking to be discovered. In recent years, an influx of young creatives has brought on a whole new age of music that's less starry-eyed and more visceral.
Where To Hear It:
Nestled in the Hollywood Hills, The Hollywood Bowl is an iconic music venue known for its large outdoor amphitheater and BYOB wine and food policy, which creates a one-of-a-kind atmosphere for viewing big ticket acts such as Animal Collective and The National. On the other side of the spectrum, Hotel Cafe is a dimly lit, intimate space showcasing up-and-coming talent, leaning towards promoting female singer-songwriters like Meiko.
Where to Sleep: The Orlando – West Hollywood
Nobody walks in L.A. — except on the rare stretch of street where this cheap but chic hotel is located. Besides prime location, The Orlando offers free Wi-Fi (helpful in planning your nightly outings), two saunas and a pool for post-music show recharging. Plus, it's pet-friendly for those divas who won't leave home without their dog. A short drive from Sunset Boulevard, where many of L.A.'s famous venues reside, and well placed for offshoots to hip neighborhoods such as Silver Lake and Echo Park, this hotel is a music lover's dream.
The City: New Orleans
New Orleans' musical history may go way back, but it's still very much alive and well. With plenty of spins on big band jazz that the city is famous for, as well as indie bands setting up shop in the lively city, there is a music type for every taste.
Where to Hear It:
Frenchmen Street is a bit off the beaten path in the French Quarter but those who venture there will be duly rewarded. The Spotted Cat Music Club promises authentic jazz and blues until the wee hours of the morning, as well as awesome extras like free swing dancing classes for those who want to put their rhythm to the beats. An extensive drink list and nightly live music make d.b.a. bar popular with locals; and when in a city as tourist-friendly as New Orleans, do yourself a favor and follow their lead to find the true soul of the city.
Where to Sleep: Loft 523 New Orleans
This sleek hotel is a nice contrast to the city's generally "old-time" vibe. And the fact that Loft 523 happens to be attached to nightclub Le Phare means easy access to music — in this case, typically a DJ. Frette linens and ergonomic chairs add to the comfort factor that is key for touring music aficionados, and the walk-in showers and soaking tubs (available in some rooms) appeal to the rock star in all of us. Being attached to a nightclub does have its drawbacks, but the hotel compensates by offering a $50 drink voucher to anyone staying in the "Rock You Suite" which is located directly over the sound system. The location is a hop, skip and a jump from the Bourbon Street music scene.
The City: Portland
The city where twenty-somethings go to retire, Portlandia — Portland for short — naturally has an impressive line-up of bands that find the low-key atmosphere and plethora of music lovers to be the perfect combo for rocking out.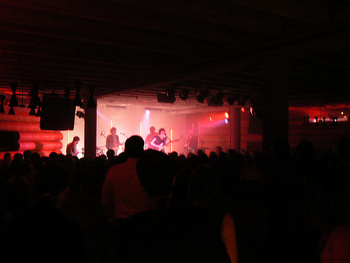 Where to Hear It:
The aptly named Dante's is a fiery inferno perfect for showcasing some of Portland's best music and creative acts. Sinferno Cabaret is also a local favorite that includes live music, fire dancers, and burlesque performances, to add a twist to the otherwise typical rock show. On the other side of the tracks, er, river, the unassumingly cool Doug Fir Lounge sits pretty like a mod log cabin, featuring a consistent calendar of indie bands sure to please even the most discerning ears. Stop in to the restaurant and bar for a late night bite; al fresco diners can scope out the hipster, outdoor patio scene.
Where to Sleep: Ace Hotel – Portland
The musically inclined will feel right at home at the Ace Hotel, where rooms feature amenities such as turntables, stacks of records, and iPod docks. Make friends with local bands during the popular happy hour scene at the hotel's Clyde Common bar, and get photographic evidence of your fun in the lobby photo booth. The hotel is located in a great spot downtown, which makes walking to venues easy. Plus, the convenient subway ensures easy travel to more obscure locales.
The City: Austin
SXSW made Austin's music scene famous, but it was kicking long before the gigantic tour buses arrived. Nowadays, a steady stream of big acts come through the city and lots of local bands have materialized out of the woodwork.
Where to Hear It:
Stubb's Bar B Q is one of those folkloric destinations that could only exist in another world, or — in this case — Texas. A delicious BBQ joint on the inside, this spot is also a multi-stage music venue. Touring indie and alternative acts are common, but so are other genres. A step up in ambiance and decor, The Parish Room offers a hip (without the affiliated grunge) space for enjoying music, plus an extensive beer list on tap.
Where to Sleep: Hotel San Jose – Austin
At the heart of the trendy South Congress neighborhood, Hotel San Jose caters to those in search of some fun (and of course, great music) by offering bicycle rentals, CDs, pre-filled iPods, and loaner Polaroid cameras. The stylish boutique atmosphere is well supplemented by an outdoor lounge and small pool, and it's an obvious crowd-pleaser for the music festival attendees. An easy stroll to any of a number of funky music cafes and vintage shops, this hotel is a great choice.
The City: Brooklyn
Brooklyn may seem obvious, but it's certainly the most consistently awesome place to see live music in the country [Ed. note: As residents, we may be just a bit biased.] Any given night there are shows taking place in high and low venues — even surprising locales like kitchens in Bushwick.
Where to Hear It:
Cozy Union Hall, located in sleepy Park Slope, has live music almost every night in its downstairs venue, as well as karaoke, and a gigantic bar above complete with bocce courts for those who are both musically and athletically gifted. Glasslands is part of the more underground music scene spearheaded in Williamsburg, and features lesser-known bands eager to show off their innovative musical creations.
Where to Sleep: Nu Hotel – Brooklyn
New electronics and environmentally sustainable touches make the Nu Hotel an easy choice in Brooklyn. The Urban Suites even have recessed beds, hammocks, and padded walls (which we prudishly choose to believe are in place for acoustics) — great for band practice without disturbing the neighbors. Located near subway lines that will zip you every which way around town, it's an ideal starting point for navigating the huge scene in this outer borough.
RELATED LINKS:
All products are independently selected by our writers and editors. If you buy something through our links, Oyster may earn an affiliate commission.