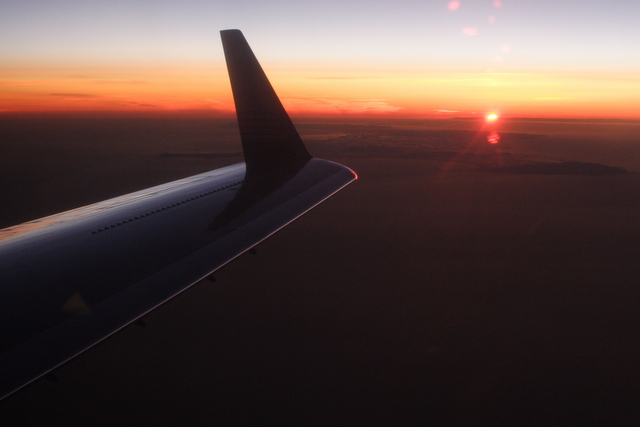 For those stuck in freezing cold cities this winter, you may find yourself constantly daydreaming about booking a last-minute flight to someplace warm and sunny. Well, the folks over at JetSmarter, a mobile marketplace that allows users to book private jets directly from their Smartphones, were thinking the same thing. After getting swamped with calls by people wanting to get out of New York, the tech-savvy company decided to offer free private jet flights for members in New York to and from cities such as Los Angeles via its JetShuttle.
So, how does it work exactly? JetShuttle is a shared aircraft charter, offered at a fraction of the price. Users can choose from single seats on already scheduled flights in select markets at discounted rates for non-members, and free for members. Or, you can create your own JetShuttle, which is a shared aircraft charter offered at a fraction of the price, where the cost of a flight is split amongst travelers who seek the same itinerary. Flights are always guaranteed and booking is available year round.
"JetSmarter offers instant pricing and availability
for private jets across the globe, allowing users to book a flight themselves
without the hassle of dealing with a middle man," CEO and Founder, Sergey
Petrossov, tells Oyster.com. "Users can booking their flight in a matter of
minutes and then fly within six hours." You also save time compared to
flying on a commercial airline. Flights
offer free helicopter transfers and allow travelers to avoid hours of security
lines, and lost baggage, and you have the ability to hold the plane if you're running late.
Though convenient, you're probably thinking this service
costs an arm and a leg. While it isn't cheap, it certainly is less expensive
than traditionally chartering a flight. In fact, the JetShuttle service is free for JetSmarter members (after
paying a $9,000 annual membership fee). Standard private jet charters, on the other hand, can cost
any where from $1,600 an hour to $8,600 an hour. So, if you're making the cross-country
flight frequently already, it can add up to quite a bit of savings. If you're a
non-member you'd have to pay $9,980 per seat for this route.
To make things even more appealing to frequent flyers, the
company has also created JetDeal, where they provide free flights to members
in bundles of two to five seats per flight — and family and friends can join free of
charge. "We want to make private flying easy and accessible for more than
just the one percent who are used to chartering private planes," adds Petrossov. "My
outlook for the private jet industry is that mass travel between 100 to 1,000 miles will all be private air travel in the future, and large airline-style commercial aviation will be a thing of the past in 20
years. I also believe that operational costs will significantly decrease due
to hybrid electric aircraft, and with proper sharing technologies
(like JetSmarter app), private aviation will be priced at a level accessible to the
masses."
While it may still seem out of reach for many of us,
Petrossov says his business is steadily growing. "We've had a great
response," he tells us. "We're constantly growing at 15 to 20 percent each
month and have over 300,000 downloads since we launched in 2013."
And
the company is already planning to expand. "We want to make this service
accessible to consumers across the globe," adds Petrossov. "Because
of that, we are continuously expanding our services and enhancing our JetDeal
and JetShuttle offerings. Just this week alone, we've launched more
coast-to-coast JetShuttles including New York to Los Angeles, New York to Las
Vegas, New York to San Francisco, Fort Lauderdale to Los Angeles, and Fort
Lauderdale to Las Vegas. We are also expanding our JetShuttle offerings across
Europe and Asia this spring."
Related Stories:
All products are independently selected by our writers and editors. If you buy something through our links, Oyster may earn an affiliate commission.