We kind of hate to be sharing our best-kept secrets, but it's our job, after all. So today we're opening the vault of our favorite hidden gem hotels in California. From quaint, oft-overlooked boutiques in Los Angeles to tucked-away spots just minutes from the beaches of Carmel, we have nine picks for our favorite unknown (until today) hotels in the Golden State. Just please use some precaution when passing on the details -- we don't want to have to share these spots with just anyone.
Surrounded by lush foilage, Tradewinds is a quiet sanctuary just a short drive from the beach.
The 28-room Tradewinds Carmel has a Zen vibe throughout the hotel — from the courtyard, complete with Buddha statues, a small waterfall, and a tranquil fire pit, to the rooms, decorated with Asian prints, stalks of bamboo, and orchids. The rooms are large and feature well-decorated bathrooms with nice soaking or Jacuzzi tubs, but like many small hotels in Carmel, the Tradewinds lacks a fitness center and a spa (though in-room spa treatments are available). Still, it's a quaint, cozy pick and is just a short drive from the beach.
The rooftop is a popular spot during the evenings when dinner is served and guests take in the views.
The 18-room Hotel 1110 doesn't look like much upon arrival — located on a busy street between a McDonald's and a tattoo parlor, the hotel appears a bit run-down, and the hodge-podge of vintage furniture in the lobby may take some getting used to. But if you can look past the surface, the hotel has a warm, B&B feel with a cozy lobby bar, a delicious free breakfast, and an ocean-view rooftop deck where the free cocktail hour sometimes takes place. All rooms have a slightly differently look (and some are more in need of updates than others) and feature flat-screen TVs and fireplaces.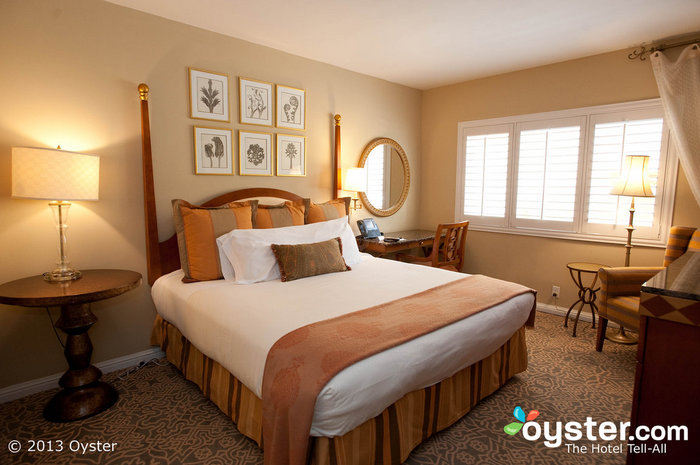 Just off of Wilshire, the Mosaic has a convenient location and a more secluded feel.
Visitors often overlook this hidden gem for snootier spots on directly on Wilshire, (such as the Beverly Wilshire, Thompson, and Hilton), but the Mosaic is just around the corner. Housed in a charming, yellow four-story building, this cozy 49-room boutique offers a lot in a little space, including a heated pool, restaurant (that's name, Hush, even fits in well with the hotel's serene vibe), and free fitness room. Even though standard rooms can feel cramped, they come luxuriously outfitted with Frette robes, Bvlgari toiletries, 37-inch flat-screens, and Bose stereos.
Designed by Kelly Wearstler, this spot is high-style.
Owned by the same group behind the Mosaic, Maison 140 was originally a boutique property helmed by Viceroy Hotels and retains the look that the luxury brand is known for: Sexy design by Kelly Wearstler, a romantic vibe, pops of color, and homey, yet chic, rooms. Granted there's no pool, real business center, or even a restaurant — but the unique Chinoiserie and Parisian-inspired rooms, cozy lobby bar with popular dessert drinks, and central Beverly Hills location lure in a loyal crowd (who may be upset with us that we spilled their secret).
Aptly named, the Creekside Inn sits next to a small, well, creek in Palo Alto.
Don't let the motel-like sign and building fool you. The mid-range property is extremely pleasant, with tall, shady trees, ivy-covered pathways, and flowered grounds leading to a lovely courtyard with a round, stone fountain. Rooms are comfortable, with chain-like decor but nice amenities, including balconies, free Wi-Fi, free candy jars, and coffeemakers. The fitness center and pool are both small but useful, and the neighboring Driftwood Deli is convenient and tasty (guests can also pick up free pastries in the lobby every morning). One rare feature unique to the inn is a charging station for electric cars, an increasingly common site in eco-conscious California.
Rooms have a sleek, apartment-like feel.
Most hotels in San Francisco are clustered in the downtown area, with one of the few outliers being the Laurel Inn. Its location in residential Pacific Heights means you can stroll quiet blocks lined with upscale galleries, boutiques, and antique shops. It's also the closest hotel to the Golden Gate Bridge, Golden Gate Park, and 1,491-acre Presidio, with its miles of hiking trails, bicycle routes, and dozens of historic landmarks. Spacious, apartment-like rooms, loads of free perks (such as Wi-Fi and afternoon snacks), and basic but stylish decor distinguish this boutique hotel and make it a popular spot among those in-the-know.
The hotel has a gritty, rock 'n roll vibe, but that's just why guests like it.
Now owned by the funky, mid-range Joie de Vivre hotel group, the Phoenix Hotel is certainly a diamond in the rough (the "rough" being the hotel's location in the seedy Tenderloin district). But for the right guest, this 44-room motel is a great find. Who is that "right guest?" Usually artsy hipsters and other young folks on a budget, but even A-list rockers (such as Joan Jett, Little Richard, and even Keanu Reeves) make the occasional appearance. The draws? A cheery staff, chill vibe, heated outdoor pool (with a landmark mural), hip lounge, and a host of freebies, including parking, Wi-Fi, and passes to the communal baths at the nearby Kabuki Springs and Spa.
The rooms at the inn have a cozy, Spanish hacienda vibe.
This 26-room, two-story inn has the charm of a Spanish hacienda, with stucco walls and pretty hand-painted details. It's an all-suite property, and the suites are spacious and rustic, with dark wood-beamed ceilings and carved wooden furniture. The suites are also bi-level, with the living area on the lower level, and bedroom and bathroom upstairs. Outside, a lovely courtyard features beautiful overgrown trees and shrubs, and stone and wrought-iron details are pretty. The property lacks the features — pool, gym, spa — of a larger hotel, but with free breakfast, and a location close to more than 20 wineries, its visitors find it easy to overlook what's missing.
The pool may be small, but the view is expansive.
This mid-range converted motel, with a fabulous location just a 5-minute walk from downtown Calistoga, is (often) a steal in otherwise uber-pricey Napa Valley. The hotel offers 13 big rooms with microwaves, mini-fridges, wet bars, and gas fireplaces. It may not be luxe, per se, but EuroSpa does have a quaint, B&B feel, solid freebies (free breakfast, free Wi-Fi, free afternoon snacks), and a spa. But the standout feature may be the small but lovely pool with amazing views.
RELATED LINKS:
All products are independently selected by our writers and editors. If you buy something through our links, Oyster may earn an affiliate commission.