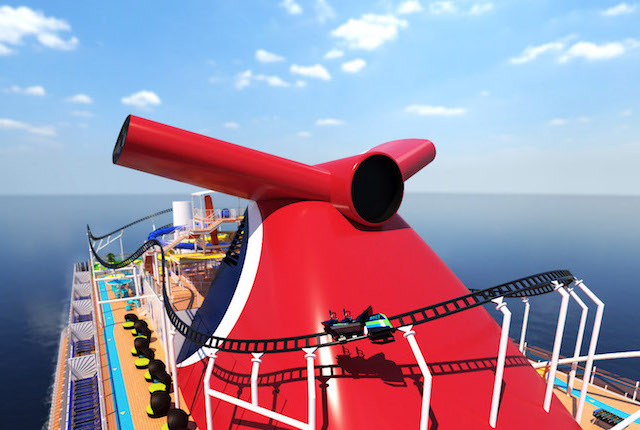 With features like go-karts, waterslides, bumper cars, and skydiving simulators, cruise ships are already considered to be theme parks at sea -- and now, Carnival Cruise Line is taking that notion literally. The company recently announced that it will be unveiling the first-ever roller coaster at sea on a brand-new 5,200-passenger ship.
Called BOLT, the open-air, all-electric sea coaster will be 800 feet long and have heart-pounding twists, hair-pin turns, and adrenaline-pumping drops at speeds of up to 40 miles per hour. Even more exhilarating, the track, sitting 187 feet above sea level (expect killer 360-degree views), gives passengers the power -- riders can control how fast they go with a gas pedal. But that's not the only noteworthy feature. The ship, which will go by the moniker Mardi Gras when it debuts in 2020, is slated to be the largest vessel ever built for Carnival, at 18,000 tons.
"Mardi Gras will be our most innovative ship ever with some truly special features and attractions, highlighted by BOLT," Christine Duffy, Carnival Cruise Line president, said in a statement. "We are so thrilled to introduce this one-of-a-kind, game-changing, exhilarating attraction -- our guests are going to love it." Buckle up, folks.
You'll Also Like: