Nothing says summer like a long, lazy day by a cool blue pool. And if that pool happens to be completely gorgeous and over-the-top, all the better; it can help turn a typical day by the pool into a summer memory to last a lifetime. Whether you're looking to swim at the base of an active volcano, snorkel among Caribbean grottoes, or water slide through a shark tank, these pools can deliver all of that -- and more.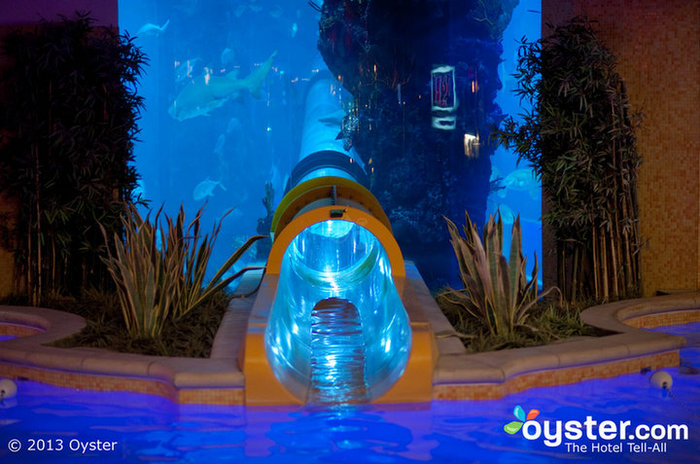 Most of us love a good water slide, but those looking for some serious thrills should hit up the a pool complex at Golden Nugget Hotel & Casino in Las Vegas, which boasts a three-story waterslide that runs through a 200,000-gallon shark aquarium.
The Arenal Kioro's pool isn't remarkable for its size — rather, its wow factor comes from its location at the base of an active volcano. The resort also offers seven small pools filled with natural thermal waters, connected by waterfalls and situated amid lush landscaping.
The Aulani's pool complex is not only gorgeous, but packed with features, offering a lazy river, two waterslides, a play area for kids, and a manmade reef for snorkeling — all centered around a faux volcano. It definitely lives up to the Disney brand standards, and It's one of the best resorts on Oahu for families.
The aptly named Grotto Bay Beach Resort has massive subterranean caves featuring crystal-clear water surrounded by dark and looming stalactites and stalagmites. Weekly cave crawls explore the grottos' vast nooks and crannies, and guests are free to swim and snorkel on their own. Sure, this isn't a pool in the traditional sense, but in our book swimming in real grottoes right on a resort property sure beats the faux grottoes found amid many tropical pool complexes.
There are a lot of stunning rooftop pools out there, but the one at the W Hong Kong makes the grade for this list because of its true infinity edge and dizzying views; it truly feels like you are swimming amid the skyscrapers. It's on the hotel's 76th floor, so it's not recommended for those with a fear of heights!
It's hard even to call the 25,700-square-foot Wailea Canyon Activity Pool complex a "pool." It's more like an aquatic theme park, with five waterslides, whitewater rapids and caves, a lazy river, rope swing, and a "water elevator" at the center of a multilevel fake volcano (you can sit on an inner tube that rises and descends with the water level).
Jade Mountain Resort is an architectural marvel, and most of its enormous guest rooms have private infinity pools. Rooms having a missing fourth wall and are elevated about 100 feet above the base of the mountain, and the pools have breathtaking views of St. Lucia's iconic Pitons and the Caribbean Sea.
The Joule is one of the coolest — and most luxurious — hotels in Downtown Dallas, and features a cantilevered pool which juts out over Main Street. Swimmers brave enough to approach the pool's edge will find themselves floating over nothing but air, with just a glass partition separating them from the drop to the street below.
The Beaches Turks & Caicos has a 45,000-square-foot water park with just about every feature kids could want: a lazy river, surf simulator, water cannons, a splash deck, nine waterslides, a swim-up bar shaped like a pirate ship, and a negative-entry toddler pool. There are a total of 10 pools at the resort — enough to fulfill just about everyone's aquatic desires!
RELATED LINKS
All products are independently selected by our writers and editors. If you buy something through our links, Oyster may earn an affiliate commission.