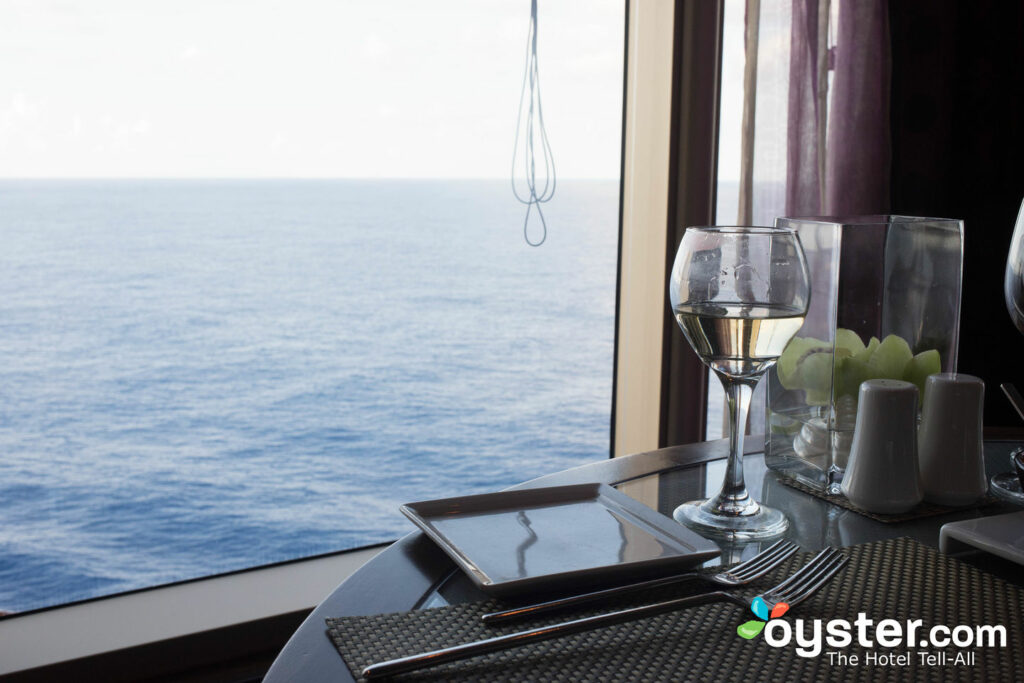 When it comes to planning a cruise, looking at the ship's dining options is as important (okay, almost as important) as deciding where you want to sail. Thanks to multiple onboard restaurants, there are more food choices than there are cruise ships, which can lead to information overload and lots of confusion about what is and isn't included with your cabin fare and what's worth the extra fee. For instance, Norwegian's Getaway includes six free restaurants with cabin fare, and allows cruisers to pay a la carte (or buy packages) for a whopping 16 additional restaurants. Lucky for you, we've eaten our way across a whole fleet of cruise ships and know the ins and outs of dining at sea. Read on for our tips and tricks on how to make the most out of your cruise ship dining experience.
Buy a dining package.
Are you the type of person who centers their vacation around trying new flavors or do you prefer tried-and-true familiar foods? Do you want to sit down at a reserved time for waiter service or would you rather eat whenever you feel like it at a self-serve buffet? Or, perhaps you want to enjoy a mix of both. Luckily, most major cruise ships cater to both types of diners, but to ensure you're getting the best experience for the best price, consider purchasing a dining package. Royal Caribbean offers packages that include three, four, five, or unlimited specialty restaurant visits with savings of up to 40 percent and special deals for kids. There are some limits on visiting the same restaurant more than once, and booze and soda will still cost extra (of course, there are beverage packages for purchase as well). It's easy to supplement the specialty dining with the free restaurants. Royal Caribbean's Allure of the Seas offers free dining at three main dining rooms, a cafe, bistro, and hot dog joint.
Free doesn't always mean casual.
Cruise ships have become very serious about providing multiple free and quality restaurants to their guests. Though you'll still find some less-than-stellar buffets (especially on budget cruises), most of the mid-range and up ships are in the gourmet game. Taste and Savor on the Norwegian Breakaway serve all-inclusive contemporary American and international dishes in semi-formal dining rooms with white tablecloths and cloth napkins. If you've ever dreamt of ordering the steak and the salmon entrees, this is your opportunity. And why not try every dessert on the menu while you're at it? Service isn't stuffy, but it's definitely a step up from the buffet line.
Make reservations before sailing.
Many specialty restaurants get booked up prior to the sailing. For instance, all offer a 14- or 16-person Chef's Table experience for an extra fee. The reservation-only meal consists of eight courses served with Champagne and house wine. Diners are guided through each course, and some guests book this experience on every cruise they take. Other small restaurants, like show kitchens and sushi bars, also have limited seating and fill up well before the sailing begins. Another key aspect to watch for is at-sea days. Since every cruiser will be onboard, the most popular restaurants fill up fast.
Don't worry if you're a picky eater.
We get it, not everyone is a foodie. That said, many cruise ships have partnered with beloved chain restaurants and celebrity chefs to give passengers a taste of home at sea. Partnerships with celebrated chefs like Thomas Keller, Jamie Oliver, and Nobu have ramped things up for fine-dining. More casual options include Jimmy Buffett's Margaritaville on some Norwegian lines, Guy's Burger Joint on some Carnival lines, and Starbucks and Johnny Rockets on some Royal Caribbean ships. Even if your ship doesn't have a chain restaurant, try to think of the all-inclusive dining establishments (many don't allow reservations anyway) as several kitchens you can access. For instance, walk into Shanghai Noodle Bar on Norwegian Breakaway for some pre-dinner apps before having a lighter meal at Savor. The ship's sports bar, O'Sheehan's Neighborhood Bar & Grill, makes excellent nachos for a post-swim snack. And don't forget the kids' corner at the buffet station, where you can always find burgers, hot dogs, fries, fried fish, and soft-serve ice cream.
Look carefully at the menus.
While it may seem noteworthy that a cruise ship has several restaurants, keep in mind that some of them are serving the same food in different surroundings. The Emerald Princess has three main dining rooms: Michelangelo, Da Vinci, Botticelli — each serving identical breakfast, lunch, and dinner choices. On the Norwegian Sky, guests can choose to grab their own waffles from the buffet at Garden Cafe or have the exact same waffles served to them at the Italian restaurant, Il Adagio. This isn't necessarily a bad thing, but it does cut down on the wow factor.
Befriend your waiter.
If you're on a cruise ship with assigned seating and meal times (available on Princess cruises), your table location, dinner companions, waiter, and waiter's assistant will remain the same for the entire trip. The best thing you can do in this situation (which cruisers tend to either love or loathe) is make friends with your waiter on the first night. Don't be afraid to tip right away, ensuring excellent service. Beyond taking your order, waiters can also help with dietary requirements and learn your preferences for food and wine recommendations. Let them know if you're celebrating something special, like a birthday. Cruise ship waitstaff is trained to go above and beyond, and you might be surprised how far they can go.
NOW WATCH: 5 Destinations That Are Best Experienced on a Cruise
https://www.youtube.com/watch?v=o2b9cZJjs-Y
You'll Also Like:
All products are independently selected by our writers and editors. If you buy something through our links, Oyster may earn an affiliate commission.