Europe isn't usually our first thought when we're planning a December trip. The Caribbean, Asia, and really the whole Southern hemisphere usually come to mind first -- and for good reason. They are, on the whole, much warmer in the winter months. But there are some European destinations that avoid winter's chill. Just look to the Mediterranean. You may not be inspired to jump in the hotel pool, but you will be able to leave your winter jacket behind as you enjoy some sunshine and fresh air.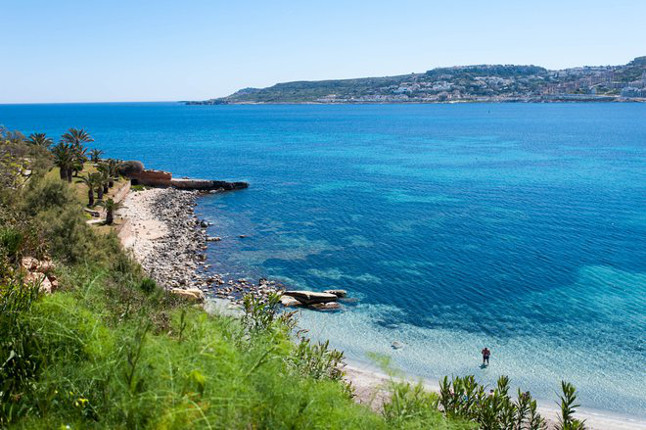 Average December Highs: 61°F – 65°F
Average December Lows: 52°F – 56°F
Average Hours of Sunshine: 9:48
Even if you've never heard of Malta, you've probably seen it's famed Blue Grotto on your Instagram feed or in your favorite travel magazine. This Mediterranean archipelago sits between Sicily and the North African coast, where the weather is pleasant all year long. In fact, with more than 300 sunny days and 2,957 hours of sunshine a year, Malta is the sunniest destination in Europe.
The islands themselves offer an interesting intersection of cultures, thanks to periods of rule by the Phoenicians, Carthaginians, Romans, Moors, French and, most recently, the British. Malta became an independent country in 1964, but it retains wonders from each of its pasts. The language sounds like Arabic, the food tastes Italian (fresh gelato included), and the residents drive on the left like Brits. The main island is only 17 by nine miles, so a prehistoric temple or labyrinthine medieval city is never more than an hour away. Beyond the impressive history lies a plethora of natural beauty: clear turquoise waters, fossil-studded limestone cliffs and sparkling red-gold beaches. Perhaps best of all, a trip to Malta won't break the bank.
The 112-room George Hotel is an upscale urban boutique hotel in St. Julian's Paceville district, the epicenter of area nightlife. Sleek and modern decor gives the hotel a luxury vibe, as does its two pools: the zen-like indoor pool and the sunny rooftop pool with its landscaped deck and city views.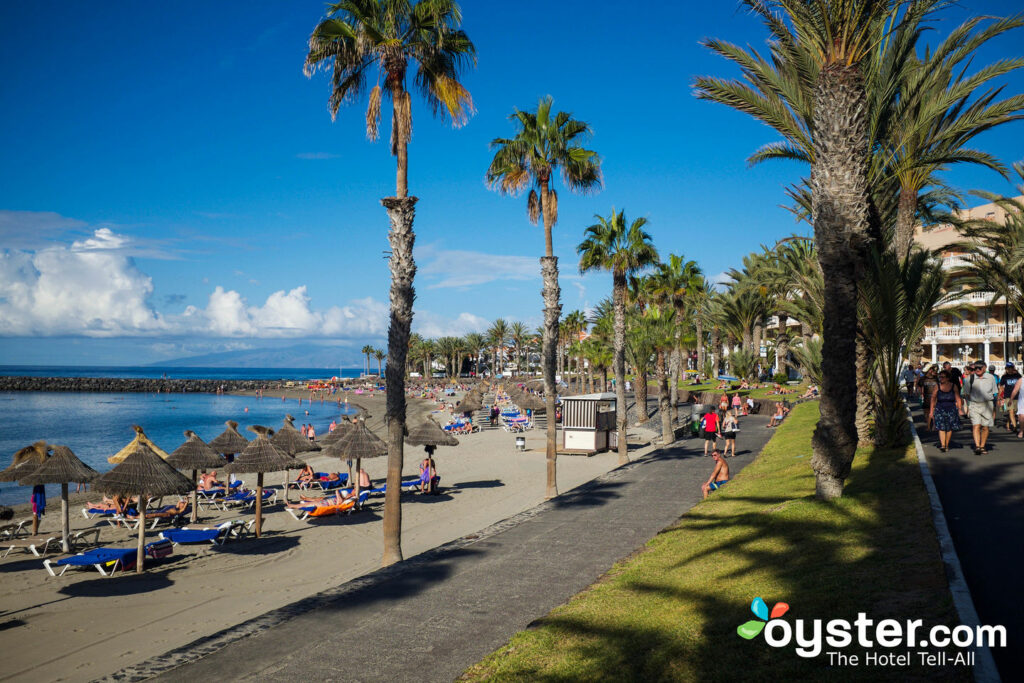 Average December Highs: 70°F – 73°F
Average December Lows: 60°F – 63°F
Average Hours of Sunshine: 10:24
It feels like summer all year long in the Canary Islands, and western Europeans regularly take advantage. Despite their geographical isolation 62 miles off the African coast, they receive about 10 million visitors a year. Most of these are hoping to soak up some sun at one of the area's seafront resorts, but there is more to see in the Canaries. Imagine lunar-like lava fields, looming sand dunes, banana plantations and lush pine forests surrounded by crystal waters.
Of course, if you can only escape the office for a week, you'll probably have to pick your poison. There are seven unique islands to choose from. We recommend sticking to southern Tenerife or the island of Lanzarote if you want the best December weather amid some of the Islands' best outdoor adventure, breathtaking views and roaring nightlife.
Our Pick for a Beachfront Hotel in Canary Islands: Hotel Villa Vik
Travelers looking for a fast-paced, activity-filled resort stay will want to look elsewhere. But those looking for an adult-only, three-and-a-half-pearl boutique hotel experience will adore Hotel Villa Vik, a former private villa converted into a 19-room (all with private terraces or balconies) luxury hotel in a quiet residential area of Playa del Cable, right on the beach. The outdoor heated pool and hot tub with lounge chairs, hammocks, and umbrellas is a popular hang-out spot among guests, as is the Terrace Bar.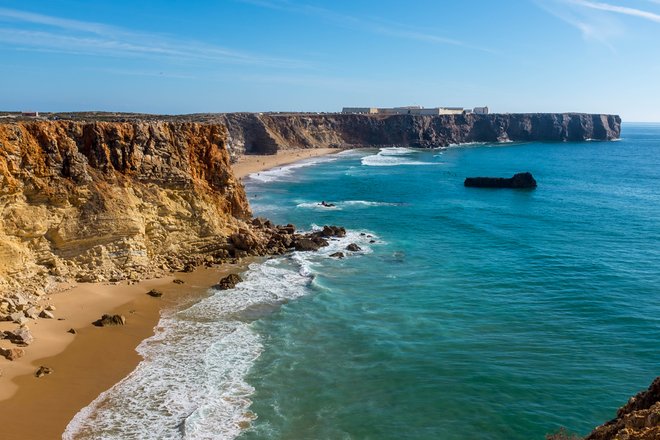 Average December Highs: 62°F – 64°F
Average December Lows: 48°F – 51°F
Average Hours of Sunshine: 9:43
Portugal's southernmost region is known for its lovely beachside resorts and expansive golf courses. Pair that with mild temperatures, whitewashed fishing villages, and blooming poinsettia trees, and you have the perfect December getaway. The northern mountains protect the Algarve from northern and Atlantic winds, so the only breezes that hit the region can be enjoyed for sailing and kite surfing. You will be a tad warmer if you stay east since it's closer to the Mediterranean.
Whether you head to the Algarve to enjoy the coast or the rugged way of life that remains in the region's interior, you'll be welcomed by ancient castles, cork filled hills, and golden cliffs. We recommend a walk along one of the many footpaths in the morning, followed by fresh fish drizzled with local olive oil and wine straight from the vineyard in the afternoon. If you really need to relax, try a thalassotherapy treatment, which uses seawater and seaweed to soothe and revitalize the body. Bear in mind that some restaurants and attractions in the tourist centers close during the winter. You'll have no choice but to experience the Algarve as the locals do.
Situated on a cliff facing the ocean, the luxury Vila Vita Parc Resort & Spa has the feel of an elegant estate and village spanning 54 acres of garden grounds. The property has 180 rooms, the most basic of which have contemporary decor by local artists, sunken living rooms, and outdoor areas. Many features are off-site or seasonal, but the resort presents a slew of dining and recreation options, along with access to a small beach with Portugal's largest reef offshore.
Average December Highs: 59°F – 64°F
Average December Lows: 49°F – 54°F
Average Hours of Sunshine: 9:51
Though it has a slightly greater range of temperatures than our other December destinations, you certainly couldn't call Crete cold. Greece's largest and the Mediterranean's fifth largest, this island is almost a whole country to itself. As homeland of the Minoans, Crete holds the title of first advanced society in Europe. Greek mythology states it was even the birthplace of Zeus, king of the Gods.
Nestled between Europe, Asia Minor, and Africa, Crete is a highly varied island both in landscape and culture. It's not unusual for a Roman ruin to share a wall with a Turkish bath house, or a mountain range to end in fine sand. The best reason to visit in December, however, may be the people. Cretans are always friendly, but they'll have more time to chat in the winter when tourism slows down. Introduce yourself if you see someone playing the "lyra" on the street or sitting alone in a "kafeneia" (coffee house).
Elegant, whimsical, and atmospheric, this charming 24-room boutique hotel in a 17th-century mansion in the heart of Chania's historic center is a cozy home-away-from-home for solo travelers, couples, and older families who seek a comfortable base for exploring the rest of the island. Facilities include an atmospheric spa, rooftop terrace overlooking the harbor, and shaded courtyard area where a free breakfast is served.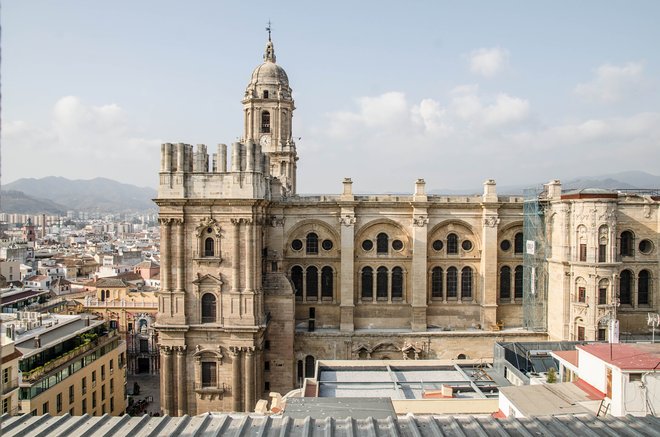 Average December Highs: 62°F – 64°F
Average December Lows: 46°F – 49°F
Average Hours of Sunshine: 9:45
Part of Spain's southernmost community and Europe's most southerly coast, the Costa del Sol offers plenty of heat during December days with some cool breezes at night. The region is a bit more under-the-radar than the French Riviera or Amalfi Coast, which leaves the 100-mile coastline less crowded and more authentically Mediterranean. Each of the region's gorgeous beaches has a backdrop of mountain scenery.
Though the area dates back to the Phoenicians, it's the Moorish influences like the Alcazaba and Gibralfaro citadels in Málaga that truly stand out. Spanish roots are strong too, as evidenced by the bullfighting arena and flamenco shows to the quirky tapas and Picasso museum (the artist was born here). By splitting time between the area's capital city and a seaside town like Marbella or Estepona, you'll get to see it all. You would never guess that it only became a tourist hub as recently as the 1950s.
A 214-room hotel on a busy corner in central Malaga, the AC Hotel Malaga Palacio by Marriott is an excellent anchor for exploring the city's vibrant street life. With a location near the port and attractions, this is a popular pick for tourists and large groups. Additionally, the rooftop restaurant, bar, and pool offers spectacular views of the city.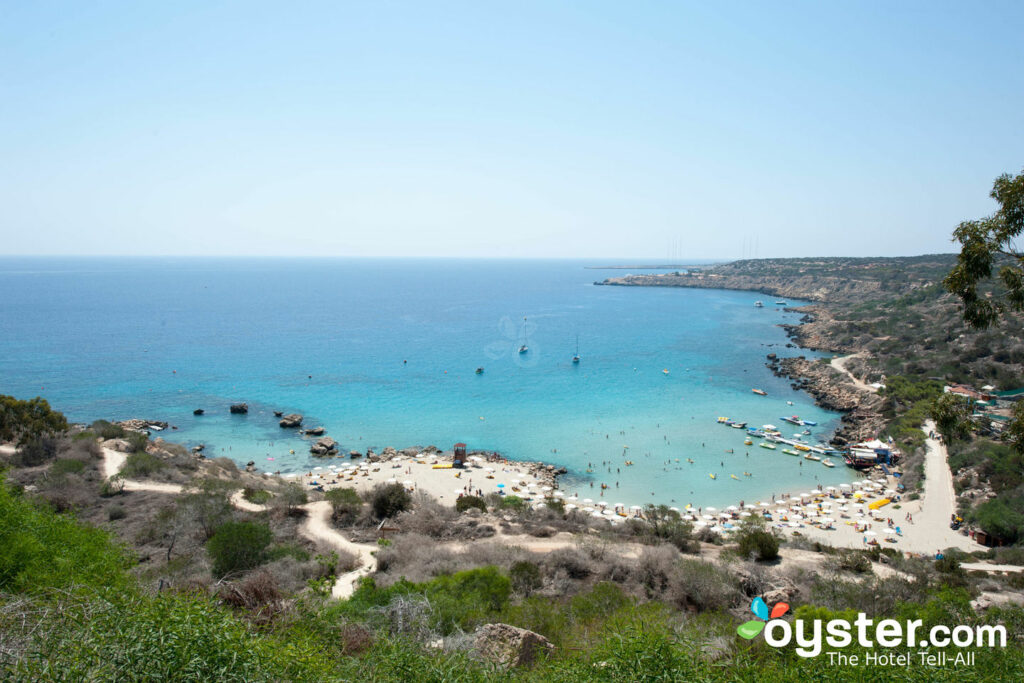 Average December Highs: 63°F – 68°F
Average December Lows: 49°F – 53°F
Average Hours of Sunshine: 9:54
In 2013, Cyprus was nearing financial collapse. Now, it's enjoying a renaissance. Let a warm December vacation be your excuse to visit this island nation at the crossroads of three continents (Europe, Asia, Africa). Somewhere between West and East, Greek and Turkish, beach and mountain, the island has many reasons for you to stay.
Cyprus is steeped in myth and home to multiple archaeological sites, palatial ruins, and tombs with traces to the cult of Aphrodite. Tourism centers around the Neolithic dwellings, Venetian fortresses, Roman mosaics, and Islamic mosques of Paphos, but be sure to make time for the vineyards, villages, and monasteries scattered throughout the country as well. Just be sure to come hungry. Cypriots dine meze-style with a spread of small dishes like hummus, kebab, and their staple product, halloumi.
King Evelthon Beach Hotel & Resort is an all-inclusive hotel overlooking the sea, a short drive north of Paphos. There are 375 rooms and suites here, all with bright decor and furnished balconies, most with full or partial sea views. The hotel also has a number of swim-up rooms with semi-private pools along with lovely suites with whirlpool tubs. The resort's star attraction is arguably its huge water park, with seven tall slides plus splash areas and a lazy river.
Average December Highs: 66°F – 68°F
Average December Lows: 59°F – 61°F
Average Hours of Sunshine: 6
Known for its warm, subtropical climate, Madeira is worth checking out any time of year, though the winter is particularly appealing. The lower tourist foot traffic during this time of year means you'll have the place a bit more to yourself – not to mention, you can take advantage of more affordable rates.
Head to the capital, Funchal, where you can admire the beautiful architecture and stunning sea views plus enjoy the vibrant nightlife. Black-sand beaches and lush forests with stellar hikes also await a little further away from the city. Although rain is not uncommon in December, the sun shines for five to six hours a day, making it perfect for exploring.
Our Pick for an All-Inclusive Hotel in Madeira: Enotel Lido Madeira
Funchal is known for its steep hills, but this 317-room all-inclusive resort is in a walkable area with access to the oceanfront promenade. It's one of the only all-inclusive options in Funchal. The hotel's large outdoor pool, kiddy pool, and massive deck all face the ocean, and the spa's saltwater pool has romantic cave-style designs. In addition to the main buffet restaurant with live cooking stations, there are Japanese, Italian, and Madeiran theme restaurants. Bars offer live entertainment. Rooms are modest with simple (but comfy) design and all have full or partial sea views from balconies; some suites have kitchens.
Offering sizes ranging from 2 to 24, Summersalt Swimwear is made for all types of women–and in this case, for any time in the year. When planning your warm winter getaway, soak up the European sun in style with one of Summersalt's 280+ styles and colors.
You'll Also Like:
All products are independently selected by our writers and editors. If you buy something through our links, Oyster may earn an affiliate commission.