The Land of the Midnight Sun offers cuisine that is as stunning and unique as the country's dramatic natural scenery. Known for its strong focus on game meats and fish – as well as its many wonderfully diverse ways of preserving both – Norway is not short on culinary surprises. The country shares a palate with its Scandinavian neighbors, and also has some similarities with the tastes of Alaskans, Canadians, and the Japanese. But when it comes down to it, Norway is its own culinary beast and, due our recent trip there, we can officially say we slayed it. Though the fermented fish did give us pause, we persevered and were not the least bit disappointed. So what are you waiting for? Dig into Norway »
Fresh from the Seas
Fresh salmon steaks for sale at a fish market in Stavanger
Seafood in general is popular in Norway. Local species include salmon, cod, herring, sardines, and mackerel. Once caught, they are cooked fresh, smoked, salted, or pickled. Creamy fish soups are also incredibly popular – chowders aren't just a New England thing, after all. Norwegians along the coast are likely to eat their fish fresh, with herbs, pepper and salt. For them, the head, roe, and liver are much adored, while inland residents generally shun these less obvious palate-pleasing bits. Inland dwellers also produce slightly heavier dishes, as well as the smoked and pickled varieties, more often.
Smoked salmon is by far the most internationally popular Norse dish, usually served with scrambled eggs, dill, and mustard sauce. But dried codfish, known as torrfisk, is also popular among Norwegians and foreigners alike. All of this can be bought at the numerous fish markets dotting the country, like the one in Stavanger seen here.
On the Hunt for Gourmet Fare
Venison with blackberry sauce at To Kokker, one of Bergen's best restaurants
Red meat is also nonetheless popular in this nation of fishermen. Gourmet cuisine is very reliant on game, especially moose, reindeer, mountain hare, and duck. Because they have a distinct, strong flavor, these dishes are often served with rich sauces spiced with crushed juniper berries or a sour-sweet jam of lingonberries. (Also known as mountain cranberries, this jam can be bought at your local Ikea, if you can't make it all the way to Norway.) Preserved meats and sausages are also widely popular, served with sour cream, flat bread, or wraps.
Pinnekjott is a popular Christmas dish. Lamb's ribs are salted, dried, and sometimes smoked before being steamed over birch branches and served with mashed swedes (known more commonly as turnips, or rutabaga) and potatoes. At To Kokker, one of Bergen's best restaurants, we had a hearty fillet of venison, seen above, with blackberry sauce.
Food by Design
At the Grand Hotel in Oslo, a wide variety of sorrebrod awaits.
Sorrebrod, traditional open-faced sandwiches, are usually eaten for breakfast in Norway. Usually consisting of a slice of buttered sourdough rye bread topped with some kind of homemade cold cut, these meals are as tasty as they are visually appealing. Traditional toppings include pickled herrings, a pork liver-paste called leverpostej, and dozens of types of cured or processed meat, smoked fish, or vegetables. We tasted a delicious variety of these, seen above, at the Grand Hotel in Oslo.
Shellfish has grown in popularity since Norway's olden days and rekker, a simple but delicious shrimp dish, is one of the country's more popular open-faced sandwiches. Piled high on white bread with fresh lemon juice, mayonnaise, and dill, it is a hands-on treat that we enjoyed at the Clarion Hotel & Congress Trondheim.
Controversial Cooking?
Whale sausages sold at the Fisketorget Fish Market in Bergen.
Whale meat was commonly used as a cheap substitute for beef in early 20th century Norway. Now viewed as an exclusive produce rather than an everyday food stuff, whale meat is now scoffed at by many Norwegians. In 2011, for example, only 468 minke whales – the most common whale hunted for its meat – were taken out of the 1268 quota set by the government. Its practice is still quite controversial – though minke whales are thought to be a sustainable population – and opposition to whaling does exist at home and abroad. Still, for many, whaling is a long-standing tradition and the meat, which has a slightly gamey taste akin to Norway's moose or reindeer, is often eaten straight up with little or no seasoning. Other countries, including Japan, Iceland, and America – Hi Alaska! – enjoy whale as well.
Our investigators decided to try whale for themselves while they were in the charming coastal city of Bergen at To Kokker restaurant. The verdict: Tastes like chicken.
Cheese is Always a Good Idea…Except When It's Not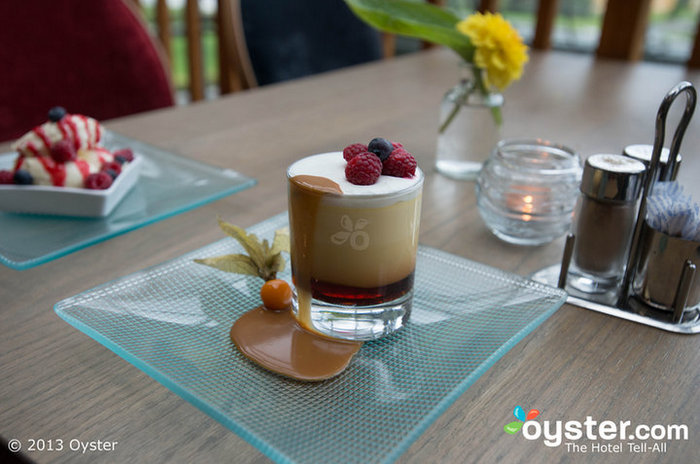 At the Fretheim Hotel we had this delicious confection: A homemade caramel pudding with brunost goat cheese sauce.
A sweet cheese made of long-boiled milk, gomme is a traditional Norwegian dish served for dinner or dessert that varies from region to region. It can be made similar to porridge with milk, oat grains, or rice, or it can be used to top off lefse (a Norwegian flatbread), milk cakes, or Norwegian-style waffles. (Waffles themselves are an incredibly popular street food in Norway, often served with sour cream and jam. Yum!)
Brunost, another popular Norwegian cheese made from either whey or goats milk, is sweet and sharp, with hints of caramel. Eaten by itself or in sauces (often together with juniper berries) to go with venison, brunost shouldn't be missed. Our dessert at the Fretheim Hotel, located in the small town of Flam near Norway's famous fjords, put brunost to excellent use in a creamy caramel pudding.
Just be careful that your brunost doesn't get set on fire, however, as it can have rather terrifying consequences.
Coffee and Cocktails
Det Lille Kaffekompaniet — The Little Coffee Shop — in Bergen.
Norway loves caffeine. The country is the world's leading coffee consumer, and its culture largely reflects this affinity: Cakes, candies, and ice cream all come in coffee-flavored varieties. On its own, coffee is usually served black, but as its grown in popularity, natives have begun to expand their offerings. At Det Lille Kaffekompaniet in Bergen, for example, you can order off a menu that puts Starbucks to shame. Coffee is also included in one of the most traditional alcoholic beverages in Norway, the kaffedoktor (literally, "coffee doctor"). Also known as the karsk, this cocktail combines coffee with moonshine or vodka, and sometimes a spoon of sugar.
Aquavit, however, is Norway's national drink. It is a potato- or grain-based spirit flavored with herbs such as caraway seeds, anise, dill, fennel and coriander. Gin drinkers will especially enjoy exploring the different flavors and cocktails that can be made with aquavit. Skol!
RELATED LINKS:
All products are independently selected by our writers and editors. If you buy something through our links, Oyster may earn an affiliate commission.