So you're taking a trip to Amsterdam. Instead of heading to the tourist-filled Van Gogh museum and Rembrandtplein square, or giggling as you make your way through the Red Light District, experience Amsterdam like true Netherlanders. (Note: If you have time for it all, though, go for it!) Here are six ways to see the beautiful city without waiting in unnecessarily long lines or forking over loads of cash to a tour guide.
Go Biking, Boating, or Walking — Without a Guide
Whether you prefer to hop on a bicycle, row your way through the canals, or just tie up a pair of sneakers and walk through the city, Amsterdam is meant to be explored. While many tourists may be tempted to sign up for a bicycling tour or pay for a guide to take them out on a boat, there's no reason you can't meander through the city on your own. Tour guides have set routes, go quickly, and prevent you from taking your time to enjoy the view, but those in the know seek our the numerous spots where you can simply rent bikes or boats and head out solo. Plus, locals are friendly and many speak English if you have questions or need help with directions. But if you are cycling, be ready to share the paths with some experienced (read: crazy) riders!
Hang Out at NDSM Wharf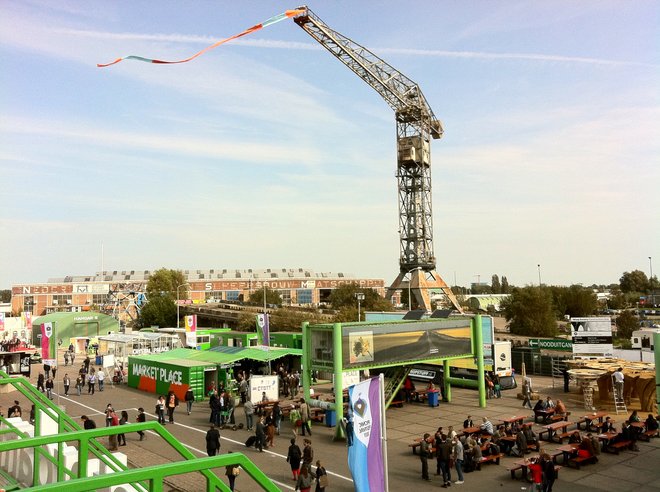 NDSM is a former shipping wharf that underwent a redevelopment that transformed it into a hip area that's often used for festivals and exhibitions. It's located in Amsterdam North and visitors can take a free ferry from Centraal Station; bikes are allowed on board and it's about a 15-minute ride. There you'll find art installations, a skatepark, and some eateries. Pllek is a local favorite, serving food and drinks inside an old shipping container. It has a large terrace with pretty views of the water. The unique Amstel Botel, a boat hotel, is located in this area.
Go Bargain Shopping at Markets
If you're searching for a souvenir, you may as well get something unique from one of the many available markets. In western Amsterdam, the neighborhood Bos en Lommer holds a market on the main square that draws people from across the city. Over 100 stands are set up selling various goods Tuesday through Saturday and items are often cheap. Bargain seekers should also head to IJ-hallen, the largest flea market in Europe. The entrance fee is € 5.00 for adults, but goods are inexpensive and the site can accommodate a whopping 750 stands. Check the website for exact dates.
Hear Live Music
If big name artists are going through Amsterdam, they'll likely be playing at Paradiso; the concert venue is a stunning old church with a capacity of 1,500. Groups of all genres play here and past performers include The Rolling Stones, Arcade Fire, and Lady Gaga, to name a few. The Park Hotel is a quick three-minute walk to the venue if you want to be nearby. For a less mainstream musical setting, OT301 is a venue for experimental and alternative art/culture started by artists who were previously squatting at the building. Performances vary, ranging from jazz sessions to rock shows and many are free or merely ask for donation-based entrance fees; documentaries are also shown, and there's a vegan restaurant located in the building.
Celebrate King's Day (Formerly Queen's Day)
The biggest street party of the year, King's Day (formerly Queen's Day) is an annual event where locals and tourists alike gather in revelry. The celebration began in 1885 to honor the birth of Queen Wilhelmina. It's always held on the birthday of the current queen or king, and with the inauguration of King Willem-Alexander in 2013, it is now celebrated on April 27. Sporting the royal family's color of orange, people of all ages head outside to enjoy the bustling scene of live music, face painting, and ample parties.
Picnic in Oosterpark
Adjacent to the Museum Quarter, Vondelpark is the most well-known park in Amsterdam, which is exactly why you should head to a different nature spot. There are many other parks to choose from (Westerpark, Sarphatipark, Erasmuspark), but Oosterpark, located in eastern Amsterdam, is a great, peaceful pick. It's filled with English gardens, sculptures, a pond, and dog-friendly areas. For convenient accommodations, the upscale and historic Hotel Arena is nearby.
All products are independently selected by our writers and editors. If you buy something through our links, Oyster may earn an affiliate commission.