Of course, we've visited many, many, MANY hotels during our travels. And in order to get a better feel for the destinations to which we travel, we have also visited quite a number of museums. But the real kicker is when we find a hotel that has some pretty impressive artwork itself. From elaborate ceiling paintings to stunning murals on the facades of the buildings, we've rounded up a dozen of our favorites. They're so gorgeous you may want to book a room just to get a closer look!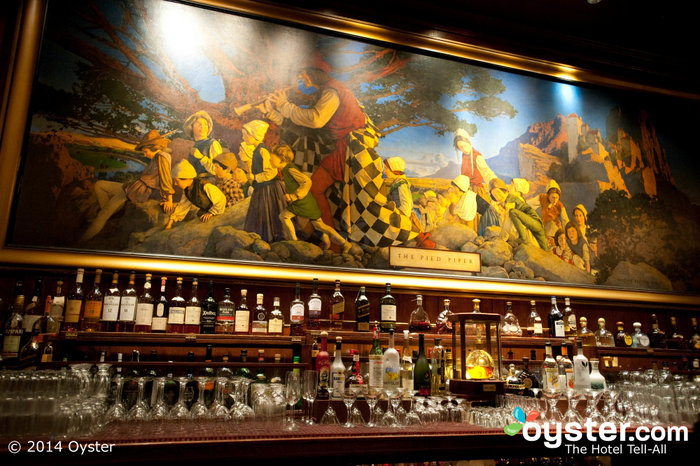 Boasting ample turn-of-the-20th-century elegance in its 550 rooms, the Palace is aptly named — it is indeed palatial. "The Pied Piper" mural, gracing the bar named in its honor, was created for the hotel in 1909 by famed artist Maxfield Parish.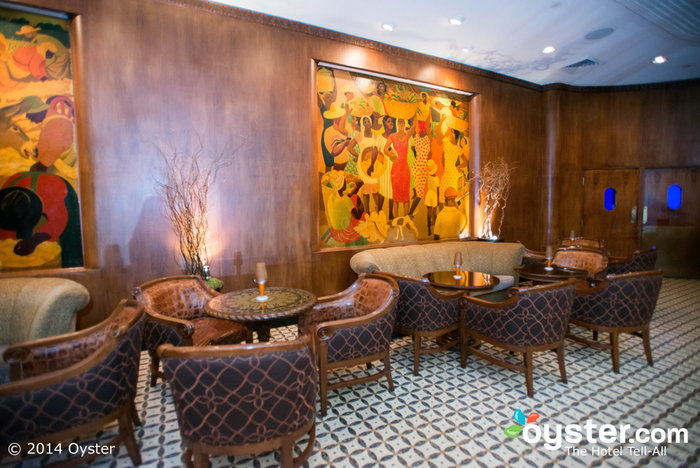 With a grand lobby, classic rooms, a rooftop pool, a historic restaurant, and wonderful service, The Roosevelt attracts a varied crowd of celebrities, well-heeled couples, and business travelers. The murals seen above were painted by artist Paul Ninas in the 1930s and can be found in the hotel's The Sazerac Bar.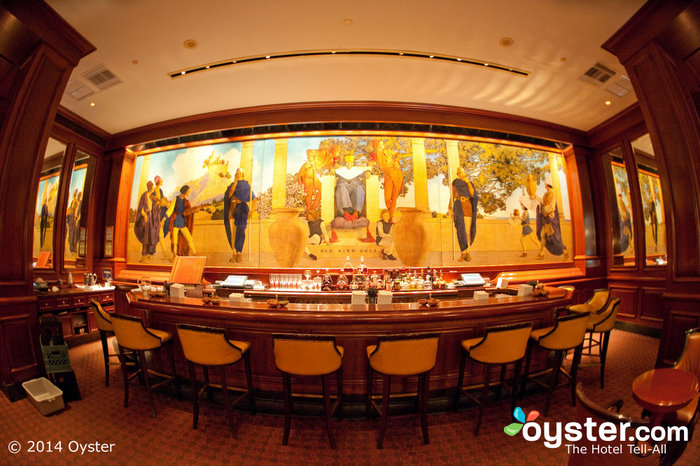 The grand, century-old St. Regis is known for its extraordinary service — rivaled only by that of the Plaza — but the hotel has many other outstanding features, including 229 elegant rooms with great amenities, a world-class spa, and a great location on Fifth Avenue. "The Old King Cole" mural (like "The Pied Piper," also painted by Maxfield Parish) was commissioned in 1906 and finally made its way to The St. Regis in 1932. The King Cole Bar where it's located is one of the most famous bars in New York City, thanks both to the mural as well as the bar's claim that it invented the Bloody Mary. (Whether it did or didn't, its version of the cocktail is pretty amazing.)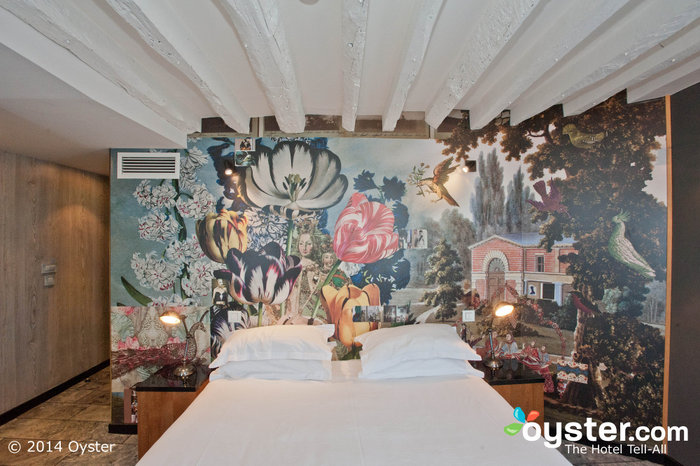 Perhaps the best aspect of this mid-range hotel is its close proximity (literally steps) to Notre Dame Cathedral. This also means guests have direct access to the Latin Quarter and Saint Germain for unbeatable culture and many restaurants. But it's not only about the location; the rooms, designed by Christian LaCroix, are something special, with funky colors, beautiful murals, and eccentric touches everywhere.
If it's youthful, up-to-the-minute style you're after — think modern prints and neon plastic chairs paired with polished wood — the Megaro Hotel could be just the ticket. Bordering on self-consciously hip, this boutique hotel puts a major emphasis on style, whilst still providing homey touches in the guest rooms. The eye-catching "Marmite" graffiti mural was painted on the hotel's facade in 2012 by four members of street art collective Agents of Change.
Hotel Indigo feels more like a beach hotel than a hotel located on Main Street in Downtown Dallas. Rooms are decorated with bright yellows, nautical stripes, and large floor-to-ceiling mural-like photographs of mussels or flowers, all of which adds to the hotel's boutique charm. Hallways also feature pretty floral murals, and the beach-chic decor theme extends to the lobby and on-site restaurant.
Locanda Orseolo is a 12-room guesthouse located in the heart of Venice, a short walk from Piazza San Marco. The focal point of each room is a theatrical wall mural depicting characters from Venice's past. Note that there's no sign at the iron gate signaling arrival at this charming guesthouse; guests pass through the gate and walk down a corridor to reach this elegant, traditional hotel with a small front desk beneath exposed wooden beams.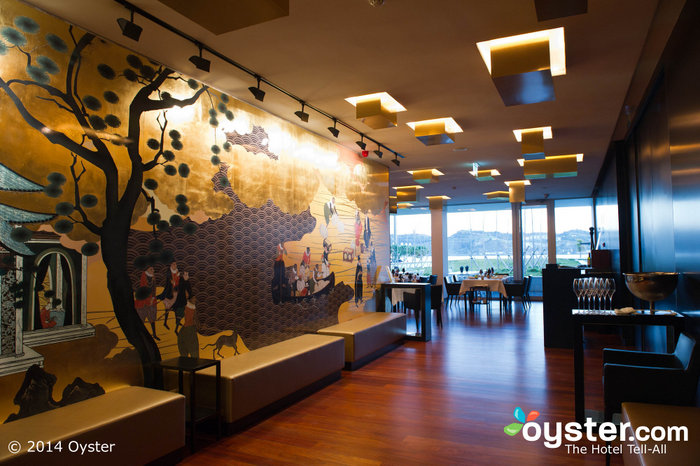 The Altis Belem Hotel & Spa is a 50-room boutique in Belem, a residential neighborhood on the Tagus River. The hotel's rooms are sexy and spacious, with white decor accented by green rugs and unusual wall murals. The rich and detailed Namban art mural shown above can be found in the Michelin-rated Feitoria Restaurant and Wine Bar.
The 80-room Essex House Hotel is a bastion of Art Deco architecture and decor — so much so that groups of tourists regularly tramp through the lobby on guided tours. The lobby's polychrome mural of the Everglades was created in 1938 by artist Earl Le Pan, who returned to touch it up 50 years later.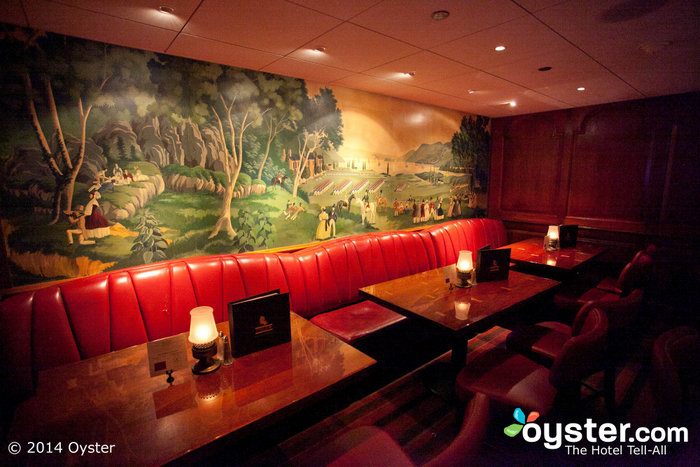 The 535-room Drake Hotel is a historic property on upscale Magnificent Mile. It is one of Chicago's grande dames, with an impressive lobby full of chandeliers and beautiful, classic decor. The mural shown above can be seen in the hotel's legendary bar Coq d'Or, which opened on December 6, 1933 after the repeal of Prohibition.
The Carlyle has been the discreet host to artists, presidents, and local and international celebrities since 1930, and it's traditional to the core: White-gloved elevator operators, a special concierge vestibule, the classic Bemelmans Bar, and dinner performances by Judy Collins and Woody Allen (playing jazz clarinet) are hallmarks of this storied American hotel. Walking into Bemelmans Bar, patrons immediately notice the stunning mural by Ludwig Bemelmans that adorns the walls. Rather than being paid for his work, Bemelmans, author of the Madeline book series, received a year and a half of accommodations at the hotel. In our book, that's a pretty amazing trade!
Like the Paris and New York-New York hotels, the 5,030-room Venetian is an enormous and extravagant tribute to a place far from the desert, complete with gondola rides and a replica of Saint Mark's Square. The ceilings are modeled after Michelangelo's masterpiece in the Vatican's Sistine Chapel.
Check out Oyster's page on Google+
To learn more about Lara Grant, visit her on Google+
RELATED LINKS:
All products are independently selected by our writers and editors. If you buy something through our links, Oyster may earn an affiliate commission.