This year, the Festival of Lights takes place from this Saturday (December 8th) through the 16th. Celebrations vary from the traditional -- lighting the menorah, playing dreidel, and giving gelt -- to the more unique gatherings (skiing with the "Adventure Rabbi", anyone?), but all are heartfelt, fun affairs that involve the whole family. Jews around the globe will be coming together over the next eight nights, and there are plenty of events for them to explore the world over. We've collected some of our favorites here, but no matter where you end up, here's wishing you and yours a very Happy Hanukkah!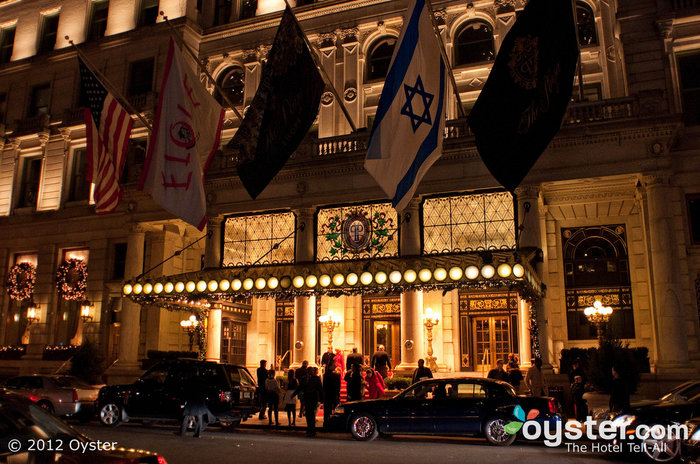 Visit the World's Largest Menorah in New York City
Standing 32 feet tall and weighing two tons, New York City's menorah is the largest in the world. It stands on a piece of prime real estate, right in front of the iconic Plaza hotel on 5th Avenue, across the street from Central Park. Admission is free, and guests can stay to enjoy sufganiyot — holiday jelly donuts — and folk dancing after the lighting, which starts at 5:30 nightly (excluding the Sabbath). On December 8th, there will also be live music, singing, and dancing to kick off the holiday, as well as Hanukkah gelt for the children and hot latkes for everyone to enjoy.
Where to Stay: The Plaza
As NYC's menorah is so conveniently located in front of The Plaza, why not stay at the iconic New York hotel? The century-old landmark has huge rooms, gold-plated bathroom fixtures, an exceptional spa, and 24-hour butler service. It's definitely worth the splurge this holiday season.
Ski with the "Adventure Rabbi" in Colorado
In Colorado, skiing and Shabbat go hand-in-hand — or so we've been told. Rabbi Jamie Korngold, who calls herself the "Adventure Rabbi," is kicking off Hanukkah this year with a trip to the slopes. Korngold will lead the faithful in prayer before leading them down the mountain at this "Shabat Service on Skis/Boards."
Where to Stay: Vail Cascade Resort & Spa
Korngold will be leading a group of skiers at Copper Mountain, about an hour and a half outside of Denver, where she is based year-round. However, the mountain is actually closer to Vail than other ski areas. The Vail Cascade Resort & Spa, for example, is only about a half hour to forty minutes away, and with its beautiful creek-side location and private ski lift, it's an excellent choice for those looking for a relaxed vacation outside of the city.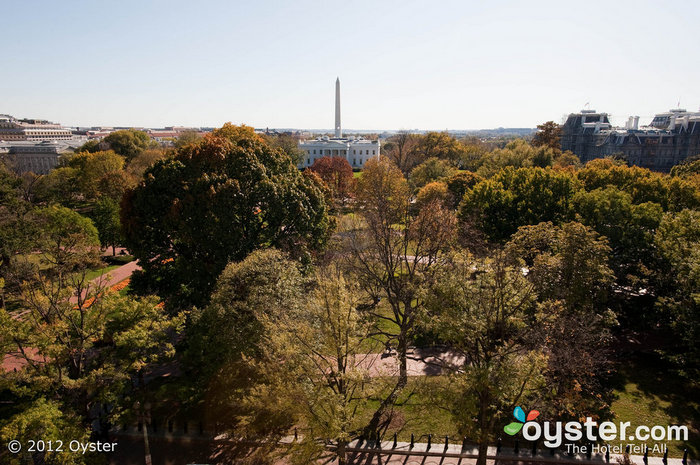 Go to the Lighting of the National Menorah in Washington, DC
On December 9th, Rabbi Levi Shemtov will host the annual lighting of America's National Menorah on The Ellipse in front of the White House. There will be speeches, music from the US Air Force Band, and kid-friendly activities at this free event — but tickets are required for entry. Hot latkes and donuts will be served, as well. It's hard to turn down free food!
Where to Stay: The Hay-Adams
Washington's closest hotel to the White House, The Hay-Adams attracts power-brokers from around the world with its impeccable service, great bar and restaurant, and elegant rooms, some of which overlook its famous next-door neighbor. You might even be able to glimpse the National Menorah from here! (P.S. It's where the Obamas stayed before the inauguration, so it has the presidential stamp of approval to boot.)
Attend a Hanukkah Concert in Chicago
The annual Hanukkah Concert in Chicago's Botanic Gardens includes a traditional meal, as well as music performed by the Maxwell Street Klezmer Band. It's been rumored that a dance party is also on the horizon in this corner of the Windy City, so watch out for your driedels. In addition, tickets include entry to the Gardens' Wonderland Express exhibit, a holiday tradition in and of itself.
Where to Stay: Hotel Monaco
The Botanic Gardens are located about a half hour's drive north of the city's main hub. The Hotel Monaco is a great home location, featuring stylish decor that mixes Art Deco elegance with bright, quirky accents. The views of downtown, which should be alight for the holidays, will be sure to get guests in a festive mood.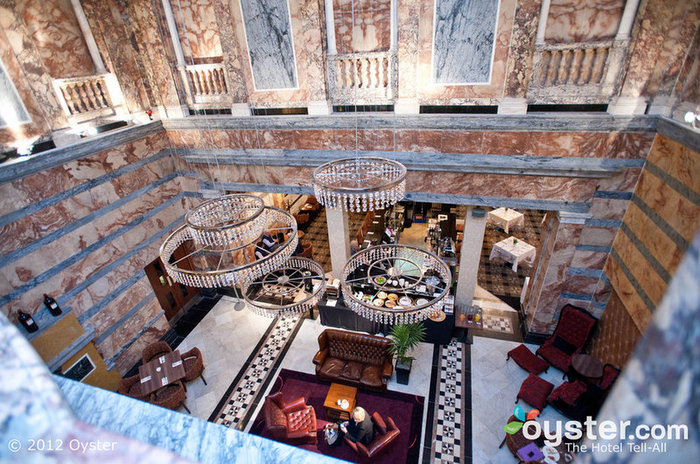 Celebrate at Trafalgar Square in London
Each year, Londoners gather in Trafalgar Square to celebrate Hanukkah. Menorah lightings take place each evening, and are accompanied by plenty of delicious food options — salt beef bagels, anyone? — for everyone to enjoy. The design of London's menorah is particularly lovely, featuring a modern take on the traditional.
Where to Stay: Grand at Trafalgar Square
Located ideally for sightseeing — especially during the holidays — the Grand at Trafalgar Square has retained its beautiful Victorian architecture and ornate period furnishings in the common areas. Trafalgar Square is right down the street, and other tourist destinations are easily reached as well via Charring Cross and the Embankment tube stations nearby. Plus, the price is almost always right.
Shop Berlin's Holiday Markets at the Brandenburg Gate
Holiday season in Berlin is largely centered around the Brandenburg Gate area. Aglow with twinkling lights and filled with the sound of holiday music, the area is a winter wonderland within the city center. A menorah is set up each year in front of the Gate and, after the lighting, visitors can wander through Berlin's most beautiful holiday markets, buying gifts and tasty treats.
Where to Stay: Hotel Adlon Kempinski
For a hotel with a rich history and classic elegance in Berlin, it doesn't get much better than the Hotel Adlon Kempinski. This grand dame has played host to such guests as Charlie Chaplin, Josephine Baker, and Queen Elizabeth II. And its ideally located right in the center of town next to the Brandenburg Gate — celebrating just became a whole lot easier.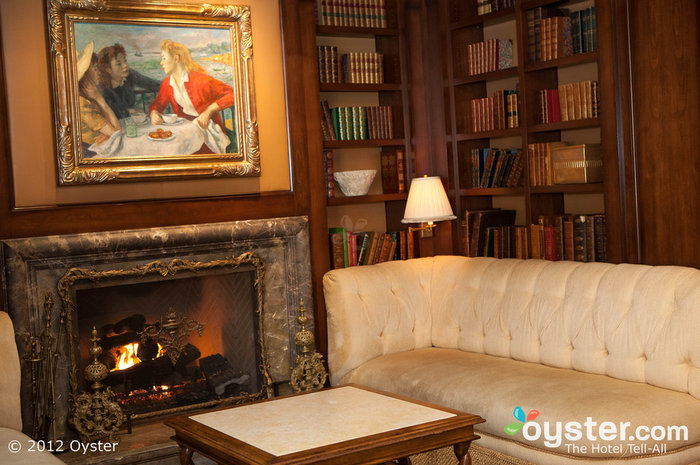 Light the Menorah in Beverly Hills
Hanukkah celebrations abound in Tinsel Town and plenty of festivities can be found across the city. The Hanukkah Festival at the Skirball Cultural Center will feature Americana music and dance, arts and crafts for the kids, and tasty Hanukkah treats; this year's theme is Americana Hanukkah—A Celebration of Freedom. There will also be a variety of lightings people can attend, including ones at the Third Street Promenade, CityWalk, and the LA Farmer's Market…as well as at one of our favorite hotels.
Where to Stay: Montage Beverly Hills
If you want to stay in your hotel to celebrate before hitting up the town to continue your festivities, look no further than the Montage Beverly Hills. This luxe hotel in the heart of Beverly Hills has its own nightly menorah lighting at 5 pm.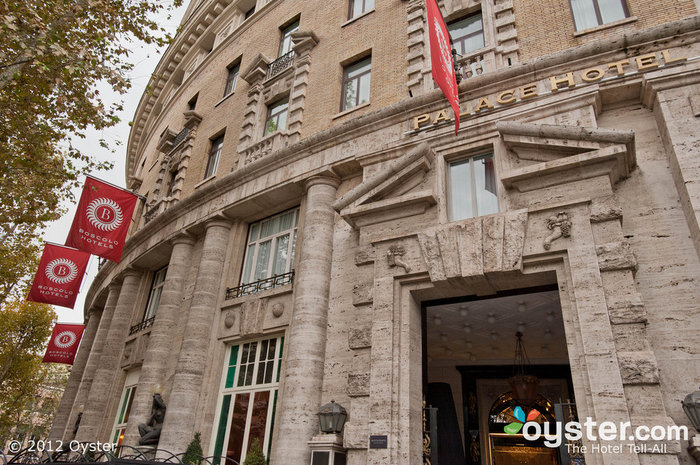 Visit the Jewish Quarter in Rome
Though Vatican City is just a stone's throw away, Rome is also a popular place to celebrate Hanukkah. Large crowds gather in Piazza Barberini to light a 20-foot menorah each evening at 6 pm (excluding the Sabbath). A smaller menorah is also set up in Piazza Bologna. However, the best place to get some traditional food for Hanukkah is the old Jewish Quarter, known as the Ghetto, near Campo dei Fiori. The area has established itself as one of the most eclectic and charming neighborhoods in Rome, and is home to the Synagogue of Rome. Restaurants in the area, where traditional Jewish fare, such as fried artichokes, are made to perfection, receive high praise.
Where to Stay: Boscolo Palace
A revamped period building, the Boscolo Palace is a design-focused hotel with nice perks like travertine balconies and a cozy lounge area. This fashionable stay is within walking distance to all of Rome's Hanukkah festivities, so guests will be able to rest up in style before celebrating nearby.
RELATED LINKS: