This story originally appeared on Yahoo! Travel.
There's a reason standard rooms are called "standard." They often follow a pretty basic, cookie-cutter formula of providing simple, comfortable accommodations that are on the cheaper end of a hotel's offerings. Guests booking these rooms get all the standard amenities -- often free Wi-Fi, flat-screen TVs, mini-fridges -- but nothing extra, and certainly nothing eye-catching or surprising. Well, while this may be the case with most standard rooms in hotels around the globe, it's definitely not the case with all -- which brings us to these eight standard rooms that are anything BUT standard.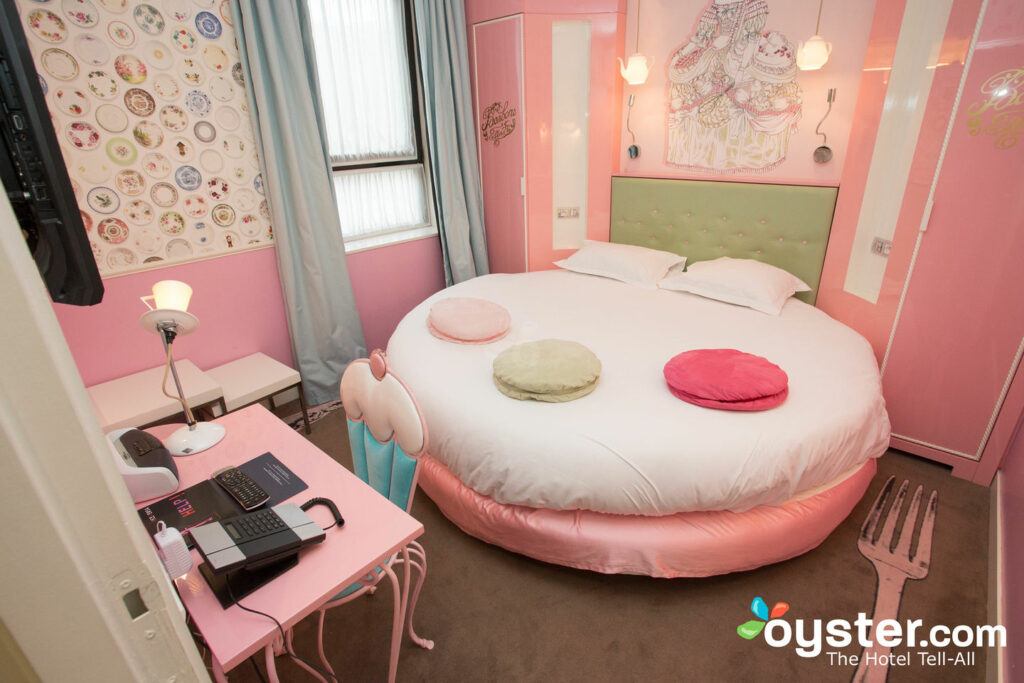 When booking a standard room, you can almost always at least expect the mattress to be rectangular, but that's not the case here! The standard room at Hotel Vice Versa has a Marie Antoinette theme that's truly over-the-top. The plush, circular bed resembles a cupcake (to call to mind the infamous dictator's suggestion to "let them eat cake") and cupcake imagery can be found throughout the pink room: the desk chair and the bathroom mirror are also cupcakes. Classic Rooms here are deceptively non-classical as well.
Located just across the street from L.A.'s famous farmers market, this hotel embraces a farmhouse theme throughout — from the restaurant, with picnic tables and wood-beamed ceilings, to the guest rooms, decorated with denim bedspreads, gingham curtains, indoor adirondack chairs, and rooster-dotted wallpaper. The small bathrooms are standard enough, but standard rooms are surprisingly large for the area, and include small porches, framed pictures of tractors and barnyard animals, and updated amenities such as flat-screen TVs, iPod docks, and free Wi-Fi. Farmer's Daughter Hotel also offers farmer's daughter-like hospitality, with free sweet tea, chocolate-chip cookies, and whisky tastings in the lobby.
The size may be standard, but that's where "average" stops in the Standard Room at Madrid's Room Mate Mario. A white-on-white color scheme is set off by a wild aqua-centric mural behind the bed, and the bathroom is equally eye-catching, with busy white-and-gray tile work. Considering its decor and reasonable rates, it's not so surprising that this property caters to a younger crowd. The hotel has a great location on a quiet street in the city center, and it's within fast walking distance of attractions, including the Royal Theater.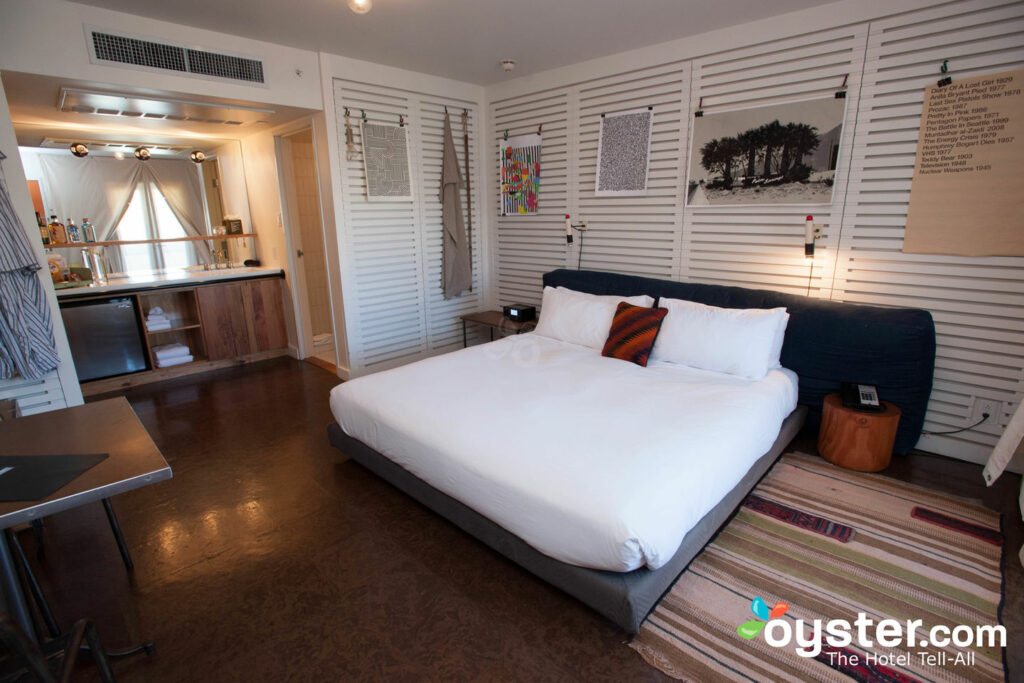 The hipster-friendly Ace hotel brand is known for its unconventional take on hotel rooms and amenities, and the Palm Springs outpost does not stray from this philosophy. All rooms here, including Standard Rooms, resemble safari-like lodgings. Windows are shrouded with canvas shades, various posters hang on the shuttered walls, vintage-style iPod docks sit on bedside tables, and magazines and "survival guides" are stacked atop wooden trunks. The on-site Feel Good Spa has a similar rustic, safari-meets-desert aesthetic.
This 95-room, upscale boutique hotel is housed in a beautifully refurbished former Victorian prison that retains a large portion of its original fixtures, particularly in the Cell Standard Rooms. These rooms comprise former cells, and come complete with iron doors and barred windows. Rates aren't cheap, but you'd be hard pressed to find a more unique hotel experience than at the Malmaison Oxford Castle. It's hard to imagine that the posh surroundings once housed (and hanged) British prisoners, though period furniture and preserved dungeon-like punishment cells are scattered throughout the property.
The luxe, party-centric Standard chain wears its moniker ironically — and often upside-down. The East Village location is one of the hottest properties in the newly hip Bowery area of Manhattan's East Village neighborhood. Standard Rooms here aren't so wild, but unexpected finds include hot-pink lips pillows and sweeping area views. Plus, minibar offerings are heavy on local treats, and guests can even purchase a yummy-smelling scented candle.
Standard Room at nhow Berlin
The nhow Berlin is an offbeat, creative hotel overlooking the River Spree. This futuristic property has a music theme and offers rare amenities like Gibson guitar room service and two recording studios on-site. Bright colors, psychedelic patterns, and funky-shaped furniture come standard in rooms. Standard rooms also come with TV-embedded mirrors and bright-pink bathrooms.
Well, having roommates at a hotel certainly isn't standard! But New York's Room Mate Grace makes it pretty clear — not just in its name — that this is a possibility if you book the Standard 4 Beds Room. The teeny-tiny room comes with four teeny-tiny bunked beds, each with its own teeny-tiny TV. The in-room bathroom is also very small and exposed, with just a plastic curtain guarding the shower and a thin sliding door sectioning off the toilet. Those who prefer more privacy but still don't want to pay sky-high rates can opt for the Petite Room instead.
More from Oyster.com:
More from Yahoo! Travel:
All products are independently selected by our writers and editors. If you buy something through our links, Oyster may earn an affiliate commission.