Here at Oyster, we believe summer should be a year-round celebration, so we've come up with an Endless Summer Series to satisfy our sand-and-sun dreamin'. It's a simple idea based on the fact that no matter what month it is, it's summer somewhere. So far, we've hit the hot sands of Palm Springs and soaked in rays on St. Pete Beach, Florida. But for November, we've decided to head south, way south, down to Brazil where there are full eight-hour days of sunshine and warm ocean waters.
November in Rio de Janeiro

Brazil's Rio de Janeiro may see its tourism peak during February's famed and fabulous Carnival, but we're pretty stoked on this vibrant and colorful destination all year-round. Besides its ability to flaunt an ongoing average temperature of 77 degrees Fahrenheit, its privileged location among lush green mountains, white-sand and blue-water beaches, and exotic tropical rainforest is practically unrivaled. No wonder Rio's residents are known for getting wild! With absolutely no shortage of things to do — from climbing up to the landmark Christ the Redeemer statue, to savoring some of the city's best culinary creations, to simply focusing on bronzing at one of the area's ridiculously gorgeous beaches — this bustling metropolis is also a great jumping off point for a plethora of day trips: Did someone suggest a drive down the idyllic Costa Verde coastline or a traipse through the quaint and historic Paraty? We're ready! And we're thankful for the slimmer crowds and cheaper prices that crop up during November's shoulder season. So, pack your sunscreen and sequins and pick a place to sizzle.
Relais & Chateaux Santa Teresa
is a historic mansion turned luxurious boutique hotel located on a former coffee plantation in Santa Teresa. It features gorgeous tropical decor, which includes bright cabanas in the lounge, lots of lush greenery (by the pool, on the grounds), tiled mosaics, and island-themed bed runners in the rooms. The lower-level rooms aren't
quite
as upscale as the rest of the hotel, but they do have sleek bathrooms, wood floors, flat-screen TVs, and a light, airy feel. Suites are higher-end and feature romantic touches such as four-poster beds of tropical wood, standalone soaking tubs, and shady terraces. The hotel also features a gorgeous spa, a rooftop pool with sweeping views of the city, and a restaurant serving delicious French-influenced Brazilian cuisine.
The Porto Bay Rio Internacional Hotel is located across the street from the popular Copacabana beach. This clean, 117-room hotel is a good mid-range option with simple, sleek decor including blonde wood floors, small modern bathrooms, and a nearly all-white color palette. All rooms have stocked minibars and electric kettles, and some have balconies overlooking the ocean. The small rooftop pool, poolside bar, and fitness center all have great views, and on the beach, attendants provide guests with towels, chairs, and umbrellas. There are also tasty on-site restaurants (one with a free breakfast buffet), and 24-hour room service is available. However, there is a pesky fee for Wi-Fi and the spa only offers limited services.
Watch Your Wallet (in Style) at Ipanema Inn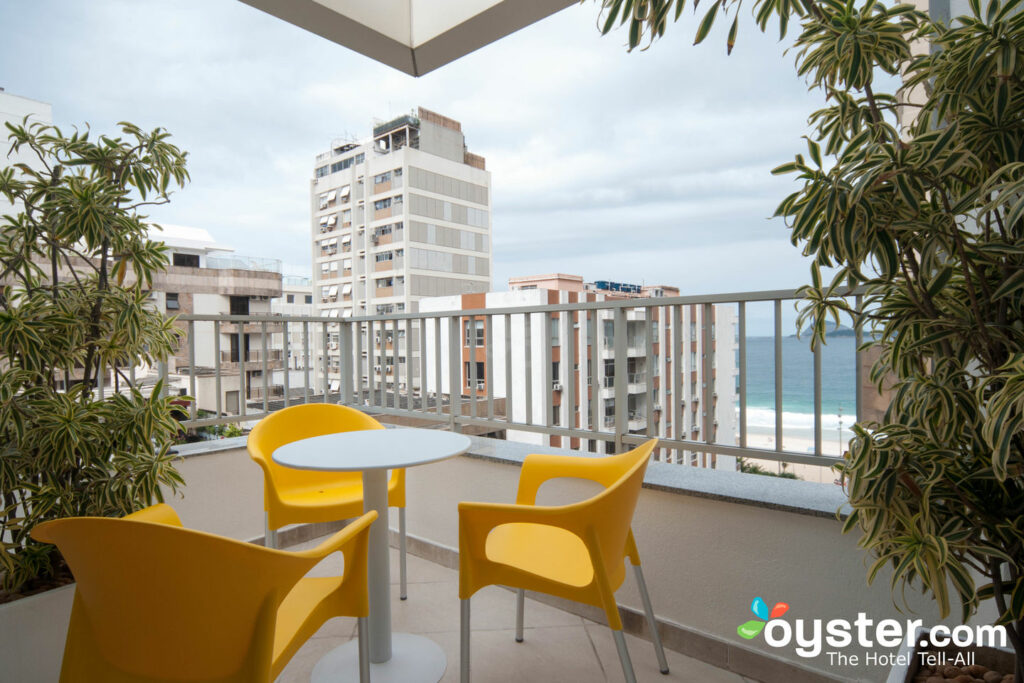 This 56-room beach boutique is an affordable mid-range option for anyone looking to be surrounded by action and close to the inn's eponymous beach. Rooms at the Ipanema Inn are contemporary, stylish-but-simple, and come with free Wi-Fi, basic toiletries, flat-screen TVs (with a few English language channels), and comfortable beds. The hotel is located a half-block from Ipanema Beach, at Maria Quiteria Street, and many local bars, restaurants, and shops are within easy walking distance. While there is no pool on-site and some guests feel the rooms can be a tad small, this clean and friendly beachside inn is a good bang for your buck. Save your money for the caipirinha (Brazil's national cocktail) vendors by the beach!
The 200-room Miramar Hotel by Windsor is a luxury hotel located just across the road from Rio's bustling Copacabana beach. Upscale decor combines neutral-colored suede and leather fabrics with fine crystal chandeliers and eco-friendly wood. Spacious rooms come with Nespresso machines, floor-to-ceiling windows with ocean and/or mountain views, butler service, and L'Occitane products; higher category rooms have a whirlpool in addition to the shower. All rooms lack balconies, but there is an outdoor terrace and a (somewhat small) 16th floor infinity pool overlooking the sea. The hotel also provides dedicated loungers on the public beach for its guests, gourmet cuisine in its restaurants, and accepts some pets.
All products are independently selected by our writers and editors. If you buy something through our links, Oyster may earn an affiliate commission.