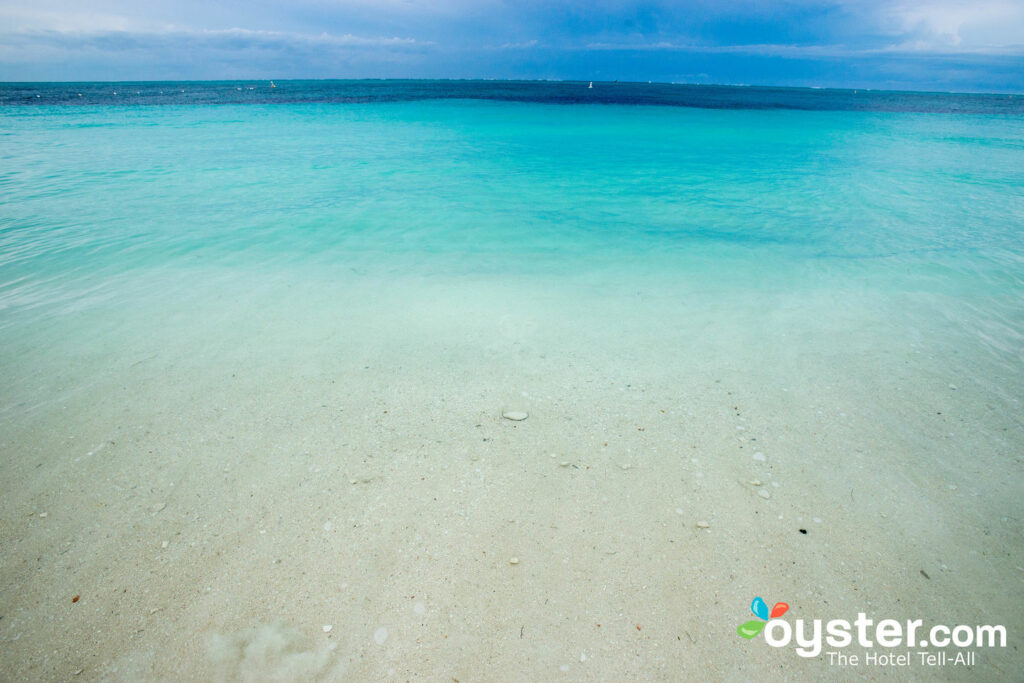 For our Endless Summer series this month, we've decided to choose a destination where we can slow it down a bit, so we can start our year off at a laid-back pace -- before all the demands of 2015 start rushing in. And we think Turks and Caicos is just the spot; it's a great place to avoid the cold, and kinda just, like, not worry about anything but getting the best sunset views, where to find the best cracked conch, and if we need to re-apply sunscreen between daiquiris. No matter where you are, the vibe is almost always casual, and you can basically live in your swimsuits and flip-flops since the perfect perma-balmy weather hovers around the mid 70s. And did we mention the out-of-this-world color of the sea? It'll make your jaw drop and your spirits lift. We picked out the top spots for a getaway here this month (or in the next few!) for every type of traveler, whether you're focused on family or you're determined to party -- or both!
The upscale, 21-unit Beach House is an all-suite property located on Grace Bay, the island's most beautiful beach. Suites are enormous and sophisticated, and have open-plan kitchens, dining nooks, living rooms, and larger-than-expected balconies (either overlooking Grace Bay or the lush garden grounds). Out back, the turquoise waters and powder sand of Grace Bay await — with each suite receiving a dedicated lounge space to soak it all in. Spa treatments are available indoors or on the beach, the pool is attractively landscaped, and the restaurant serves creative fusion cuisine.
If you are looking for a luxury hotel with access to one of the Caribbean's most beautiful beaches, a lively (yet relaxing) pool area, an award-winning spa, and a nice selection of on-site activities — without the zoo-like atmosphere found at some larger resorts — the 72-condo Regent Palms may be just what the vacation doctor ordered. Located in the Grace Bay area, this residential property offers large, sophisticated suites and penthouses with kitchens and luxurious bathrooms. Families will likely appreciate the suites' size (up to three bedrooms) as well as activities such as water sports. The multiple shops and popular Parallel 23 restaurant attract couples and groups, too, but the real standout is the pool — surrounded by cozy loungers, attended by servers with tasty cocktails and snacks, and overlooking the ocean.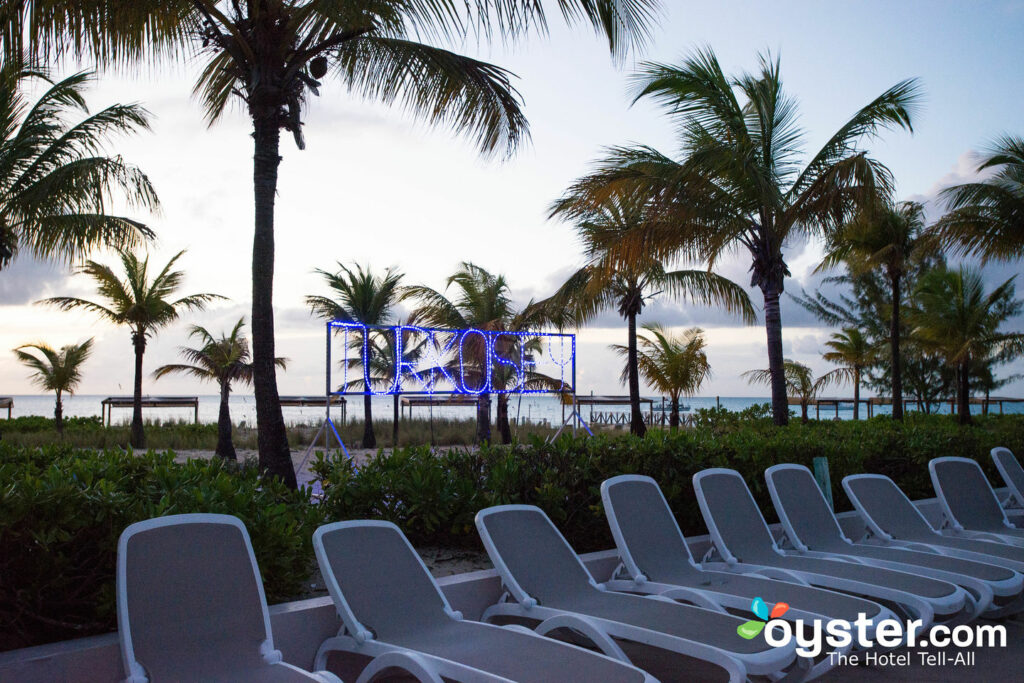 As the Providenciales' first resort, the 290-room, mid-range Club Med Turkoise has lost a bit of its original sex appeal. But even though its small rooms (with no balconies) are slightly dated and have begun to show some signs of wear and tear, the hotel's bar still throws some of the island's latest parties. The village-sized property stays packed, thanks to the stretch of pristine beach just off the back of the hotel, the nightly live entertainment, and the huge variety of water and land activities offered (including trapeze sessions and scuba diving). It's not ideal for those looking for romance or privacy, but it's a solid bet for solo travelers and couples or groups looking for a sociable holiday on a budget.
The 98-room Ports of Call Resort is an upper-middle-range hotel located between Provo's two main roads. Although not directly on Grace Bay Beach, it does have a dedicated beach space and is just a five-minute walk (or free shuttle ride) from the sand. Rooms are all spacious Junior Suites with updated contemporary decor featuring local art. Family-friendly features like a kids' playground and sitter service make it ideal for families, while couples can take advantage of the private and quiet vibe. Meanwhile, the poolside bar happy hours and the resort's proximity to shops, restaurants, and bars make it appealing to other travelers, too. Features are more extensive here than at many other options in this price category.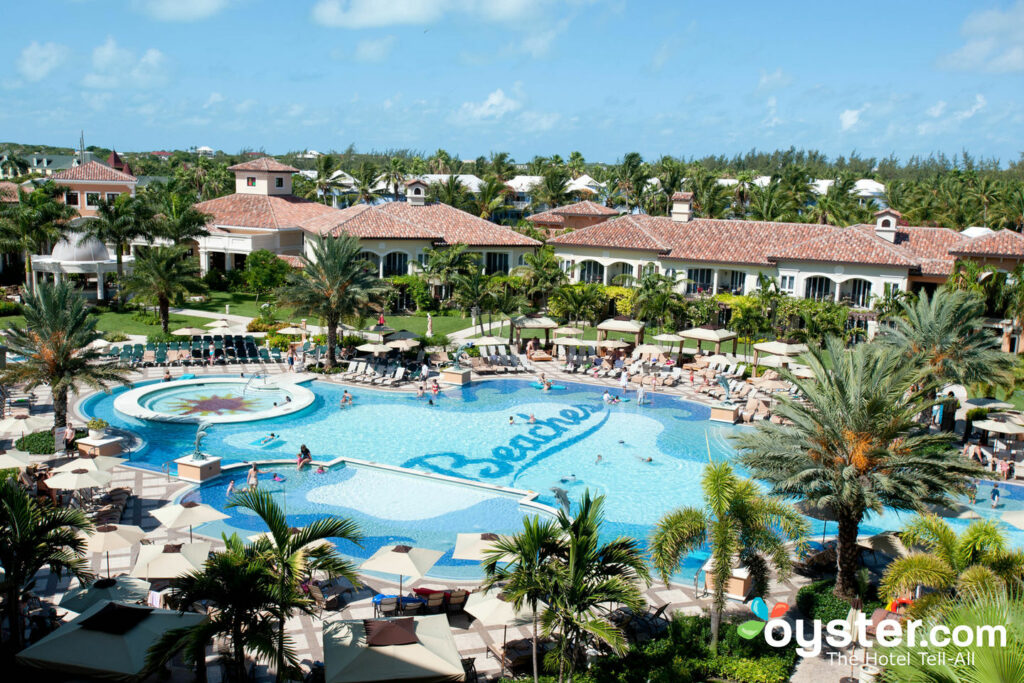 With 10 pools, a sprawling water park, a shopping center, a spa complex, and more restaurants than you can shake a breadstick at, the family-friendly Beaches is clearly the Turks and Caicos resort with the most features. With all the offered options, this resort is definitely wallet-friendly, but be prepared to pay in other ways. Many rooms are worn and dingy (but totally doable) and even with the kids off your hands, it's hard to grab onto any sort of romantic vibe. However, an all-inclusive resort with this many amenities is enticing — just be prepared for the madness that comes with such a big concentration of families (read: kids) on vacation. Thank goodness there's an endless supply of daiquiris and sun — oh, and a big, relaxing spa.
All products are independently selected by our writers and editors. If you buy something through our links, Oyster may earn an affiliate commission.